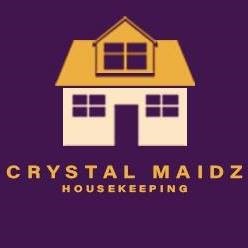 Crystal Maidz Housekeeping
About Us
Ready for some shine?
Our specialist team of trained cleaners are ready at short notice, to visit your property and address your cleaning requirements. We pride ourselves on using industry-leading products and techniques to leave your home or office sparkling. Whether you're seeking deep cleaning or weekly cleaning, we guarantee a rapid and efficient service, leaving you free to do other things. Take a look at our list of cleaning solutions now and choose the right option for your property.
We do it all
Many of our valued customers told us that they were struggling to find the time to do their laundry. So, we're delighted to offer our broad range of cleaning services here at Crystal Maidz Housekeeping. You can bolt on bespoke laundry services to your regular domestic cleaning, or reserve them separately - it's entirely your choice. When it comes to cleaning, our expert team are perfectionists, and will ensure that every service makes your home and clothes shine.
Best Domestic Cleaning in Winsford
At Crystal Maidz Housekeeping, we take the hassle out of cleaning. Our trained cleaners work to the highest standard and will leave your home sparkling. We also offer a range of specialist cleaning services, including ironing, deep cleaning, and laundry services. Call us today to discuss your cleaning requirements.
Testimonials
Fabulous service, from initial enquiry, through to the quality of cleaning, reliability of cleaners with efficient administration. My house is spotless and feels such a happy place to be in. I ...
The Crystal Maidz team are brilliant! I've used them for nearly two years and can honestly say they have never missed a thing - consistently thorough and attentive to detail. Debbie, Gary and the ...
We would highly recommend Crystal Maidz. We've benefited from their reliable and effective cleaning service for some years now. Lovely staff too!
Services
Cleaning Services
Clothing Services
Send a Message
An email will be sent to the owner
Areas Covered
Stockton Heath, Knutsford, Northwich, Tarporley, Sandiway