Get a glimpse of the article:
I will cover the three main benefits you get when signing up with UENI. Essentially, we help you create a strong online presence by building a website that includes the important features for small businesses, together with a Google Business profile that will strengthen your web presence even further. Lastly, we will also schedule a video call to teach you how to edit and use your website to its full potential so that you can generate a constant stream of bookings and sales
If you are here, you are probably looking for someone to handle the hard work of building a website for you to save you the stress. Well, you are in the right place.
If you look at the available options of building a website, you will discover that you: (a) have to spend the earth to get a website; or (b) have to go through a tedious process of developing your site, with no good results.
We discovered a few years back how tough it is for small businesses to create a web presence that can attract new customers online. So, we came up with a secret formula that only required 3 ingredients to fix the problem.
You may be wondering how we can create your business's online web presence without the inconvenience of using a DIY service and spending a fortune.
We will go through the 3 key things we will do for you and why we do them to build a strong web presence for your business. If you don't feel like reading the whole thing, you can watch a quick video!
It's no surprise that we've built over 625,000 websites throughout the globe. What exactly is our formula?
SMALL BUSINESS WEBSITES are our speciality. We know how to market your small business with a high-quality website that represents the best of your brand, whether you offer professional services, sell products, are launching a new business, or have an established brick and mortar shop or office, we have got you covered.
Two things stand out in our websites:
We create websites that are SEO-optimized for local searches.
We deliver the exact website structure that your local business needs.
Why we build the right website for your business
Check out this video to see how quick and simple it is to get a business website with UENI.
Our experience over the years revealed the factors that local buyers often consider when visiting a website. A deep analysis showed us the important features of a local business website. Consequently, we built an infrastructure that houses the right design and content that you need to get more visitors and convert them into customers.
We help you develop your webstore for products or services. We help you leverage your current resources to find more business opportunities without having to spend too much money or time creating a whole new brick and mortar or hiring more staff. Your business will be open for business 24/7, without the need to work 24/7.
Here are just some features that will enhance your website, build trust among your visitors, and convince them to do business with you.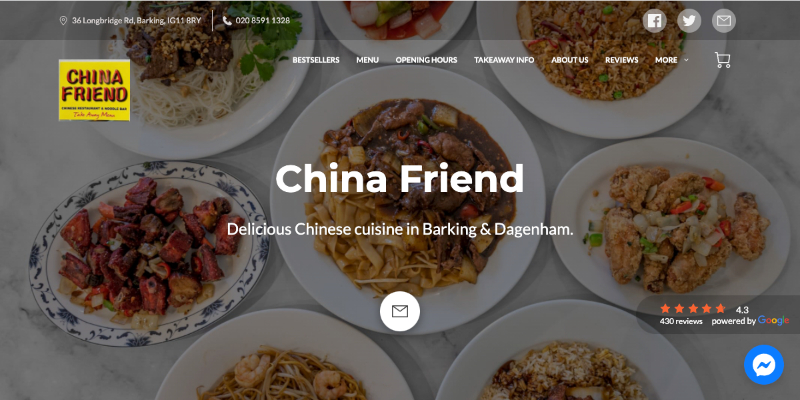 Prominent Contact Buttons
Social Media Channels Visible
Reviews Synced With Your Google Profile
Messenger Live Chat Button
Striking Images to Market Your Business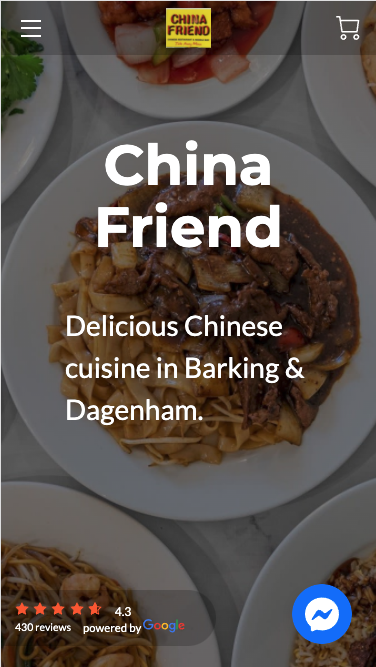 Reviews Synced With Google Profile
Messenger Live Chat Button
Great Images That Sell
Your Business
If this terminology looks too complicated to you, don't worry; we will explain it further. However, you should know what this is and why it is so important for your business.
Most of the time, when people search for a solution online, they do it locally. What would you type into Google if you needed to repair a leaky toilet at your home in Atlanta?
You'd most likely try "Plumbers in Atlanta". That, my friends, is local SEO (Search Engine Optimization)
Take a look at this striking statistics:
46% of all Google searches are looking for local information. (Source: GoGulf)

"Near me" or "close by" type searches grew by more than 900% over two years. (Source: Chat Meter)
Because we know how important local SEO is, your website will be built with all the content you need to show up in local searches when people search for your services or products. We will include all of the keywords that Google requires for your website to rank higher.
Consider the following. You get a slick and professional website, making your business seem more trustworthy to your clients. At the same time, it has a good ranking in Google search results. Looking nice, isn't it?
How we build your website
Creating a website with UENI is as simple as it gets. We will do all the heavy lifting. But, how do we do it? What exactly is the process?
After you sign up with us and get your Lifetime Deal (meaning we will host your website for free for the rest of your life), you will be required to complete a form about your business, which will include the following, among other things:
What your company is about?

The goods or services that you offer

The option to upload any existing images you already have (logo, pictures, and so on).

Provide us with your social profiles so we can get a full picture of your business.

If you already own a website and want to use that information to create a new one, you can provide its address.
It will take approximately 30 minutes to complete this form. All of your input will help our writers, designers, and developers create the best website for your business. We'll give your information a commercial and marketing twist, and all the copy will be SEO optimized. All of the images will be of high quality, so your visitors will be impressed by the appearance of your business when they visit your website.
Following that, we will get hands-on and deliver your website in less than a week. But that is not the end of the story!
The second key ingredient of the mix will build you a strong-as-an-ox online presence.
2. Google Business Profile
When you do a Google search or a Google Maps search, you'll notice that Google prefer companies with a profile.
Google provides this service for free: You may sign up and fill out all of your businesses' details (opening hours, contact information, pictures of your services, your coverage area, and much more).
You will also have to go through a verification process which is not super complicated but really time-consuming.
The good news is that we are Google Partners thus we can help you with this process: You don't even have to lift a finger since we will verify your business for you and also upload all your information to the listing. And needless to say, optimize its SEO (by now, you must be a specialist in the matter)
So, there you have it, this is the second ingredient that will push you out of the web's obscurity and put you right on the map. Your Google pin will generate leads and bookings, and as you begin to accumulate great reviews, this will create a virtuous loop, bringing you even more new clients.
As this may seem to be a difficult process, just after we deliver your website and Google Business profile, we will schedule a Demo Call with you to ensure that everything goes well and that you understand how to maximize the advantages of your new tools.
Our third secret ingredient is difficult to come by these days: we are a team that is accessible to you when you need it the most.
As soon as you receive your website and Google Business profile, we will set up a video call with you. We want to walk you through the website we just built for you so you can request any changes, and in addition, do the following:
Make any necessary adjustments to your website.
Do you want to modify the colors, fonts, or titles on your website once we have created it for you? We will teach you how to do it!
Modifying your website using our easy-to-use editor is just a mouse click away! Check out how easy it is to change your design.
Classic
Natural
Modern
Serene
Classic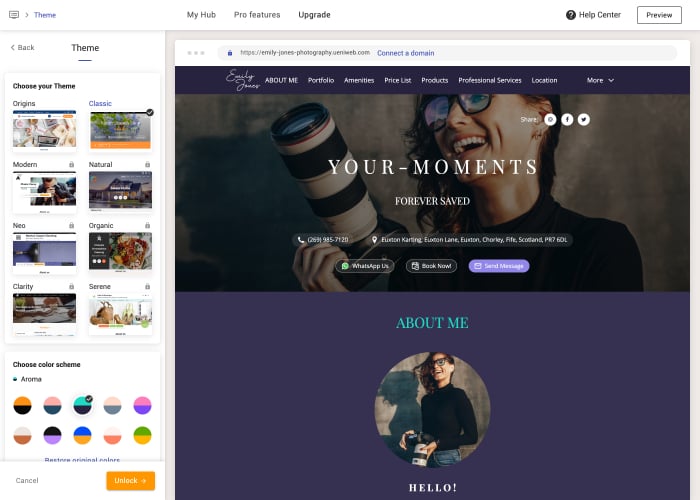 Natural
Modern
Serene
Show you how to update your products or services
Do you want to adjust the pricing or include additional images? Within our user-friendly editor, it's as easy as a breeze!
Take you on a tour of your Google Business profile
We will show you how to start collecting reviews and present your business in a very professional manner.
You now have a better understanding of our formula's three secret ingredients. Isn't it simple?
We will help you create a website and Google Business profile and train you on how to utilize them to their full potential. The website's costs will virtually pay for themselves, with a profit added on top.
To summarize, this one-of-a-kind formula will help you accomplish three goals:
Simplify the time-consuming process of creating a website on your own.

Provide you with a quality and affordable web presence to increase your leads and bookings.

Make sure you get a lot of compliments on how professional your website and business look!
If this seems to be what you're looking for, you can start immediately. Your website and Google Business profile will be ready in less than a week.
We could even meet on your Demo Call!