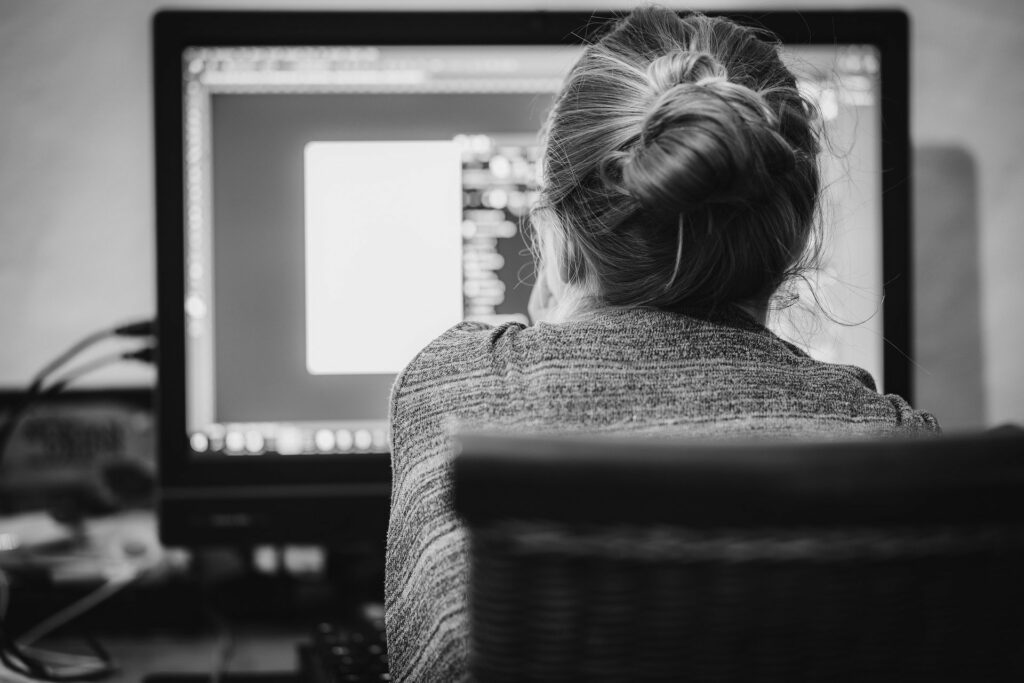 This article is not being typed in a cubicle in an office building; the scent of carpet disinfectant and stale coffee from the kitchen does not prevail. There are no photos of family and pets pinned to a fabric covered divider. Rather, this author is in a home office, laptop positioned on a desk that his grandfather made long ago. Inspirational music plays in the background without disturbing others; a cat wanders in and out, a dog will come running in from time to time. If the washing machine pings that it is done, it's possible to take a couple of minutes to put the wet clothes in the dryer. But work is always here. The strictly prescribed hours of 9 to 5 have dissipated, there is neither a "working time" nor a "quitting time"; work happens until it is completed. Flexible, online-based working was already prevalent; the coronavirus pandemic merely accelerated the trend. This pattern shift entails many productivity benefits. Even, the small interruptions of usual life give one an opportunity to breathe and reflect on work. Great ideas can occur while putting clothes out onto the line.
A Cultural Change
These behaviours have gradually become ubiquitous; as soon as the Blackberry arrived, many entrepreneurs were constantly checking their email and responding to queries no matter where they were. An American slang term developed for these devices, "Crackberries", as their use proved to be addictive. The advent of the iPhone and smartphones in 2007 has only increased this behaviour, continuing to dissolve the barriers between work and leisure time.
The coronavirus has made the requirement for a home office even more acute. The spare bedroom which may have been gathering dust has been transformed into an office. The office worker may miss the camaraderie and communication of the workplace, but necessity has proven that productivity can occur within this environment.
Introducing the Digital Workplace
In order to enhance productivity, however, and keep people connected, an investment in the "digital workplace" (sometimes also known as the "Modern Workplace") is required. This has been defined in a variety of contexts, but for our purposes, it means:
"A digital workplace is an array of complementary and interconnected tools which provide efficient self-service applications. Furthermore, and more importantly, it creates and motivates a context for knowledge exchange, engagement, teamwork, and innovation."
If we look at this definition in more detail, we can see that a large number of tools and functions need to be brought together. "Efficient self-service applications" imply everything from being able to record expenses to booking holiday time off. A "context for knowledge exchange" suggests not only Skype calls but also online forums where problems can be analysed and ideas proposed. "Engagement, teamwork, and innovation" follow from the knowledge exchange: management will have to use the tools to communicate with its dispersed staff and provide a sense of unity to a company that once was contained within a single building and now is scattered among a broad variety of homes.
Choose Your Platform
Fortunately, a number of software companies have latched onto the idea of the "Digital Workplace" and are providing solutions. Gartner held a "Digital Workplace" conference in September 2019. Among the presenters were Microsoft, Google, and those who had "turnkey" solutions which connected Microsoft or Google tools to a wider array of applications.
Microsoft: One Team to Rule Them All
At the Gartner conference, Microsoft's representative stated that the release of Microsoft Teams was the "most significant release since Windows 10". This may be hyperbole. However, it is clear that Microsoft does regard it as being an important communications tool: one can share files, chat, and initiate calls and conference calls using this software. While not as prominent as Zoom in the popular imagination during the coronavirus lockdown, nevertheless it has been a tool that has seen a progressive rollout across firms and individuals. Microsoft reported a jump to 75 million active users in April 2020.
The emphasis on Teams, however, should not obscure other useful Digital Workplace tools. Sharepoint can be used to share documents and build web and intranet sites. Microsoft Power Automate (formerly known as Flow) can be utilised to automate routine processes. Power BI is useful for analysing business information.
However, Microsoft has so many tools that integration is not straightforward, particularly if one wants all the information in a "single pane of glass". For example, Microsoft has produced separate phone applications for Teams, Sharepoint, and other applications such as Yammer. This places a requirement on the firm to develop a "single pane of glass" on their own, or to invest in a turnkey solution.
Also, Microsoft doesn't necessarily come cheap: licensing costs for Office suites are always a consideration.
Google: In the Cloud
Google offers similar collaboration tools; many are already familiar with its suite of office tools such as Sheets and Docs; they also offer Google Meet as a solution for conferencing. Google Chat is also available. UENI utilises Google tools for everything from conferencing, document writing, to chat; this has proven efficient and cost effective. For larger companies, the integration of these tools into the "single pane of glass" may require add-ons. Hence there are turnkey solution providers for their products as well.
Turning the Key
The ideal scenario for a digital workplace allows users to have "knowledge and people at their fingertips". However, Microsoft and Google don't necessarily offer the best means by which this can be achieved. In complex businesses, a new layer will be required to tie all the various tools together into a "single pane of glass".
There are a number of providers: for Google's tools, there is a Finnish firm called Happeo which provides this service. Microsoft at first glance appears to have more turnkey providers for its tools: these include Beezy, Unily, and Powell. Unily has been used by firms as diverse as McDonalds and Flight Centre, Beezy utilises an advanced AI agent. Powell is cost efficient.
Additional Services
There are a cornucopia of services which provide additional tools: for example, Monday.com provides an effective project management suite at reasonable cost. Trello can be used to organise Agile project processes. Hibob.com performs most HR services admirably, including onboarding, holiday booking, and providing organisation directories.
A Virtual Storefront
Firms of all sizes need to have a virtual storefront just as much as they require tools to organise their businesses. UENI provides free websites to small businesses; just enter in some basic information about your business, provide some images, and your website, complete with professional text and e-commerce capabilities, will be built for you in 3 business days.
What's Right for You?
Which tools are right for you will depend on analysing your own process and user stories. Formulating user stories can be as simple as the following:
"Anna works in human resources. She needs a digital workplace so that she can stay on top of holiday requests, issue contracts, and communicate with the staff via one channel."
Or:
"Bob is the CEO. He needs a digital workplace to be able to reach his staff with his key messages efficiently; he wants to use videos which everyone will see, and be notified to see with a push alert to their mobile phones. He also needs a webpage to show that his business is continuing to operate despite the continuing pandemic."
Or:
"Phil works in accounts. He needs a digital workplace to know when payroll has been run and to communicate this to staff effectively. He also needs it to field queries once and have that query's answer indexed by search so it's not asked again."
Add Some AI
Many firms have vast information stores; these continue to grow as the business develops and adds to its knowledge. Traditional search, as highlighted by the limitations of Google, can be cumbersome. Fortunately, artificial intelligence is proceeding apace via platforms such as Microsoft's AI Bot; this system powers Beezy's search, it also allows for functions to be executed via plain English language queries (e.g., "Ask my boss if I can have a holiday on the week of May 18th" will generate the query within the HR system and feed it back to the individual's superior for a "yes" or "no" answer.). However, it's particularly powerful in executing queries across vast swathes of information.
AI has already been used to reduce customer service queries in the hospitality industry: the Radisson hotel chain uses an AI agent called Edward. Edward responds to plain English queries such as "Where is the nearest Radisson hotel to my location" using its own databases; a human is only involved in answering the queries when the information does not exist within Edward's database. Similarly, AI can be rolled over knowledge bases within firms and continue to expand its repertoire as the knowledge base within the firm expands.
On the reverse side, AI can provide reports on what portions of knowledge are being accessed and queries; this may highlight areas for knowledge enhancement. It could also reveal sentiment (if loads of people are looking up HR regulations on redundancy, that implies a certain fear among staff) and relevance (what information do people need to do their jobs?).
More than Tools
However, as useful as the tools can be, they will not be successful without user engagement; this will mean leaders will have to reach out to every second bedroom office in their company. The key to this activity may be identifying user communities, their needs, and gaining their feedback throughout the deployment process. Marketing and communications functions will be required to inform staff and customers of how the developments are proceeding and solicit feedback. User interfaces will need to be carefully designed in order to prevent obstacles to use.
It's the Future
The trend towards home working was already in train prior to the pandemic; the dissolving border between work and leisure time implied this change. People simply were not working solely at an office and then putting up a wall between that and their time at home. As this barrier dissolved, the need for home working tools became more evident. The Digital Workplace, which allows for individuals to work and communicate efficiently, and at any time is a necessary support to this change in working patterns. Early adoption will allow businesses to take greatest advantage of improved efficiency.
Stay on top of the trends in business and work: get your free website at UENI. Click here to get a small business website built for humans, by humans.