We are thrilled to announce an exciting new feature that will take your website to the next level – announcement banners! With this powerful addition, you can now effortlessly grab your visitors' attention and effectively communicate important messages, promotions, or updates right at the top of your website.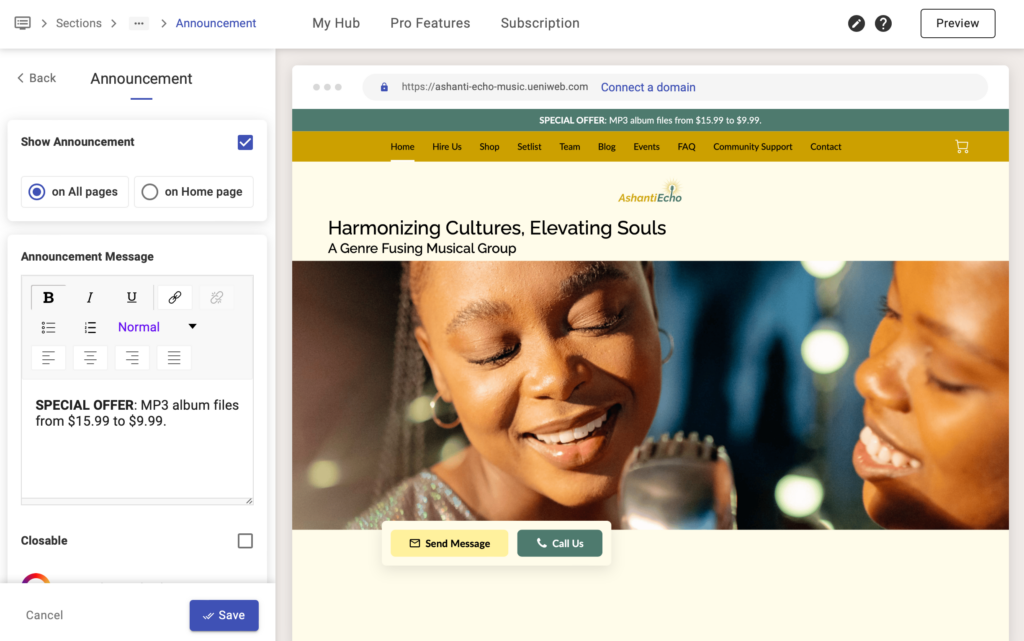 Key Benefits
Instant visibility: Capture your visitors' attention right from the moment they land on your website.
Customizability: Tailor the design, colors, text and central action of your banners to match your brand identity and message.
Targeted messaging: Display different banners to specific audience segments or on specific pages, maximizing relevancy.
Easy management: Effortlessly create, schedule, and update banners in the Editor.
Use Cases
Our announcement banners feature offers a seamless and visually appealing way to engage your audience, ensuring that your key announcements receive the attention they deserve.
Highlight limited-time offers: promote coupon codes or site-wide promotions and link directly to your Shop page.
Showcase new services or products: bring the spotlight to your latest work.
Get more leads: use the customizable Action Button to receive more calls, messages or WhatsApp text.
Convey important information: mix and match different colours and font sizes to display important information about your business, like upcoming events, changes to opening hours or news.
Create Your Announcement Banner
1. Define the Text
Write a catchy headline to get your message across.
2. Pick an Action
Optionally, you can include a button with a customisable action. You can select from linking to an external page (Open Page URL), open one of your website pages (Page), start a call (Call), send a WhatsApp message (WhatsApp), send a message (Message), link to a product (Product) or book a service directly (Book Service).
3. Customize the Design
You can pick different colours for the announcement background, text and button, and you can tweak the font size to your liking!
4. Additional Options
Select if you want to show the Announcement Banner on the Home page only or on All pages and if you want to make it closable.
5. Enable Announcement Banner
At last, don't forget to tick the "Show Announcement" checkbox on the top. Click "Save" and… it's live!
---
Try it out today and let your website do the talking!