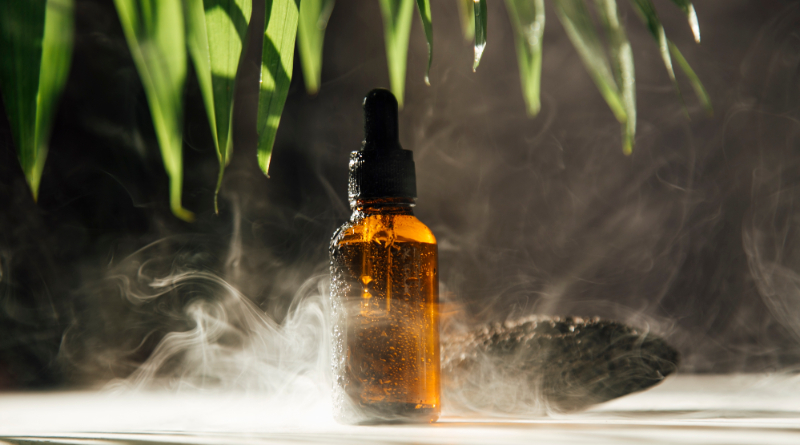 Instagram is mainly a visual platform; as a result, you won't have as much space for text as you would on Facebook. It's important to ensure that your text benefits you: getting to grips with hashtags and using them correctly on your Instagram posts is vital.
To help anyone who is still trying to navigate this platform and isn't yet used to having a business Instagram profile, we have put together some information about how small businesses can successfully use Instagram hashtags.
What are Instagram hashtags?
Simply put, an Instagram hashtag is a combination of letters, number and/or emojis that are used after the # symbol with no spaces, for example, #smallbusiness. These hashtags are designed to categorise posts for Instagram users and enable them to discover posts that they are interested in.
In addition to being a 'filtering tool', hashtags are also clickable. This means that people with an Instagram account can click on a hashtag in the caption of a post, and they will be taken to a page displaying all other posts that feature that hashtag.
How do Instagram hashtags work?
Whenever you add hashtags to the Instagram posts on your public business account, your post will then be visible to all Instagram users on the corresponding hashtag page. So, people will be able to search for specific hashtags (for example, #windowcompany), and this will then bring up any posts that feature this hashtag.
It is also possible for Instagram users to follow a hashtag that they're interested in as well and when doing so, any photos and videos with this hashtag in the caption will automatically appear on their feed.
As 81% of people actually use Instagram to help them research products and services, using relevant hashtags on your Instagram posts can be the difference between your company being discovered by potential customers and being completely overlooked.
GET YOUR WEBSITE IN A FEW CLICKS
We'll create your small business website to help you grow online
How do you know which Instagram hashtags to use?
If you are struggling to find the right hashtags for your business by looking on the platform, it might be worth looking into using an online tool that can help you generate top hashtags which are based on your organisation.
All Hashtag is one of the most popular Instagram tools: it allows you to generate, create, analyse and search for the top hashtags in your market: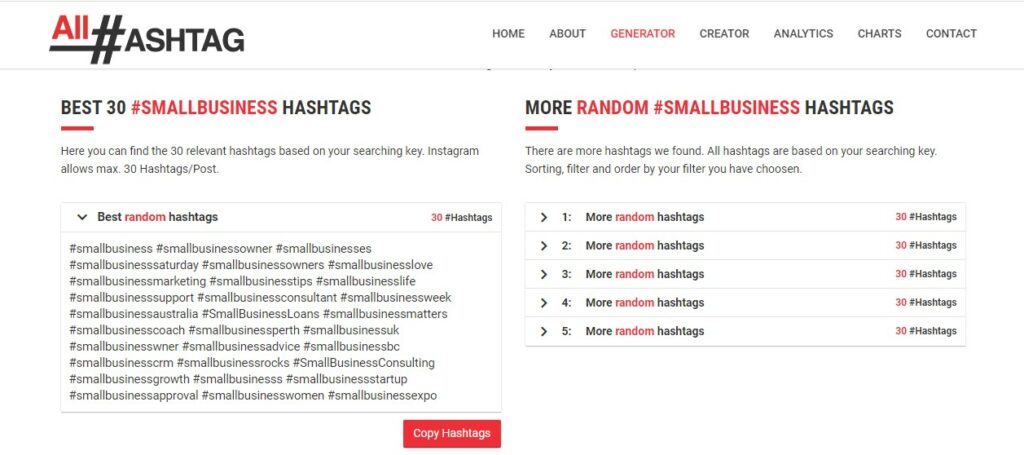 By using a third-party tool like this, you can save a lot of time, effort and achieve much more with your posts.
When deciding which Instagram hashtags to use, it is beneficial to research what your direct competitors are using on their posts.
Exploring what other companies are using to capture the attention of your target market is a good place to start, and it will help ensure that you're on the right track when choosing which small business hashtags to use yourself.
You can also take a look at which hashtags are most popular on Instagram at the moment. Simply enter a hashtag into the search bar on Instagram, and it will show you how many posts are using this hashtag already:
This will enable you to discover trending hashtags relevant to the specific content you post and help you pick hashtags that are most likely to be beneficial to you as a small business.
Many businesses will choose to create their own hashtags, hoping that their customers will use them when sharing posts about their products and/or services.
This may not necessarily be something that works for all businesses, it is worthwhile to explore.
What are the rules for small business hashtags for Instagram?
There are no specific rules, however, there are points which one should be aware of:
If your Instagram business profile is private, your post won't appear on hashtag pages
Spaces and special characters (for example, % and $) are not permitted in your hashtags.
You can use a maximum of 30 hashtags on each post
When you're using hashtags on your small business profile, there are some unwritten rules that may also be of benefit:
It is recommended that you use between 10 – 24 hashtags, and you should do some testing to find out which number works best for your target audience
You shouldn't bombard your posts with irrelevant hashtags just because you can, this will likely annoy your target audience and hinder engagement
Don't use the same hashtags on every post, even if you have a bank of hashtags to use for your business, make sure you only use those that are relevant to the post
Hiding hashtags in your captions or in the comments can help to prevent your posts from looking cluttered, but it still enables your posts to be found on hashtag pages
Keeping these things in mind can help you maximise the value of using hashtags on your business posts.
GET YOUR WEBSITE IN A FEW CLICKS
We'll create your small business website to help you grow your business online
How do you know if your small business Instagram hashtags are benefiting you?
Once you have chosen the Instagram hashtags you wish to use, it is important to monitor how well they're performing. Thankfully, Instagram Insights has made this process simple: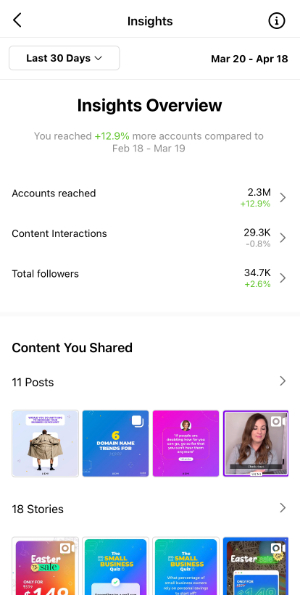 You can look at the individual insights for every Instagram post you make and see the number of impressions from the hashtags you've used.
This insight will help you figure out which hashtags are most effective for improving reach. It is recommended that you vary the hashtags you use for a little while to test how this influences your insights. You can then ensure you're using the most beneficial hashtags on all future posts.
Improving the online presence of your small business
Now that you know more about what Instagram hashtags are and how they can benefit you as a small business owner, hopefully you will be more confident in using relevant hashtags in the caption of every photo/video that you post. Something as simple as using the correct hashtags can be significantly advantageous: you shouldn't overlook how much of a difference a few creative hashtags can make.
Of course, while small businesses need to use social media effectively, it doesn't compensate for not having a website. If you really want to improve your online presence and you don't yet have a business website, this is something to sort out as soon as possible.
Here at UENI, our mission is to help local business owners get discovered online, and we can provide you with a mobile-friendly website. In case you offer services or products, we also sync your Instagram profile with your website, so everything gets automatically updated.