Custom Code is one of our hottest features, widely adopted on UENI websites. You can integrate countless third-party tools into your website by adding custom HTML code. With the new advanced layouts, you can now position custom HTML code blocks anywhere on any page.
Highlights
The best way to make your website more awesome! Now, even better with the new Custom Code in Advanced Layouts. There are two main improvements that we have added to this feature that would make it even better!
Custom Widget Positioning

Add any custom html to any place on any of the pages in your website.
Check out our example site here! In this example page, we placed the custom promotional banner at the top on the home page and at the bottom of the products page.
Custom Code Library

Save all custom code blocks in the Custom Code Library: edit once, update everywhere on the website.
Quick Recap
You can connect widgets from different sources, from HubSpot to HotJar to Google Analytics, Instagram or Facebook Messenger. These advanced integrations enable a whole new set of features for your site. Most commonly, the sorts of custom code that you can add to your websites fall into one of four categories:
Interact in real-time. With these, you can integrate live communication with your website visitors. For example, widgets from Facebook Messenger, Freshdesk, and Intercom are great examples of this category.
Capture visitor information. In this category, you can set up an online form, add a subscription for a mailing list, or embed a survey onto your UENI page. Some of the most popular options are provided by Hubspot, Typeform, and Mailchimp.
Analytics & tracking. This includes integrating tools that allow you to understand your visitors better, such as Google Analytics, Mixpanel or Hotjar, among other tools. These give you accurate insights into your website users' actions.
Enhanced functionality to "do more". This is a broader group to accommodate everything you want to share with your customers, like embedding donation buttons, live streams or podcast players from Spotify or embedding your Instagram feed to display more photos.
What's New
The default placement for most widgets in real-time interactions, visitor information capture or analytics & tracking categories is on your website's header or footer. However, for enhanced functionality widgets, it is ideal for placing them in just the right spot. You may want to add a TrustPilot widget right below the Testimonials or display your Instagram feed at the top of all pages of your website. Now, this is super easy!
Add Custom Code sections to Pages with Advanced Layouts
Simply access your website editor. Ensure you have enabled Advanced Layout following the instructions in this article.
After that, click on Pages and choose the Page where you want to add your widget.
Next, click add new Section and choose Custom Code. Here, you can insert any HTML code, pick a title, and it will be shown as any other section on your page. This means you can show/hide the title, hide it temporarily or change its position on the page. Moreover, if you want to be really pushy on that Instagram, you can show it multiple times on the same page!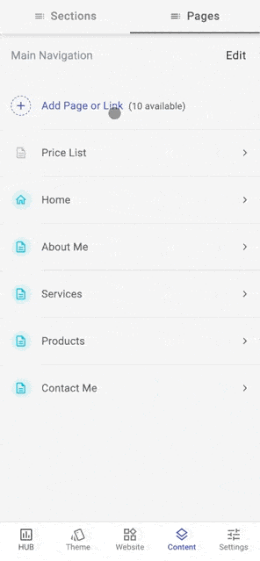 Build your personal Custom Code Library
In addition to managing custom code blocks, you can create your own Custom Code library. This is great for organising and reusing the same custom code block on multiple pages.
If you need to update a custom code block, jump into Editor → Settings → Custom Code and open the custom code entry you want to change. When you click Save, the custom code snippet is updated on all your pages, whether you use it once or ten times!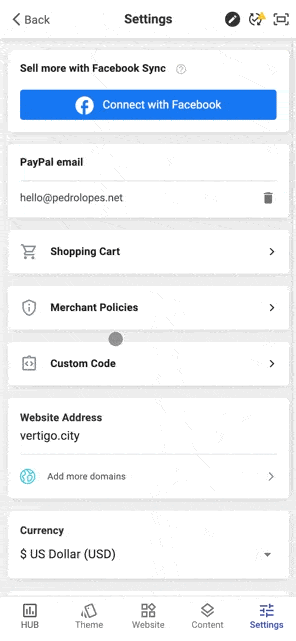 ---
---
For further details about how to add different widgets to your site, check out our help articles on the topic here.