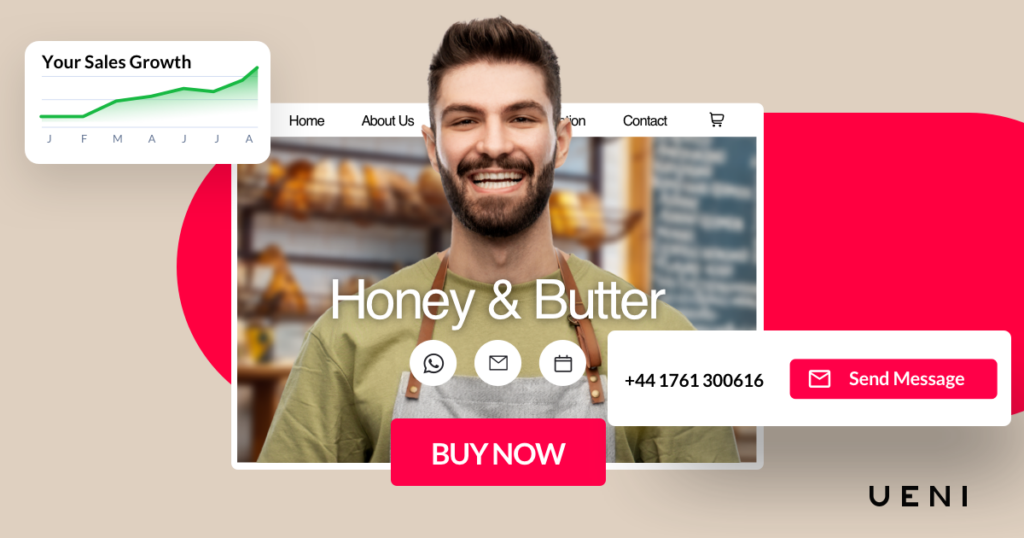 Share on facebook
Share on twitter
Share on linkedin
Were you doing some home bakery and best bakery websites research because you want to grow your bakery business? Or… wondering how to create beautiful bakery websites? We got you covered.
Consider this, only one-third of small businesses owns a website.
In other words, there are still plenty of opportunities for your business to stand out. This includes bakery businesses, who may not yet be aware of the great benefits of getting a website, or may think they not have the required knowledge.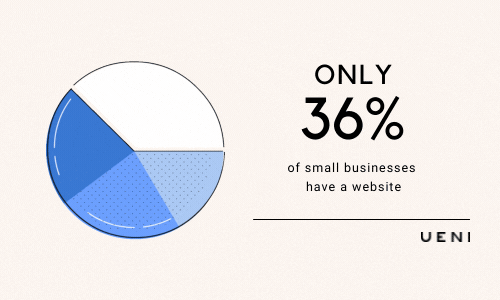 What are the benefits? Your website will allow you to sell your products or services 24/7.
What's more, during the last several years getting a website has become much easier. There are multiple alternatives when thinking of building a website for your bakery, however you will need some amount of time and skills if you are planning to build it yourself. The good thing is that with UENI you can get a professional website built for your bakery at a very low price.
Now, how can you tell if a websites is a good quality one? We will try to help you understand how can you spot well designed bakery websites.
First, we'll go through the most relevant elements to look for when creating a website, then we'll take a look at 10 top bakery websites examples and point out what makes them so excellent.
Table of Contents
What Makes A Good Bakery Website?
Knowing what features your small business website should have can be difficult. There are, however, some important common elements that apply to all business websites, whether you have a physical bakery or a home bakery.
The Design of Your Website
However, if a website doesn't present a good design, customers might believe that their products or services are of poor quality, or that the business isn't actually real.
The Functionality of Your Website
Good design is not only how nice a website looks; it is also about its usability. A website needs to be easy to navigate. Intuitive functions, clear call to action buttons and distinctive sections are key elements.
If users find a website to be good looking and easy to use, they are will probably stay more time on it, which increases the chance of them buying one of your products. no
10 Excellent Bakery Websites
1. Flour and Spoon – The #1 for bakery websites is UENI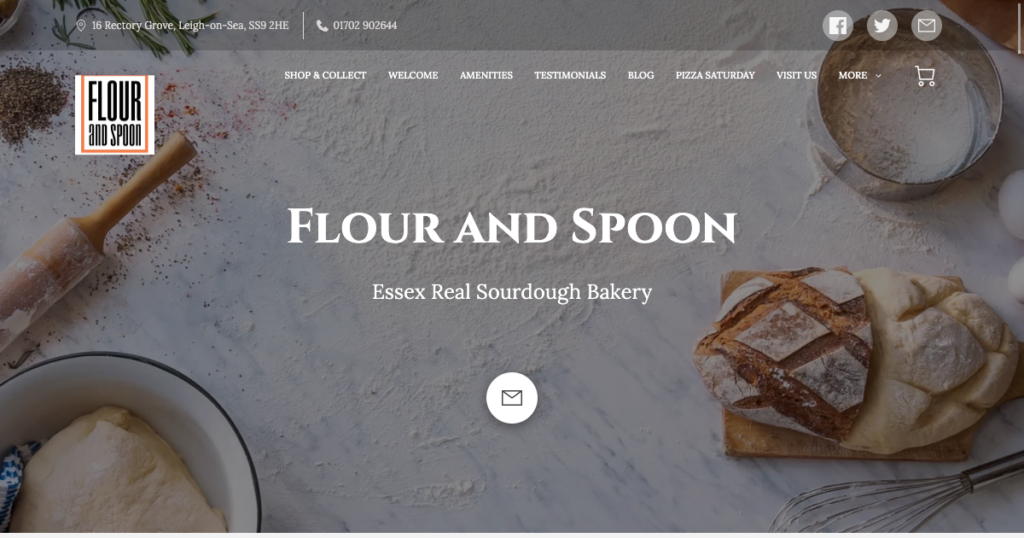 UENI's bakery websites focus on a few fundamental elements that all websites should incorporate: a beautiful appearance, usability and great content. This website for a small bakery in Essex, designed and hosted by UENI, incorporates a minimal design and utilises a single scrolling page as its fundamental structure. High-quality bakery imagery grabs the visitor's attention and adds value to the site.
This website utilises a single scrolling page design that allows users to intuitively scroll on to the next section of the website rather than load a new page. This has a positive impact on the website's efficiency because users do not have to wait for pages to load, and it also means that the key details are readily available. A single scrolling page design makes for a website that is effortless to use, producing a better user experience.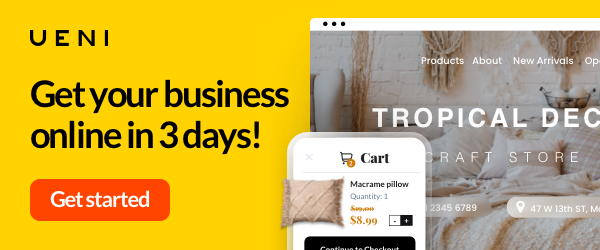 2. Tastebud Approved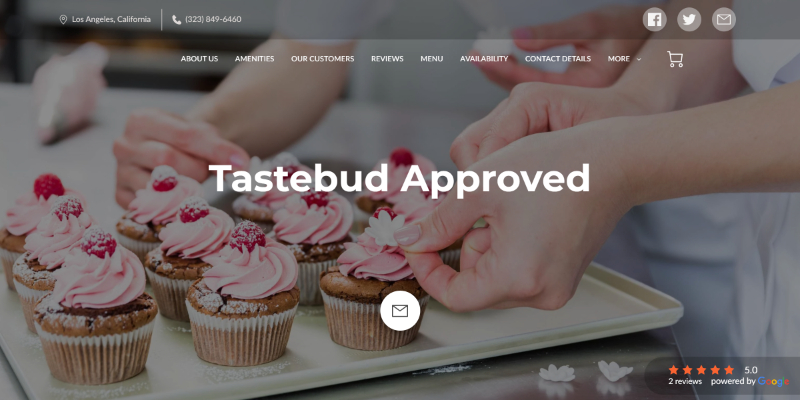 Tastebud Approved's is a great cake bakery website example . A single scrolling page makes it intuitive, never having to leave the page. A reviews section makes the bakery credible for the visitors.
Customised photographs create a personal, welcoming tone and present visitors with engaging visual representations of the products available.
3. Santa Cruz Confetti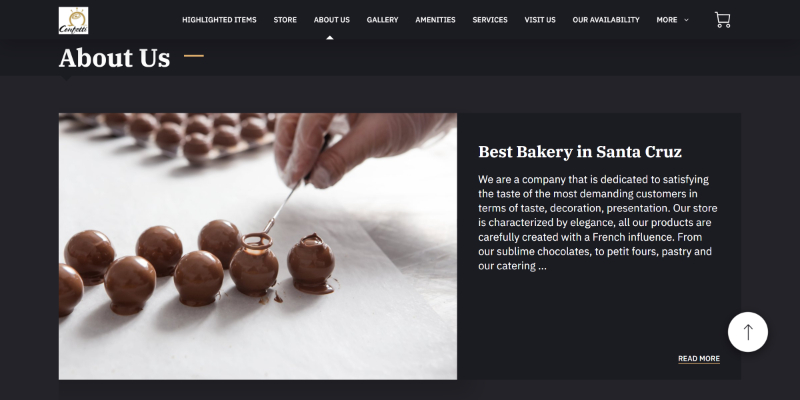 Santa Cruz Confetti bakery website utilises beautiful bakery images that reinforces the business mission. The 'About Me' section is well-written and complete, which gives the visitors a very good overview of the business, while the content boxes provide thorough information for the customers.
4. Beauty and The Bundt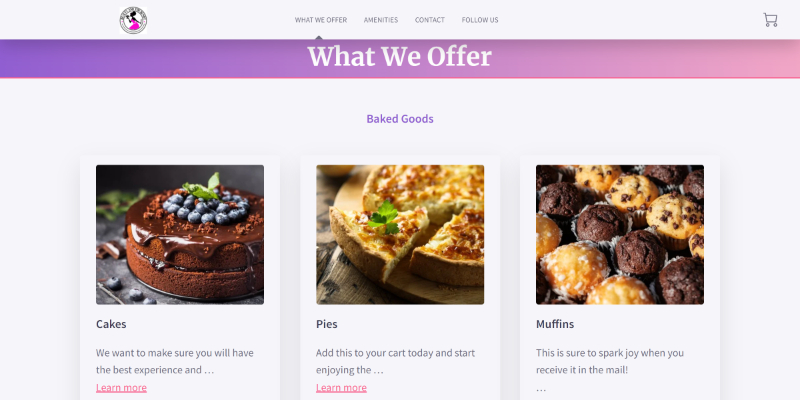 The website for Beauty and The Bundt bakery incorporates a tidy design contributes to a positive user experience. This simple and attractive website welcomes visitors with its approachable and clean style. The content is clearly displayed, providing customers with the necessary details of the business's many services on offer and important contact and location details.
5. Bien Cuit Bakery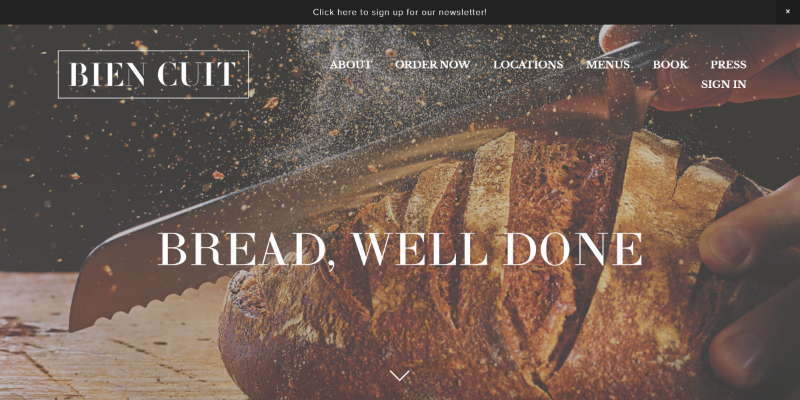 Bien Cuit's bakery website is well put together and a great example of a well designed home bakery website. The branding is excellently showcased, and visitors to the page will easily find the information related to the services on offer. Equally, well-placed call to action buttons allows clients to order products straight away, which improves the user experience.
6. Pophams Bakery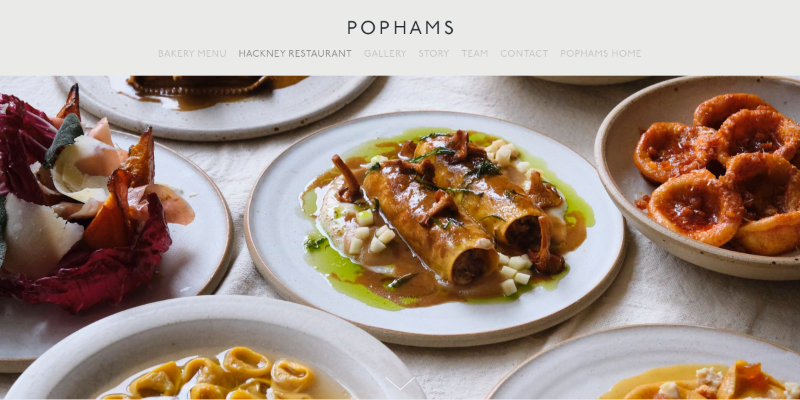 Pophams' bakery website uses striking images and creates a great feeling for the visitors. High-quality photography helps visitors feel as if they are already in the bakery. The website has everything a bakery website needs while ensuring that important information is clearly displayed.
7. Bread Ahead Bakery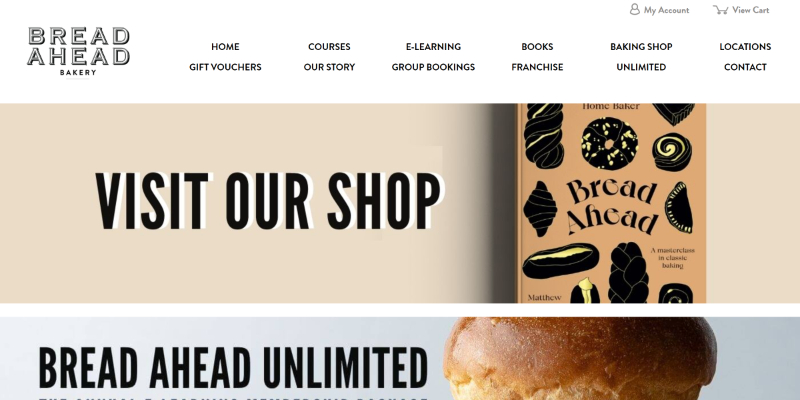 Bread Ahead's website is brilliantly colourful. A well thought color palette gives the page a spirited feel. A navigation panel complete with graphics for each section makes it simple to locate information on the website.
8. David's Cookies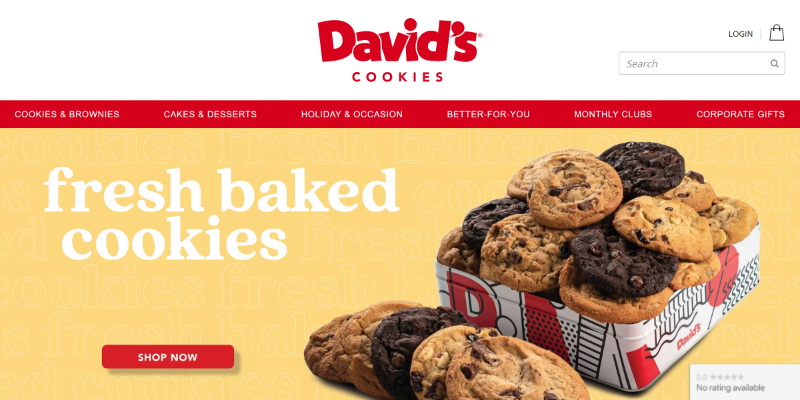 David's cookies website utilises bold colours and a simple style branding to grab the attention of visitors. A clear navigation panel and very contrasting buttons make the website easy to use and help to get visitors to buy his cookies.
9. Brickhouse Bread
Brickhouse Bread's Bakery website features a simple, appealing design focusing on usability. The about us section and services on offer are shown very clearly on the main landing page with an image of the founders, and the user is invited to click a button if they require more information, which keeps the page clutter-free.
10. Magnolia Bakery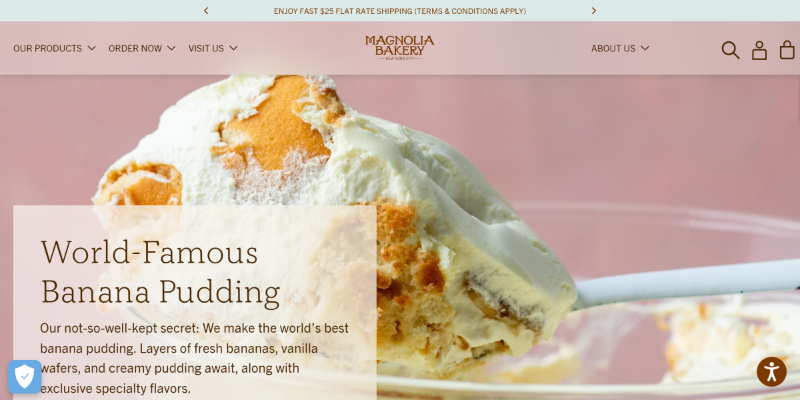 Magnolia's bakery website is a very enjoyable site. Probably one of the best bakery websites you can find. The images are really good looking and do a great job to visually describe the products and services. The website makes clever use of content boxes that present information in a way that is easy on the eye and readily digestible.
Wrap Up: All about the best bakery websites
So, there we have it – 10 beautiful bakery website examples that demonstrate many of the features and functions that a great bakery website needs. Most probably you will take some inspiration from these for your own website.
Needless to say that a well-made bakery website is one of the most powerful tools for marketing a business and connecting with new customers.
These days, getting a small business online with a website doesn't have to be complicated, UENI offers a solution for non tech savvy people that want to showcase their products or services online easily and affordably.