Registering a business checking account for your company is one of the most significant first steps in any entrepreneur's journey. It's the moment where you make a legal distinction between you and the company, legitimizing your small business and setting it up for future success.
But, having a suitable business bank account is crucial whether you're just starting or have been in business for a long time. No matter how tiny, every business or organization requires one: it's crucial to the financial operations of your company, and it's sort of a central hub for your incoming and outgoing payments. It's also necessary to meet bookkeeping, tax reporting, and other legal requirements.
How do you go about choosing the best business checking account for your company?
There is no one-size-fits-all solution here – the account you choose will depend on your company size, industry, sources of income, etc.
However, there are some account characteristics that every small business owner should be evaluating when looking for a financial institution, regardless of their industry.
Here are some of the best business checking accounts you can go for right now.
How did we choose these business checking accounts?
Before we get into our list, let's see which criteria we used to compare and rate these banks.
Monthly maintenance fee: banks have differing lower costs for small businesses and individuals alike. Some banks offer a business checking account with low fees or even free of charge, others have hefty fees that may not seem that high initially, but they'll quickly add up.
ATMs: you may want your bank to allow for both withdrawals and deposits over ATMs. However, some banks don't allow ATM access for business bank accounts or charge fees for this service.
Opening deposits: many banks have a minimum opening deposit – an initial amount of money you need to put down to open a business checking account. This will hardly ever be an impossible sum but the amounts will still vary.
Transaction limits: how much money can you withdraw in a single transaction? How many transactions can you make each month? Banks will usually place limits on these and many other actions when making transactions with your business bank account.
Tools offered: today, many banks offer online and eBanking services that help you pay your bills and execute transactions quickly. Some banks will even have specialized software for businesses that allows for online payments, invoicing, etc.
Offers and perks: each bank will have a set of specific proposals, features, and extras to motivate you to open a business account with them. Some of these perks can make a big difference, especially over several months or years.
Now that we know what we're looking for, let's get to our list!
#1: Chase Business Complete Banking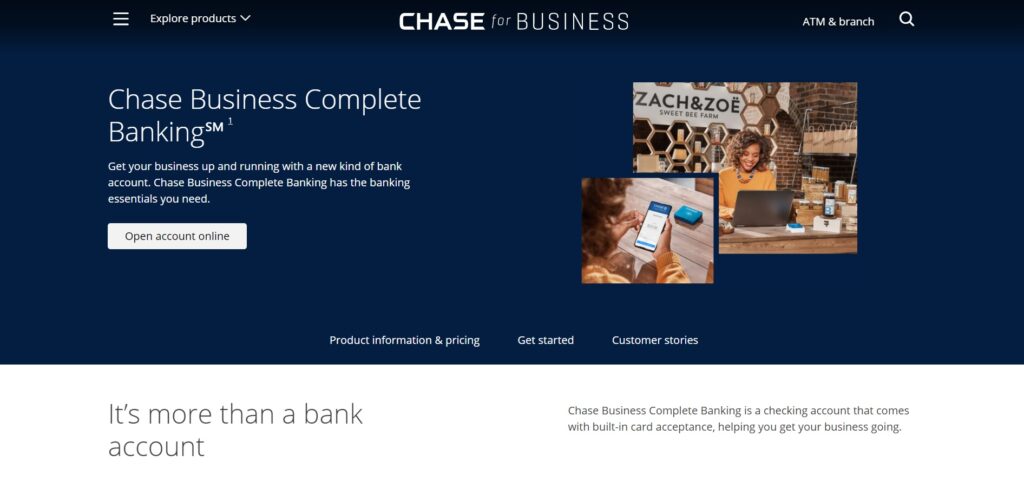 Chase is the bank to check if you own a retail, restaurant, or any other type of business that generates regular cash transactions. They're a fantastic match for enterprises that deal with a lot of cash and have several physical locations.
The bank also offers many different account choices suited to various company sizes, so you'll probably find an option that suits your business model best.
There are three business checking accounts you can go for with Chase: Chase Business Complete Banking, Chase Performance Business Checking, and Chase Platinum Business Checking. We'll focus on Chase Business Complete Checking as one of the best small business checking accounts since it has low monthly fees and powerful eBanking features.
The monthly fee for this account is $15, but you can be exempt from it if you fulfill one of these criteria:
Maintain a minimum daily balance of $2,000.
Spend at least $2,000 on purchases with their Chase Ink Business Card.
Deposit a minimum of $2,000 into your account from either Chase QuickAccept transactions or other Chase Merchant Services transactions.
Link your business banking account with a private account.
Show a military ID or proof of military service.
#2: Bank of America Business Advantage Fundamentals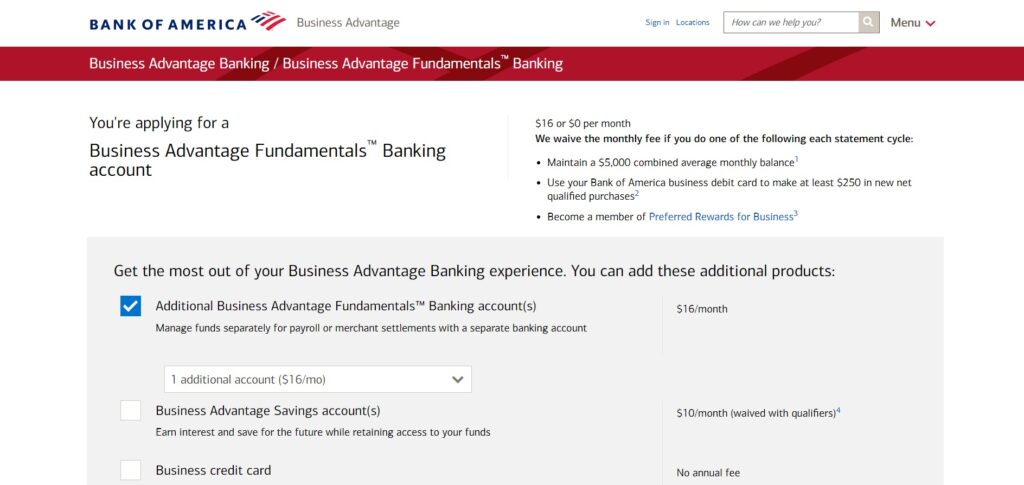 If you're looking for a reliable brick-and-mortar bank with lots of physical locations and extra security, Bank of America is one of your best choices.
It has the third-largest number of branch locations in the US, making it a good choice for LLC owners who prefer in-person banking. The Business Advantage Fundamentals account also comes with many features to help you manage your company more efficiently, like QuickBooks integration and a virtual financial assistant.
The monthly maintenance fee is $16, but you can waive it by having a $5,000 average monthly balance, spending $250 with your business debit card, or becoming a part of their Preferred Rewards for Businesses program. The minimum opening deposit requirement is $100.
BofA is so good for in-person banking because it has so many locations and ATMs. In addition to Washington, D.C., there are 17,000 ATMs and 4,300 branch locations in 37 states across the U.S.
However, your firm does not need to be in a state where Bank of America has a branch to be eligible for a business checking account. On the Bank of America website, you can check charge and rate information for any of the 50 states.
#3: Digital Federal Credit Union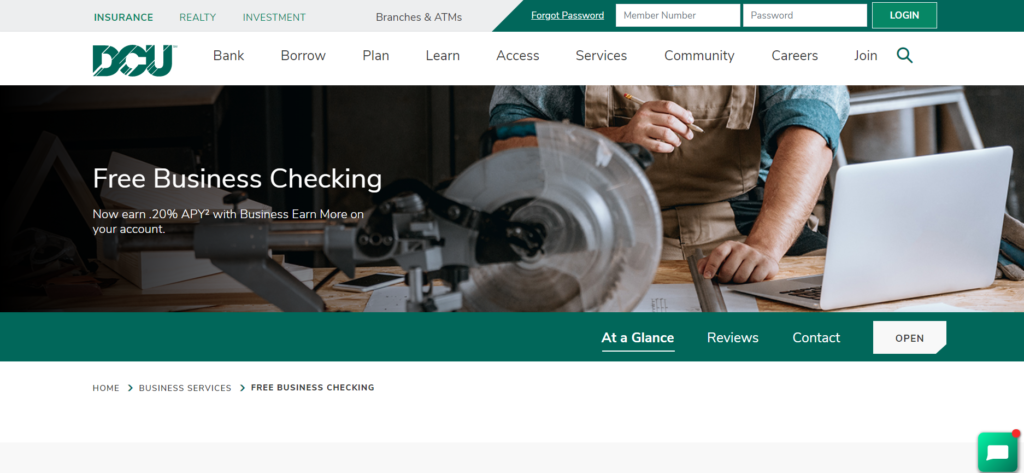 Digital Federal Credit Union (DCU) offers a free business checking account, perfect for supporting small businesses and solopreneurs looking to cut costs.
DCU offers only one business checking account at the moment. However, not only is it free – it's also interest-bearing. There are no maintenance fees or minimum balance requirements, and it pays a 0.20% annual dividend. In addition, your first 20 daily deposits are free, while subsequent transactions will cost you 10 cents per transaction.
The eligibility criteria are the only possible issue with becoming a part of the DCU. You can find the entire list of criteria on their website, but here is an abbreviated version. You can be a member of DCU if you:
are a spouse, child, domestic partner, grandchild, parent, grandparent or sibling of a current member.
currently work or are retired from a company DCU has on their participating employer's list.
belong to a participating organization that DCU serves (mainly NGOs)
live, work, attend school, or worship in selected communities that DCU supports (mostly Massachusetts and New Hampshire).
#4: Wells Fargo Initiate Business Checking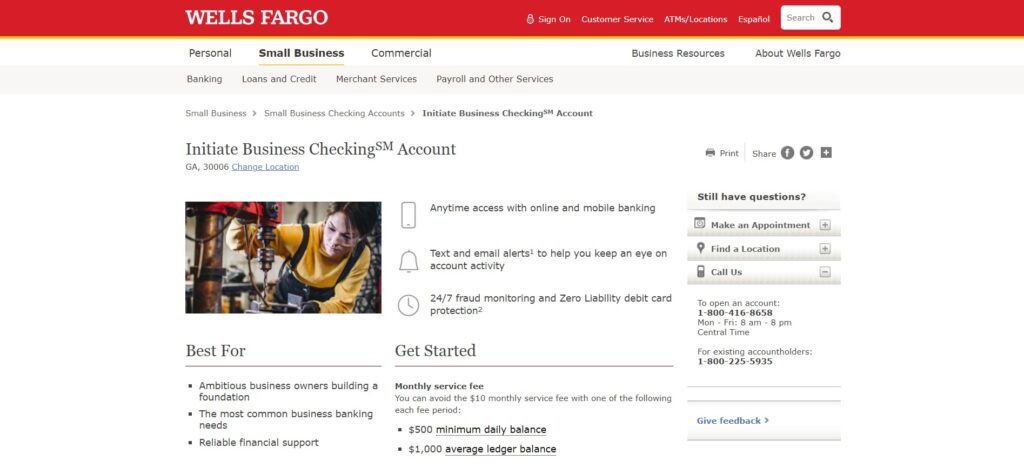 Suppose your company needs funding or anticipates the need for one in the future. In that case, you might want to consider opening a business account in a bank that specializes in small business lending. This is especially the case if they have a solid Small Business Administration (SBA) 7(a) loans program.
In addition to checking this essential box, Wells Fargo is one of the largest, most stable banks in the U.S. With their business checking account, you get access to 13,000 fee-free ATMs as well as 5,200 locations in 37 states. You'll be able to deposit checks, withdraw cash, and move funds between Wells Fargo accounts, as well as deposit cash at any of their ATMs using your business debit card.
The monthly fee for their Initiate Business Checking is $10, and it can be waived with a minimum daily balance of $500 or an average ledger balance of $1,000.
#5: Navy Federal Credit Union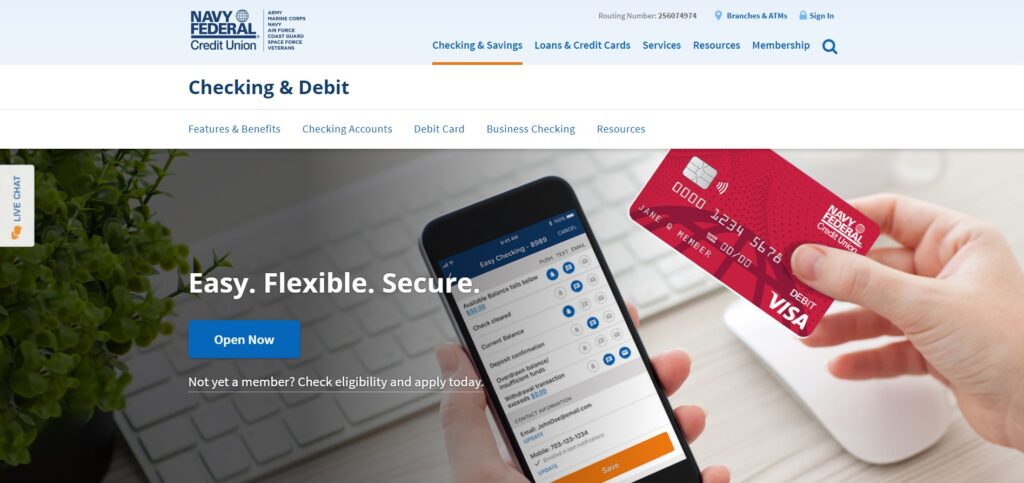 Navy Federal is another Credit Union that provides a variety of business bank accounts. The options include three checking accounts, two business savings accounts, and company Certificates of Deposit.
Like DCU, Navy Federal offers interest on their checking accounts. The Lowest-tier business checking account pays .05% interest which doesn't sound like much, but it still beats banks since most banks do not pay interest on their lowest-tier accounts.
There are no monthly fees, and your first 30 non-electronic transactions are free. After that, each transaction is charged $0.25.
The only disadvantage to creating a bank account with Navy Federal is that you'll require a personal checking account, which you can only acquire if you're a military member. So this is a niche market, but if you have a military affiliation, Navy Federal Credit Union is probably one of your best options for opening a business banking account.
#6: Capital One Spark Business Unlimited Checking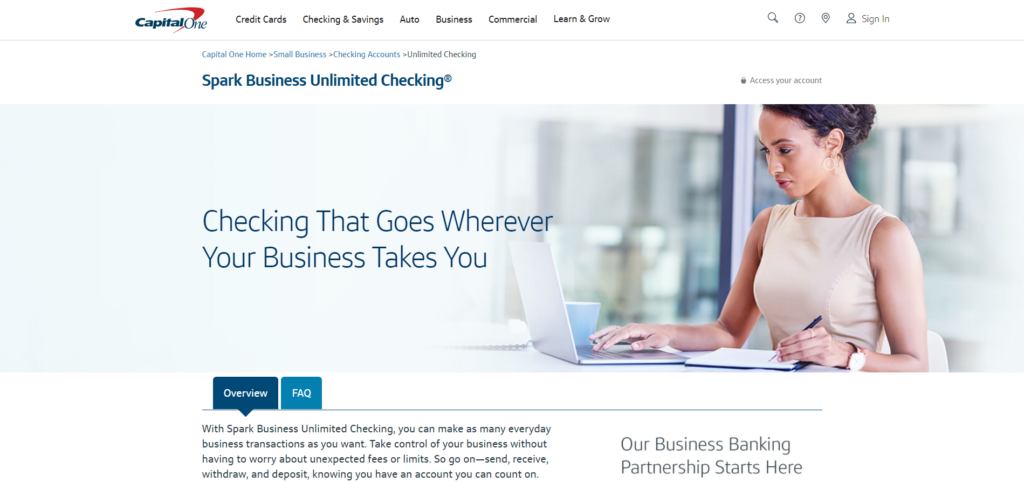 Capital One is another big name in banking and one of the most versatile options on this list.
Capital One has you covered whether you choose to bank in person, online, or through their mobile app. The Spark Business Unlimited Checking account comes with many options like unlimited monthly business transactions and 100% free incoming domestic wires. With this account, you can even send five free domestic wires.
The monthly maintenance fee is $35, but, like with many other banks, you can avoid this fee if you maintain a $25 000 minimum 30 or 90-day average balance.
You also get free online bill pay and free business debit cards, both of which can come in handy for small business owners.
However, this business bank account is created for businesses with less than $40,000 monthly cash deposits. So, if you're a cash-first business and you'll be making a lot of deposits, Capital One Spark Business Unlimited Checking might not be a perfect choice.
#7: LendingClub Tailored Checking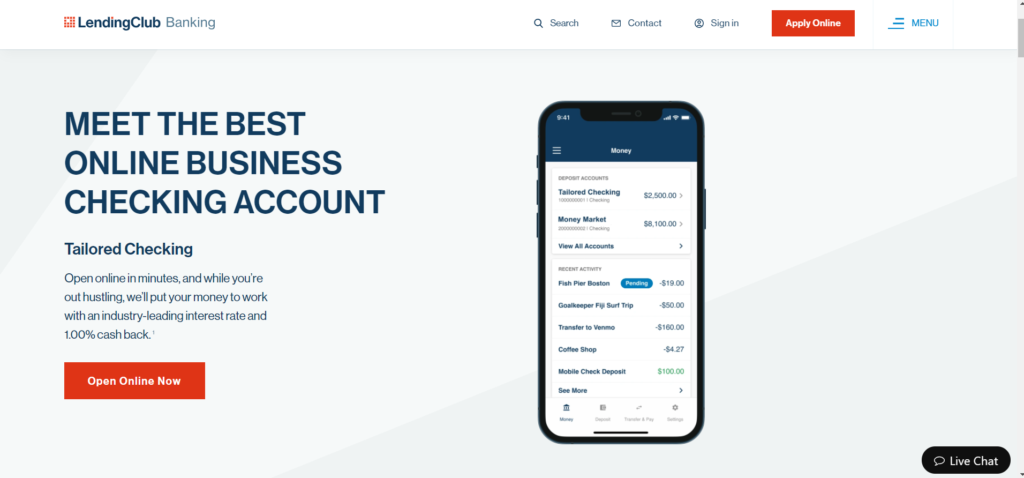 The Tailored Checking account from Lending Club is for those business owners looking for flexibility, especially online.
Its standout features are limitless ATM fee reimbursements and the potential to earn interest over time. In addition, this online business checking account offers unlimited fee-free transactions, debit card incentives, and accessible digital banking options like integrated invoicing and bill reports.
The monthly fee is $10, but you can avoid it by having a minimum daily balance of $5,000 or a $1,000 average ledger balance. The daily balance might be a challenge for some businesses, so small companies will likely find this a challenging task. The interest rate on balances over $5,000 is 0.10%, which isn't great, but it's still better than what many banks will offer. If your balance is below $5,000, however, you will get no interest whatsoever.
The minimum deposit is $100 – fairly standard for most business checking accounts.
One significant downside of LendingClub Tailored Checking is that you can visit no physical branches if you have questions or simply prefer doing things offline. So, it's safe to say that this isn't an excellent option for the traditional business owner.
Still, opening an account online takes minutes, and even the less tech-savvy users will figure things out quite quickly.
#8: NBKC Business Checking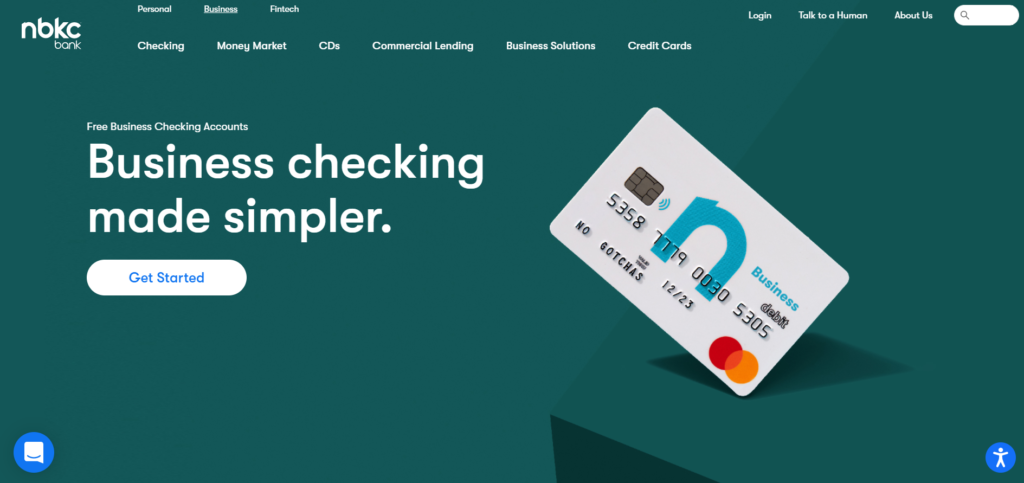 NBKC is a digital-first bank that provides checking and savings accounts for small businesses and cash management tools such as desktop deposit and Autobooks.
The bank also provides various add-on business options, such as a free business savings account that may be created in conjunction with a business checking account to take your banking experience to the next level through personalization.
The best thing about NBKC Business is that there are no monthly fees, minimum balance requirements, transaction fees, or even costs for mobile or eBanking. Essentially, the only expenses you'll see with NBKC's online business checking account are those associated with sending local wires and sending or receiving international wires.
That said, NBKC also offers services like merchant processing and desktop deposit which are charged extra.
When we put all of this in perspective, it seems evident that the NBKC Business Checking account is intended for cost-effective business owners who have no problem doing the bulk of their business online.
#9: US Bank Business Checking Account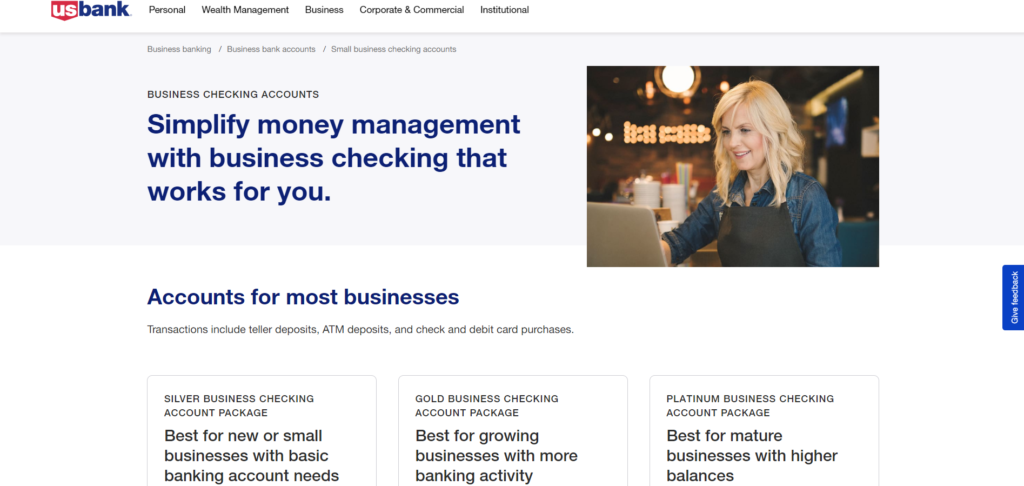 If you're looking for another no-fee business checking account, US Bank is a great option to consider.
What distinguishes US Bank from most other no-fee bank accounts is the scale and reliability. Unlike NBKC, for example, US Bank is the fifth-largest bank in the United States, and the offline infrastructure is there. It operates in 2,895 locations across 26 states, and it's an excellent option for businesses based in the West and Midwest.
However, while there may not be monthly fees associated with US Bank, there are other hefty fees – overdraft, cash deposit limit, and transfer fees being the most important ones. You do have up to 125 free transactions, but you'll be charged $0.50 for each transaction after you've exceeded the limit.
Another downside is the fact that US Bank doesn't offer the option of interest-earning accounts.
So it's more affordable than many other banks, and it offers a good mix of online and offline features, mainly if your business is located in the western or midwestern part of the U.S.
#10: Mercury Banking for Startups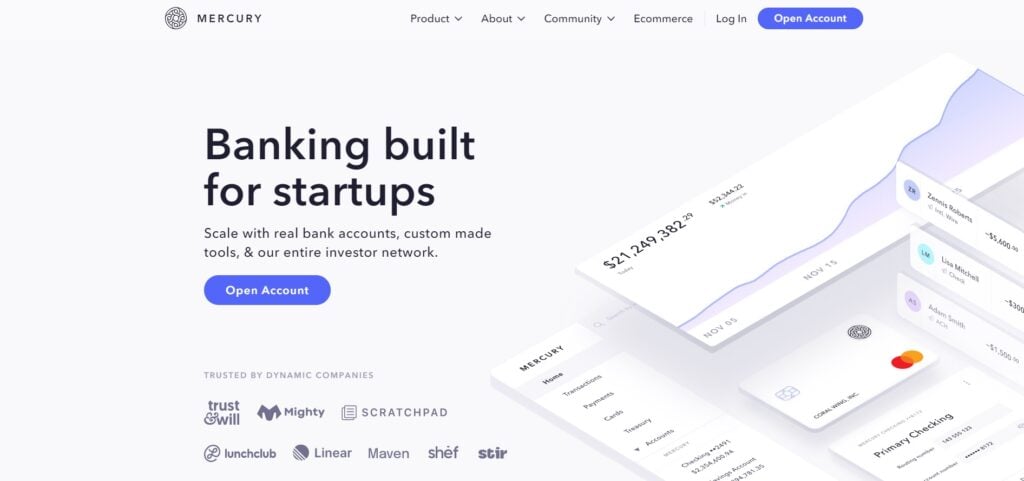 Mercury is another online banking platform with no monthly fees for neither business checking nor savings accounts. It was created with entrepreneurs in mind, so it offers lots of scalable digital tools. Plus, every account comes with read-write API access, allowing you to really personalize your banking.
Mercury provides an enhanced version of their platform called the " Tea Room " if you're running a booming business with more than $250,000 in your account, Mercury provides an enhanced version of their platform called the "Tea Room".
There are no transaction fees, minimum balance, and minimum deposit to open an account with Mercury. You also get fee-free cash withdrawals through the Allpoint network, and you won't be charged for out-of-network ATM use.
Mercury comes with built-in digital capabilities that let you send and receive online payments, manage transactions and cash flow statistics, and keep track of your spending. Additionally, their iOS software allows you to create virtual debit cards and manage your debit card.
There are two significant downsides to Mercury. The first is that sole proprietors can't open accounts using this platform. This is a problem since more than 73% of small businesses in the U.S. are sole proprietors.
The other issue is that the Mercury banking platform doesn't support traditional cash deposits, so businesses that frequently deal with cash will have to look elsewhere.
Frequently Asked Questions about Business Checking Accounts
Finally, here are some common questions businesses seem to have about opening and managing a business bank account.
What's the difference between a bank and a credit union?
Banks are either privately held or publicly traded businesses, which means their crucial goal is to make a profit. On the other hand, credit unions are structured as cooperative, meaning their members own the institution.
The disparity you saw in this article when it comes to the products and services offered by each kind of institution is due to this profit vs non-profit split. That's why credit unions will often offer fee-free business bank accounts perfectly suited to small businesses.
However, credit unions will often offer accounts that don't have as many features, especially when it comes to online banking.
Are there free business checking accounts?
While most banks will have monthly fees connected to their business checking account services, there are some free business bank accounts to choose from.
Banks rarely offer them – most of the free options you'll find are offered by credit unions or online banking services like Mercury.
Even the banks and services that offer free bank accounts for businesses charge for other things. For example, there might not be a monthly maintenance fee associated with your account, but you'll be paying hefty fees for wire transfers, deposits, and similar services.
Can you transfer money from your business bank account to a personal account?
This is not only legal and legitimate; it's also encouraged by many banks, such as Chase. Navy Federal Credit Union also requires you to have a private account to create a business account with them.
However, keep in mind that transferring funds from a business to a private account isn't advisable if you have partners or shareholders. In this case, you'll need to consult with them, and you also may require some form of written consent.
Do self-employed individuals need a business bank account?
You don't necessarily need a company bank account if you're an individual working under your name. Still, it's better to have a separate business account, so you can track revenue, expenses and have a better overview of how your business is doing.
If you're running an LLC or other form of a sole proprietorship, you're required by law to have a separate bank account.
Conclusion: the best business bank accounts
Not all business checking accounts are perfect for all companies – the right option will depend on your needs, business model, and financial situation.
Take a look at all the options on our list, do your research, and figure out the best solution for your business.
One of the more critical things to consider is online vs offline support. Some business owners will prefer banks that have physical locations where they can do their business in person. Others will appreciate banks and services that prioritize the online experience, making everything faster and more convenient for the tech-savvy person.
Whatever you choose, pay close attention to fees and requirements. Although they might not seem like a lot, they can quickly add up, and you'll be looking at lots of expenses for what is supposed to be a relatively cost-effective service.