If you are confused about the many names and options for managing your Google presence, you have a right to be.
Google's numerous services can be difficult to navigate, especially when your business straddles multiple of these. It is important to have control over how your business appears on these services, or as Google puts it, "to tell the story of your business". Google Business Profile Help can assist you to do so.
This article will discuss the various services that are provided by GBP Help and how a local business can take advantage of these.
Read on to find out how GBP Help can support you with your account.
What is Google Business Profile Help?
Google Business Profile Help is a help center and online community forum where business owners can obtain support and assistance for their Google Business account and listing.
The help center allows users to perform a range of tasks relevant to a listing, including verifying a business, updating business information, engaging with customers, managing bulk listings, and many more. The page also features a search box that will direct a user to go after inputting an issue or task.
The community forum contains tips and tutorials for using GPB, and answers to frequently asked questions.
The community forum consists of:
A live feed, where live discussion takes place and issues or questions may be posted immediately;
Category pages "discussion" that contain information on topics such as articles, news and updates.
The GBP Help community is operated by volunteers who are not employees of Google. It is peer-supported and managed primarily by a group of top contributors who have the ability to escalate issues and cases to Google.
Google Business Profile Help also has a support service staffed by Google employees who can be contacted directly.
GET YOUR WEBSITE IN A FEW CLICKS
We'll create your small business website to help you grow online
How can you ask for Google Business Profile support?
Google My Business Support Contact Number:
The GBP Help community forum is very extensive and, as noted above, contains discussion categories for a range of issues. It is the best place to start if you have a problem that needs to be solved or general questions. Users can consult the discussion categories for information or directly post a question to the live feed. Alternatively, the GBP Support team can be contacted directly by phone or Twitter.
A common issue tackled by GBP Support occurs where the listing is under the control of someone other than the business owner. It is common, for instance, for many businesses to have a particular employee in charge of the business' online presence. That employee may have claimed the business' GBP listing page using their personal account or may have created a new account without informing the business owner of the details. If the employee resigns his or her position with the business, the owner has no way of accessing the listing.
A business owner can contact GBP Support directly to request assistance solving this issue. However, it has become increasingly difficult to locate direct email or telephone contact details (a deliberate tactic to encourage people to resolve the problem themselves). If one overcomes that obstacle and manages to telephone GBP Support, they may be disappointed to learn that most calls are taken by call centres in India (although some calls are handled by United States employees in Ann Arbor, Michigan).
The GBP Help community forum, conversely, can be accessed immediately and features a discussion category specific to this issue. A user can find a wealth of information that will explain how to claim ownership of their listing.
There are times when you just need to speak with a real person, particularly if you find that you cannot solve your specific problem with information from the community forum.
If that is the case, GBP Support can assist customers with the following matters:
1. Attending to verification issues, such as where codes have not arrived or postcards have not been received
2. General assistance setting up a new local account
3. Requesting Reinstatement Forms for suspended listings
4. Obtaining ownership of a listing that is currently verified by someone else
5. Reporting inappropriate reviews
6. Receiving help with other issues not found on Help/Support pages, or on the dashboard
7. Updating information
8. Handling listing ownership transfers
It is important to remember that a Google employee on a legitimate call will never:
• Ask for a fee for your business listing or review removal;
• Ask for payment for rankings in search results;
• Offer to administer your company profile online;
• Ask you for your verification code or password; or
• Ask you for other sensitive information about your account.
Additionally, Google will never contact you using a robocall.
To contact GBP Support, there is a specific phone number. The Google Business Profile Contact Number is 1-844-491-9665.
Again, you can:
Remember, It is best to post here if you want feedback on a particular issue, see something odd that you feel might be a bug, need clarification on a particular policy, or have spam that you wish to report either about your GBP listing or GBP in general.
Finding Google Help In My Account:
The procedure for finding the email/phone contact form from within your Google Business Profile Dashboard is as follows:
Select the "Support" link in the bottom left of the Google Business Profile dashboard:
Select "Need More Help?":
You need to select "Access and Ownership" and then "Other Problem":
Problems You Can Solve With Google Business Profile Help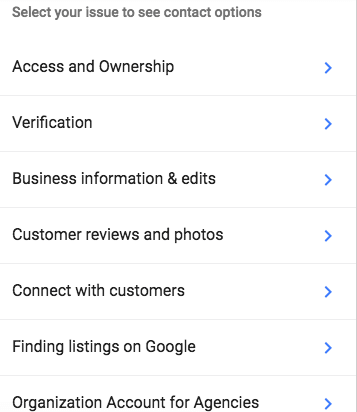 You can request ownership of a verified Google Business Profile Page if:
You discover a verified Google Business Profile page that relates to your business, but you do not have access to or control of it;
You have lost or cannot remember the login details; or
Someone else within the company had previously verified the business listing and you cannot locate the account login details.
Remember, you should not try to circumvent the issue by simply creating a new listing for the same business, because Google will usually suspend any duplicate listings.
Google requires you to make an ownership request first before you make any appeal or attempt to contact Support.
The following steps outline the procedure for claiming or requesting ownership of a listing that has already been verified:
Head to business.google.com/create
Input the business name and a list of businesses will appear. Be sure to pick the correct one.
A message window will advise you that the business is owned by someone else.
Click the 'Request Access' button.
Then click Submit.
Google will email the owner with the request and they have the option to:
Add you as the manager;
Grant the ownership request; or
Reject the request.
If the owner rejects the request, you will receive an email informing you.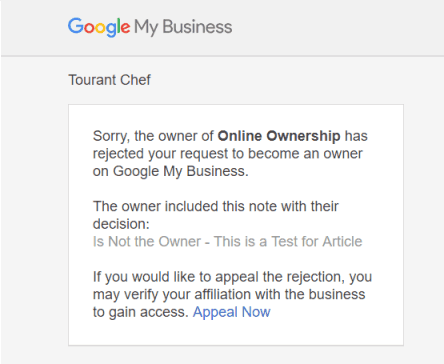 If the owner ignores the request and you do not receive a response after 7 days, you should contact Google Business Support.
Again, if the listed owner does not respond after 7 days, Google will automatically transfer ownership of the listing to your account because you will have already demonstrated a Google account connection.
Transfer Primary Ownership of a Business
If you are have sold your business and wish to transfer the primary user rights of the business listing, follow the steps set in the Access and Ownership section of Google Business Profile Help Support. The right to have the listing transferred may also be granted to the successful party following the outcome of an appeal for ownership verification.
Why is it important to resolve verification issues?
For the claims process of a business to be ascertained, verification of a GBP Listing needs to have been obtained. Managing a GBP listing in Search, Maps, and other Google properties also requires verification, which certifies the accuracy of the information regarding your business. Only you, the business owner or manager, have access to the GBP listing.
In the Access and Ownership section, GBP Help can be used to:
Resolve postcard verifications not received within 14 days or more
Locate verification codes that are missing and/or lost
Handle unauthorized verification by someone else of your business listing
Remove duplicate locations either singularly or in bulk listings
Manage bulk listing verifications
In the Business Information and Edits section, GBP Help can be used to:
Find out what parts of a business description can be edited
Report business direction errors in Maps or manually pin your business location on Maps
Indicate that the business is closing either temporarily or permanently
Delete a listing
In the Customer Reviews and Photos section, GBP Help can be used to:
Read and reply to customer reviews
Flag any inappropriate reviews for removal
Create links for customers to write reviews
Manage the reviews across diverse social media platforms
Fix any unauthorized "Suggest an Edit" edits
Report any review gating violations
Learn what types of photos/videos are supported
Flag any photos/videos for removal
Understand photo/video policy parameters
In the Relation with Customers section, GBP can be used to:
Create and manage posts
Review post performance
Create a GBP website with current the domain, or purchase a new one
Learn how to have your customers message you via your GBP listing
Manage your bookings based on your GBP listing for services offered
In the Finding Listings on Google section, GMB Help can be used to:
Check to see that your GBP listing is showing live and report any discrepancies
Check to see that your GBP listing is showing on Maps or Search queries and report any discrepancies
Learn to use tools to improve listing rankings
Different ways to use Google Business Profile Support
Google Business Profile phone support helpline
You can telephone GBP Support on 1-844-491-9665. Once the call comes through, you will be greeted with an automated message. After the greeting, you are placed immediately into the call queue.
Bear in mind that like any customer service number, the GBP Phone Support line will have you waiting on hold until a representative becomes available. Of course, the wait time will vary depending on how busy they are.
Twitter support is available
To help assist people who don't have time to wait in a queue on the phone, GBP Support now has a Twitter account through which they can be contacted. The account regularly tweets out general GBP information and updates and acts as an access point to a Support service team to assist customers.
To get in touch with the team, you will need to follow @GoogleMyBiz. Once you have done so, you can tweet or message them directly or interact with their page as you would with any other Twitter user that you follow. Alternatively, you can get the team's attention by simply including their Twitter handle (@GoogleMyBiz ) in a tweet of your own, posing a question or asking for assistance. The service team is available on Monday to Friday, between 8am-5pm EST.
For more information and an introduction to the team, see the Twitter team page. The team deals with requests on a first-come, first-served basis, so the response time will vary depending on what other issues they have ahead of yours.
The best advice is to be patient and bear in mind that it could take 24 to 48 hours to receive a reply.
Google Business Profile Help exists to encourage and assist business owners to exercise online ad promotion for their GBP listing, and to engage with customers through reviews. Both of these provide valuable information about your business to the business owner and its customers. GBP Help is a valuable resource that contains the functionality and information to support the easy management of a GBP listing and account.
For more detailed information about Google Business Profile Help, you can refer to Google's official websites or you can find useful answers to your questions on the Help Forum.