One of the most exciting features we rolled out for our Plus and Reputation Customers this year was the ability to sync their products with Facebook, Google, and Instagram.
When done correctly, this allows your products to appear on these platforms and lead users directly back to your website – when it comes to Instagram, this means that you can seamlessly integrate your products with the platform.
Most importantly, this means you can create Shoppable Posts, which allow your followers to purchase products directly through Instagram via your UENI Website. Fewer clicks creates a better experience for your customers, and happier customers leads to more sales.
What Do I Need To Start?
First off, you will have to set up a Facebook Product Sync. Because Facebook and Instagram are owned by the same company, they use the same product feeds and many of the same systems.
What does this mean? It means that in order to successfully sync your UENI page with Instagram, you will have to go through the Product Sync with Facebook first. Make sure you do this first.
Next step: Get out your phone. Any step in this process that is done in Instagram will have to be done through the app – you won't be able to do it via their website.
Remember, the same Product Rules for Facebook Sync apply to Instagram as well, so all of your products will need to have prices, images, and the 'show payment button' active.
If you need a refresher on how to make your products really stand out, please check out our guide here.
How Do I Sync My UENI Products With Instagram
Once you have your mobile phone ready:
Head to the Editor
Click on Settings
Then click on Shopping Cart
Then click on Product Sync
Once you click on Product Sync, you should be on a screen that looks like this one: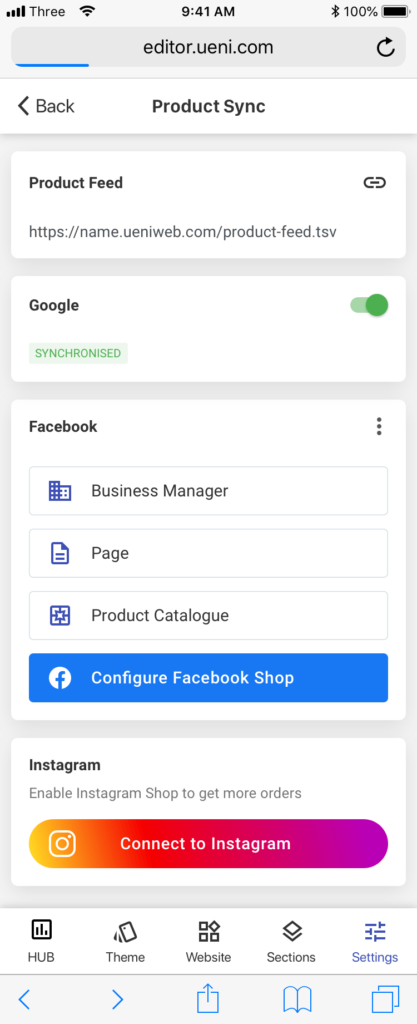 Click on the multi-coloured Connect To Instagram button.
You'll be asked to Confirm your Instagram profile, and then to Confirm Your Facebook Shop. Remember, Facebook and Instagram are run by the same company, and both product syncs rely on the Facebook Shop to work.
Now there are two possible paths, depending on whether or not your Facebook and Instagram Account is a Business Account.
If You Don't Have a Business Account
If your Instagram account is not yet set up as a Business account, you'll have to Open the Instagram App on your phone.
Open the Settings menu and go to Account
Select Switch to Professional Account
Tap Continue
You'll now be in the Professional Account Set Up Screen:
Choose your business category and click Done
Choose Creator or Business and click Next
Connect your existing Facebook Page with your Instagram business account and click Next
The whole process should look something like this: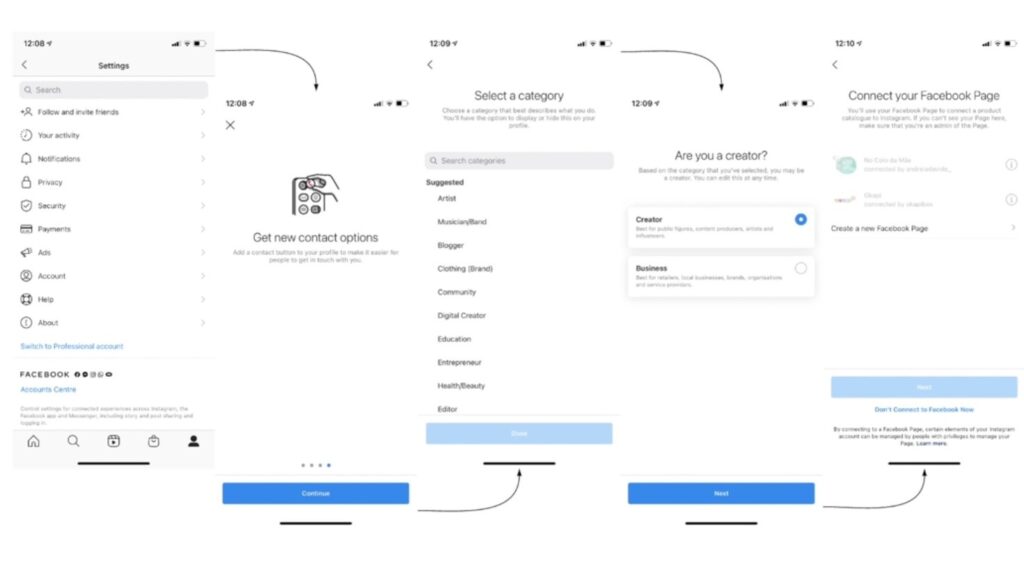 If You Have a Business Account
If your Instagram and Facebook business accounts are already connected, or if your Instagram account is already a business account, you're all set – you should see a screen like this one appear: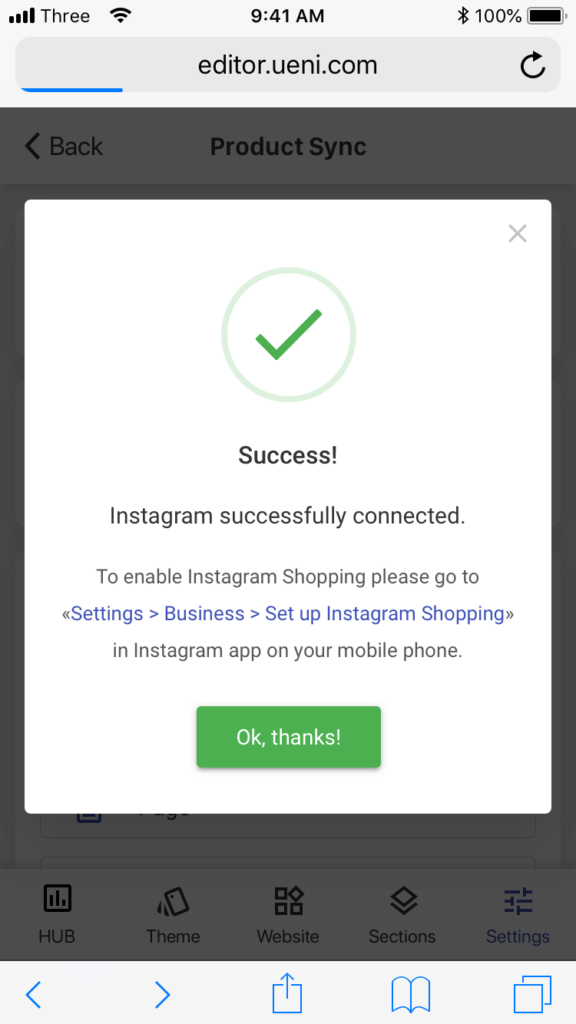 As it says in the screenshot, you will now have to Set Up Instagram Shopping.
Don't worry, this is super easy.
Setting Up Instagram Shopping After Sync
Once you have your business's Facebook Business account set up and ready to go, make sure to update your Instagram app to the latest version and then open it.
Once you're inside Instagram, you can follow these steps to enable Instagram Shopping:
1. Go to your profile and tap the ☰ icon to open your options menu.
2. Tap Settings, then tap Business, then Set Up Instagram Shopping: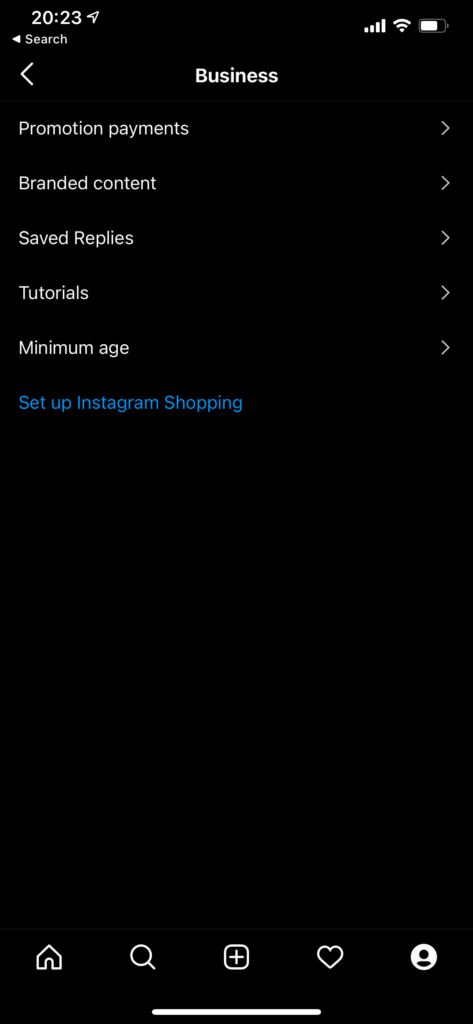 3. Then press Continue and select your UENI product catalogue to connect it to your Instagram Account.
Now your Product Catalog will be connected, and you'll be able to create Shoppable Posts! For more details on Instagram Shopping, please read our guide to getting the most out of Instagram Shopping.