A little over a decade ago, people didn't like to visit websites from their phones. The whole experience was clunky and you really only ever used your phone to access a website when you were forced to.
But then, the iPhone dropped and changed the smartphone industry forever. This little device released in 2007 made the mobile web browsing experience not only intuitive but enjoyable as well. Other manufacturers soon followed and, fast forward to today, people order stuff, fill in contact forms, use website live chats – all from their phones.
Building a mobile responsive website, however, isn't an easy task. And, if you're going to do it with a website development studio, it's probably going to cost you.
Fortunately, there are some tools that can help you do this on your own, with no coding knowledge.
In this article, we'll go over some of our favorite mobile website builders on the market right now.
Why is it important to have a mobile-friendly website?
Do you really need a mobile version of your website? How many people browse the Web from their mobile devices anyway?
As it turns out – a lot. More than half of all website traffic comes from mobile devices. You wouldn't be wrong if you said that your mobile site is more important to you than your desktop version. It certainly makes sense from a traffic standpoint.
It's not just presentational or company websites either: people seem to do a lot of shopping online using their mobile phones. The mobile e-commerce industry (also known as "m-commerce") has been steadily growing for the past few years. M-commerce purchases have doubled since 2015 and they make up almost half of all e-commerce purchases in the U.S.
So, if you want your users to get relevant information, make reservations, get in touch, or purchase something on your website – it definitely needs to be mobile-friendly. Otherwise, you're just leaving money on the table.
The best mobile website builder tools in 2022
Here are our choices for the best mobile website builder tools and platforms on the market right now.
To give the most accurate assessment and recommendation, we used all these tools for a period of two weeks. We also analyzed all the available data from online SaaS publications, user-review websites, and studies.
We compared all the tools based on the following criteria.
Pricing: It might not be the most important thing when choosing the perfect website builder but pricing certainly has a price to play. Even more important than pricing plans is what you get in each plan: 24/7 support, custom domain names, and unlimited images can end up costing you.
Ease of use: The whole point of a website builder is to make the web design process easy even for complete beginners. We compared these tools based on how easy their editors are to navigate and use.
Features: Does the website builder offer royalty-free stock images, traffic analytics, or SEO tools? How many responsive templates does it offer? All these questions matter when you want to create the best mobile responsive website.
eShop: the e-Commerce sector has grown a lot over the past few years so a lot of business owners want to have an online store on their mobile website. Not all website builders allow you to add this feature to your website at an affordable rate.
Additional functionalities: Some mobile website builders provide specific features that allow you to add more nuance to your website. This includes search engine optimization, social media plugins, site stats, and more.
Now that we know what we're looking at, let's get to our list and find the best mobile website builder out there!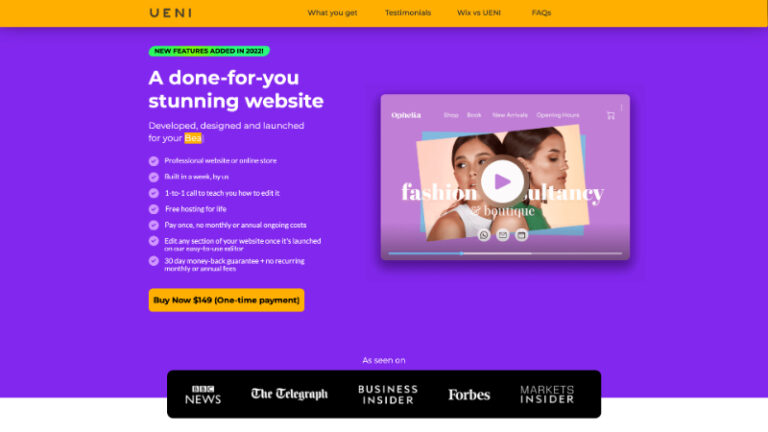 We might be a little biased, but we believe we've managed to create something special after years of helping small businesses build their online presence.
With UENI, you don't have to do anything but give us a brief. Tell us about your business, your goals, expectations, and ambitions. Our team of copywriters and web designers will then get to work and create a mobile and desktop website solution that fits your needs. So, UENI is quite different from other tools on this list. It's not a do-it-yourself website builder.
All you need to do is describe your business by answering a few questions and uploading images to bring us closer to your products and services so we understand what you do. The more information you provide, the more we'll be able to personalize your content. It takes us less than 7 days to deliver you a fully operational website along with your business listing on Google.
The website is transactional from day one, meaning you can start selling your products right away!
UENI comes offers three different plans: Basic ($10.75/month), Plus ($29.08/month), and Reputation ($41.58/month).
If you go for our most popular plan, Plus, you get:
A custom domain name;
4 custom email addresses;
Full access to premium website design;
Unlimited shopping cart sales.
If you don't want to sign up for a subscription, we also offer the Lifetime plan – for a one-time payment you get:
A custom website;
Lifetime free hosting and maintenance;
Unlimited shopping cart;
Easy-to-use website editor
And much more!
Check out our Lifetime offer to learn more and sign up!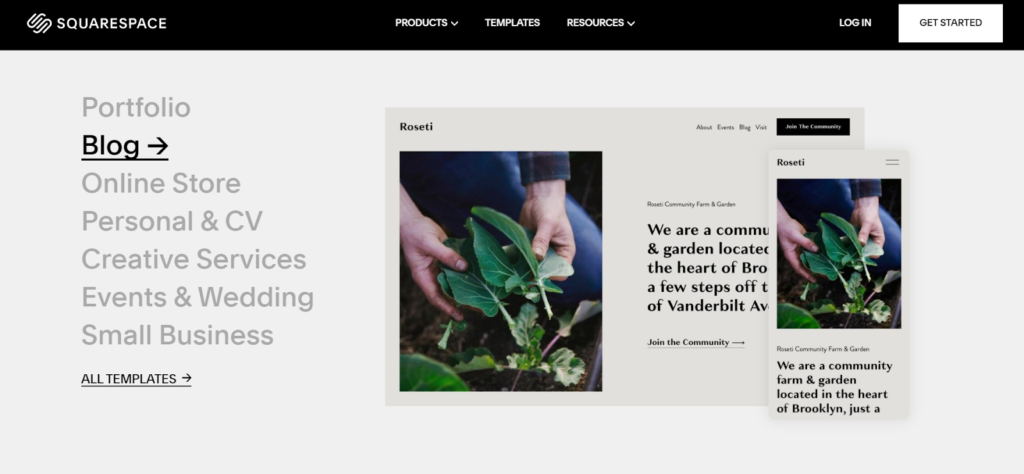 Initially founded as a blog hosting service in 2004, Squarespace has since become one of the leading website builders on the global market. It's a do-it-yourself website builder, meaning that you actually need to put in the work to get the website up and running. Fortunately, you don't need to create a website from scratch – the tool will hold your hand through the entire process.
Like with most website builders, it all starts by picking out a template. You choose your template by industry from one of the available categories that include Marketing, Music, Sports, Gaming, and others. After that, you need to choose your goals. Do you want to sell products, write a blog, or showcase your work?
The templates are potentially Squarespace's biggest benefit – most of them feature a sleek design and you can preview each one before you start.
Once you start using their drag-and-drop editor, you'll notice that it's fairly easy to use. Also, don't worry if you get stuck: there is an assistant that pops up when you start and it can guide you through the whole process if you need help.
Squarespace offers the following plans: Personal ($12/month), Business ($18/month), Basic Commerce ($26/month), Advanced Commerce ($40/month). As you can see, you don't have a free option and, with the Personal plan, you don't get a business email.
Furthermore, to unlock eCommerce capabilities and the business email, you'll need to invest in the Business plan.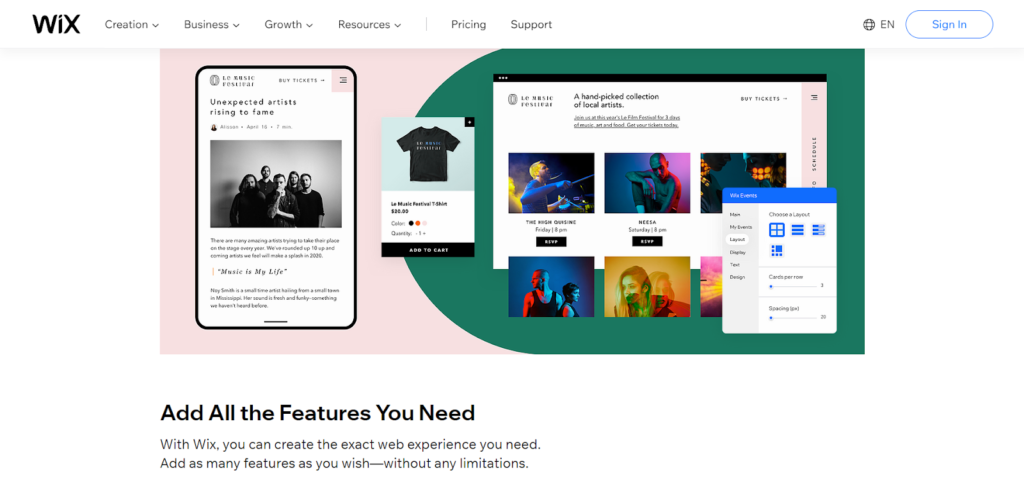 If you've watched more than 10 YouTube videos during the past few years, you've probably seen a Wix ad. Alongside Squarespace, this website builder is among the most recognizable and popular solutions out there.
Like Squarespace, Wix is an intuitive website builder that lets you use its drag-and-drop interface to build up your online presence, meaning there's no coding knowledge is required. When you start with Wix, you need to find a site type that suits your business: restaurant, designer, blogging, event, etc. Each of these categories has a subcategory. For example, in the restaurants category, you'll find cafés, bars, catering, and other types of restaurants.
You can bypass all of this and use what Wix calls "Artificial Design Intelligence" (ADI). This is when you answer a series of simple questions about your business' location, purpose, etc. Wix then uses artificial intelligence to build your website using the content the app has sourced from the Web. Once ADI is finished with building the site, you customize certain things like sales items, text, and others.
Wix splits its pricing plans into two categories: Website Plans and Business & eCommerce Plans.
In the Website category, you have: Connect Domain ($4.50/month), Combo ($8.50/month), Unlimited ($12.50/month), and VIP ($24.50/month).
In the Business & eCommerce category, you can go for the following plans: Business Basic ($17/month), Business Unlimited ($25/month), Business VIP ($35/month).
The difference between these two categories is that the Website category doesn't provide online store functionalities at all – you can only create a personal website or a presentational website for your business. The VIP plans in both categories offer first-priority support. So, if you find customer support important and you want an eCommerce website, you might find yourself making significant monthly payments to make this happen.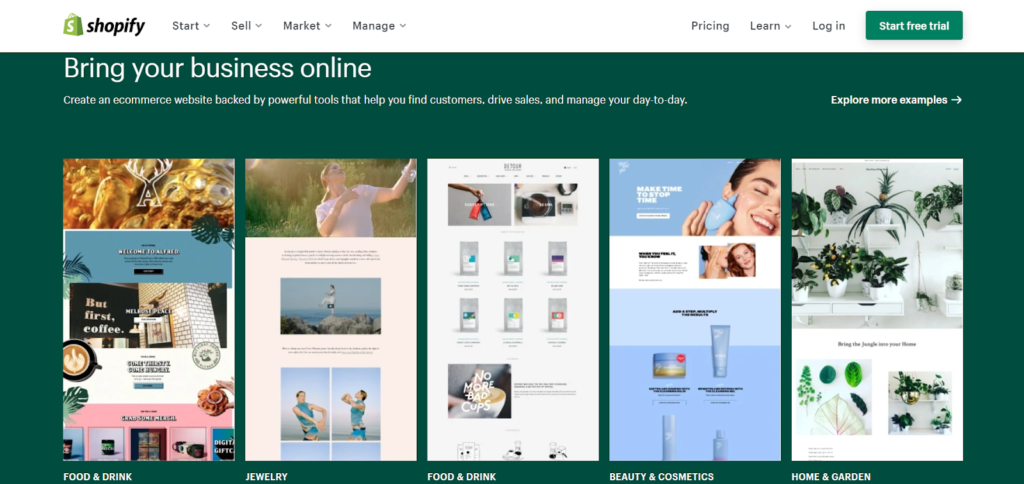 Similarly to our previous two entries, Shopify is also a big name in the industry. In fact, if you want to have an eCommerce website, Shopify is likely the first brand you'll come across when you start doing your research.
Once you sign up for Shopify, you get a customized URL for your dashboard. Here, you can play around, change things, and see how your website looks in real-time even if you don't have a domain yet. Much like when you edit things in WordPress locally on your machine. On your dashboard, you can see all the info about your inventory, customers, and orders. You can also go a little more advanced and add third-party apps like loyalty programs or billing.
Shopify is rich with eCommerce features but it might be overkill if you just want to publish blog posts or give your visitors a way to get in touch. You definitely don't need Shopify if you're interested in building a presentational mobile-responsive website either for your business or for you personally.
Shopify offers three plans: Basic Shopify ($29/month), Shopify ($79/month), and Advanced Shopify ($299/month). If you need a basic online store, the Basic plan will be enough. You will, however, be limited to only two user accounts so this is definitely aimed at smaller businesses.
The Basic plan also offers no reports. To get that, you'll need to upgrade to Shopify ($79). It's also notable that Shopify doesn't offer a free plan or a yearly payment discount. You can only pay per month and the prices are fixed.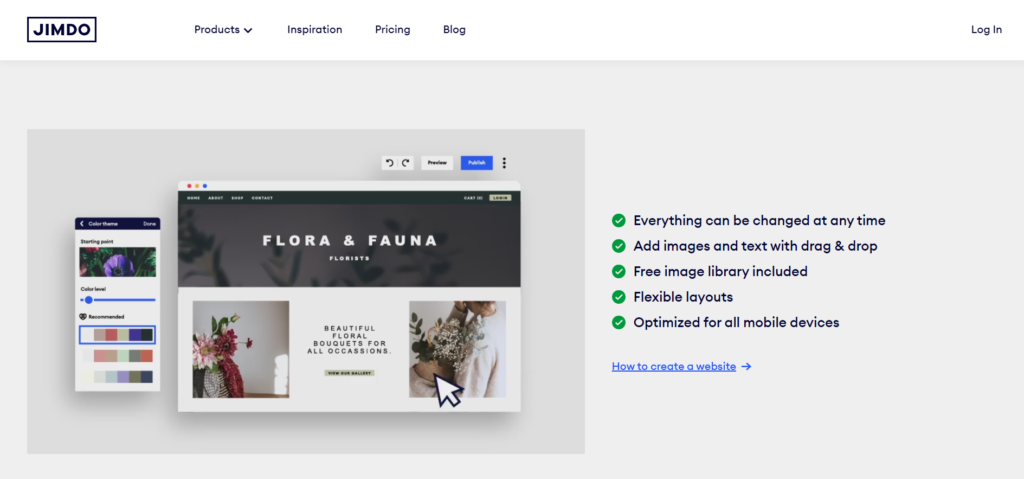 Jimdo's key focus areas are speed and ease of use. With this mobile website builder, you can build a fully responsive website and have it operational within a single day. In theory, you can do everything: import your products, design the website, and start dealing with transactions the same day when you sign up for the service.
Jimdo also provides a free image library that can be of great help if your website falls in one of the most common categories like fashion, marketing, sports, etc. Adding those images or other elements like text is fairly easy and relies on a simple drag-and-drop mechanism most people will be familiar with.
The transactional aspect of website building is also one of Jimdo's advantages. There are no transaction fees if you run your web store on Jimdo, there are various payment methods (from PayPal to SEPA direct debit), and you can even boost your results with discounts and sales.
Jimdo splits their plans into two categories: Website and Online Store. The Website options, of course, don't allow you to sell products or collect payments.
Website plans include: Play (free), Start ($9/month), and Grow ($15/month).
Online store plans include Basic ($15/month) and Business ($19/month).
The Free plan might seem enticing but you don't get all that much with it. Your website will be hosted on a ".jimdosite.com" domain and you'll get no customer support. The Start plan is the bare minimum but keep in mind that none of the Website plans will be transactional.
However, the website that you get in all of the plans will be mobile optimized.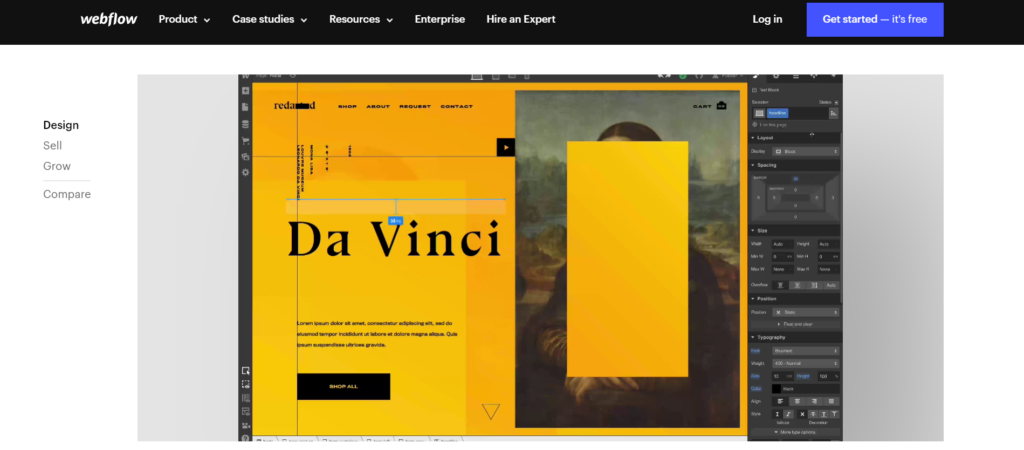 Webflow is somewhat different from other editors on this list in that it will certainly favor those website creators that have some coding experience. It's a cross between a more traditional website builder like WordPress and a modern, user-friendly builder like the ones mentioned in this article. Take one look at its interface and you'll see what we mean: it's a little overwhelming and slightly too technical for the less tech-savvy user.
On the other hand, if you have a tech or development background, you'll enjoy great levels of customization with Webflow. The tool allows you to create completely custom interactions and animations by using the power of JavaScript and CSS. Reveal animations, parallax, progress bars, and various other types of animations you've seen on other websites can all be created through Webflow's editor.
You can even create customized transactional emails to send your customers receipts, invoices, and other eCommerce emails with your company's branding and colors.
Like Jimdo, Webflow separates the regular website plans from eCommerce options. However, Webflow takes this one step further and offers tons of plans to choose from.
Site plans include: Basic ($12/month), CMS ($16/month), Business ($36/month), and Enterprise (custom pricing).
Ecommerce plans include: Standard ($29/month) Plus ($74/month), and Advanced ($212/month).
The Standard plan is probably your best option if you're looking for a transactional website at an affordable price. It allows for up to 500 items and offers email customization, along with lots of integrations with marketing tools like Google Analytics and Mailchimp.
However, even this affordable option falls among the most expensive eCommerce plans on our list.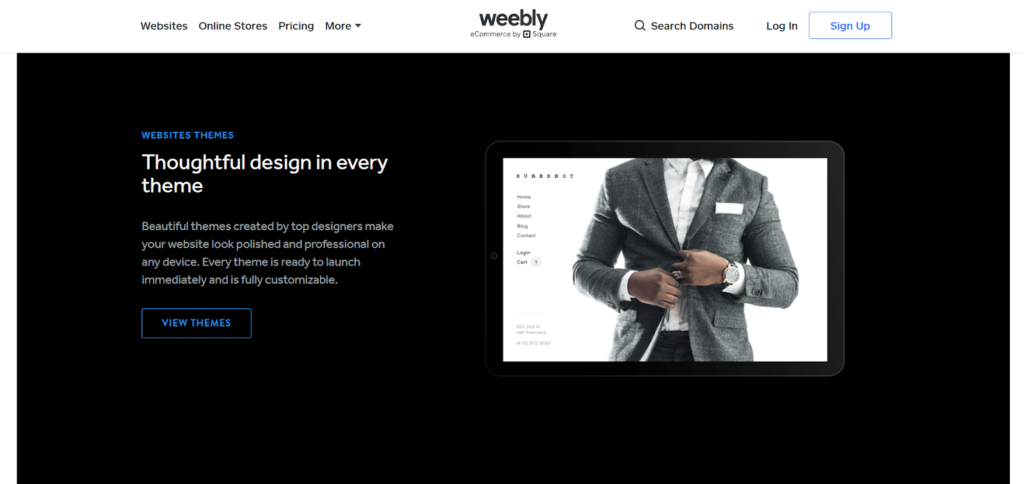 Founded in 2006, Weebly has since grown into a big player in the web builder market. It was purchased by Square – a financial services and digital payments company started by Jack Dorsey – for approximately $365 million in 2018.
Weebly's editor is easy to use and intuitive, with a simple top bar for managing pages and editing different settings. On the left, you have various elements that you can drag onto your site. However, you can't simply add elements wherever you like, there are certain limitations. You might find yourself continuously trying to drag an element to a specific spot, only to realize that the element can't be fitted there.
Theme customization features aren't exactly limitless either. For example, you can't completely customize your website's color palette once you've chosen the template.
Another knock against Weebly is the fact that you can't preview how your website would look on mobile devices. That's a significant downside since website builders like Wix allow you to see this preview. In fact, UENI allows you to edit the whole website from your phone!
With Weebly, you can choose between these plans: Free, Connect ($5/month), Pro ($12/month), Business ($25/month), Business Plus ($38/month).
As you can see, there is a free plan but it has significant limitations. You have only 500 MB of storage and you can't have any eCommerce features. Even the Connect plan doesn't offer any online shop functionalities, you'd have to upgrade to Pro to get those.
Still, Weebly is among the more affordable mobile website builders on this list, even if you go for the Pro plan.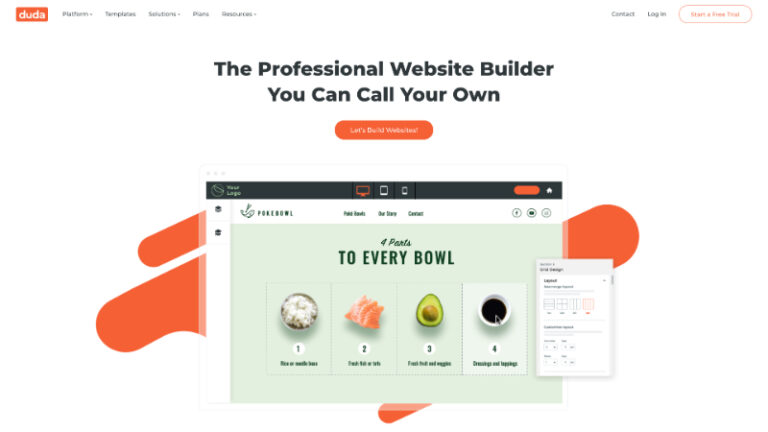 Duda is a desktop and mobile website builder that lets you build professional websites in a very simple and streamlined way. No complicated actions, third-party integrations, or coding are required.
To get started, you can choose from their library of over 100 templates. You can browse through these templates or make things easier by filtering. You can filter by categories (Blog, Travel, Restaurant & Food, etc.) or by color. So, unlike Wix or Squarespace, Duda doesn't hold your hand through the process with questions and step-by-step screens.
When you choose a template, you can instantly see how it looks on mobile devices as well as on desktop.
Duda is truly a mobile website builder. It doesn't simply compress elements like images and text depending on the device you're viewing the website on – you get more control and your mobile design can differ significantly from your desktop version.
The editor is about as intuitive as you can imagine – it features a simple sidebar on the left that hosts all the tools you need for web design. When you get started with a template, you have a lot of dummy content that needs replacing. This is done using the tools from the sidebar that allow you to change text, customize navigation, switch colors, and add pages, much like WordPress.
And, if at any point you feel stuck, you can click the chat icon and get help.
Duda offers four plans: Basic ($14/month), Team ($22/month), Agency ($44/month), Custom (on request).
The price for the Basic plan may look enticing but you only get email support with this plan. Other plans include chat and phone support as well. The Basic plan also limits you to a single team member, making it more suitable for individuals than teams. The team plan expands this to up to four people and provides user permissions as well as other team features.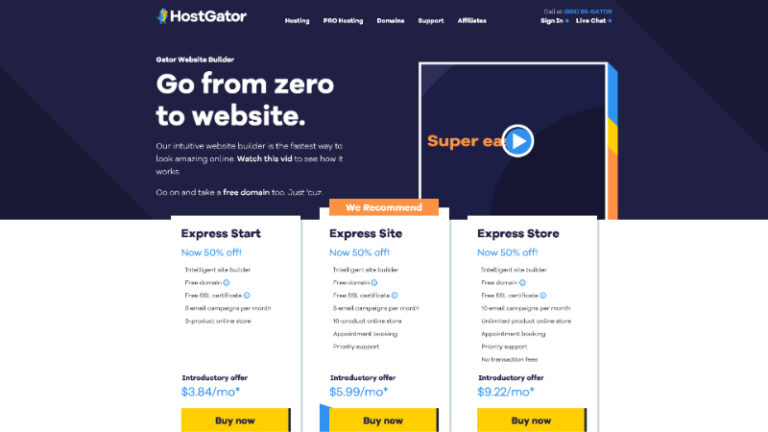 Hosting and website building platforms are usually two separate businesses. A lot of hosting services rely on (or even recommend) web-building tools to help you get your site running on the hosting they provided. However, an increasing number of hosting services are coming up with their own website builders.
One of those is HostGator, a big name in the hosting services industry. This company provides a website builder filled with useful features, templates, and royalty-free stock photos you can use.
Since HostGator is primarily a hosting platform, the whole process starts with choosing a domain name. If you go for a yearly, 24-month, or 36-month subscription, your domain name is free in the first year. Once that's done, you can choose from over 200 website templates (twice the number that Duda offers) that are all pretty neatly designed. Some of them even offer full background images.
The web design process is simple and intuitive, as with most DIY website builders. Gator features an easy drag-and-drop editor that lets you add elements like images, text, files, buttons, etc.
When you start mobile editing, your view turns vertical to see how your website will look on mobile devices. You can change padding, the spacing of elements, and much more. You can ensure that your mobile website works great and it isn't too limited by the desktop design.
Gator website builder comes in three plans: Start ($3.84/month), Site ($5.99/month), and Store ($9.22/month).
With these prices, Gator is among the most affordable website builders on this list, although it doesn't have a free plan. But, even the Start plan gives you some limited online store features – you can sell products and process online payments for three products.
If you want to expand these capabilities, you can go for the Store plan that offers unlimited products, 10 email campaigns per month, and no transaction fees.
Frequently asked questions about mobile website builders
Now, here are some questions people ask when looking for the best mobile website builder.
Is there a free mobile website builder?
If you've been paying attention to the "pricing" sections for these tools, you probably noticed that it's not easy to find a free mobile website builder. On this list, only Jimdo and Weebly enable you to create a completely free website, but both come with significant drawbacks.
What is the best mobile website builder for a personal website?
Out of the mentioned website builders, Wix, Squarespace, and UENI are your best options if you want to create a personal, presentational website. Squarespace even has a plan called "Personal" aimed at individuals.
What are the best website builders for blogs?
If you want a website that would feature blog posts, news, and similar articles, you should be looking for platforms that have lots of blogging templates with responsive design. Wix, Duda, and Squarespace (which started as a blogging platform) are your best options here. UENI also gives you the chance to have a separate section for your blog with the Spaces feature.
Is WordPress a website builder?
Finally, some people are often confused why WordPress isn't that commonly found on lists like this one. Although you can absolutely use WordPress to create a mobile or desktop website, this platform is a Content Management System rather than a website builder.
It serves a similar purpose but it has a learning curve. The whole point of an online website builder is that it allows you to use responsive themes, simple drag-and-drop elements, and an intuitive interface to help you create a site quickly. You don't need to know to code or even be too tech-savvy to build a website with a website builder.
Not everyone will look at this list and choose the same mobile website builder as the perfect option for their business. Different builders are better suited for different businesses, so study this list carefully and make a decision that you feel good about.
However, one thing is for sure – UENI is the only website builder from this list that takes zero effort from your end. All we need is a brief and we'll deliver you a complete, fully functional website!
Learn more about our offer here and check out the video to see how UENI differentiate!