No matter your business type, you'll likely benefit from having a well-designed, responsive website.
Even if people can't place orders on your website or subscribe to your services, they'll likely be able to perform some important actions like contacting support or scheduling an appointment. Even checking out your address and finding out exactly where your business is located can be helpful for your visitors. Not to mention that your website is the face of your company so it should represent you in the best way possible.
For restaurants, a good website can be a fantastic source of new customers. A restaurant website usually allows visitors to browse the food menu, make a reservation, or even use online ordering features.
How does all of this fit into a single website and how can you replicate it with minimum effort?
Check out some UENI businesses that use some of our favourite restaurant website templates!
China Friend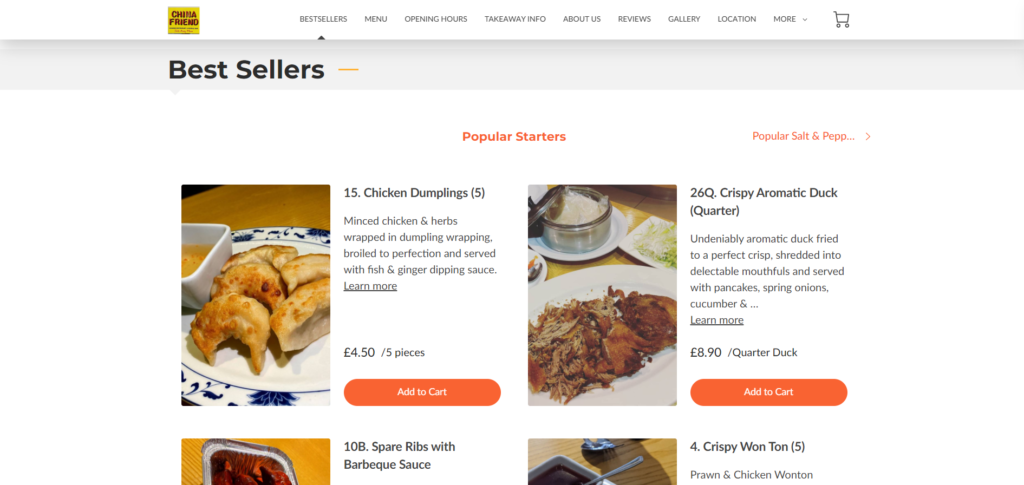 Chinese cuisine is one of the most popular international cuisines exported to almost every part of the world. And, Chinese fast food joints and online ordering services are arguably even more popular than restaurants.
China Friend is a London-based restaurant with a simple one-page website that allows you to perform almost any action you'd want to perform on a restaurant website. You can order food for delivery, look at their menu, contact them, and get their address. You can't make a reservation, which makes sense because the restaurant is more of a casual affair.
The website is easy to navigate and emphasizes the menu and the ordering process.
Junjaow Thai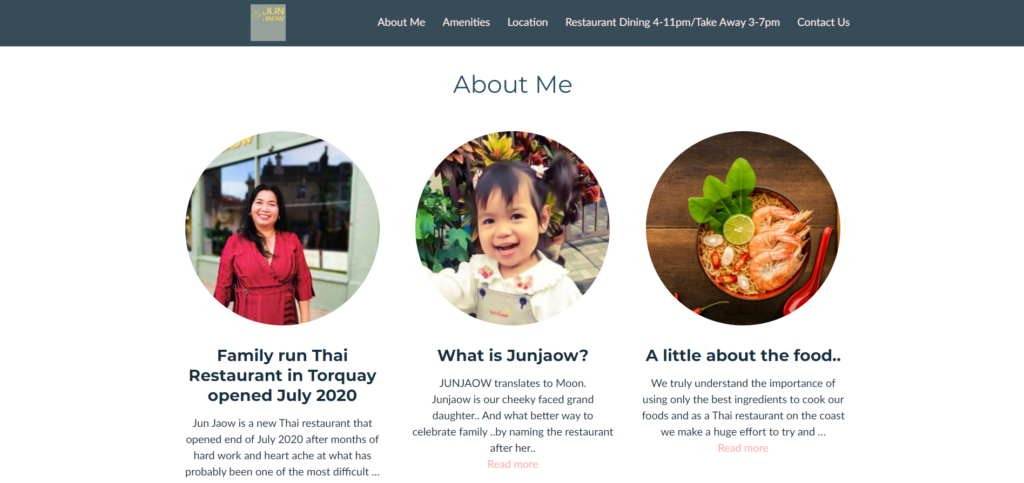 Another famous Asian cuisine, Thai food is also known for fast and tasty takeaway.
However, the first things you'll notice with the Junjaow Thai website are the two calls to action: Book a table and Download the food menu. Both actions are performed by simply clicking on a link right below the hero image. Above these buttons, you also have their phone number and a "Whatsapp Us" button.
The focus of this restaurant website is clear – getting conversions. That's why, even before you scroll down, you have multiple actions you can take that will get you closer to visiting their place.
Once you scroll down, you'll see some additional information that will help you become more familiar with the business.
For example, you'll see that it's a family restaurant named after the owners' granddaughter, located in the heart of Torquay!
Eight32 BBQ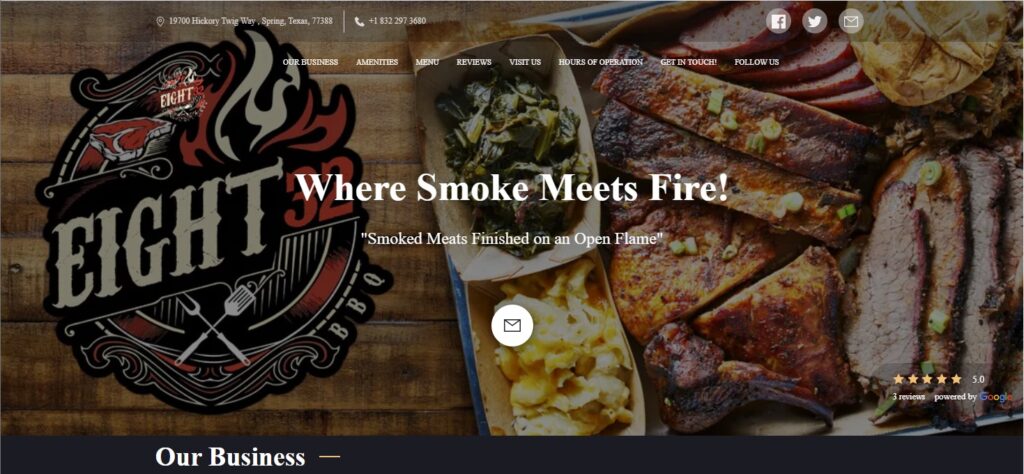 "Where smoke meets fire!" are the first words that greet you once you land on the Eight32 BBQ website.
Indeed, from the first glance, this restaurant makes it clear what you're dealing with – Texas-style smokey meat, crispy potatoes, glazed pork ribs, juicy pulled pork sandwiches, and more. The first thing that this restaurant wants you to know is how serious and professional they are in preparing smoked and grilled meat.
Once you scroll down from the hero image and brand claim, you can take a look at what they call their "culinary edge". It's a mission statement highlighting what they do differently from the competition.
When you go past that part, you can view their menu and location and send them a message.
B'elicious Amazing Crepes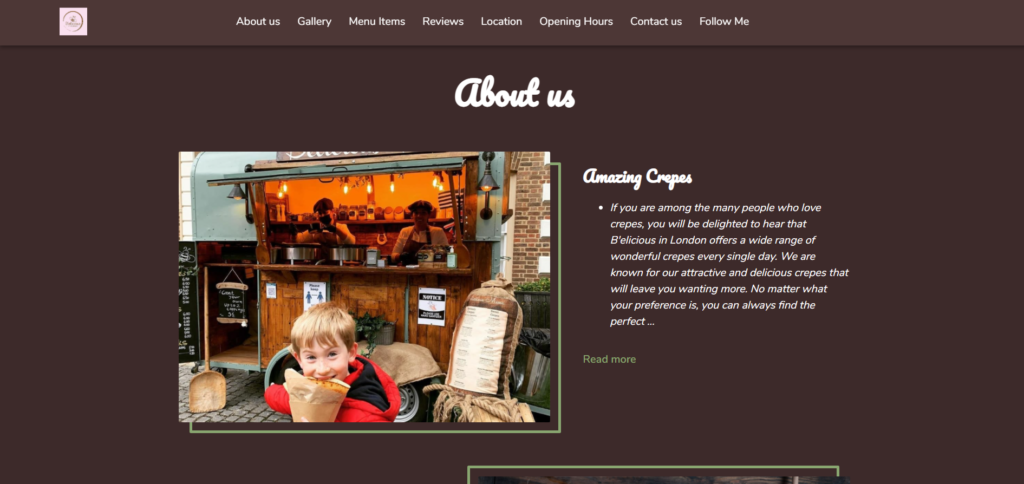 B'elicious is a small, mobile food spot in London specializing in crepes – "creperie" is the fancy term.
Essentially, it's a food truck run by people that can make you almost any kind of crepe you can wish for, from sweet and fruity to savoury, hearty meals.
Their website has sort of a handmade feel to it. It looks modern and creative while showcasing the business as a local favourite. Since it's not a typical restaurant, you can't make reservations or order their food online.
What you can do is explore their menu and read some genuine reviews from people who are obviously in love with their offer. You can also send them a message or give them a call to book them for an event you're organizing.
Beleaf Vegan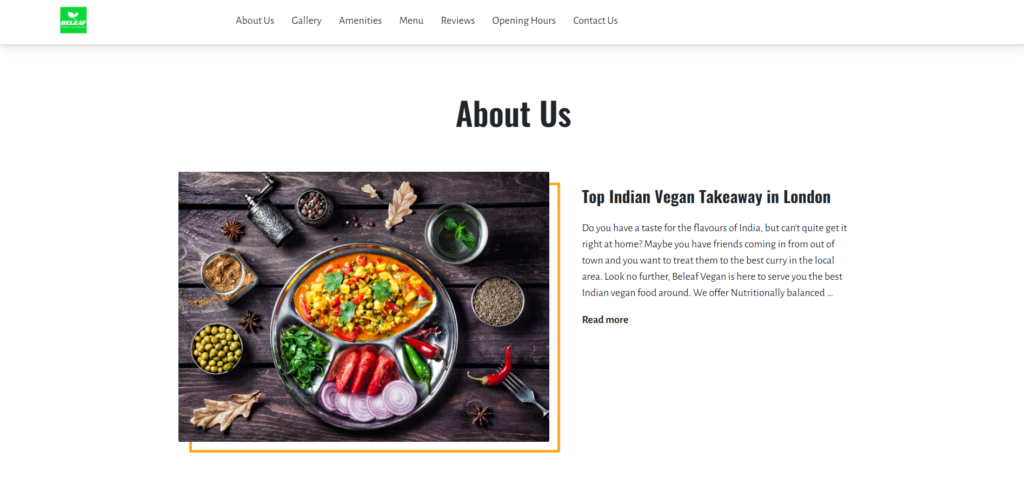 One of the most straightforward restaurant website templates on the list, Beleaf Vegan is a presentational website more than anything else.
The restaurant provides food delivery services, but the menu on the website is purely informational. You can't order any of the products, so the functionality is meant to introduce you to their offer and entice you to explore it in person or give them a call.
Customer testimonials are another feature that uplifts their brand image and work on an emotional level to get you more interested in the offer. Google powers the reviews, so you know you're getting actual customer feedback.
The fundamental goal of this restaurant website is to tell their story and serve as a starting point for you to get information about what they do and how they do it.
This shows that you don't need to create an elaborate website with many features. Sometimes, you need a working template to fill in with specific information and let your visitors explore.
Brince Restaurant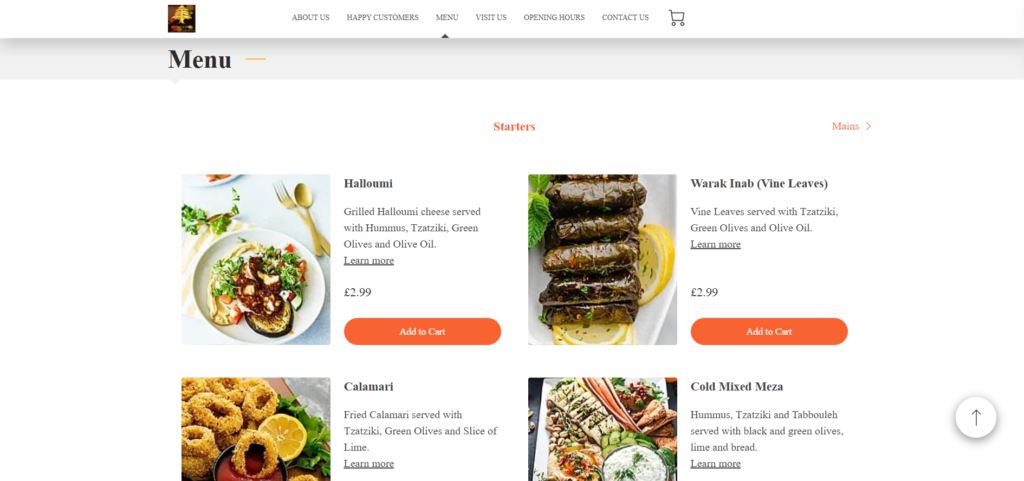 Brince is a Lebanese food restaurant in London specializing in preparing food on a charcoal grill with a Mediterranean twist.
Their website is simple but professional enough to give you a good feeling of what they're all about. It has all the standard elements you'd be looking for as a customer: the address, menu, opening hours, and some potentially important information about their business.
If you want to order, you can do it directly on the website through their ordering system or get in touch with them via Whatsapp. The Whatsapp contact button is actually one of the main CTA buttons, right at the top of the homepage.
This is a textbook example of a responsive restaurant website that gives its visitors a reliable way to place orders and get information.
Roots Caribbean Restaurant and Bar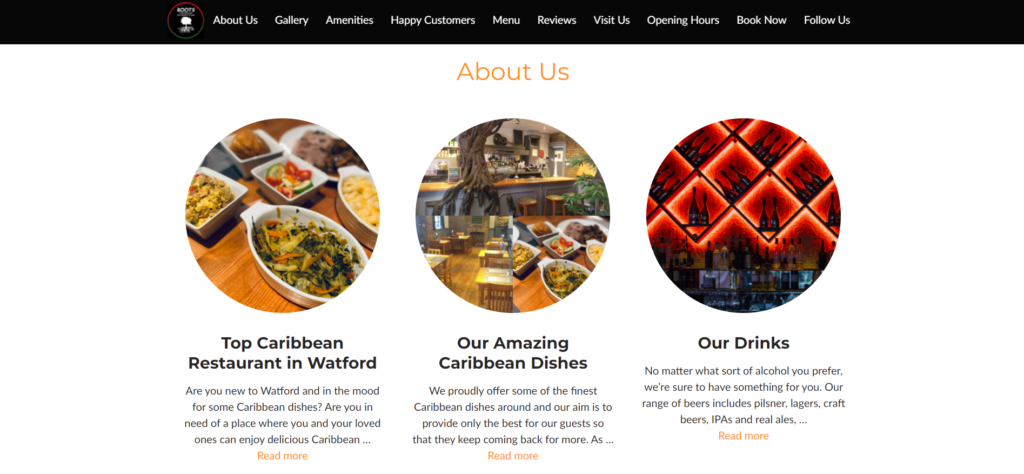 Caribbean cuisine is a unique mix of tasty meats, seafood, and special sweets that you'll hardly find anywhere else. Throw in a few signature cocktails, and it's just like you're at the beach!
Roots Caribbean Restaurant and Bar has a website that features a design as unique as Caribbean cuisine. Their web is all about immersing you in the colours and general vibe of the Caribbean: the first things you'll notice when you get to the homepage are the vibrant images. Below the initial section that describes their business, food, and drinks, you'll see a gallery that gives you a solid feeling of what it's like to dine there.
In terms of functionality, this restaurant website allows you to look at the menu and get in touch.
Mi Lindo Jalisco Mexican Restaurant and Bar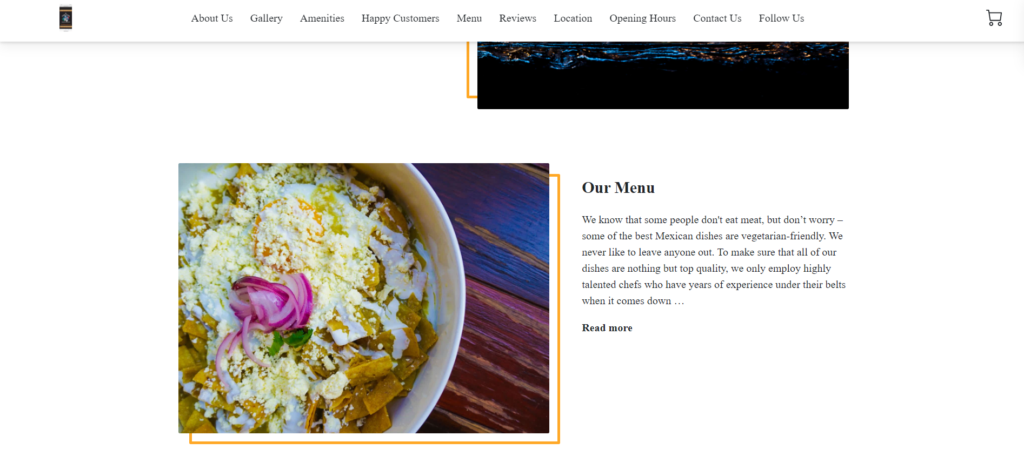 Talking about a vibrant cuisine, you'll hardly outdo the Mexicans when it comes to spicy, lively taste. Mexican food has been a global phenomenon for quite some time but perhaps nowhere more than in the United States.
Mi Lindo Jalisco is an Ohio-based Mexican restaurant whose website is beaming with information. You can read about their food, staff, drinks and explore the food menu. You can also use the shop section to place orders.
But arguably, the most exciting part of this restaurant website is the customer reviews section. The section features more than 30 reviews from satisfied customers, plus you can click on the "All reviews" button if you really want to get into it.
Fatboy z Drip Cooking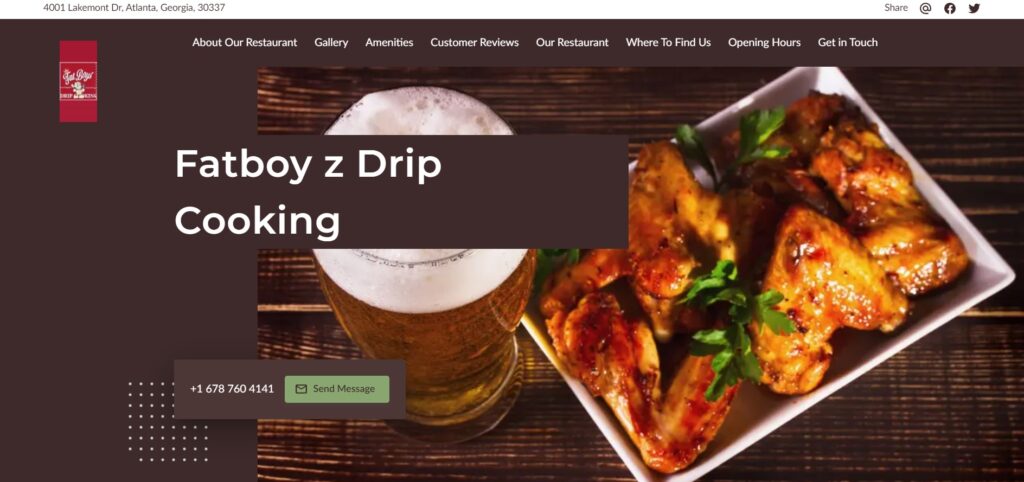 As the place with the "best wings & burgers in Atlanta" is advertised, Fatboy z Drip Cooking doesn't play.
They don't hide what they're all about: crispy and juicy meat, no restrictive diets here. Their whole website radiates confidence and certainty regarding who they are and what kind of food they make. They claim to hire the best chefs to provide every customer who walks through their door with nothing but the best American-style food.
In terms of web design, this website template is quite simple but it does just enough to give the visitors valuable information and present a particular brand image. Sometimes, the best restaurant website templates are the simplest ones!
Queens Kebab House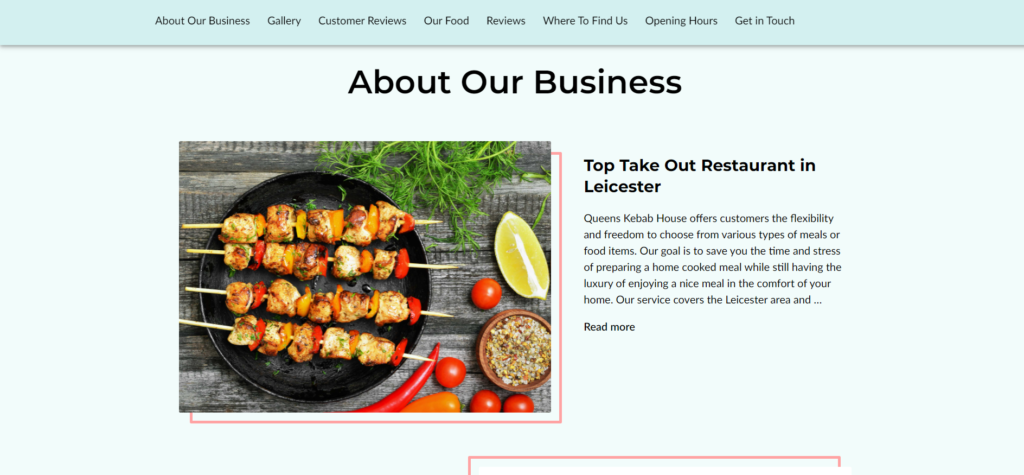 Kebab is a signature Middle Eastern dish that comes in numerous variants depending on where you are in the world. It's one of the most recognizable dishes globally, and its popularity has quickly spread to Europe, where you'll find dozens of kebab places in hundreds of cities.
One of those is Queens Kebab House in Leicester – the self-proclaimed best food delivery service in the region.
On their site, you can get their location and phone number pretty instantly to place your order. You can also see some great photos of their food so that you can know what you're ordering.
You can't order through the website but you can send them a message at any time.
Pilling Chippy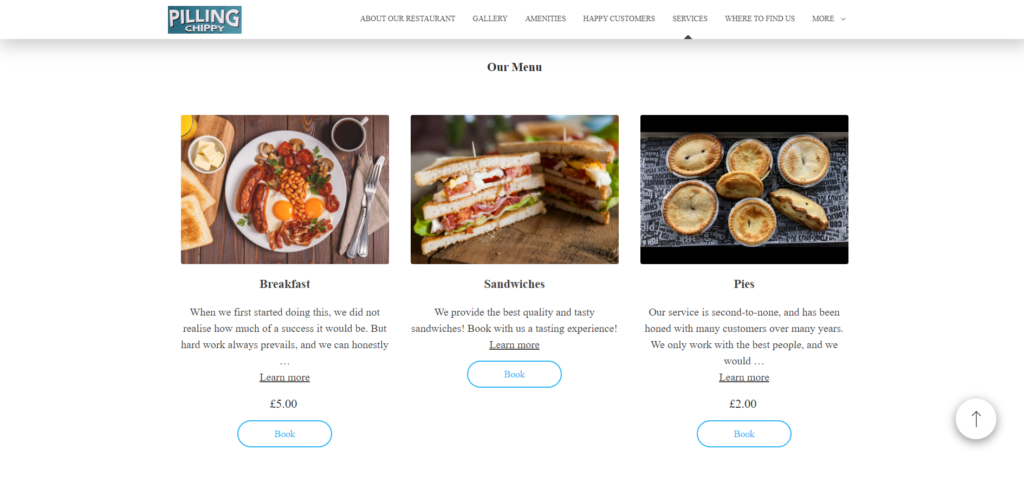 Fish & Chips shops are almost a national symbol of the UK at this point. Even if you're not from the UK, you've likely heard about this dish and the specialized little restaurants that make it.
Pilling Chippy is one of those shops – located in the heart of Preston, the restaurant makes not only fish & chips but all sorts of signature British dishes. This includes the world-famous English breakfast, pies, sausages, and more.
These local spots that make country-specific dishes often (wrongly) believe they don't need a website. As you can see from Pilling Chippy's website, even a typical local restaurant can benefit from an excellent online presence. In this case, they use their website to highlight services and build their brand.
And, when you click on any single dish, you open a reservation form that allows you to book a table in moments!
Tawa Land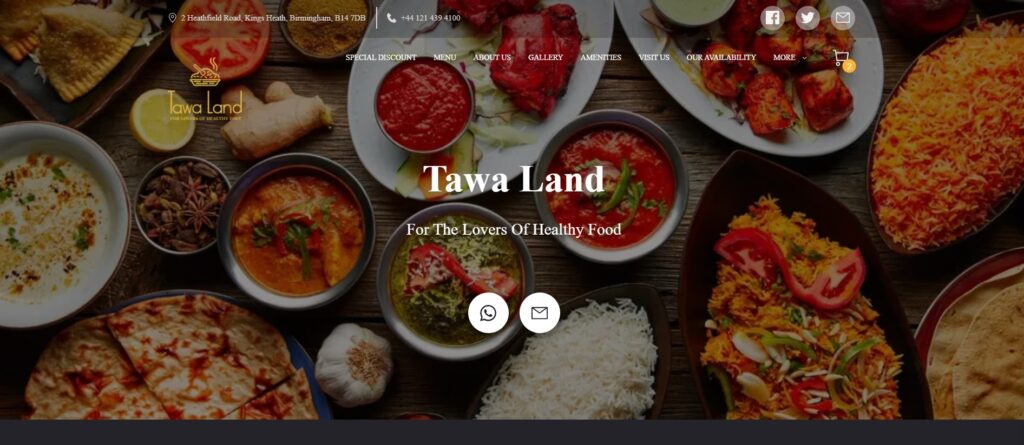 Tawa Land is an Indian and Bangladeshi food restaurant whose website is all about takeaway.
As soon as you get to the homepage, pretty much the first thing you'll see is their menu with the "Add to Cart" buttons under each item. If you add a product to the cart, you'd be surprised how quick the ordering process is. It literally takes a few moments to browse through the products, put them in the cart, and go to checkout.
However, if you want to stay on the site and browse around, you can also check out their popular categories, view the gallery, explore amenities, and more.
K&J Grill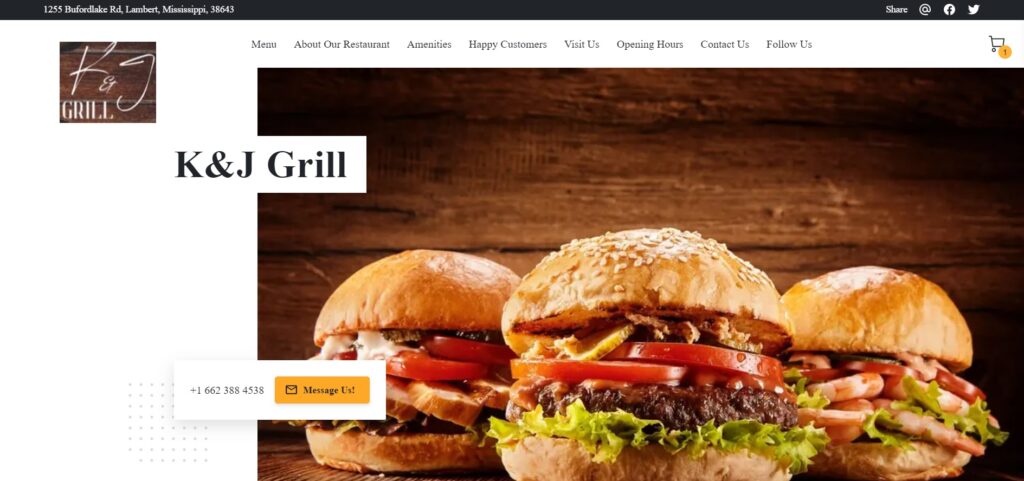 If you want to taste the authentic flavours of the U.S., you might want to go south. Mississippi, Texas, Kentucky – that's where you get to delicious, meaty signature dishes like fried chicken, cornbread, and BBQ ribs.
The K&J Grill restaurant is located in Lambert, a small town in Mississippi. Now, the town might be small but the dishes are anything but: in K&J's offer, you'll find wings, burgers, sandwiches, and rib tips that will satisfy the hungriest of travellers.
One interesting thing to note: unlike many burger and grill places, K&J Grill doesn't offer delivery. Still, you can place orders through the site and pick them up yourself.
One Last Word on Restaurant Templates
As you can see, a responsive restaurant website shouldn't be a navigational nightmare.
Think about it: people want to see your menu, order food, make a reservation, or call you. Those are really the only four actions people will be interested in when visiting a restaurant website. And, if you can provide some images that represent your brand, all the better. If you know how to structure information, you don't need more than one page.
The best thing about all these website templates is that the restaurant owners spent zero hours worrying about the design and development – they were all made with the UENI website builder!
The business owners had to provide us with some information and materials, after which we got to work. Check out our pricing plans and see exactly how we can help you not only build your website but grow your business!