A couple of weeks ago, we told you about some upcoming updates for the Editor. This time, we're here to talk to you about the improvements we've made to your UENI Hub.
If you've logged into your Hub in the last couple of weeks, you will have noticed that we've given it a bit of a facelift. We listened to your feedback, took it away, spent some time evaluating how we could make it better, and we're happy to share our results with you.
Today we'll be talking about the changes we've made to our notification systems for bookings, messages, sales, and other orders.
What's Changed for: Bookings & Messages
In your Hub, the "My Customers" section, which covers bookings, messages, and orders, has been streamlined – you can now more easily see any new messages from your customers (or prospective customers) especially when you're logged in on mobile!
Now, whenever you have a new Booking, Message, or Order, you'll see them highlighted in the relevant section. Plus, you can delete messages as well – handy if you want to clear out your inbox after it starts to get a little too full to be easily checked.
If you're just starting out and haven't received any bookings, messages, or orders, we have also linked some handy help guides for you to ensure that your contact information and shopping cart (if applicable) are properly set up to make sure you can send & receive messages.
We've also made it a bit more obvious which messages have been read and which ones haven't – the grey message below has already been opened, while the message below (in white) is new:
Another cool functionality we've added is the ability to request Google reviews from your customers directly through the hub as a message response!
If your Google My Business listing is complete, live, and linked to your UENI account, you will see a "Request Review" button above the "Delete Message" button.
What's Changed for: Google My Business
We've known for a long time that getting the most out of your Google My Business listing is key for many small businesses, and that hasn't changed – in light of the COVID situation, it's arguably even more important to make sure that your online presence stands out.
However, we know that the old layout wasn't always the best when it came to helping you get the most out of your GMB, which is why we've made some adjustments.
Share Your Reviews Link More Easily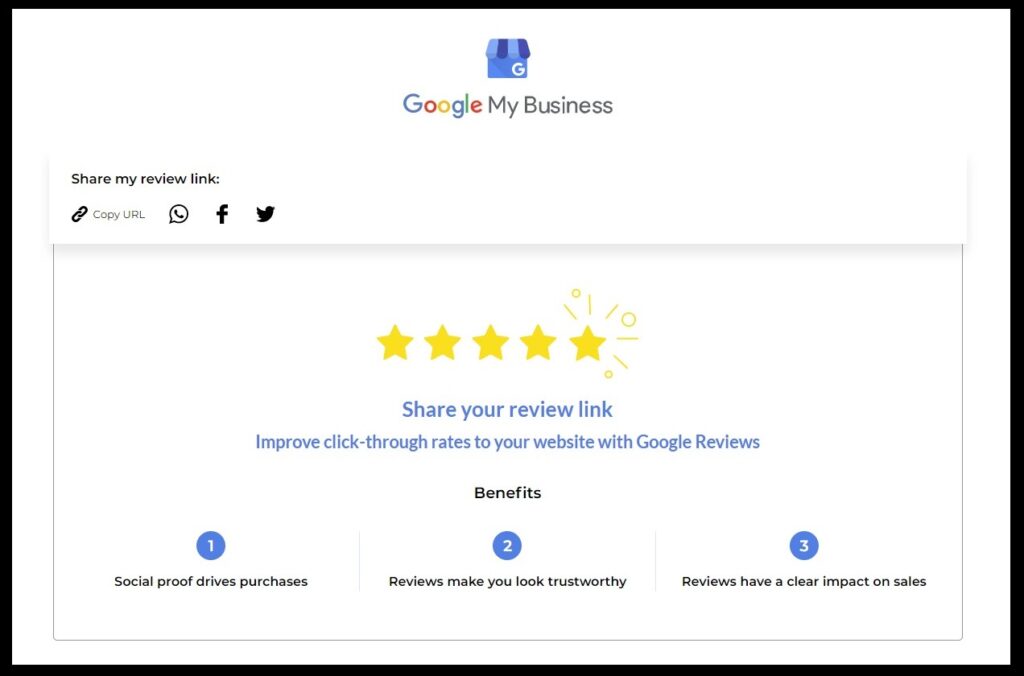 Real reviews from customers are massively important – not only does it make you look trustworthy, drive purchases, and play a role in how well-represented you are in industry-specifics, but they're also one of the most important ways to know whether your business is hitting the mark.
After all, even a negative review offers an opportunity to create a positive experience for a prospective customer – if someone sees a measured, calm, and polite response to a negative review from the business owner, they're more likely to have a positive takeaway regarding the company.
Make Sure Your Google My Business is Connected

Obviously we place a lot of stock in making sure your Google My Business listing is working as intended, so the other key thing we've done here is to make sure you can do everything you can to connect your GMB from within your hub.
If this is affecting your UENI website, you'll see this screen on your hub: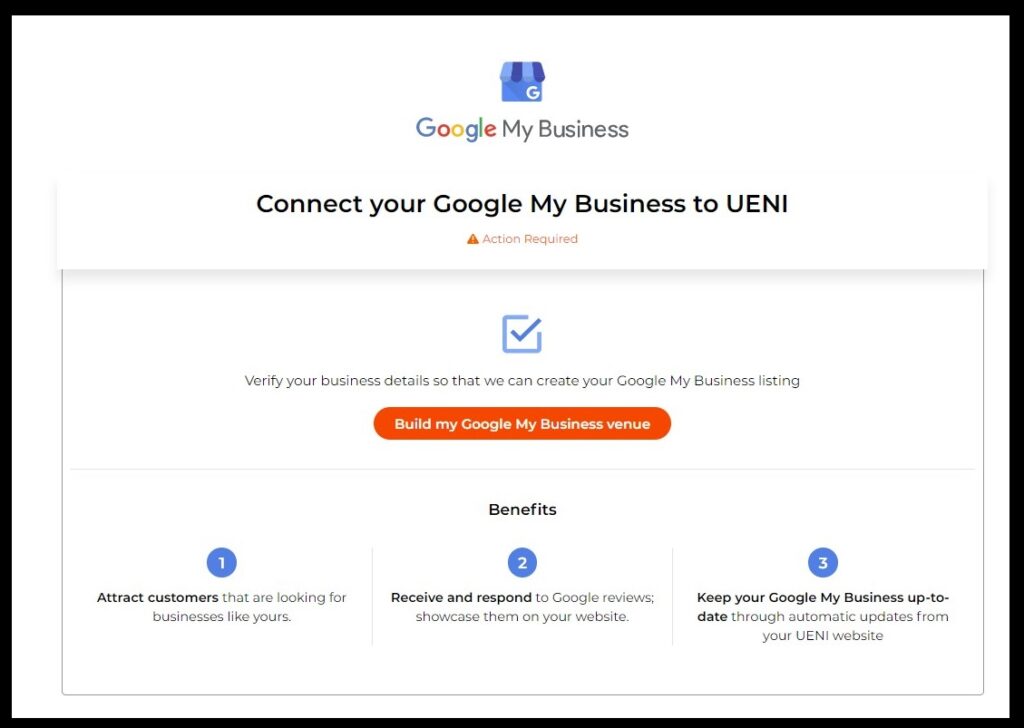 Clicking the orange Build my GMB Venue button will bring you through to the Reputation section of your Hub.
If there was an issue with your business details, your newly submitted details will be sent along to Google and the re-verification process will be underway.
If there's a more persistent problem, you'll be prompted to get in touch with our Customer Success team via help@ueni.com.