Not so long ago, if you needed something, especially a service, there was only one place to turn to: the Yellow Pages. For small business owners, these directories were a lifeline.
The formula was relatively simple back then. Someone nearby needs a service. They crack open the Yellow Pages. They find your business, then call the phone number listed; they hire you. If this process repeats itself enough times — boom — you've got yourself a thriving enterprise.
But things have since changed in a huge way.
For one, the Yellow Pages are now out-of-print. Why? Well, mostly, because no one uses them anymore.
We now all use the internet to find what we need. In fact, every second, Google processes nearly 40,000 searches, many of which are customers looking for businesses nearby.
If you're a small business owner, that means you've got to be on the internet. This is often called 'an online presence.' But what does that really mean?
Here's a run-down of what you need to know about being 'present' online.
In Google's book, only page 1 matters
Think of the internet as an enormous compendium of 'web pages,' just like the pages in a book. But, unlike a book, these pages don't appear in any particular order.
To flip through all the web pages and find what we're looking for, we all turn to what are called 'search engines,' the biggest one being Google.
So, say we type the thing we want into Google. (This happens 3.5 billion times per-day). This search engine then determines the pages that are best matches based on the words we key into it.
But there's a problem with this. At the end of 2017, there were roughly 4.62 billion web pages online.
Google is a great resource, but it's not perfect. You can spend a lot of time and money creating your website, but it may stay forever buried in the many millions of other, similar web pages out there.
What makes this problem worse is that most of us will only click on the first three listings on the first page Google shows us.
So how do you compete to be on page one?
Reel in more customers by standing out from the crowd
Now here's some good news: there's measures you can take to make sure your business has the best chance of being seen by customers online.
This is loosely defined as 'search engine optimisation,' usually shortened as 'SEO.' This is a fancy way of saying, 'making search engines such as Google happy,' so that they're more likely to show web pages related to your business in their search results.
The biggest thing that's changed since the days of only listing your business in the Yellow Pages (and then calling it a day) is that you can no longer rely on just one avenue to reach customers.
There are two reasons to cast the widest net possible online, which is to say, put your business on all of the web platforms that matter:
1. Give your potential customers what they're searching for
(4 out of 5) research a business online before they'll visit it (or hire them). When customers today do this kind of causal research, they're looking for a business that looks credible and well-liked.
They'll want to see photos and positive reviews, as well as the more boilerplate listing details, such as your hours, contact information, and any special offers.
They may even want to be able to interact with you directly over chat to ask questions — so it's smart to make yourself accessible in the right places.
2. More web pages means more chances to find your business
Taking control of the information about your business on Google also means that you decide what you share about your services. This plays a large role in how your business looks to customers who find it online.
Getting verified on Google Maps
Google Maps is among the most-used smartphone apps in the world. In fact, 84 percent of customers use it to find businesses nearby, and 1 in 3 smartphone searches occur right before consumers visit a store.
Despite its widespread use, most businesses aren't yet 'verified' on Google Maps. So what does being verified mean?
Google allows businesses to take ownership of the information listed about them on Google Maps. Once they 'claim' their business, they can create what's called a Google My Business profile.
This profile is a digital destination that describes your business. It provides easy access to crucial details such as your hours of operation, your website, and your street address.
You can also upload photos and share other information about your services with regular posts about what's happening at your storefront (or just with your business in general).
Plus, customers can review you on your Google My Business profile, which is even better than a word-of-mouth recommendation — because everyone who finds your business on Google will see the endorsement.
What's more, Google will provide you with the number of visitors who have looked at your business, so you'll know exactly how much 'traffic' your profile is getting.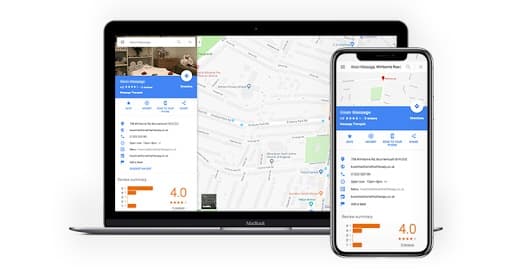 Here's some fast facts about the value of being on Google My Business:
Businesses that add photos to their listings receive 42% more requests for directions on Google Maps and 35% more website visits.
Verified businesses with Google My Business profiles are twice as likely to be considered credible.
Half of customers that search for businesses on mobile devices (smartphones) visit it within 24 hours.

So what are the other web platforms that matter for your business?