When you're a small business, you can find it hard to hire an in-house accountant or a bookkeeper purely because there's not enough work for them to justify sitting at your office nine to five, Monday through Friday. This is exactly why you can use the services of a virtual bookkeeper. Virtual bookkeepers can easily take care of several small businesses' accounts. Small business owners can have their entire bookkeeping handled at a fraction of what they would pay an in-house bookkeeper.
However small your business is, you shouldn't tackle your company's finances on your own, unless you have bookkeeping experience and even then, you shouldn't spend your valuable time on repetitive tasks if you can outsource them.
Before we move on to our top picks of online bookkeeping services that can help you tidy up your finances, let's learn a thing or two about small business accounting.
What is small business accounting?
Small business accounting as a not-so-interesting under-the-hood operation is a searchlight that you as a business owner use to shine a light on your company's financial facets. It consists of keeping records of sales, expenses, assets and debts your company owes. You can keep records of these facets by working with a virtual bookkeeping service that handles at least the following:
Balance sheet statements

Profit and lost (P&L) statements or income statements

Cash flow statements
Entrusting virtual bookkeepers with the task of handling your finances keeps you safe from snags such as vendor disputes, government audits or IRS penalties.
What is virtual bookkeeping?
Virtual bookkeeping is remote bookkeeping where accountants handle your business's balance sheet, profit and loss statement, monthly reconciliation and cash flow statement online via an accounting and/or bookkeeping software. In addition to the foundational bookkeeping services, virtual bookkeepers can also handle your payrolls, tax prep, invoicing, inventory management and more. They can do anything an in-house bookkeeper can. Their physical presence is not of the essence.
Below are five virtual bookkeeping solutions that we believe will work best for your small business in 2022.
Bookkeeper 360: extensive virtual bookkeeping for small businesses
Bookkeeper360 truly is a value-for-money platform, even though it comes at a higher price than some of its competitors. It comes fully integrated with three major accounting and payroll software – Xero, QuickBooks, Gusto, ADP it has an incredible range of cheap additional services which can literally replace your in-house bookkeeper.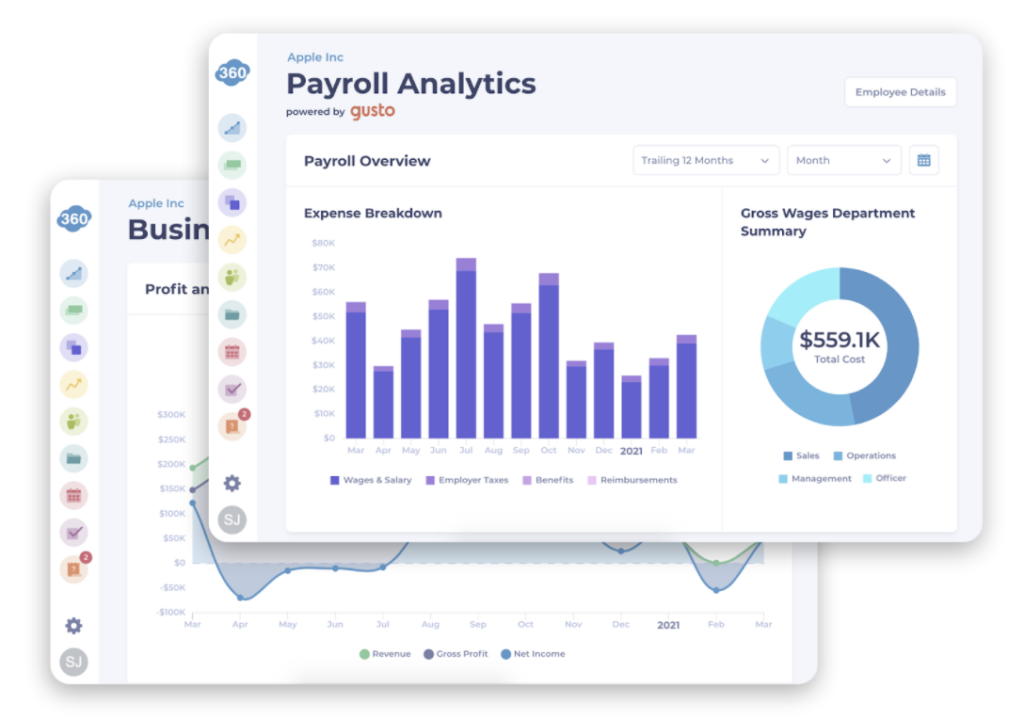 This fact really hits home when you consider that remote work will pour over into 2022 for at least the first quarter.
When you take into account that in-house bookkeepers earn anywhere between $35,530 and $56,947 a year, the average yearly cost of Bookkeeper360 of roughly $10,000 suddenly sounds really affordable. Please keep in mind that their services can be costlier if your monthly expenses exceed $20,000.
Because Bookkeeper360 is integrated with Xero and QuickBooks, both service-based and product-based businesses will use it. This is because both accounting software have time tracking and inventory management features, crucial for these two business models.
Bookkeeper360 offers 3 plans: pay as you go, monthly and weekly. All are available for either cash or accrual-based accounting methods. Prices stated on the website are for businesses with monthly expenses of up to $20,000. Companies with higher monthly expenses would have to contact Bookkeeper360 for a quote.
Pay-as-you-go is an hourly offer, where you get to communicate with your dedicated accountant for $125 per hour of support.
The monthly plan is $349/month for cash-basis and $499/month for accrual-basis accounting.
The weekly plan is $499/month for cash-basis and $699 for accrual-basis accounting.
Monthly and weekly plans include best-in-class support, monthly reconciliation, profit & loss and balance sheet. The monthly plan gets you a dedicated accountant, while the weekly plan gives you a dedicated accounting team, as well as weekly updates and advanced reporting.
Additional solutions include CFO advisory ($1000 per quarter), tax ($200-$800 per filling), payroll & HR (starting at $45/month) and back-office services (starting at $99/month).
Dedicated accountant/accounting team (depending on your pricing choice)
Available for both cash-based and accrual accounting methods
All plans include monthly reconciliation profit & loss and balance sheet
Bill pay available
W-2's and 1099's available
Affordable back office, payroll & HR services (starting at $99 and $45 per month)
Integrated with Xero, QuickBooks and Gusto accounting/payroll software
All accountants are US-based
Has a mobile app that's now integrated with Xero, QuickBooks and Gusto
Flexible pricing options – you can either pay $125 per hour of support or select a monthly or a weekly pricing plan
Mobile app available on a trial with no credit card details required
CFO advisory available
Compared to some of its competitors, it is a costlier option and depending on your business size, it might not be a right fit

The fixed pricing is only available for monthly expenses up to $20,000, everything above is quote-based

No catch-up bookkeeping

No free trial
If you need to spend more time on developing your small business or enterprise and can't afford to delve into a rabbit hole that bookkeeping can turn into, Bookkeeper360 is a great choice. It can handle all of your bookkeeping duties at a price that's lower than what would hiring an in-house bookkeeper. The icing on the cake is that all their accountants are US-based who will understand your business needs.
Xendoo – a bookkeeping software with something for everyone
Not many virtual bookkeeping services offer the range of pricing plans that Xendoo does and that's exactly why it can be every businesses' bookkeeping software of choice. This is especially true for small businesses in the early stages of their growth that probably only need basic bookkeeping.
Add to that the fact that their cheapest package comes at just $195/month and that they don't enforce annual subscriptions and you've got yourself a true financial sidekick. IF you only need cash-based accounting. We'll talk about this snag later on, let's first see how the pricing is structured and what are the upsides to Xendoo.
Xendoo offers five different pricing plans according to the value of your monthly expenses:
Hustle at $195/month for monthly expenses below $20K
Boost at $295/month for monthly expenses below $40K
Flight at $385/month for monthly expenses below $60K
Thrive at $495/month for monthly expenses below $100K
Venture at $945/month for monthly expenses over $100K
You can also do catch-up bookkeeping with Xendoo at a fixed rate that starts at $195. This is the only service you'll need their quote for. Business tax prep & returns, annual depreciation schedule, personal tax return and sales tax return are all available, depending on which pricing plan you select. Keep in mind that with the Hustle plan, you'll get no tax-related services.
Very affordable basic bookkeeping

Clearly outlined pricing structure

Dedicated US-based CPA bookkeeper with every plan

Robust integration (Quickbooks, Xero, Gusto, A2X, Amazon, TaxJar, Stripe, Shopify, Expensify, Bill.com)

All plans include:

Dedicated bookkeeper

Cash basis bookkeeping

Profit & Loss statements

Balance Sheets

Monthly trend graphs

Mobile app

Standard chart of accounts

Both monthly and annual plans are available

They do catch-up bookkeeping

Both service-based and product-based businesses can use it

Payroll services covered through Gusto integration

Has a mobile app
They basically only do cash-based accounting, even for the most expensive plans

No free trial
Xendoo would be right up there with the greatest bookkeeping software if it weren't for that snag with accrual-based accounting. Most virtual bookkeeping services offer this but we understand the business decision that in order to maintain a low price, something's got to go.
Still, some small businesses would be more than happy with cash-based accounting, which is available for all plans.
If you don't know what accrual-based accounting is, let's just say that you need it if you:
Run an e-commerce store (because of your return policy, you must rely on accrual-based accounting)

Run a high-volume business (property management, vehicle sales, vacation planning, grocery stores, bail bonds)

Have a robust inventory management

Work with different contractors for your projects
If you found yourself in the list above then Xendoo is probably not for you, especially if you're just starting. That's because they offer modified accrual bookkeeping for the two most expensive monthly plans (Thrive at $495 and Venture at $945).
If the following accrual-based services and reports are enough for you, then Xendoo could be your bookkeeping heaven: loans payable, month-end inventory adjustments, AR and AP reports (only if you use invoice and billing in Xero or QuickBooks Online).
Bookkeeper.com – champions of additional services
One of the most extensive virtual bookkeeping services out there, Bookkeeper.com comes with excellent solutions for your payroll and tax filing woes and neatly-segmented payment plans. It also offers longer onboarding than most of its competitors.
Just like Bookkeeper360.com, it can completely replace your in-house bookkeeper and save you money while doing that.
They are a bit on the steeper side price-wise
but you really get what you pay for and some.
To illustrate that point, the following services are available for all plans:
Dedicated bookkeeper and account manager

Bank/Credit card reconciliation

Balance sheet, P&L, statement of cash flows

Both cash and accrual-based accounting

Secure document storage (limited only for the small business plan)

Online Support
Let's see what are the other advantages of using Bookkeeper.com as your virtual bookkeeping service.
Bookkeeper.com offers three fixed monthly pricing plans – small business at $499, small business plus at $649 and small business advanced at $849. There's also a custom pricing plan if you make more than 300 monthly transactions or need a higher level of customization to what other plans have to offer.
Free trial (limited services)

Available for both cash and accrual-based accounting

Bills monthly for all plans fixed plans

Some of the payroll services you can get from Bookkeeper.com are:

Major tax liabilities (federal, state & local, unemployment)

Federal tax liabilities

Quarterly and year-end tax forms

Tax deposit services

W-2 and 1099 filing
Some of the tax prep services available are:

Individual tax preparation

Business tax preparation

It's integrated with Bill.com so you can handle bill pay through it

It's integrated with QuickBooks

It has advanced features that you can use once you grow your small business like financial advisory and CFO advisory services
Might not suit you if you make a lot of small monthly transactions, as its pricing is based on transaction volume

Integrated only with QuickBooks

No mobile app
Bookkeeper.com does cost more than your average bookkeeping software but it also does more for you than your average bookkeeping software. Because of the sheer number of additional services it offers, you'll never need to switch your virtual bookkeeping allegiance, once your small business grows.
FinancePal – tailor-made bookkeeping services for specific industries
This is the only virtual bookkeeping software we could find that
offers industry-related services.
If you are in the following industries, it's got a bookkeeping model just for you:
Startup

Ecommerce

Restaurant/bar

Real estate (brokers, agents, investors)

Hotel and hospitality industry

Construction

Rental
This doesn't mean that FinancePal is not the right fit for you if you run a dental practice or another business not listed above. It still offers all the bookkeeping services any company in the US would need.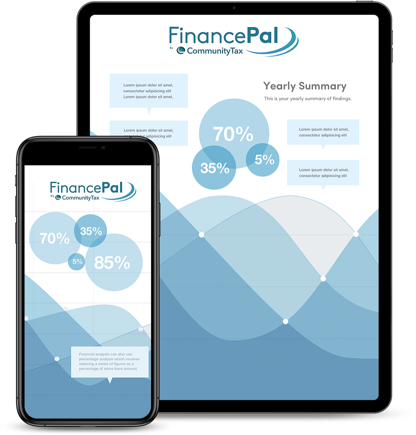 FinancePal's list of bookkeeping, tax prep and consulting, payroll and other accounting services are truly extensive, which is why it covers almost as much ground as Bookkeeper.com. Another reassurance of the company's expertise is the fact that it is founded by tax experts Community Tax.

It has one snag though, and that's the fact that the pricing is strictly quote-based. There isn't even a ballpark figure. On the other hand, you'll get the quote quickly and you can choose to pay on a monthly or annual basis.
Free trial available

Monthly and annual plans available

Dedicated bookkeeper

Cash and accrual-based accounting available

Industry-specific bookkeeping available

US-based team

Great integration (QuickBooks, QuickBooks Time, Gusto, Hubdoc, Bill.com, ADP)

Catch-up bookkeeping available

Bill pay available

Bookkeeping services include:

Transaction recording

Income statement preparation

Balance sheet preparation

Payroll

Small business tax prep includes:

Checking account reports

Quarterly payroll tax returns

Annual payroll tax returns

Preparation of W-2s, 1099s, and other tax forms

Preparation of annual income tax returns

Sales tax consultations are available

Balance sheets include A/P and A/R
Pricing is strictly quote-based

No longer integrated with Xero
As a brainchild of Community Tax, an established tax resolution service, FinancePal is your trusted bookkeeping ally on your way to growing your small business, tackling taxes and handling any accounting challenges that come your way. Similar to Bookkeeper, the amount of its additional services makes FinancePal ideal for fast-growing businesses.
Kruzeconsulting.com – virtual bookkeepers for venture capital startups
We couldn't leave out a bookkeeping service specialized for the needs of fast-growing startups. There aren't many out there that focus on startups, even fewer can handle venture capital-funded ones. Kruze consulting does and it does it with a bang.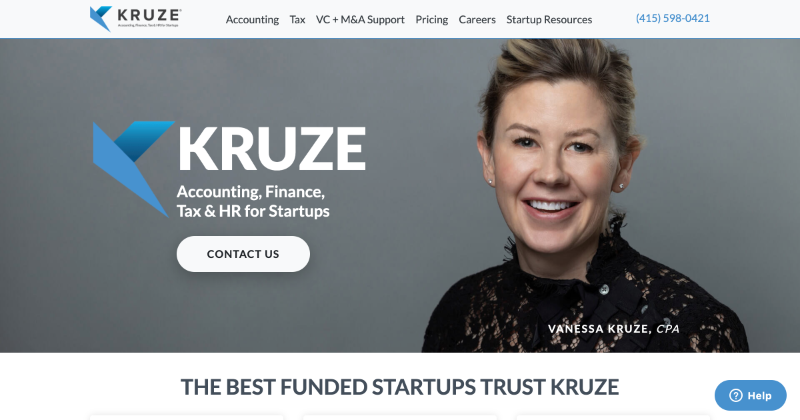 Their accountants and bookkeepers have hands-on experience with VC-funded startups and they know how to properly file seed investments. Also, since most VC-backed small businesses depend on continued funding, Kruze consulting is their solace when tackling venture capital due diligence.
The range of their additional services is astonishing and it ranges from everything bookkeeping, financial modeling, tax prep, tax return to CFO consulting and VC & MA support. To handle all these add-ons, Kruze consulting is integrated with a myriad of accounting, payroll, bill pay and PCI software like Quickbooks, Gusto, Bill.com and much more.
Being that their sole purpose is to help startups with VC backing handle finances, Kruze consulting's pricing is more than fair. If you're an early-stage startup, you can use their basic package that starts at $325/month and upgrade it as your business grows. There is that $750 onboarding fee, though.
At Kruze consulting pricing itself is easily understandable – there are three price plans:
Basic Bookkeeping (from $325/month)

Founder Timesaver (from $425/month)

Premium (quote-based)
Keep in mind that the price of the first two plans grows with your monthly expenses.
What isn't that clear is the scope of services you are guaranteed at the price
. For instance, both basic bookkeeping and founder timesaver plans come with the industry-standard template chart of accounts. Nowhere on their pricing page do they explain what is considered by the industry-standard template, so your first interaction with them would most probably be an unnecessary Q&A that could have been avoided with a better-structured price plan.
They do, however, give precise monthly prices for financial consulting and startup 409A valuation.
If you are a VC-backed startup, you should seriously consider Kruze consulting as your virtual bookkeeper for the following reasons:
US-based accountants and bookkeepers with at least 11 years of experience in VC-related bookkeeping

Incredible software integration: Quickbooks, Netsuite, Chargebee, Remote, Deel, Gusto, Rippling, Trinet, Justworks, Ramp, Brex, RHO business banking, Stripe, Airbase, Vouch, Bill.com, Shopify, Charthop, Carta, Avalara, Expensify

They do startup 409a valuation

Many startup tips are available for free on the website

Many tax calculators available on the website

Tax return services for seed stage, series a, series b and series c startups from $1500

Corporate income tax return available as an add-on for every package

Their virtual bookkeeping includes: recording transactions, revenue recognition, bank reconciliation, bill pay, financial statements prep

Catch-up bookkeeping available

M&A support available
By reading this far, you could have already noticed that Kruze consulting is struggling with clarity regarding what bookkeeping services you can expect from the two fixed-price packages. Here are some other issues we found while researching this virtual bookkeeping service:
No free trial

Unclear scope of accrual-based accounting available

Inventory services for product-based small businesses only available in the custom quote-based price plan

No mobile app
If you are a funded Delaware C-Corp with half a million in seed or VC financing, you should look nowhere else but Kruze consulting. They are specialized for such startups.
This shouldn't discourage you if your funding is structured differently or even if you are an early-stage startup that hasn't been recognized by a venture capitalist yet – this virtual bookkeeping company lives and breathes startup bookkeeping and you should definitely give them a shot.
Virtual bookkeeping service head-to-head
What to look for in a virtual bookkeeper
Now that you know what these virtual bookkeeping services can do for your business, it's time to see which one of them has just enough features to satisfy your business needs. Below are some of the questions that can help you filter the perfect virtual bookkeeper for you.
Is it synced to an accounting software of your choice (QuickBooks, Xero, Sage)?

Does it fit your bookkeeping budget?

Does it use cash-based, accrual-based accounting or both?

Does it offer accounting add-ons like tax filing, payroll, back-office?

Does it offer a free trial with no credit card details needed?

Are its accountants US-based and CPA-licensed?
There you have it, our top five picks for virtual bookkeeping should provide enough help on the accounting end for any small business with various speeds of growth. All of them offer basic bookkeeping that should be enough for you as you slowly grow and all of them pack enough additional services to stay with you as you scale up. Should you decide to try out another virtual bookkeeping provider, they're integrated with all the right software so that your switch can be seamless.