Why does a beauty salon need a website? You might own or work out of a thriving beauty parlour with a steady, reliable stream of dedicated clients. They know who you are, you know who you are, why waste time and energy on a website?
While your existing clients already know where to go for the best eyelash tint around, most people are going to turn to Google Maps. And how are you going to get on someone's smartphone if you don't have a website? You're not. Hundreds of potential customers are never going to know you exist unless they physically come across your storefront – not a good look when more and more people are looking up destinations on their mobiles before they leave the house.
Ok, so, you know you'll need a website for your beauty salon, but what sort of website should you build? What kind of features does it need?
It can be difficult to know what features you need to build the perfect website for your business, let alone how to implement them, but don't despair – we've built hundreds of thousands of websites for beauty parlours, so we're experts when it comes to knowing what your website needs.
As a rule, your website should always feature three things: excellent usability, appealing aesthetics and informative content.
In practice, this means that you'll want to pay particular attention to the quality of the photography or other images used, the design of the page – as well as how it looks on mobile, which is how more and more people are searching for small businesses today – and clear, concise description of beauty parlour's services, location, and hours.
Take a look at this web page to see how our beauty salon website model works:
The Beauty Zone – a ready-made solution for a beauty parlour from UENI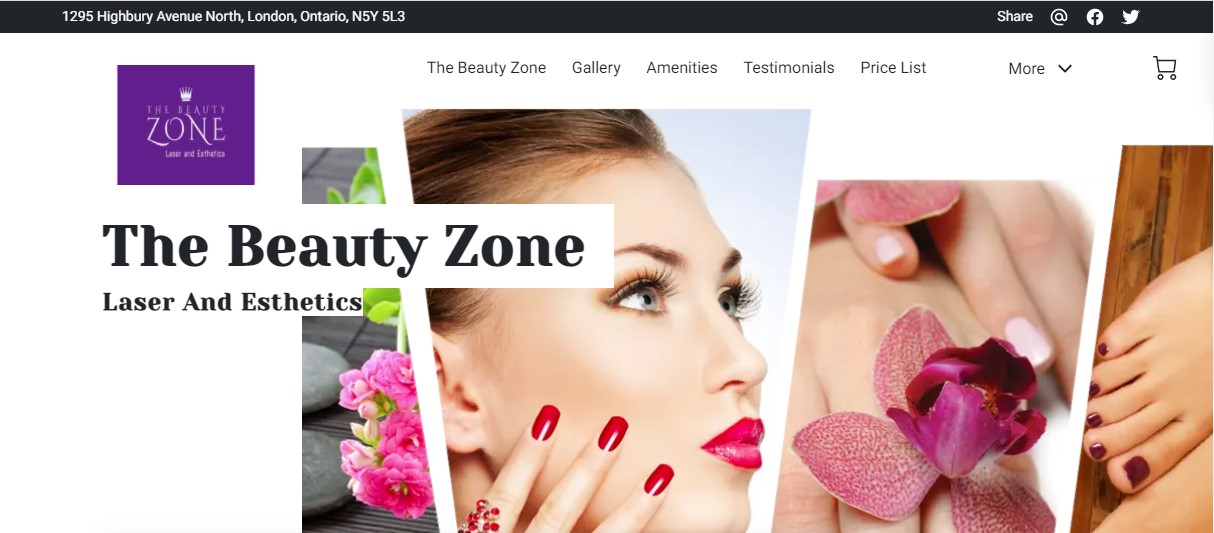 Images: Premium, high-quality images capture the visitor's attention and provide visual context for the services on offer.
Content: bespoke and engaging written content that welcomes visitors to the page, sets the scene of the business' story/mission, and clearly and concisely informs the reader of what he or she needs to know about the business.
Services: a services section makes visitors aware of the products/services on offer and includes online booking functionality, allowing the user to book an Indian head massage, eyelash tint or eyebrow tint directly.
Map: An interactive map allows visitors to quickly and effortlessly pinpoint the business's exact location.
Opening hours: The business' opening hours are clearly displayed for users in a readily digestible format.
Every one of our beauty salon websites has been built around these guiding principles – usability, aesthetics and great content. This makes the website user-friendly and improves the overall user experience, allowing prospective customers to quickly and easily find the parlour and see what kind of beauty services they offer.
In addition, we take care of establishing a Google My Business listing (so you'll appear on Google Maps), as well as listing your business on the top online business directories and search engine optimisation – to help ensure your business appears among the top search results when people look for the specific business in the local area.
We also take care of hosting and website maintenance for you, so you can spend more time focusing on providing an excellent beauty service for your clients.