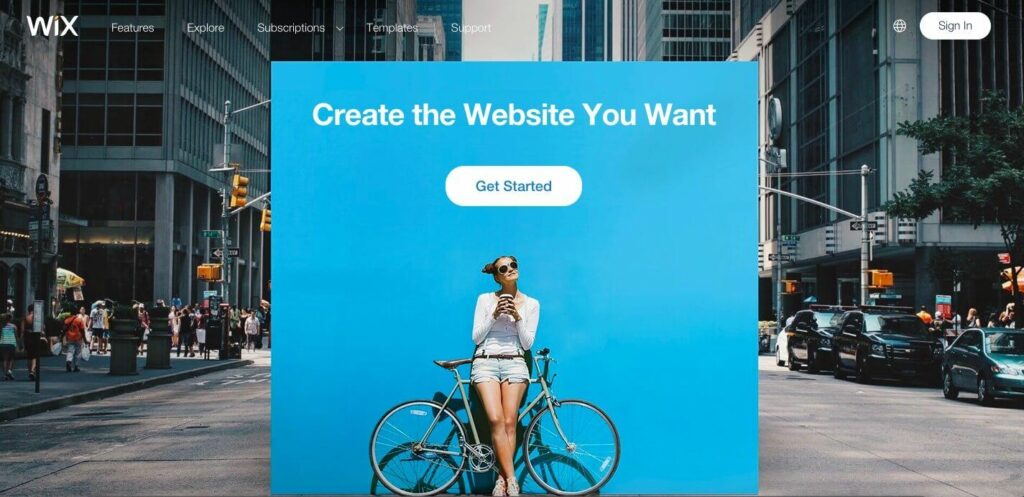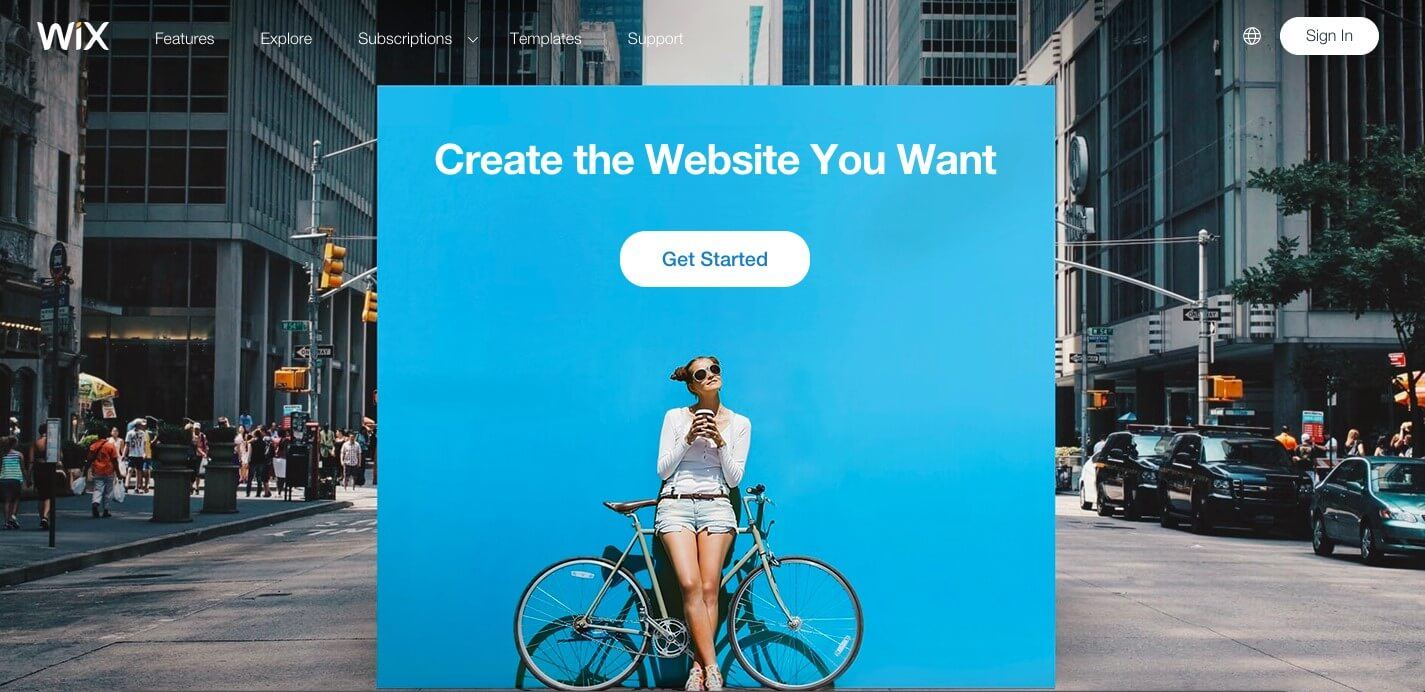 If you've spent any time looking at website builders on the Internet, there's a high likelihood you've found yourself taking a look at Wix. Started in 2006 by investors who were dismayed by the difficulty of creating a website, Wix has grown to be a giant in the industry, boasting over 900,000 active websites as of this writing and accounting for over 20% of the entire market when it comes to website builders according to Datayze.
What makes it so popular? In short, their templates are stylish, their editor is easy to use, and their onboarding process is incredibly easy – after you create an account, you answer a few questions, and you're off to the races, able to build, edit, and publish your page as soon as you finish the form. And it's entirely free.
It's easy to go from the signup page to looking at a finished website in nearly no time and for no cost.
Well, it's free to create a website.
It's not free to add any kind of business functionality. That starts at £13 pounds per month.
And if you want to take off the distracting advertisements for Wix that will show up on every single one of your website's pages, you'll have to pay at least £6 pounds per month.
Now, Wix is hardly the only company that supports its free offerings with advertisements, but for most people looking to build a website, and anyone looking for a website for their business, in particular, adverts for someone else's product are not exactly the most exciting thing in the world – plus they make your page look a bit amateurish, as well.
In other words, Wix may be the biggest fish in the sea, but it's hardly the only website builder you should be looking at. Let's look at a few of Wix's competitors and evaluate where they stand in comparison.
Full disclosure: At UENI, we build websites for small businesses. That means we've spent a lot of time thinking about two things – what makes a great business website and how to build the best websites for small business owners.
That said, because we build websites for our clients, rather than offering them the ability to create their own DIY websites, we're offering something that's a decidedly different flavour from Wix and the other companies described below. Not better, not worse, just different.
Companies Like Wix
When you think of other DIY-oriented website builders like Wix, odds are you're going to wind up with the two other big players in the industry: Weebly and Squarespace. If you think a little bit more, you'll probably remember that WordPress isn't just a ubiquitous Content Management System (or CMS), but they also offer a full-fledged website builder as well.
Between these three Wix alternatives and Wix itself, you're entirely likely to find something that will work for you, no matter if you want to dive in and write your own HTML or the thought of coding even one line makes you break out in a cold sweat. That's not to say all four are the same, mind, because some are certainly more suited for certain layouts and tasks than others, but each of them will allow you to build yourself a website for personal or professional use.
How does WordPress compare to Wix?
If Wix's success can be attributed to just how easy it is to build a website, then WordPress's advantages lie in just how powerful and flexible it can be for people willing to get their hands dirty. WordPress can do nearly anything you want if you don't mind diving into plugins or editing Cascading Style Sheets (also known as CSS, this is how web designers alter the appearance of a website). The code is Open Source, a big plus for folks of the programming persuasion. WordPress powers so many websites means that there is an abundance of educational information available for those willing to put the time into learning.
For users who prefer to let the service do the work for them, the biggest difference between WordPress and Wix is that WordPress is, at its heart, a platform focused on blogging and more news- or information-related content. WordPress can be a staggeringly useful website builder if you're looking to build a blog or a website that primarily focuses on written content. If you're looking for a tool to do the heavy lifting when it comes to building a more visual-oriented site, it may not be for you, especially if you're not inclined to write your own code.
So, in summary, while WordPress is a powerful, flexible website builder, Wix has the edge when it comes to support (since it isn't Open Source like WordPress, Wix's customer service team has a much more manageable scope regarding what can and can't go wrong with your web page) and ease of use, especially if you're not a technically-inclined person. That said, if you're going to be doing a lot of blogging or other longer-form written content, WordPress is something you'll definitely want to consider.
What about Weebly?
When you first open up Wix and Weebly side by side, you could easily mistake one for another. Especially if you're looking for websites similar to Wix, as both companies have similar branding, web layout, and work in a similar vein. But, of course, this doesn't mean that they're identical.
The biggest difference is that while Wix offers a total drag and drop web editor – in other words, you can move nearly any visual element you want to your website simply by clicking and moving it – Weebly's templates are more restrained. Depending on the type of person you are, this could either be a nuisance or a relief: Having too much freedom when building a website can lead to option paralysis, especially when you consider that you can't change your template in Wix after your website is live on the internet. With Weebly, you can.
What does this mean? Well, if you wake up one morning and decide you don't like your Wix-powered website, you'll have to delete it and start over from scratch. With Weebly, even though you have fewer templates to choose from, you can swap between them as you wish. Weebly also allows you to edit the HTML and CSS of your website's theme by default, which Wix does not. So, even though you are dealing with more limited themes when you choose Weebly, it's actually a bit more flexible than Wix when making under-the-hood edits, especially after the site is live.
Squarespace vs. Wix
Last but not least, we come to Squarespace. Like Wix, Squarespace is a drag and drop WYSIWYG (What You See Is What You Get) website editor. The difference is that Squarespace is both more aesthetically-oriented and than Wix, which means you can use the tools included to create a really top-notch website. The trade-off is a bit of ease of use since you need to spend a little more time learning what you can and can't do with the available tools. Another point in Squarespace's favour is that, like Weebly, you can change your Squarespace template without having to abandon or recreate your existing content.
Where Squarespace really shines, though, is in the undeniable quality of their starting templates. Not only can you customise these to your heart's content on some of the paid plans, but the initial offerings are outstanding. While there are a smaller number of templates on offer compared to the hundreds available with Wix, the Squarespace offerings are top of the line and all provide a starting point that already looks like an amazing website.
You can check out more SquareSpace demo templates here.
It's important to keep in mind, though, that Squarespace doesn't offer a free plan beyond an initial 14-day trial. And, if you stop paying for your site, it will vanish off the Internet. In comparison, downgrading to a Wix free plan from a paid one will disable features and functions on the site but won't wipe you off the internet entirely.
Choosing a site like Wix
Hopefully, we've helped you understand some of the differences between the big four website building tools out there today. When it comes to building your own website, our advice to you is to explore each of these products as much as you can to get a feel for what will work for you and your business.
Of course, if you're getting overwhelmed with all of the options available, or you don't think you'll have the time to get your small business the website it deserves, you can always get in touch with us.
We offer a Do It For You website building service that will get your business on Google, taking bookings, and available on Google Maps. All for free.