If you've spent any time looking at website builders on the Internet, there's a high likelihood you've found yourself taking a look at Wix. Started in 2006 by investors who were dismayed by the difficulty of creating a website, Wix has grown to be a giant in the industry, boasting over 900,000 active websites as of this writing and accounting for over 20% of the entire market when it comes to website builders according to Datayze.
It's easy to see why Wix has become such a popular choice—with its chic, easy-to-use templates, Wix gives you the power to build your own professional website fast. And, you won't have to pay a cent to get up and running.
Of course, to create a website with any kind of business functionality, you'll need to register for one of their accounts, which start at £13 a month.
While Wix is one of the world's best-known website builders, it may not be the best choice for your business. After all, while Wix may be free to use, the free version does come with advertisements, its features are limited, and the lack of flexibility can make the experience feel clunky and frustrating. Plus, the somewhat formulaic templates can come across as just a little amateurish.
In other words, Wix may be the biggest fish in the sea, but it's hardly the only website builder you should be evaluating. Let's look at a few of Wix's competitors and evaluate where they stand in comparison.
UENI vs Wix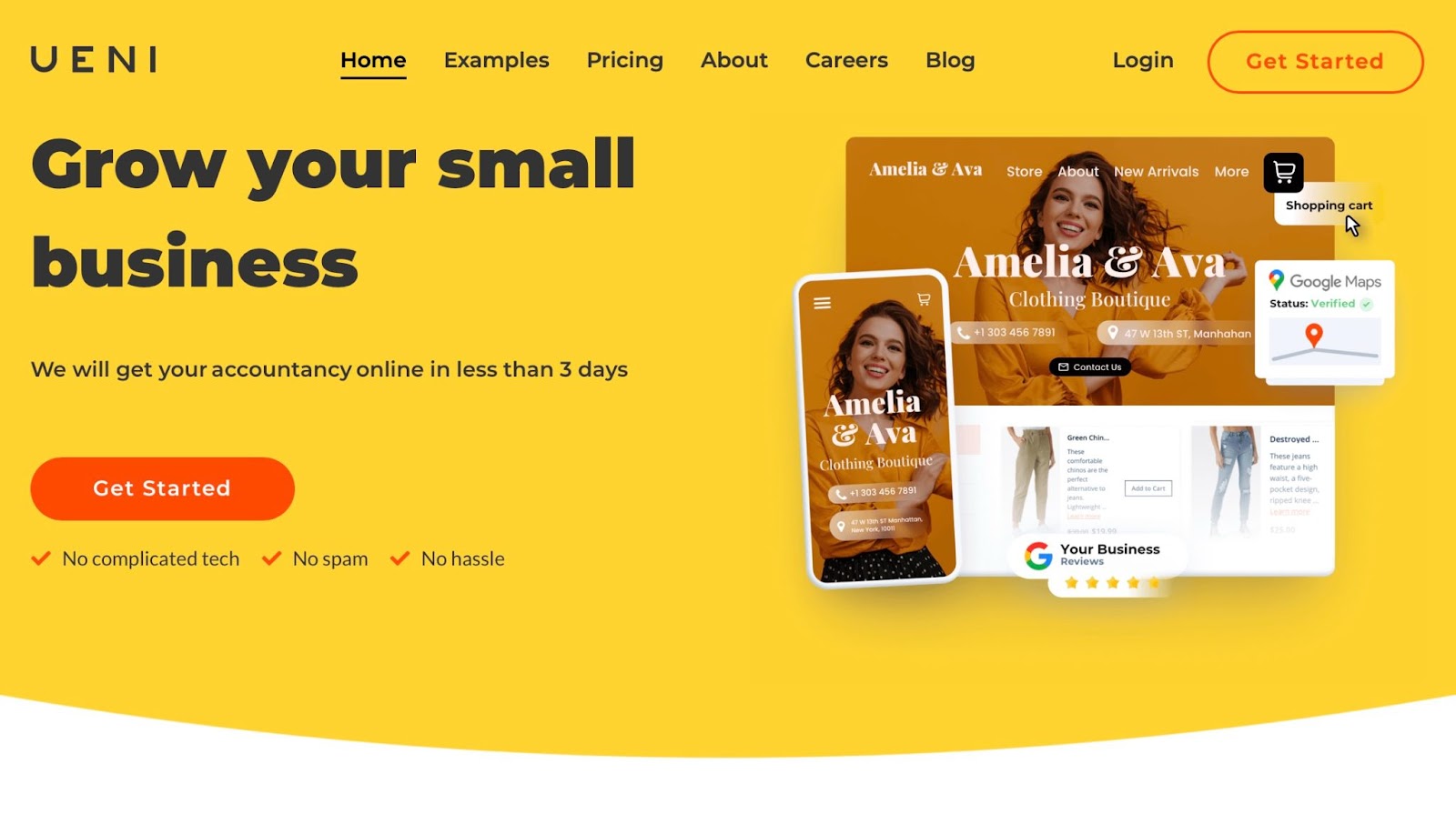 Features of UENI:
Built for small businesses
Easy-to-use website editor
Low cost
Template-based website built for you, by us
Hosting and domain name
In-built digital marketing features and add-ons
Pricing: From £8.25 to £35.75 a month
Who's UENI best for?: Small business owners who want a personalised, custom-built website that stands out from the crowd.
Pros and cons of UENI:
Pros:
Ideal for small businesses
E-commerce and marketing features
Website built for you
Easy-to-use website editor
Low-cost
Ongoing hands-on support
Cons:
Lack of extreme customisation options may not work for some businesses
Not ideal for larger businesses
Let's begin with our own website builder, UENI. Of course, we are a little biased—we aren't saying we're the best Wix competitor, but UENI may prove to be a better choice for some small business owners. At UENI, we build custom websites for small businesses. That means we've spent a lot of time thinking about two things: what makes a great business website and how to build the best websites for small business owners.
That said, because we build websites for our clients, rather than offering them the ability to create their own DIY websites from scratch, we're offering something that's a decidedly different flavor from Wix and the other companies on this list. Not better, not worse, just different.

If you're a time-pressed small business owner who wants a website that brings in new leads successfully, our experts can help. Discover more about our website building packages.
Check out a video where we talk about how UENI differentiates ourself from other providers.
Shopify vs. Wix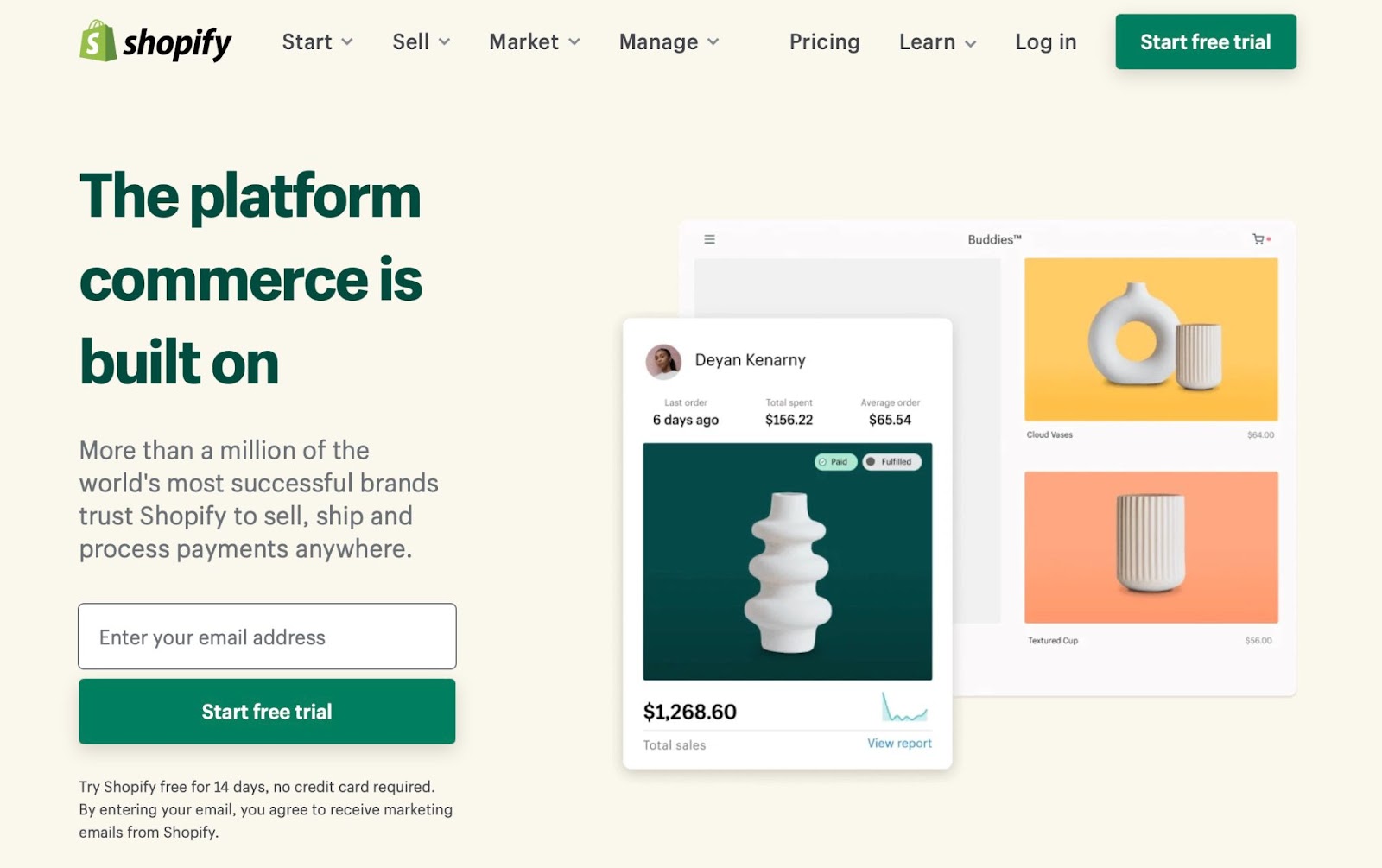 Features of Shopify:
Designed for e-commerce businesses
Multi-platform selling for social media
Scalable
Over 60 themes in the premium version
E-commerce marketing features
Pricing: After a 14-day free trial, prices range from £21.67 to £211
Who's Shopify best for?: Small to mid-size businesses that want to set up an easy e-commerce store.
Pros and cons of Shopify:
Pros:
Ideal for e-commerce businesses
Free templates
Marketing and metric tracking
Scales with your business
Cons:
More expensive than Wix
Not a huge selection of templates
Shopify, as the name suggests, places its focus on e-commerce. Shopify's extensive e-commerce features might mean this option is better than Wix for businesses that revolve around selling products online.
Shopify comes with a free 14-day trial, during which time you can get a rudimentary online store up and running using one of Shopify's 10 free stylish, simple templates. Once you've purchased a plan with Shopify, you'll be able to customise your online business using this website builder's e-commerce features. Add social media marketing, track buyer journeys, update your product list, easily update shipping information—all at the touch of a few buttons.
While Shopify may be a little pricier than Wix, for e-commerce businesses, it's probably a far more effective alternative.
WordPress vs. Wix
Features of WordPress:
Extensive theme library
Numerous plugins to further customise the user experience, including marketing plugins, e-commerce, KPI tracking, and more
Free website builder not connected to a host
Highly scalable
Pricing: Free plan offered; more features available through plans that range from £3 to £36
Who's WordPress best for?: Website builders who want to customise the look of their website and offer a range of services for visitors.
Pros and cons of WordPress:
Pros:
Ideal for blog-based websites
Huge selection of templates
Huge selection of plugins for customisation
More advanced theme editing available
Low-cost
Cons:
Website editor can be tricky to use for beginners
Like Wix, WordPress is one of the titans of the website-building industry. Its free version means that this may be a cheaper alternative to Wix for your business; however, depending on your feature and plugin requirements, you may find yourself drawn to one of WordPress's paid plans.
WordPress is ideal for business owners who want the option of expanding their online presence as their business scales up. With WordPress, you'll be able to customise your site as you go: Use the blogging functionality to enhance your content marketing strategy, use the e-commerce plugins to set up an online store, up your marketing game with KPI tracking and SEO add-ons. Plus, you'll be able to customise the look of your website using the Gutenberg drag-and-drop editor, or, if you're feeling brave, you can even make changes using CSS and HTML editing.
Weebly vs. Wix
Features of Weebly:
Hundreds of templates
Easy to use
E-commerce features available
Free plan available
Pricing: Prices range from free to £18 a month
Who's Weebly best for?: Weebly is a rather simple Wix alternative that is a good option for new businesses with little website building experience after a quick, no-frills builder.
Pros and cons of Weebly:
Pros:
Free, easy-to-use website templates
Can accommodate e-commerce
Blogging platform
Cons:
Fewer customisation options in comparison to Wix
Not as strong for SEO
Add-ons and features are limited in comparison to alternatives
Weebly is a simple, straightforward website builder in comparison to Wix. It's a good middle-of-the-road option for business owners after a great user experience; an efficient, trustworthy website editor; and a few key e-commerce features and marketing add-ons.
The key difference between the solutions is that Weebly's website editor is far less customisable than Wix's. Weebly doesn't have the same freedom of drag-and-drop. Instead, Weebly's drag-and-drop follows a more structured grid format. For website owners after a simpler experience, Weebly may be the ideal alternative.
Squarespace vs. Wix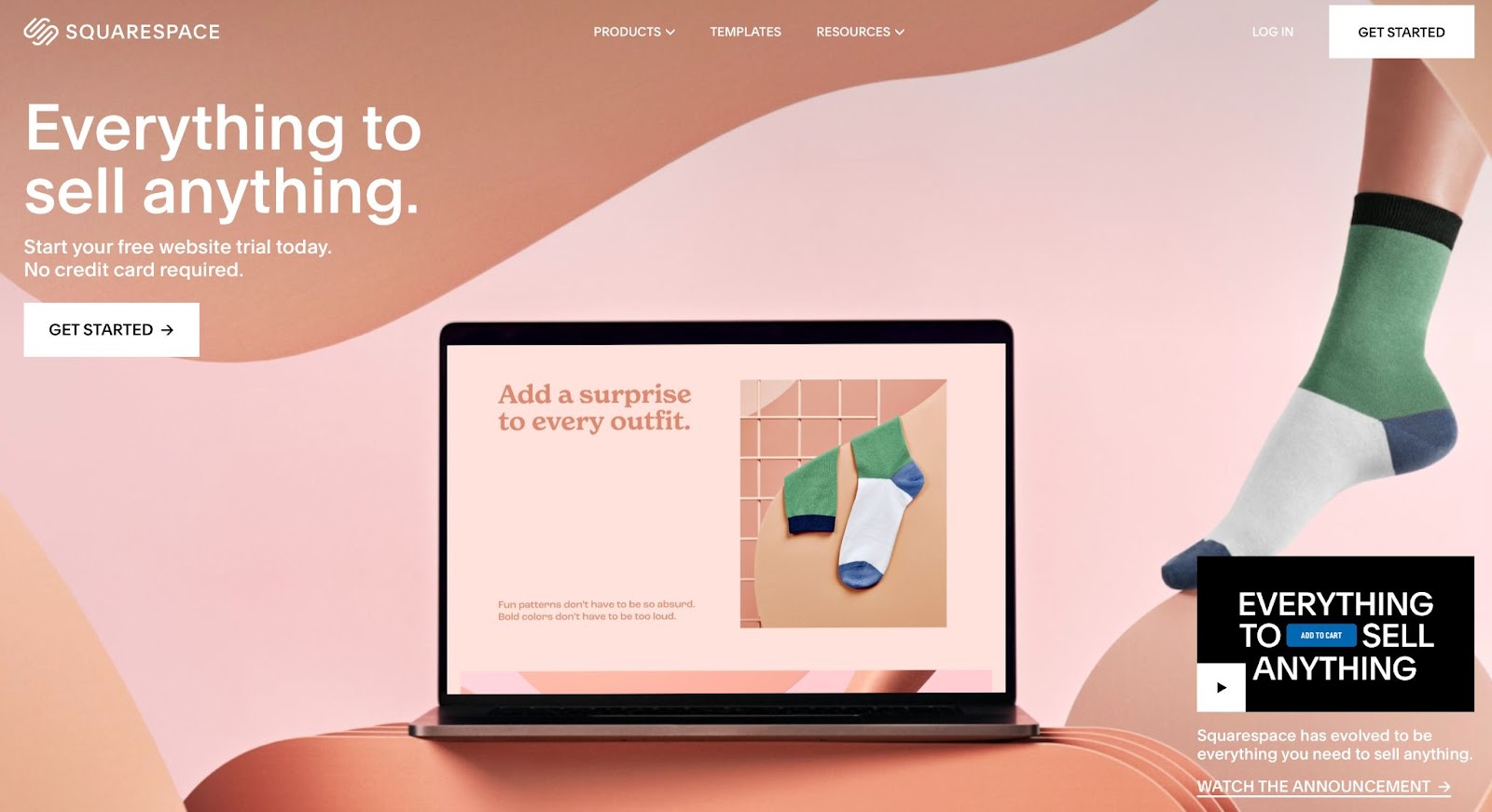 Features of Squarespace:
Stylish, modern templates
Easy-to-use builder and editor
Blogging and e-commerce features
Pricing: From £10 to £30
Who's Squarespace best for?: This option is best suited for small businesses that want an eye-catching, professional website that looks the part.
Pros and cons of Squarespace:
Pros:
Chic, slick templates, which can be customised
Block-building template
CSS editing available
E-commerce
Metric tracking
Cons:
A pricier option
Fewer template options, which can be restrictive and formulaic
Squarespace is, in many ways, similar to Wix. Like Wix, Squarespace is a hugely popular option for website owners who want to build a custom business website using a premade template. However, unlike Wix's builder, Squarespace is a little more restrictive and offers no free-form drag-and-drop, but instead uses pre-built blocks. Plus, Squarespace is more expensive.
While the experience of physical website design may be more limited with Squarespace, the end product is always a thing of beauty. If you're after a beautiful website that offers a seamless user experience along with extensive e-commerce and marketing features, putting up with Squarespace's restrictive builder and more expensive model may be worth it.
GoDaddy vs. Wix
Features of GoDaddy:
Easy-to-use website builder and editor
Business tools including email marketing, social media integration, simple graphic design, and blogging
Top player in the domain name industry
Pricing: Free to £9.99 a month
Who's GoDaddy best for?: If you're looking for a simple, one-stop-shop for your hosting, domain name, and website editing, the GoDaddy website builder is a good option.
Pros and cons of GoDaddy:
Pros:
Domain name host
Easy to use
Attractive templates
Cons:
Limited style customisations
Limited e-commerce features
GoDaddy is best-known as a domain name provider; however, they also offer a surprisingly effective website building tool. Like Wix, GoDaddy's website builder is cheap and easy to use while offering professional results.
GoDaddy, however, is far more restrictive and formulaic than Wix. The templates are harder to customise and can end up looking pre-built and dull. The feature selection is also far more limited. Nevertheless, as a simple, no-frills website builder, GoDaddy is perfect for the less creative business owner looking for a fast, effective option with decent digital marketing features — sometimes less really is more.
The Takeaway: Finding a website builder like Wix
Hopefully, this guide has helped you understand the pros and cons of some of Wix's competitors. If you're creating a business website, it's worth choosing the right tool for your unique needs. While some people need a highly customisable, scalable solution, others will prioritise ease of use and efficiency.
If you're feeling overwhelmed by the thought of creating your own website on one of the websites like Wix, UENI might be the right solution for you. We offer a Do It For You service so that all you need to do is sit back and get on with running your business. Get in touch or learn more about our plans and features today.