Most modern website builders today work around the idea of simple execution – being able to provide users with complex website features without having to code. The most famous of which is probably Wix.
But Wix is not the only way for you to make a website for your small business. At UENI, we're offering something with a different touch from Wix. That's not to say that we're better or worse, but we are different.
In this post, we'll dig into Wix and UENI's main features to help you to decide which of these two platforms is the best solution to build your website.
Wix vs UENI: Overview
Before we get into a detailed comparison between Wix and UENI, let's summarise the philosophy behind these website builder companies. Wix and UENI both prioritise these two concepts:
Simplicity and accessibility to amateurs: you can edit the website yourself without any coding knowledge.

Flexibility and easy to personalize: you can set up a professional and customised website with a quick signup process.
So, that's where the comparison originates. But that's also, more or less where the similarities end.
If you are in a hurry, check out our comparison table between Wix and UENI at the bottom of this story.
What do you get with Wix?
Like many other website builders, Wix offers various plans, from a free plan that includes web hosting to fully-featured solutions. There are eight in total, and the premium plans are divided into two types:
Website Plans: which are made for professional portfolios and blogs.
Business and eCommerce Plans: websites that allow you to accept online payments.
DIY Design options
One of the reasons why Wix is a giant in the industry is because of their templates. This website builder offers 100% customizable templates. There are over 500 templates for a host of different categories.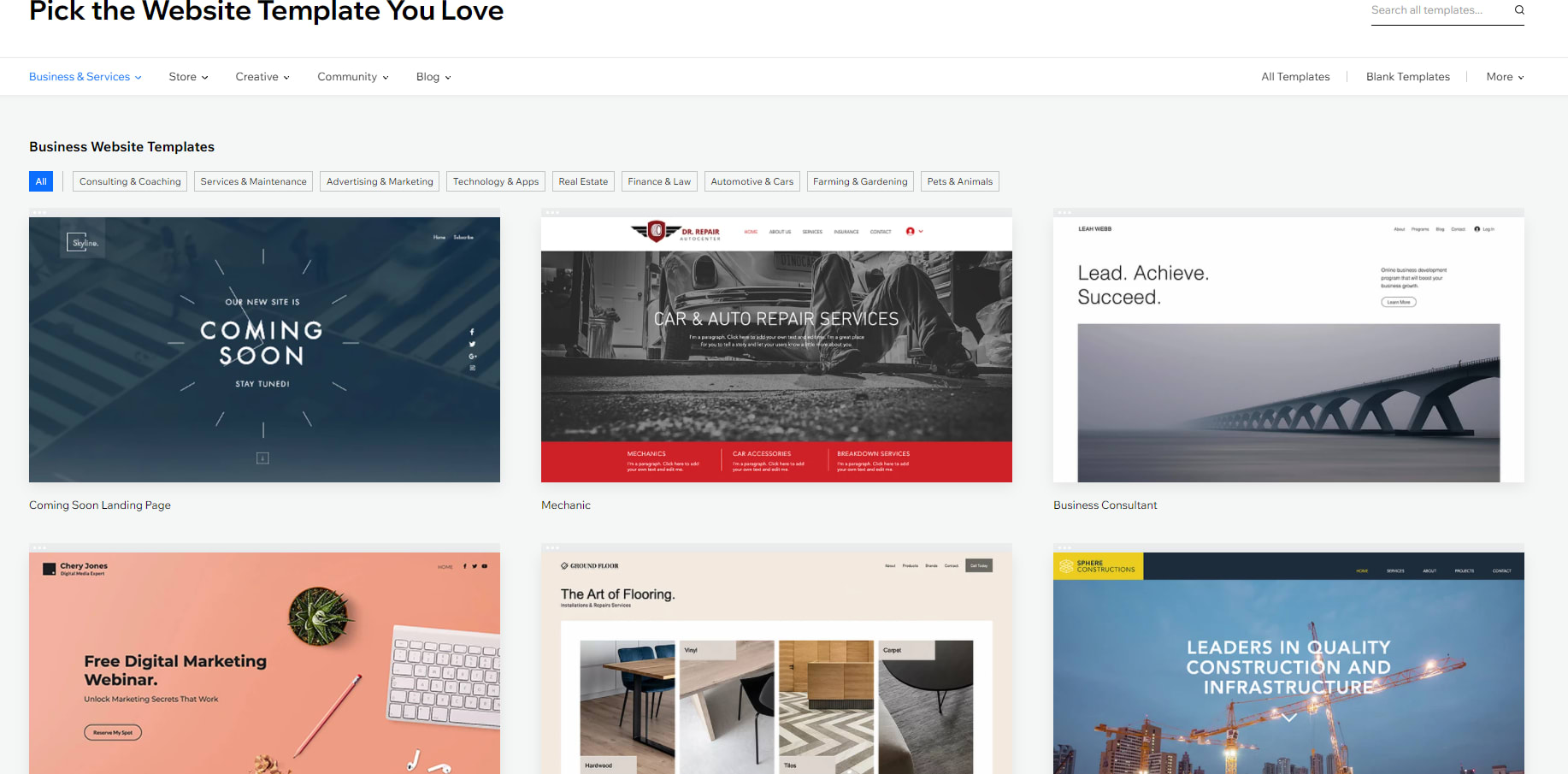 Once you pick a template, you will have to fill your template with content and images from scratch. All the customisation and creation is up to you. When you are finished editing, you push 'Publish' and your website is live.
Warning: once your website is live, you can't change the theme, so you'll have to really make sure you're happy with it when you hit publish.
There are many design options that can be found on the left sidebar menu within the Wix's Editor: lists, grids, stripes, columns, and more.
E-commerce solutions
If you upgrade to a Wix Business plan, you can add the Wix Stores app to the Wix Editor to use e-commerce features like connecting multiple payment options, multi-channel sales, and conversion tools.
You can also add discount and promotional codes, adjust your shipping methods and even manage your store on your mobile app. Wix allows you to manage your inventory and customize your checkout process.
What do you get with UENI?
A Do-It-For-Me Solution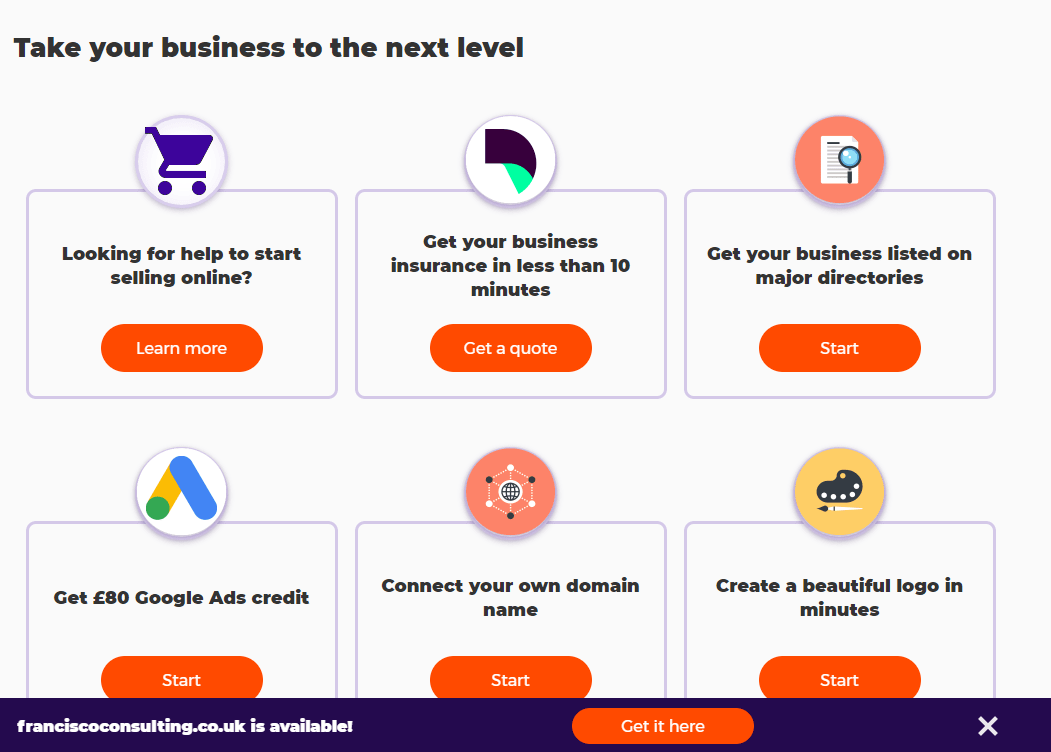 UENI does the work for the customer and tailors the information provided in an already-made, personalized website. Instead of giving you the tools to build a site on your own – which is often a long and exhausting process – we create a website for you, with professional content written just for your business.
At UENI, we try to make launching your business website effortless. All you have to do is answer a few questions about who you are and what your business does.
After that, you'll get a responsive website with unlimited hosting, professionally-written content, online booking functionality, the ability to accept card payments and sell products within three days.
Your business will also be verified and listed on Google's search engine and Google Maps quickly, so prospective customers can find you whenever they need it.
That's true for our free Starter plan, and it's true for our other paid plans as well. No setup fees or hidden costs.
eCommerce for Everyone
As we touched on above, all our clients can list products, add payment buttons and connect their business PayPal account to their UENI website to start selling products from day one. For free. We don't take commissions or charge you for listings.
We know how hard it is to start a new business, which is why we offer an easy and inexpensive alternative to get your online shop off the ground.
Onboarding Calls
At UENI, we don't think of ourselves as a company that builds websites. We're a company that is committed to helping small businesses succeed. That's the benefit of being on our Premium Plans, and the best example is probably our Onboarding Meeting.
When you sign up on one of those plans, you'll be able to book a chat with one of our website experts to go over your new website. We can help you learn how to use your editor, grow your business, or sync your website with Google, Facebook, and Instagram.
And if you have any specific questions, we'll be happy to answer them!
How Do UENI and Wix Compare?
So there are some of the differences between Wix and UENI. We hope this has helped to explain the differences.
In general, Wix is geared more towards the Do It Yourself website builder. If you have the time, the skill, and the energy to build your website precisely the way you want it, it's hard to argue against their tremendous editor.
For people who want their business website to look great and work how they need it to from day one, without having to spend hours fussing with a template and adjusting every element, a solution like UENI might be more suited for you.
| | |
| --- | --- |
| WIX | UENI |
| 8 Plans (1 free and 7 paid plans) | 4 Plans (1 free plan, 3 paid plans) |
| DIY Website builder | We build your website for you |
| Buying and selling supported on paid plans only – starting from £13/month | Shopping Cart & PayPal Checkout available to all users |
| Drag and drop interface – easily customize any template, simple to set up. | Limited customisation, best for beginners/low-tech users, easy to set up |
| Site Booster App for the highest-level paid plans | SEO Support for paid plans only, basic analytics available to all users |
| Ecommerce plans – begin at £22/month | Unlimited products and services for all users |
| Priority Customer Care just on VIP Plan | Unlimited personalised 1:1 support with an expert for all paid users |
| Unlimited email support – paid users only | Live chat support for users on paid plans |
Check out a video where we compare UENI websites with other website builders to see how we differentiate!