#1: Wise Choice: A Keto Company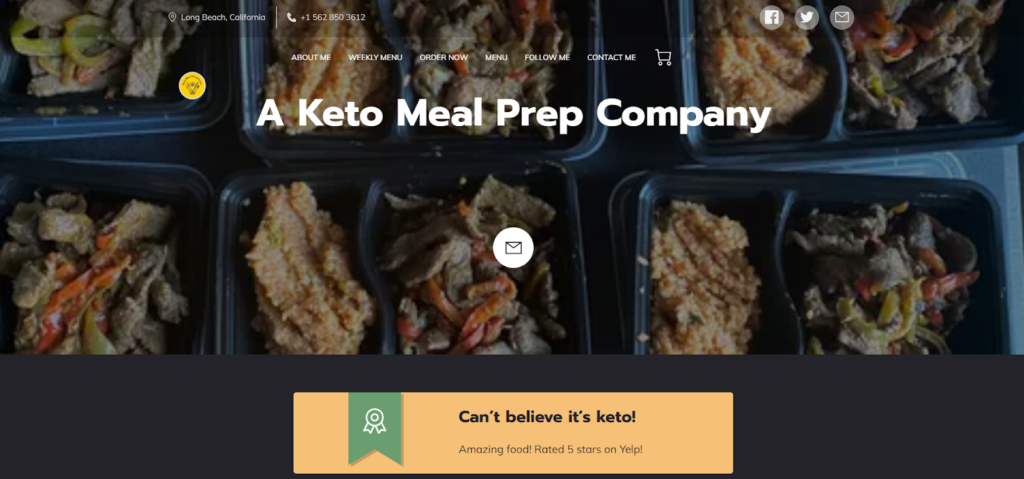 The ketogenic (keto) diet is one of the most popular low-carb diets out there and it shares a lot of similarities with the well-known Atkins diet.
Since this is such a specific diet, it often requires food to be prepared in a specific way. This can be a time-consuming experience for a lot of people. It also presents some particular challenges when it comes to organizing parties and other events.
Wise Choice: A Keto Company (formerly Keto Meal Prep and Catering By Lee) takes care of all of this. With weekly commitment plans, you can stay on track with your goals and have all your healthy food prepared for you each week.
The website is simple, with a standard navigation bar and clear design. It makes it easy for the user to focus on the important parts of the interface: product presentation and placing orders. Like with many small business websites, the contact form is prominent, and it allows you to easily get in touch with the owner.
#2: Maria's Baking Stories
Do you think that a family bakery can benefit from having a website?
Many people believe that a small business like a bakery, restaurant, or flower shop doesn't need a dedicated website. These walk-in businesses often say building a website is a big expense with limited upside.
However, Maria's Baking Stories is a great example of how every business can use a website to tell their story and sell their services. The website features a simple color palette, an image gallery, and, most importantly, a product section that allows you to put products in the cart and place orders.
And, at the moment of writing, Maria's Baking Stories is completely booked. Congratulations!
#3: Frynance Accountants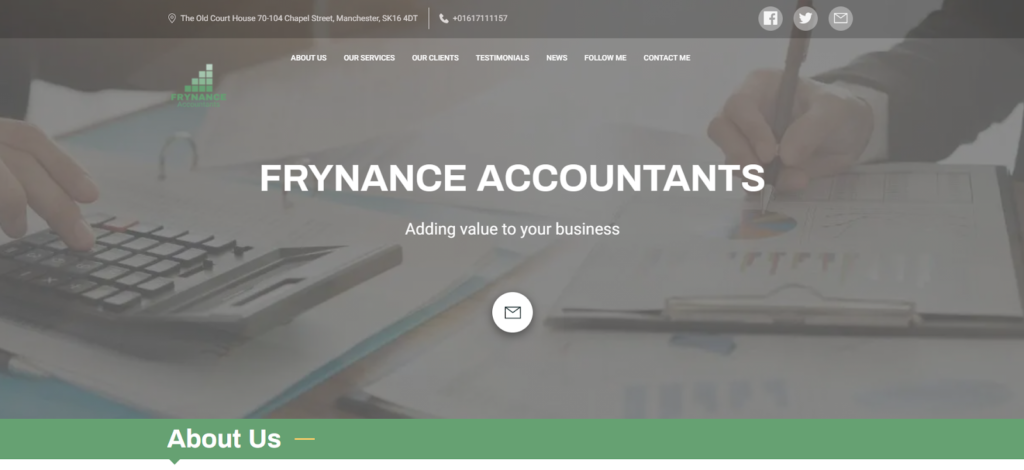 Many businesses provide certain services that are often searched for on Google – that's when having a website can come in really handy. You can ensure that your website ranks high in Google searches and get plenty of new business over time.
One of those services is certainly accounting, and Frynance does a great job of displaying their services in a concise and streamlined way.
The website is a typical one-pager, with a call-to-action on almost every scroll. The site is easy to navigate, it perfectly describes the services to prospective customers and features useful testimonials.
#4: Chen's Authentic Cuisine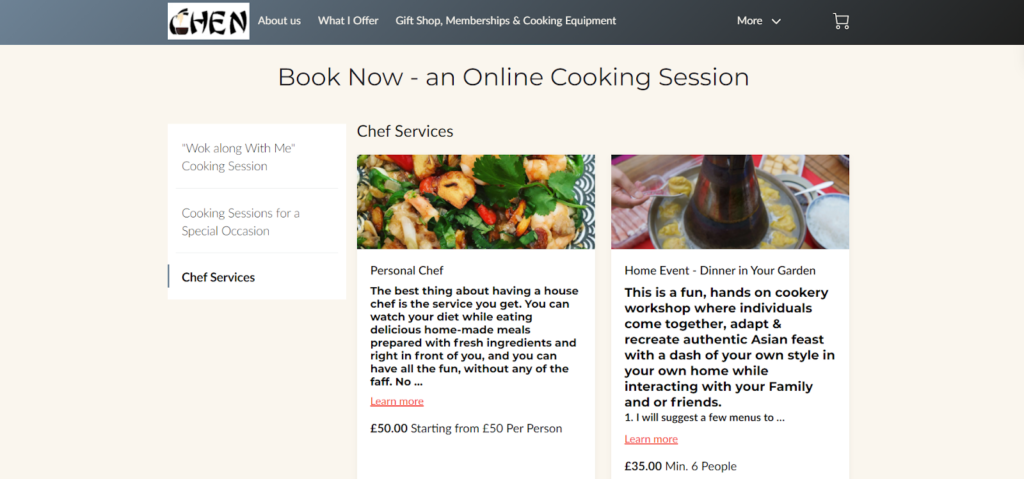 Chen's Authentic Cuisine aims to bring traditional Chinese food and flavors to Western culture.
The website covers all various services that the business provides:
online and offline cooking sessions,
scheduling dinner parties,
cook-alongs,
gift boxes,
personal chef services.
All of these services are accompanied by pictures and descriptions and calls to action that instruct the website visitors to either call the business or book a service. It's a great example of a small business website, with a personal touch and a warm atmosphere that introduces the visitors to the business owner and key service provider.
#5: Truly d'Vine Essentials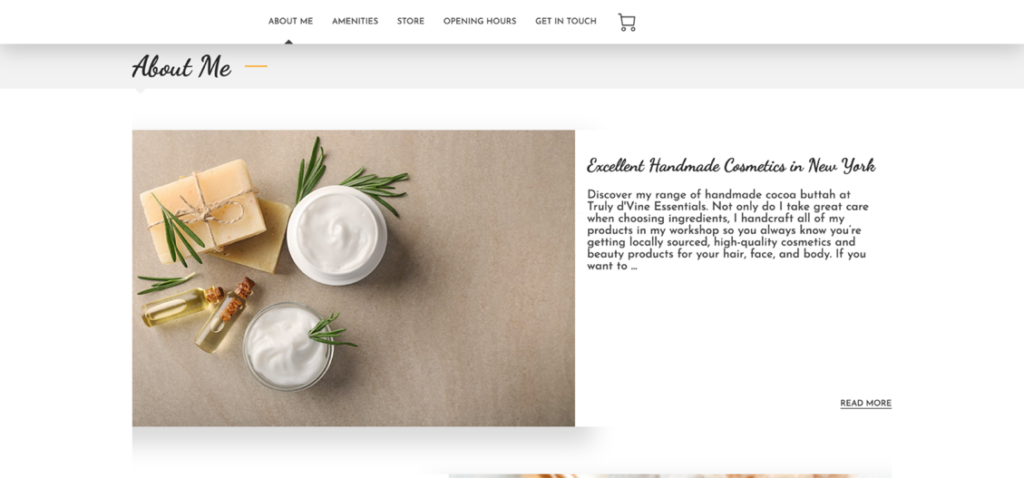 The 21st century is truly an age of self-care and high levels of awareness. Especially when it comes to the products we put in and on our bodies.
Truly d'Vine Essentials is a New York based company that combines these two trends and provides a line of handmade high quality products made with locally sourced ingredients. When you visit their website, it's clear that the target audience is female – the color scheme, pictures, and overall tone of voice almost tell us more than the brand claims.
Like other small business websites on this list, Truly d'Vine Essentials uses their personalized website to make a clear statement on their mission, while at the same time offers a few quality and handcrafted products through their online store.
#6: Al Qawi Self Defence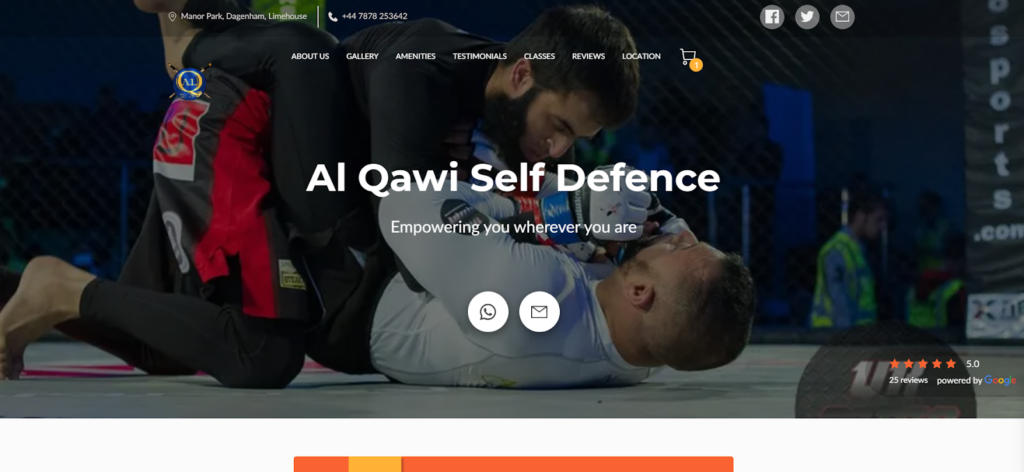 Al Qawi Self Defence is a London-based mixed martial arts club that teaches its students striking and grappling techniques ranging from Taekwondo and karate to Brazilian Jiu-Jitsu and wrestling.
Their sessions cater to all types of students. With classes for men, women, and children, their web audience is about as wide as possible. This can be a difficult thing to represent online.
But, that didn't prevent the guys from Al Qawi Self Defence from creating a professional website with a clear homepage, user-friendly navigation, and even an eCommerce section where the visitors can purchase specific classes.
#7: CN Birmingham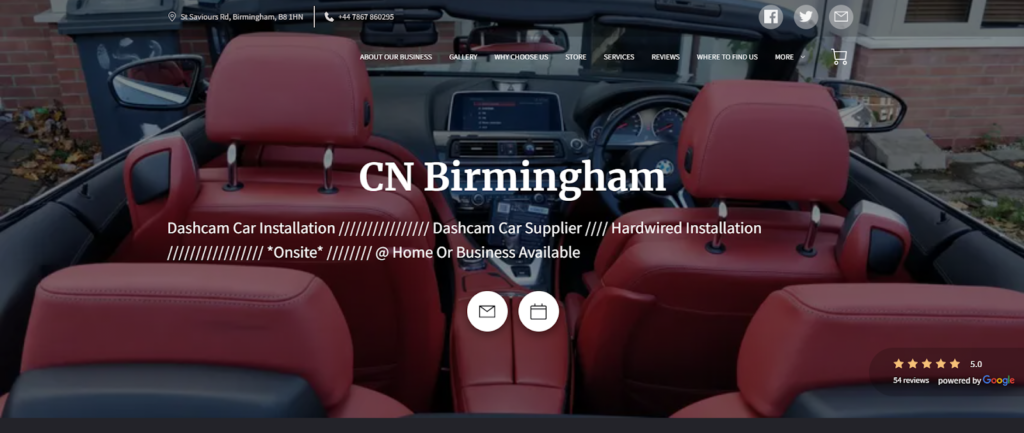 CN Birmingham is about as local as you can get when talking about small business website solutions. It's a dashcam service that serves the Midlands & Birmingham area – dashcams are becoming increasingly popular because of the important role they play in traffic safety and this local business is taking full advantage.
Their website, just like the nature of their business, is fairly straightforward. It provides an intuitive user experience and plenty of information as to how they do what they do.
You can also use the store section to order products and see precisely where they are located, which is often an important feature for small businesses.
#8: Xenfit
Fitness is another of those industries that are experiencing a rapid expansion since the dawn of the new millennium: the global health&fitness club industry grew to almost $100 billion in the past years.
Xenfit is a training business run by Xenia – an experienced nutrition specialist and personal trainer that specializes in helping women achieve their fitness goals. The "About" section of this website is informative and pretty personal which is a smart move given the fact that clients tend to work closely with their trainers and the nature of the relationship is personal.
The website uses a simple color scheme and gives priority to the shop section, allowing the visitors to compare various programs and make a purchase.
#9: Maames Culinary Food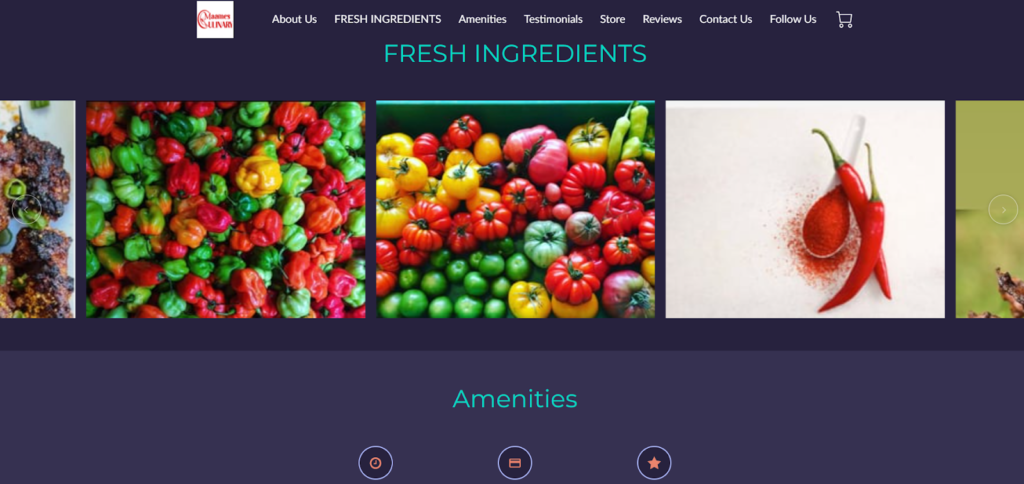 One of our favorite small business website examples on this list, Maames Culinary Food is an online spice store based in London. They sell tasty spices made from fresh ingredients and, if you don't want to take them at their word, you can consult any of the testimonials and reviews they have on their website.
And, since spices are such a colorful thing, Maames managed to create a beautiful website with vibrant colors and all sorts of tasty images. When it comes to innovative website design for small businesses, this is one of the best examples.
#10: Vendaci Artisan Chocolate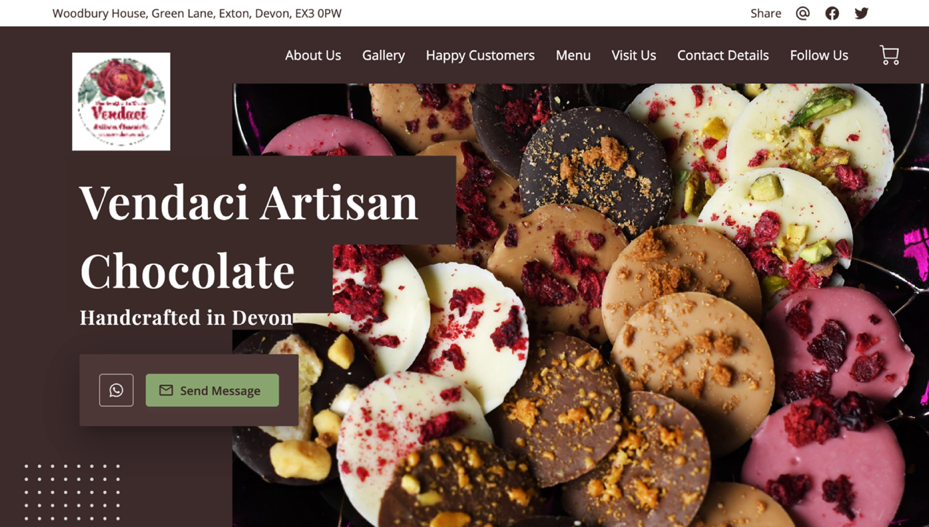 Talking about colors and tasty images – there aren't a lot of things tastier than chocolate!
Vendaci Artisan Chocolate creates tasty, hand-crafted bars from the finest Belgian chocolate, as well as chocolate buttons, lollipops, and luxury gift boxes. They top off all these products with the highest quality ingredients (pistachios, cranberries, raspberries, etc.) and wrap them up neatly.
Their website features a warm cocoa-colored background and amazing pictures that will make your mouth water. Imagine running a digital marketing campaign and having all your users end up on a landing page that looks like this!
#11: FLÄÄV FASHION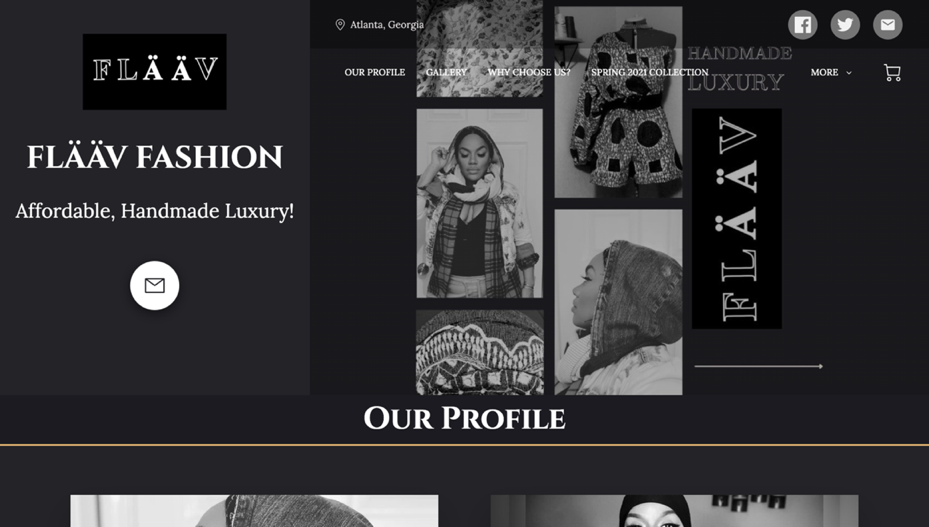 FLÄÄV FASHION is a great example of a small business finding it's niche. Based in Atlanta, Georgia, the brand focuses on affordable & handmade luxury garments.
By producing unique, quality apparel, the brand states that their customers can distinguish from the crowd. You can find images of their products on the Gallery and buy their products online.
Creating a stunning website will make your visitors fall in love with your brand immediately. A good first impression is key to turn a visitor into a customer.
#12: Alexander Twelve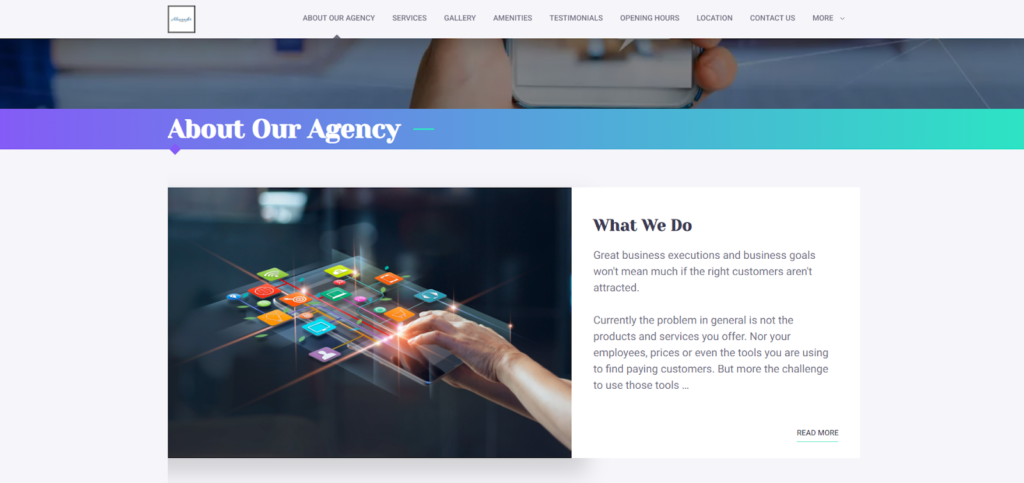 Another industry in which having a web presence is an absolute must is marketing, especially digital marketing.
And, although a marketing agency can be a large enterprise, many local agencies can be considered small businesses that only work with other small businesses like local shops and small eCommerce websites.
Alexander Twelve is one of such agencies: they provide SEO blog optimization, social media, lead generation, and other digital marketing services mostly to small businesses. Their business website has an interesting layout – it's a one-pager that guides you through agency services, clients, and testimonials.
#13: Soaps by Kristy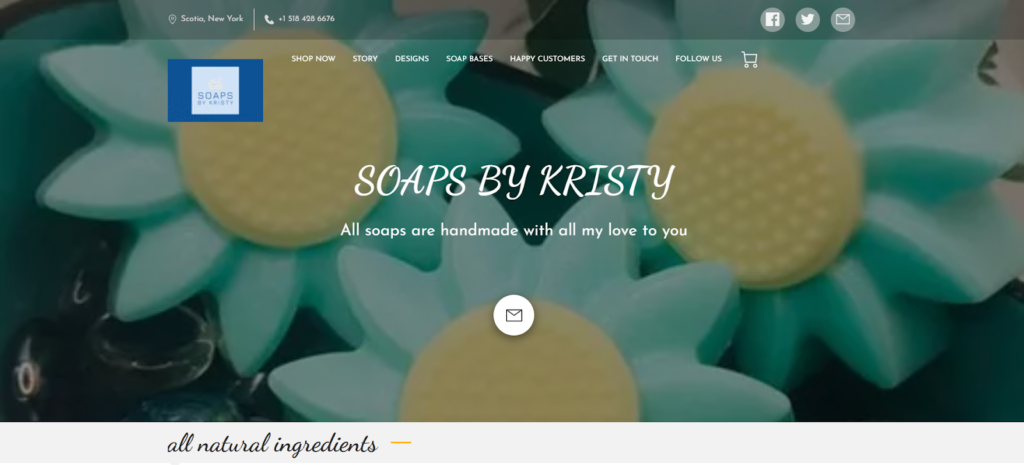 Another business dedicated to homemade products, Soaps by Kristy are beautiful, colorful bars of soap made from all-natural ingredients.
Since the product itself is so colorful, the website uses equally colorful pictures to showcase the brand. Potential customers can order the products directly through the website, learn more about Kristy and her story, as well as explore the background of her products and technique.
The site gives special attention to the visual representation of the products, featuring an entire section with soap design examples. The customers can explore the style and quality of the products just by browsing through the photos.
#14: Passion Flower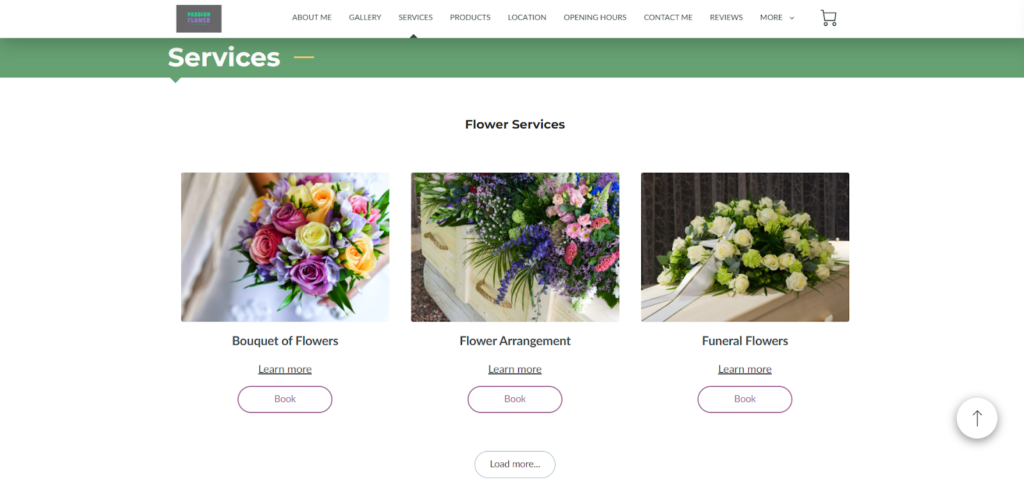 It's not easy creating a small business website for a flower shop. Choosing flowers usually means seeing them in person, smelling them, trying different arrangements, etc.
However, Passion Flower manages to translate the vibe of a flower shop onto their website perfectly. As soon as you get on the homepage, you're surrounded by vibrant images that are about as close as you can get to a flower shop without visiting one. You can view the gallery and examine all the options, as well as book-specific arrangements.
Passion flower is one of the great website examples of a walk-in shop transferring their business online without losing a lot of the appeal.
#15: Liz Y Ahmet
There is this misconception that artists aren't that adept at self-promotion.
While that might have been the case decades ago, today's artists are about as informed about online marketing as the average person – which is a lot compared to the artists of the previous century. Artists know that having a web presence can be of great importance when it comes to building your brand and selling your product.
Liz Y Ahmet certainly takes this very seriously since her website manages to represent a wide range of her work, from charcoals and chalk to pastels and watercolors. There is only one significant call to action (Send Message) but you can still purchase any of her available work.
#16: Royale Events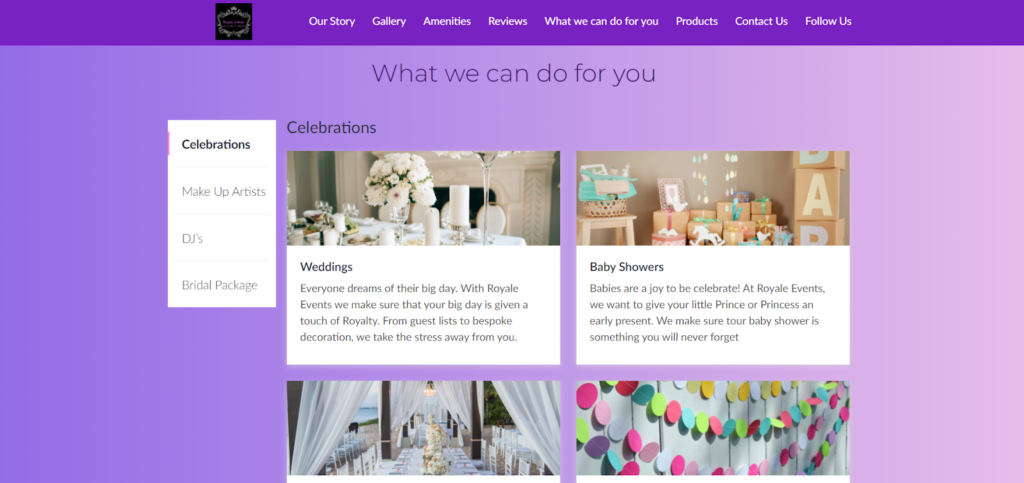 Event organization might have a reputation as a lucrative business but it takes a lot of time and effort to create all the required connections and get things started. In this industry, it's all about appearances and contacts.
Johanna from Royale Events seems to be well aware of this since her website features a sleek design and lots of colorful images that make you want to reach out to her to imbue your next celebration with some style.
This simple web is a lesson in small business website design: when you run a company, you need a quick and pretty site with a simple layout so that your customers can easily get in touch.
#17: Psychic Medium Queen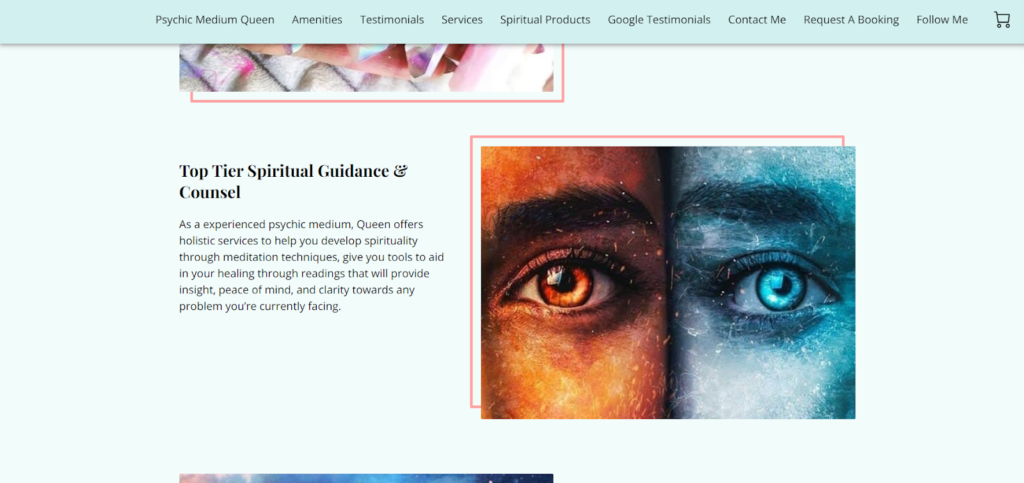 Every business that relies on building customer relations and in-store traffic needs a website – psychics included.
Psychic Medium Queen uses her website to give the customers an easy way to establish contact, as well as to promote herself through customer testimonials. There aren't many industries that rely on word-of-mouth and recommendations as much as spiritual businesses.
However, this website is much more than a contact form: it's also a webshop where you can buy all kinds of crystals, bracelets, tarot cards, and other similar products you might be interested in.
#18: CCOnline Memorials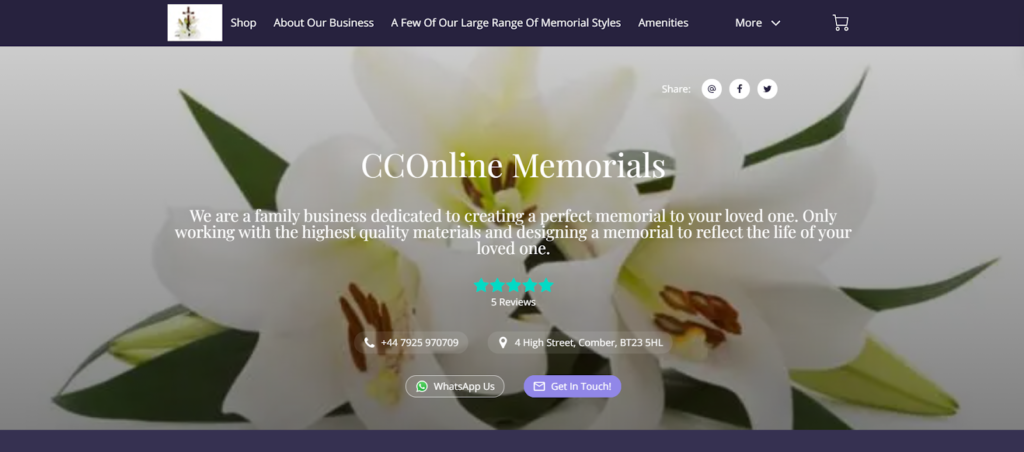 When you're grieving, the last thing you want to do is spend hours online or on your telephone trying to arrange things.
CCOnline Memorials makes the process of creating a perfect memorial easy and hassle-free. Memorials can be hard to imagine and not that many people know how to choose the right one. CCOnline Memorials' website provides plenty of design examples and quality pictures to help you make a decision.
The website design is professional and the site is informative more than anything else.
It's also important to know that your loved one will be commemorated with the best possible design. Judging by the testimonials and reviews, it seems that CCOnline Memorials managed to provide just that to its customers.
The Final word
Creating a small business website doesn't need to take up too much of your time or money.
You don't have to break the bank and hire a web development studio. A small business will often need a simple yet effective web presence. You can do it independently with a website builder or entrust a web building service to create the best solution for you in just a few days.
Here at UENI, we pride ourselves on helping small businesses improve their online presence and build their brand. All we need is three days, during which our team of copywriters, designers, and developers will work on creating the best small business website for your needs. Your website will be operational from day one, ready to process transactions and generate conversions for your business.
Get your website today and start growing your business!