2020 was quite a year for us. We imagine it was quite a year for you, too. The world is a different place to what it was in January of last year, and small businesses have had to adapt on the fly to a whole host of new rules, restrictions, and navigations.
At the end of last year, we were busy working to make sure UENI gives your business the best chance it can to succeed in the new, post-COVID landscape. Some of these changes were big, like our Product Sync, but we made quite a few quality-of-life changes that are important, if not quite as flashy.
That's why we've put together this wrap up for you – so you can stay informed with what we're doing, and don't get too bewildered if you log into your hub and see that some things are a little bit different than you're used to.
Hub Improvements: A Note on Notifications

If you log into your Hub, one of the first things you'll notice are the notifications. These numbers (highlighted with red circles) indicate that there are things that you need to check out in the specific section.
In Pro Features, this will indicate features that you have not activated yet, while notifications in any section covered under the My Customers tab will refer to unread orders, bookings, messages, or GMB updates.
Hub Improvements: My Customers
As we just mentioned, there's a new section at the top of your Hub called My Customers. This now houses three important Hub Functionalities: Your Bookings, Your Messages, Your Orders. This way, you can use My Customers to quickly check in with any unread items in these areas, as you can see in this screenshot of the Messages tab: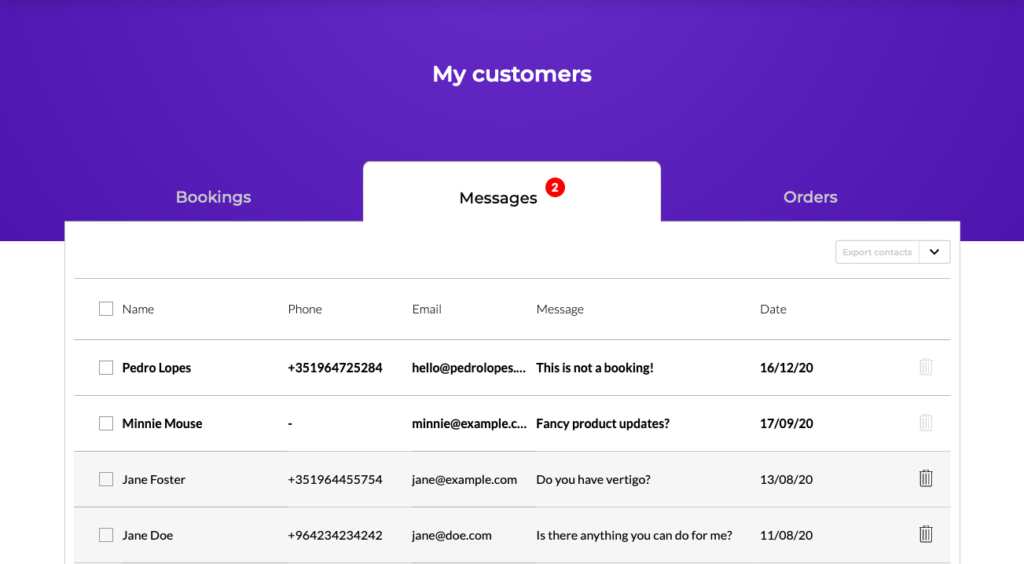 There's one more important thing to notice about your My Customers Tab. It also houses your Google My Business information. You'll be able to get up to date information about the connection status and the general health of your GMB here as well: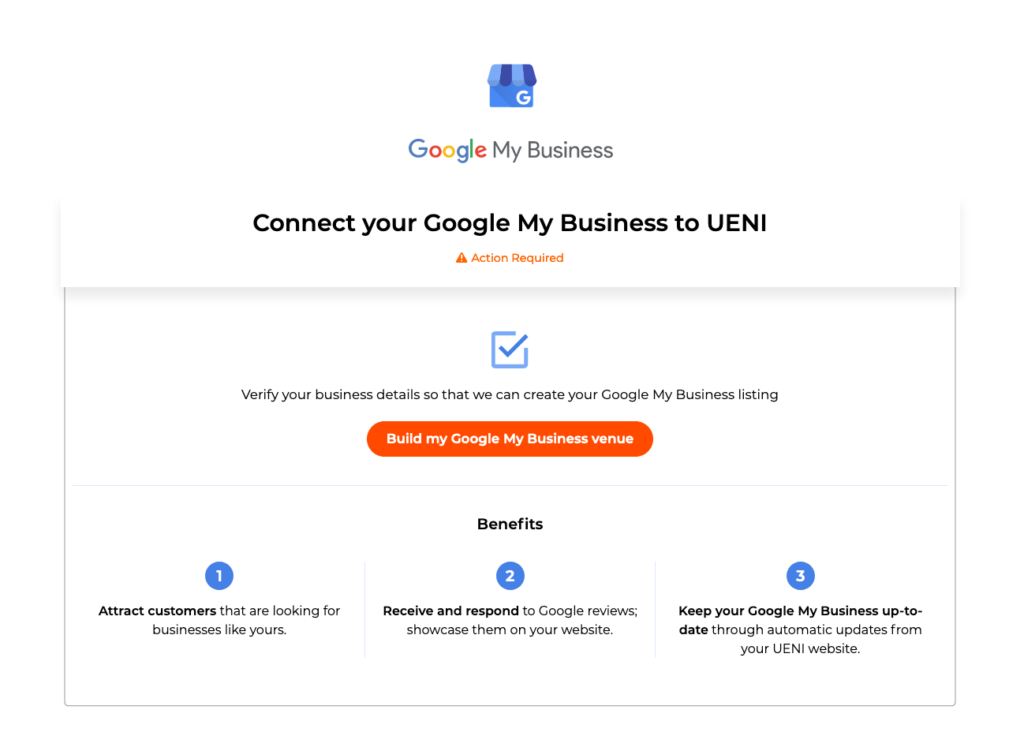 All in all, we think the new My Customers tab should help you a lot when it comes to making sure that you're staying on top of your business, allowing you to save time and work smarter.
Hub Improvements: Pro Features Redesign

Our Pro Features tab has seen a pretty significant redesign – not only is each section now in line with the look and feel of the My Hub section that you see when you log in to your UENI account. We've adjusted the layouts, the colours, and even the typography for all of the action items included here: your email accounts & connected domains, plus all of the Pro Features you can access like listing management and onboarding call booking.
You might also notice that it's easier to navigate around this section – most importantly, perhaps, is that you can now access your email accounts with just one click, making life significantly easier when you're on your mobile phone:
You'll also see that adding email addresses and domains is a bit easier, thanks to several improvements we've added to the form: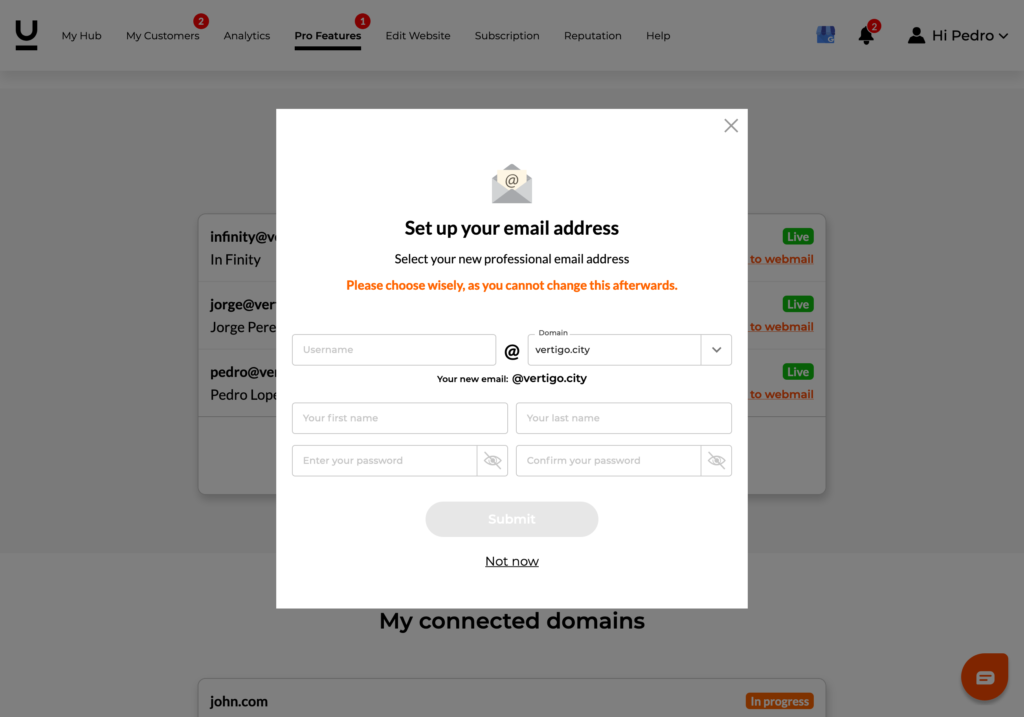 Our Pro Features themselves have also seen a little bit of an upgrade: we've cleaned them up a bit, but we've also added "Active" and "Inactive" Statuses so you can see which features you're currently using and which ones you have yet to activate: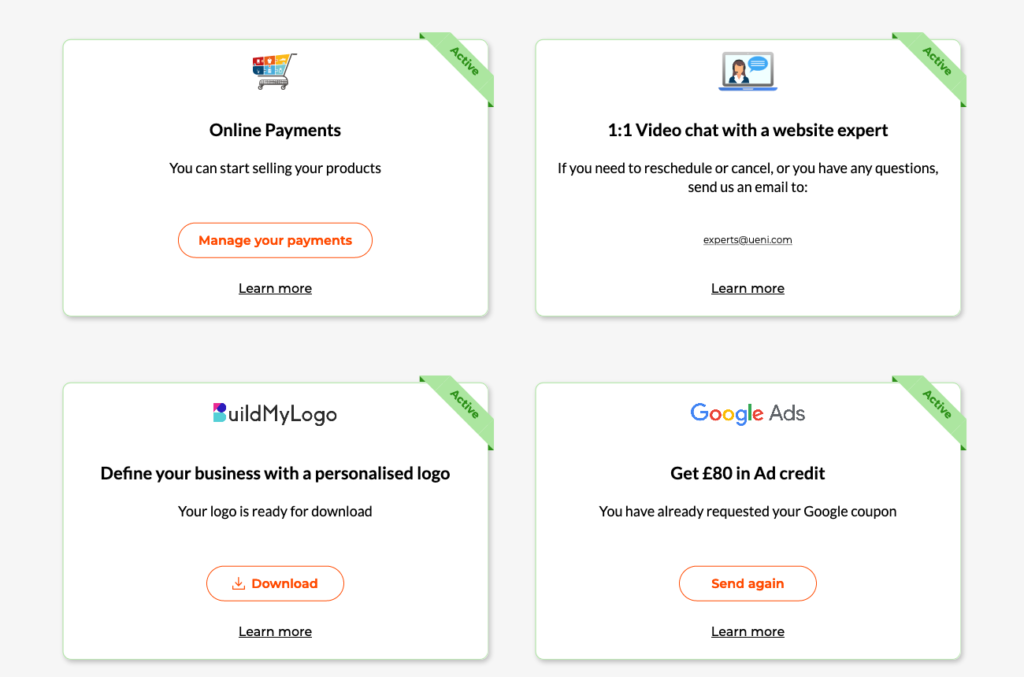 For our users on Starter or Free Plans, we have made the availability of all of our features more obvious, as well.
Finally, we've added "Learn More" links to all of our Pro Features and sections. These should help you understand more about each element via links to our blog (which you're currently on) or to our Help Centre.
Hub Improvements: Export Your Contacts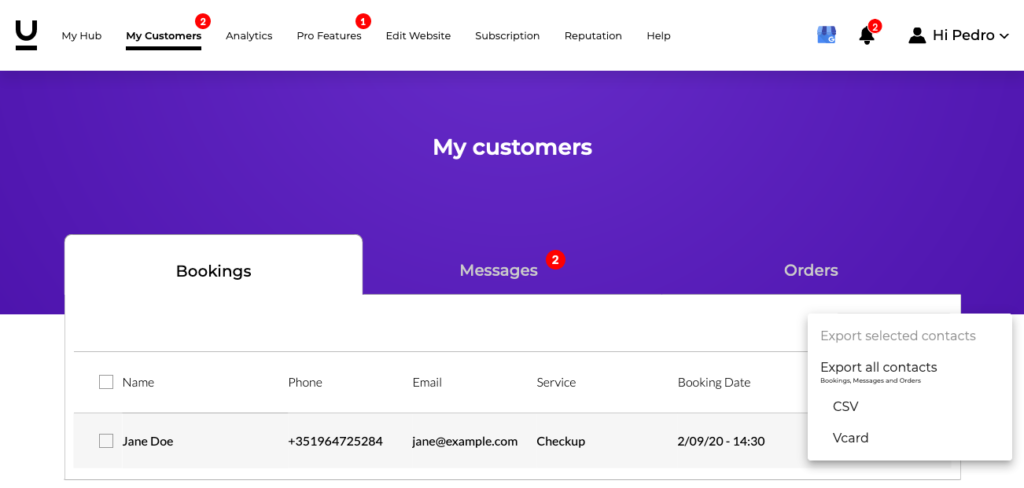 This update is very exciting for our users who utilise mailing lists and/or want to get more in line with email marketing. You can now export the contact details for the people contacting you through your business and download them either as a CSV or a VCard.
The exported document will be sent to the email address linked to your UENI account.
This allows you to easily move these contact details to your UENI Mail address book, or even to a third-party email marketing service like Mailchimp.
No more manually entering each email every time you want to send out a new campaign mailer, discount code, or promotion to your existing customers – now you can just select the emails that you want to save (or export all of them!) and click Export Contacts to save them. Incredibly easy. Incredibly useful.
The Editor: Share Your Products and Services Directly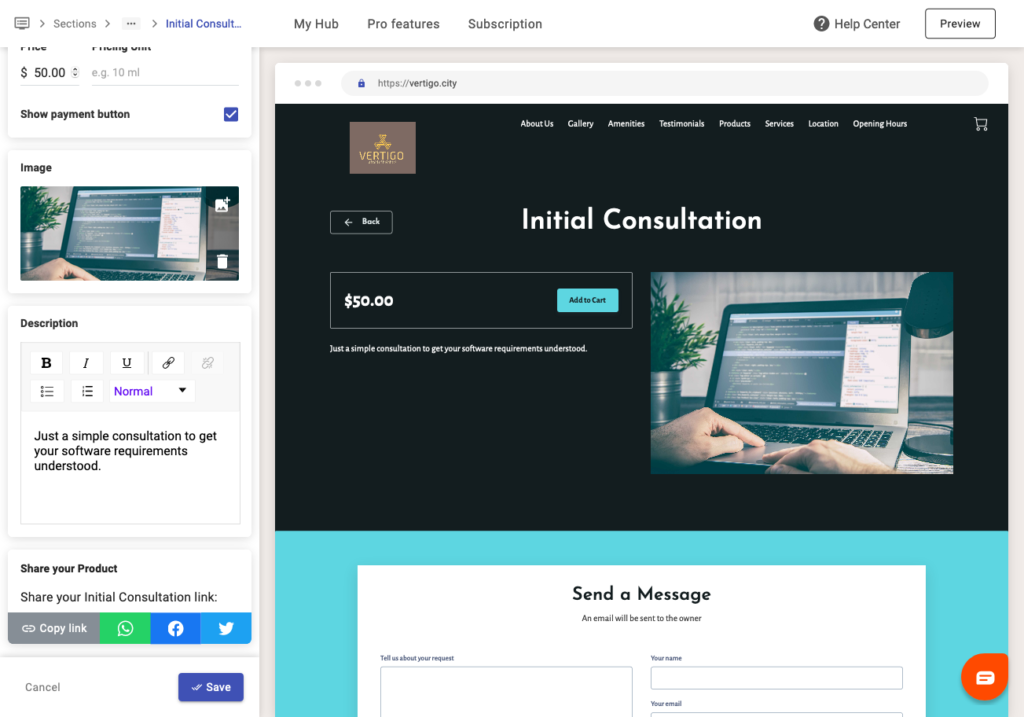 Shifting Gears to the Editor now, we're happy to announce that all your products and services have direct share buttons available in the Editor, making it super easy to share one of your offerings with your customers or clients.
Here's how it works. Once you have your product or service exactly the way you want it, you can either copy the link or share it directly over Facebook, WhatsApp, or Twitter. If you share it directly on one of those platforms, a new window will open up where you can write something about the product or service that you want to highlight.
The result? Sharing information about your business is much easier. All it takes is a few clicks and a quick write up about your product or service, and you'll be done – this can help you drive traffic to your website as well as cut down on the time it takes you to promote your business.
The Editor: Updated Google Reviews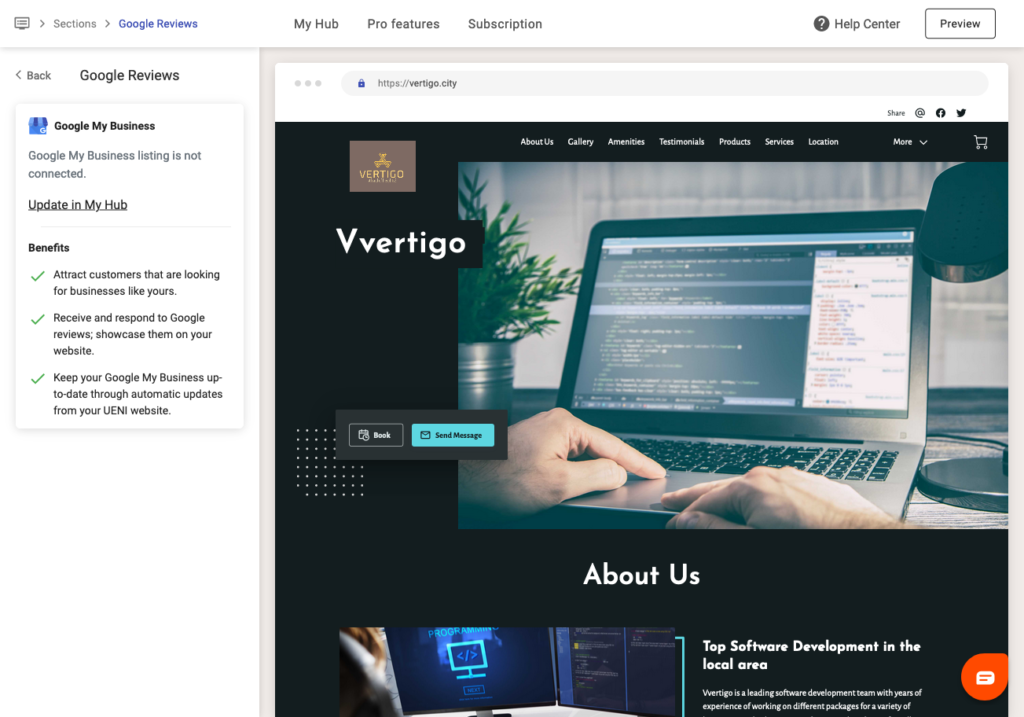 We wanted to make sure that the Google Reviews view available in the Editor shows you exactly what's going on with your GMB when you have it open. To do this, we've added a small information box that will show you the state of your Google My Business listing as well as a link to the Hub, allowing you to update faster than before.
Your Google My Business Is Not Connected
If you're one of the UENI businesses without a connected GMB listing, you'll be able to get a quick overview of the benefits, and you will have a link to the My Business tab in the Hub, allowing you to get the process started.
Your Google My Business Has No Reviews
If you have an active GMB but no reviews yet, we'll give you a quick overview of the benefits and provide you with a GMB Review link to share directly with your satisfied clients and customers.
Your GMB Is Active & Has Reviews
If your GMB is working as intended and you've received at least one review already, this section will provide you with the GMB review link as well as allowing you to go directly to My Hub to reply to your existing reviews, so you'll never miss anything.
So, there you have it. That's what we were working on as 2020 came to a close. We hope it makes your UENI experience even better than it was before, and hopefully makes running your business and editing your website easier.