Looking to invest in a sleek website? Here is what the average cost of a website is in the UK.
Small business owners often ask us: how much does it cost to build a website?
Perhaps a better question is: how much should creating a website cost?
Assuming you don't build your website yourself, the average cost of a website for a small business, according to web developers, is in the £2,000 to £8,000 range.
That figure is an estimate for a simple website with limited functionality. It's what it costs just to build the website — it doesn't account for the maintenance and subscription fees you're likely to end up paying for, too.
'Wix or WordPress can be a do-it-yourself website and can be free…[but] a WordPress site designed to look like your brand, it will usually cost you around $3,500 and add an additional $2,000 or more…' Entrepreneur
Here's a breakdown of the average cost of a website:
For many small business owners, this total web design cost is simply too much.
But here's some good news: there is now a good alternative.
How UENI compares to other web designers: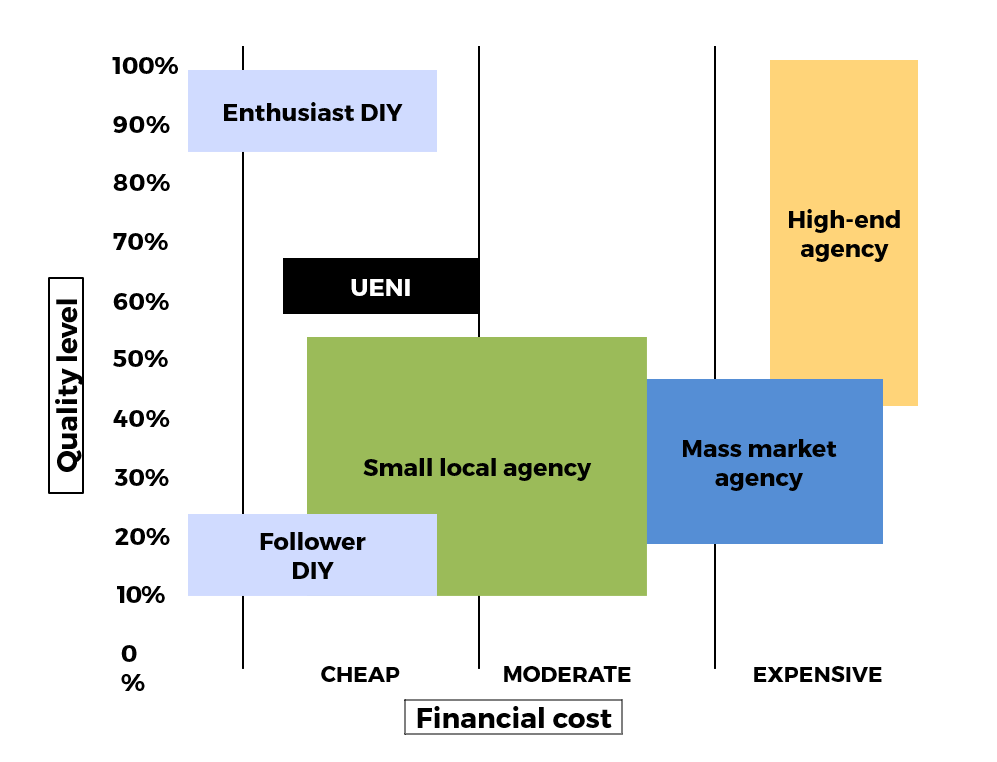 UENI-built websites are secure (check), search-engine optimized (check), include a free custom domain name (check) and responsive design (check), and are written by a professional copywriter (check).
We build our websites to reflect precisely what information customers most search for (check); we design them to load fast and rank high in Google search results (check and check). Customers can even request to book your services on your website (check!) — and you'll instantly be notified by an SMS text and an email (BONUS!).
Want some even more good news?
We may already have pre-built your website, and activating yours costs just £1 a day. That's it. You only pay for your subscription on a month-to-month basis. There's no obligation, and you can cancel anytime.
…
No, you don't need your head examined — you read that right. We build websites for small businesses ahead of time, so you can evaluate a finished product before you make a purchase.
With UENI, there's no fuss, no muss – it's just click and go.
Plus, we verify our subscribers on Google Maps, launch their Facebook business page, and, for our Premium members, advertise their business online for an exceptionally low cost, but with high returns.
Here's the deal: if you're a small business owner, you do need a website.
But at UENI, our philosophy is that it doesn't need to be costly or complicated to build a website for your small business. We know running a business is hard enough —getting online should be easy.
We always have small business owners in mind. And, thanks to our ever-improving automation, our tech gurus keep the prices low and performance high.
Stop wondering, 'How much does it cost to build a website?'
Get online today, attract new customers and make more money.