Not only are you an established plumber, but you're also a smart business person who knows that the best way to grow your Plumbing business moving forward is to establish yourself online. You also know you have at least two options – you could build it yourself, or you could pay someone else to build it for you. What you don't know, perhaps, is how much a business website costs.
We can tell you that, according to web developers – the people who build websites professionally – the average cost of having someone build a basic small business website for you is between £2,000-£8,000.
Don't believe us?
Check out this cost breakdown: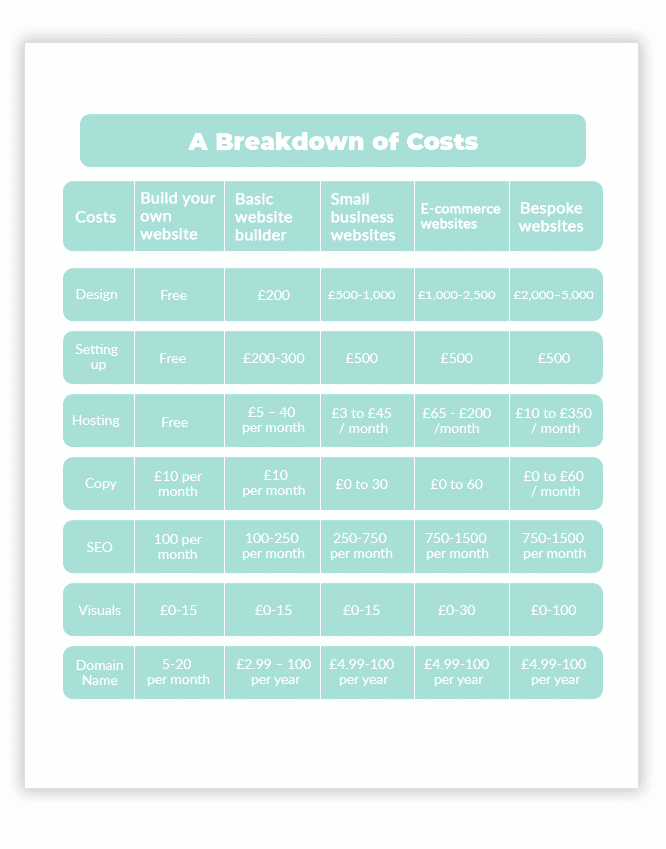 That's probably a larger number than you were expecting, and it's a huge range as well – different types of businesses require different sorts of websites, from e-commerce focused pages to service providers. And it doesn't take into account any money you'll need to keep the page online, like domain and hosting costs, to technical support if something goes wrong.
Discover UENI
We have a whole blog post dedicated to what makes UENI different from other website builders, but in short, here's what we can do for you:
All of our customers receive a responsive website with unlimited hosting, professionally-written AI-generated content, online booking functionality, the ability to accept card payments and sell products, plus a verified Google My Business listing.

All the technical maintenance, server costs, and hosting services are included at no cost. There's no catch, really. No hidden costs.

UENI, Not Just A Website Builder
Of course, we don't just offer affordable website packages – our Premium Plans have more features that allow for businesses that are seeing success and can afford to re-invest that success into their companies.
With UENI, you're not doing it yourself, but you're also not paying the cost of an agency. We let you keep your money where it should be: with your business.
Take a look at our plans to discover which one is the best choice for your business.
Building Your Own Website
No matter what the industry, if you're looking to cut down on costs, building your own website is one option you may have explored already.
With all the different web-building platforms available today, you don't need to be massively tech-savvy to create a DIY website for your plumbing services. You don't have to code, or manage hosts or servers or know more than the very basics of web design.
But just because it's easier, that doesn't mean that you won't be spending time on your website that you couldn't be spending on perfecting your Plumbing Services.
Building your website is just one part of the puzzle – you'll also need to make sure that people can find it online, which means investigating SEO (or Search Engine Optimisation), getting on to directories and Google My Business.
That's before we get to the importance of making sure your website shows up correctly on mobile, too.
In other words, there's a reason website development is a full-fledged career, and if you're a busy small business owner, you might not have the time to build a DIY site for your business that measures up to your own personal satisfaction.
Luckily for you, there are several business-oriented website creators out there. You could go to Wix, which will help you to create a visually appealing website for free, but as soon as you want to create your own domain name, get rid of advertisements, or make bookings for General Plumbing, Plumbing Repairs, and Bathroom Plumbing Service, you'll need to pay between £5 and £25 a month, depending on the features you need.
You could also consider WordPress, which caters a bit more to those with some web development aptitude. Still, you'll run into similar budget concerns when you want to customise your site. You might find that maintaining the site is encroaching more and more on your ability to continue to deliver the best plumbing services around.
No matter which DIY service you choose, you'll find that the features that make your webpage business-appropriate don't come for free, and you'll also have to know how to implement them.