At UENI, we're always looking for ways to help you create a website that really represents your business in the best possible way. That's why we offer our Premium clients the opportunity to request a site upgrade from us.
Our Content Specialists will use the information you submit to upgrade your website and put it on the fast track to success.
The best part? We can do it all without having to take your website offline for an extended period of time – you won't lose any functionality or customer interaction. Our team will work around your website's peak activity hours to ensure no disruption to your business.
How Do I Request A Site Upgrade?
Requesting a Site Upgrade is easy, just follow these steps:
Open the Pro Features tab and scroll to the "Next steps to make your business successful" section.

Find this tile and click on it: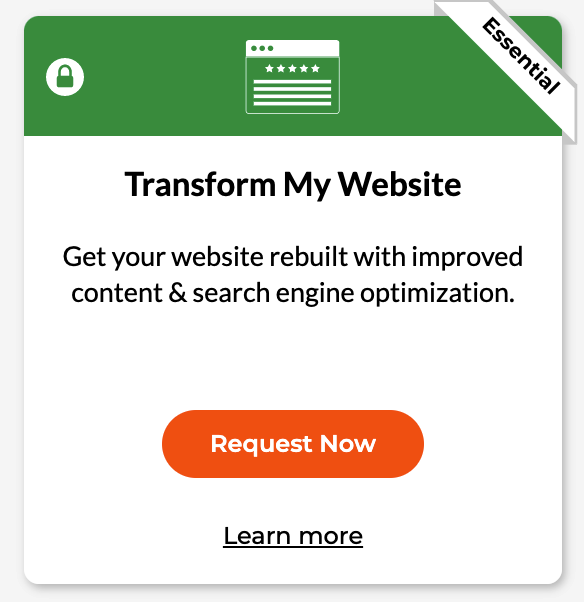 You'll be sent to a form where you can submit all the necessary information for us to upgrade your website, from your services and products to images and any additional sections you want us to create.
Once you fill out the form and submit it, our Specialists will get to work getting your website exactly how you like it. Once we're done, we'll email you with a link to your page and a quick survey so you can let us know if you're happy with the result or request another upgrade.
The site upgrade will result in a website that includes all the essential information about your business, complete service or product listings and a consistent page design with your own branding and a matching colour scheme, all with little to no effort on your side.
When Should I Get A Site Upgrade?
You will have access to the Site Upgrade as soon as you subscribe to one of our Premium plans.
Did you subscribe before your website was built? If that's the case, you'll need to wait until you receive your initial page to request a Site Upgrade.
If we had already built your website by the time you subscribed, have a good look at your page and analyse how the content you submitted at sign-up was used and what kind of information is missing from the page. Once you know what you want to change and add, gather all your information and head over to the request form.
You may opt out of the Site Upgrade if you prefer to edit your website yourself, but there are a few reasons why we recommend going through at least one website upgrade:
Did you know that professional websites convert 5 times better? Our Content Specialists know all the keys to unlock success and can make your website reach its full potential in little time. Check out this example page to see how your business website could look
If you we didn't receive enough information to build a website that truly represents your business when you first signed up, this is your chance to send us all the information to personalise your site. Don't worry, we'll let you know exactly what we need
Did your business change course? Whether you've moved on to a completely different area or you've just created a new look and identity, just request a Site Upgrade and we'll make sure that your website represents your current business
Whatever the reason, the Site Upgrade is the perfect tool to give your website an effortless new and professional look while ensuring that it's ready to start working for you.
How Does the Site Upgrade Work?
Once you request your Site Upgrade, you'll be sent to an online form. This form is where you can tell us exactly what you want us to do with your website.
This form includes questions about:
Page design
Logo and any additional images you want us to upload
6 Products or Services you want us to add to your website
Sections you want us to build on your website
The image and product and service sections of the form are mandatory, so make sure to gather this information before you start.
Once you submit the form, our Content Specialists will take a look at your website and rebuild it just the way you'd like. They'll add in the products & services you requested, create your requested sections whenever possible, and upload any images you provided.
They will pay special attention to create an aesthetically pleasing website where everything works as a whole, so your images will play a crucial role in your Site Upgrade. If you don't have a logo yet, our experts will create one for you based on the information you submit to help you build your brand identity.
When that's all done, we'll send you an email letting you know your website makeover is complete. It will include a Site Report and a feedback form that will guide you through the next steps to get your business on the road to success.
Your Site Report will give you a rundown of the quality of each section on your website with individual and overall scores. If your scores are low, don't worry! Open your feedback form and let us know what you're happy with and what you'd like to change. At the end of the form, you will be offered 3 ways to request another Site Upgrade (live chat, a call with one of our experts or fill the form again) and, if you're happy with the results, the option to keep your website as it is and continue to work on it on your own.
Our goal is that every customer that requests at least one Site Upgrade ends up with a website that includes custom texts with all the basic information about their business, at least 6 complete product or service listings, and a design where every section works together to create a professional-looking page.
Once you reach this stage, you'll be able to unlock the full potential of your premium plan, including an onboarding call with our experts, a site tuneup to help you optimise your website for search engines and a GMB optimisation to improve your Google listing and get your business ranking higher.
What Should I Have Ready When I Request My Website Upgrade?
Our Content Specialists are able to do their best work when they have a good amount of information to use.
As a result, we suggest you set aside 8 minutes or so to complete the form.
It's also best to do this from a home PC or laptop, rather than from your phone.
We'll be asking you some questions about your business, so make sure you have the following items ready:
Photos And Images
Whether you want us to add new products, new services, a blog, or a Meet The Team section, high-quality photographs are important in making your business a success.
Before you begin, make sure that you have the images that you want ready to go on the computer you are using to fill in the form. That way you won't need to try to find them when we ask you to upload them.
If you don't have your own images, don't worry! You will be able to give us specifications so we can choose the best available stock pictures for your site. However, we strongly recommend you replace these with your own pictures as soon as you can.
Other Online Platform Information
When we build your UENI website, we ask you to let us know if you have your business on any other online platforms so we can build you the best possible website.
Any extra information you can give us will help us make your website a perfect fit for your business – that includes information from Facebook, Instagram, business directory listings, and more.
Producs or Services
In order for us to create full listings for your services or products, we'll need you to send us complete information.
For products, this includes not just the product's name and photos, but also a price and a good description – one that answers all the questions your potential customers will need answered before they commit to buying.
Much like products, a complete service listing needs a service name, photos and a good description as well as a price. While we understand that the pricing in some cases can vary widely from one job to another, we recommend adding some form of pricing to your service listings – if you can't add a specific price, add a starting price or a price range so your potential customers know what to expect.
We recommend having at least 6 products or services listed on your website – we found that UENI customers with 6 or more products or services see between 1.5 and 2.5 times more sales than those with fewer!
Sending us complete information for your products and services is the easiest way for you to upload your products or services to your website, but remember that you will always be able to add more on your own using the Editor.