There isn't a better time to start a business on Instagram. The world's second-biggest traditional social network is home to over 1 billion monthly active users who share an average of 995 photos every second. Reports show that 90% of Instagrammers follow at least one business, with brands such as Coca Cola, Apple and Nike winning big on the platform.
Instagram is a great platform to market your products and services, with over 25 million businesses currently operating on the app and more than 200 million users visiting at least one business profile daily. Engagement is higher than Facebook and Twitter and it has a younger audience, which is great news if you're trying to reach zoomers.
Setting up your business on Instagram
First things first. You will need to create a business account on Instagram. An official business account enables you to get insights about your stories, posts and followers. Check out this list of Instagram business ideas if you're looking for inspiration.
With a business account you can:
Get real-time metrics on how your stories and promoted posts perform throughout the day.
Get insights into your followers and how they interact with your posts and stories.
Receive enquiries and communicate directly through your profile via a "contact" button.
Here's a detailed instruction video on how to set one up. If you've already got a standard account, you can convert to a business account through your app account settings – have a look at this blog post to learn how to switch from a personal to a professional account.
Your bio should be clear and concise, describing what it is you do or offer and include a clear call-to-action. Two free links such as bit.ly and linktree are shortener tools you can use on your profile to embed links and track how many visits and clicks you get.
Use an eye-catching profile image that people can instantly recognize when they visit your Instagram profile. For most businesses, this is usually a logo.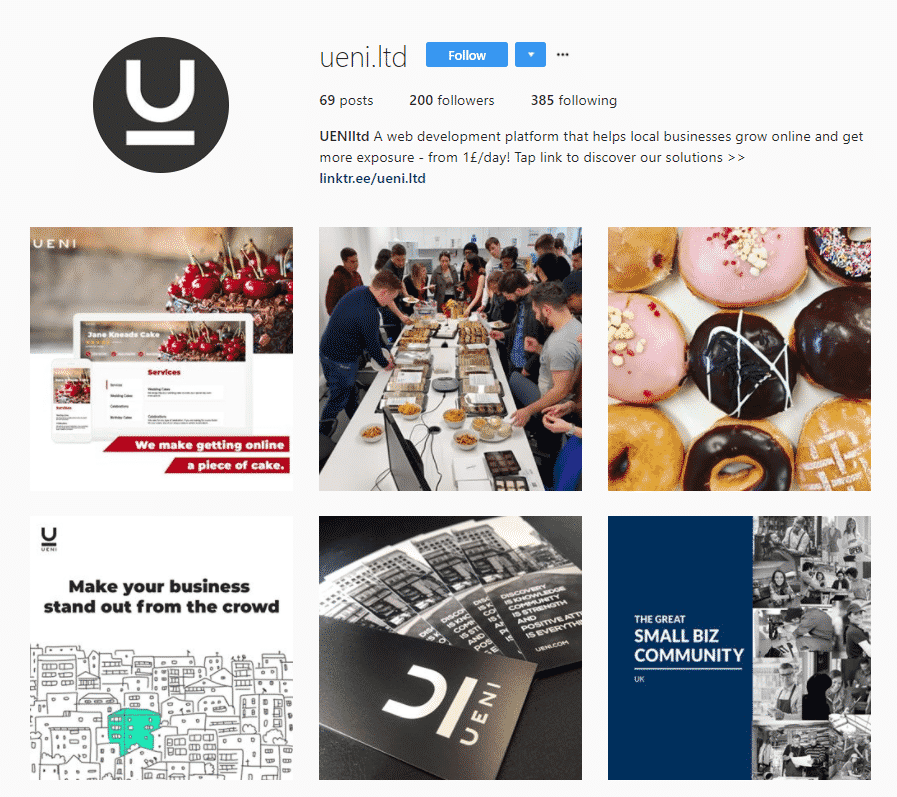 If you're a service-based business, it's a good idea to include a booking form directly in your profile to take appointments. Acuity Scheduling and youcanbook.me are free booking tools that let you take appointments from your followers and outline your offerings on a landing page.
Here's an example below of a Kent based hairdresser who uses Acuity to take appointments.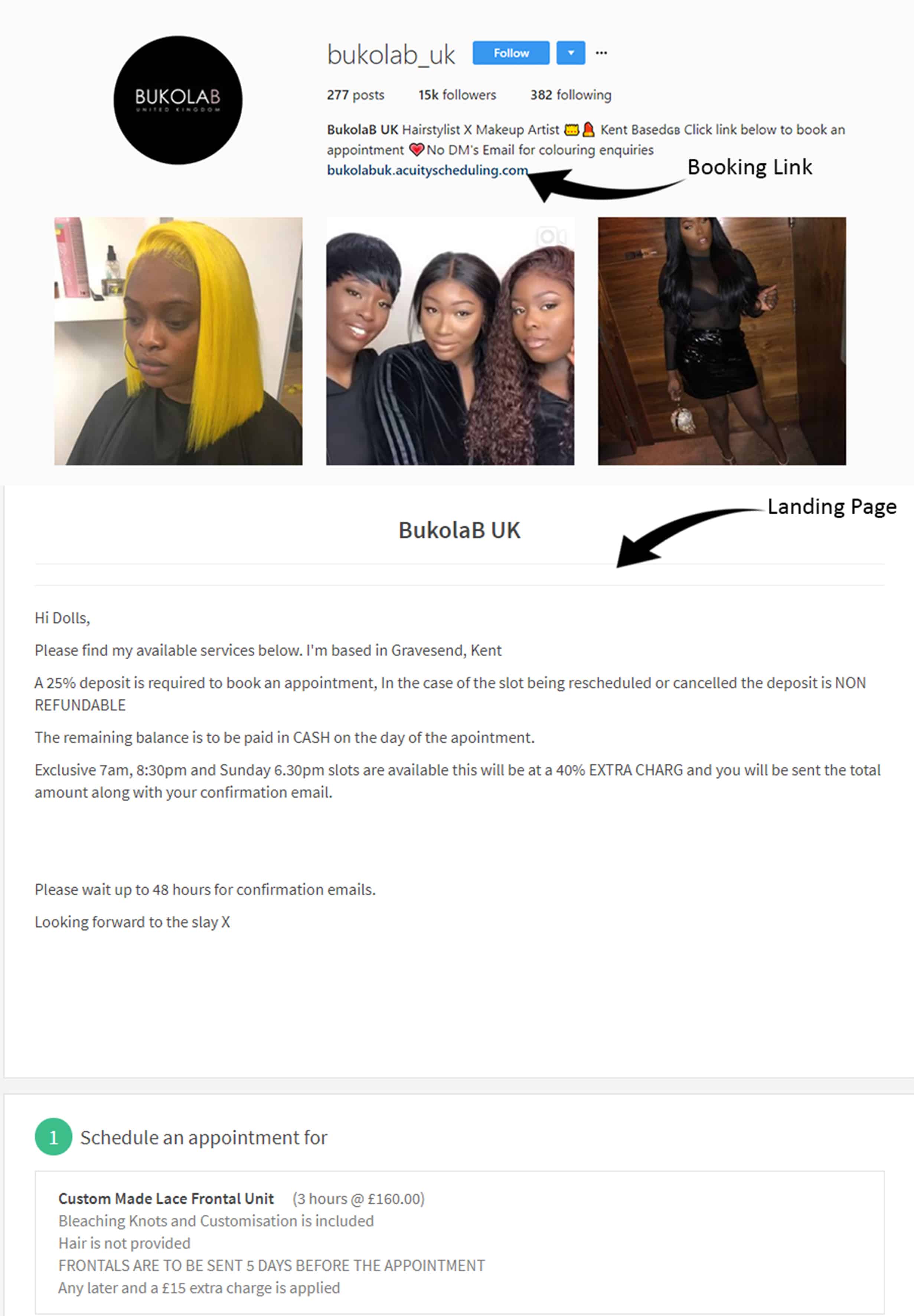 If you're a product-based business, activating Instagram Shopping is a must. This will enable you to include a Shop tab on your profile, as well as create shoppable posts and tag your products in them. Moreover, as much as 70% of shopping enthusiasts turn to Instagram for product discovery, making it one of the best platforms to showcase your products.
Learn all about Instagram Shopping and how to connect it to your UENI website here.
How to promote your business on instagram
Now you're all set up and ready to start posting on your account. The best Instagram profiles are visually appealing, have a consistent theme and contain a mixture of both videos and pictures. To maximise your sales potential and build an engaged following you should:
Announce sales and discounts
Showcase testimonials and services
Engage with users interacting with your account
Announce sales and discounts
Promote your products/services using clear, high-quality images. You don't need an expensive DSLR, your smartphone camera combined with a good photo editing app, like Snapseed or VSCO, will produce good enough pictures.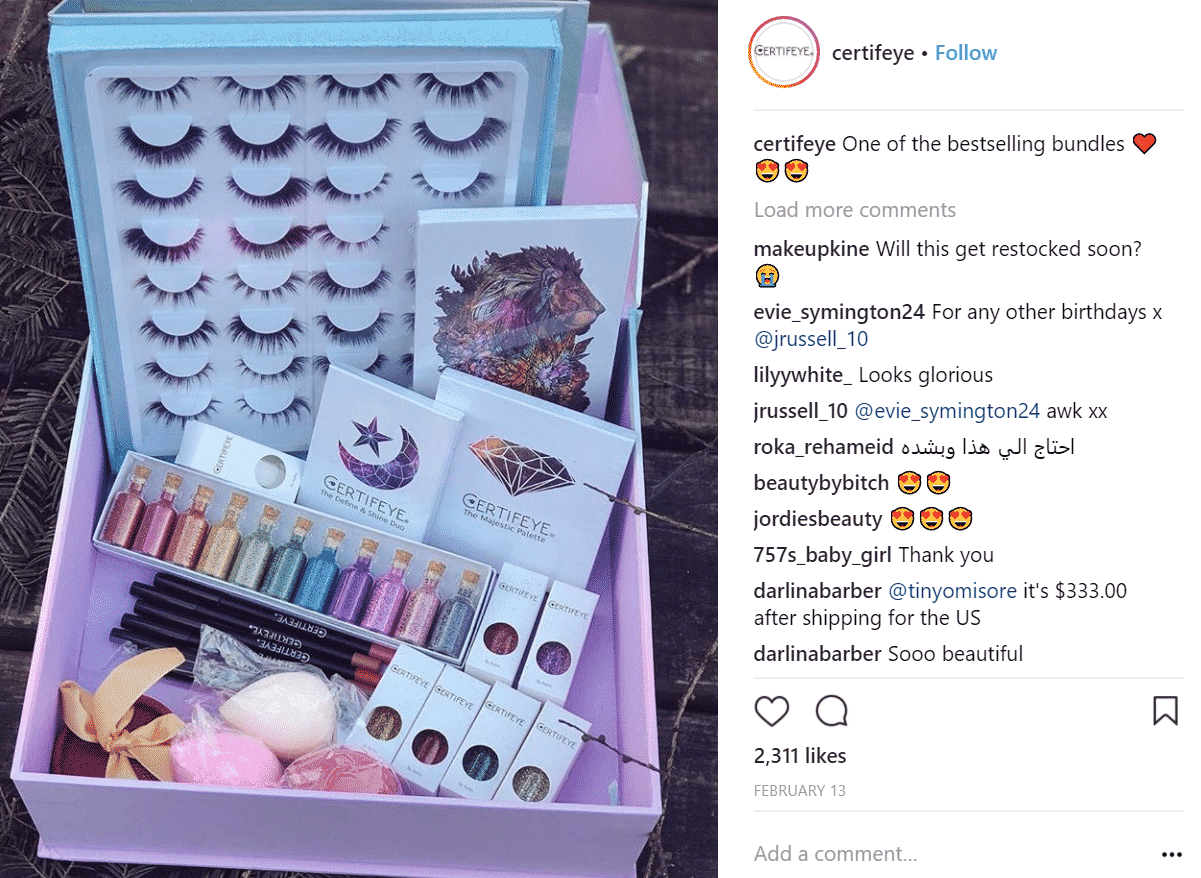 You can create custom-made promotional flyers with free and easy to use design tools such as Canva if you're not selling physical products. Below is an example of a discount template you can edit to promote a sale on your Instagram.
Showcase testimonials and services
Get into the habit of posting testimonials from your customers on your page. Customer testimonials and case studies are considered the most effective content marketing tactics which help your brand promote credibility.This can be a repost of a customer saying they're happy with the service or sharing a written review (converted into an image) that's been submitted.
Photo and video testimonials help increase your social media engagement, as visual content is more than 40 times more likely to get shared on social media than other types of content. Perhaps offer a discount/gift card to customers who submit their testimonials? Before and after pictures are posts that perform well on Instagram and social media in general so try and incorporate them in your posts if that applies to you.
Repost content from your following
If content is the king, user generated content takes the crown. Posting content of people using your products and services has a 4.5% higher conversion rate. It's a great way for you to get authentic and free content on your page and show that you engage and acknowledge with your customers. UGC is particularly popular amongst beauty brands.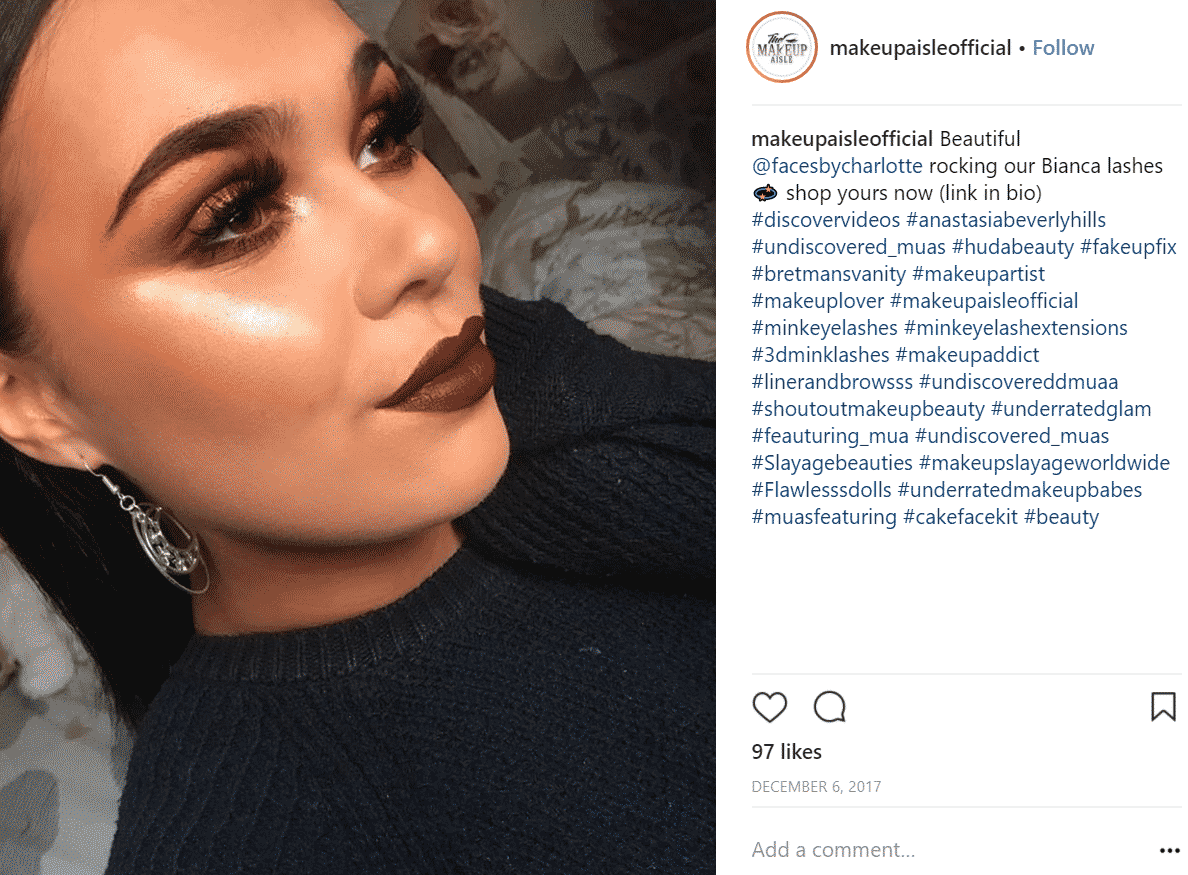 When posting, ensure grammar and spelling are correct and make use of relevant hashtags. You can create a unique hashtag for your business and encourage your followers to use it, this is a way to increase engagement with your followers and see what people are saying about your business.
Tips & tricks to start a business on Instagram
Keep a consistent theme
The most successful Instagram accounts tend to use a select colour palette for all their images, creating an album type look. Doing so creates a distinct and consistent style on your page.
Post regularly
Posting frequently lets your audience know when to expect new content from you. Keeping a consistent schedule ensures you maximize engagement too.
Analyze your most successful posts
Instagram analytics enables you to see which posts perform well in terms of those getting the most likes and interaction. Analysing performance will let you optimise marketing campaigns.
Respond to comments on your posts
Responding to comments is a great way to build a strong community and establish brand loyalty on Instagram. If someone takes the time to share their thoughts with you, it's important to respond back to them, whether it's positive or negative feedback. While other social media platforms are more focused on information, Instagram's main purpose is interaction, so interact with your followers!
Offer your services to influencers
It's unlikely you'll bag Kim Kardashian as a brand advocate but reaching out to micro and nano-influencers can be just as impactful! Despite having a smaller following than macro-influencers, both micro and nano-influencers have been reported to have higher engagement rates. The key is to find an influencer that matches and represents your brand.