According to most SEO experts, there's nothing more impactful for Local SEO than a robust, fully fleshed out Google My Business. In fact, even if you're a small business owner yourself, you probably have a good idea about what makes one Google My Business better than another – because you're a human being, which means you've probably searched for a business near you on either Google or Google Maps.
Google My Business listings will appear on Google Maps, but also on desktop and mobile Google searches whenever a branded search is done for your company (when people search for your business name). In other words, it can be an incredibly detailed look at all the key information about your business that is designed to appear on Google's wide range of products.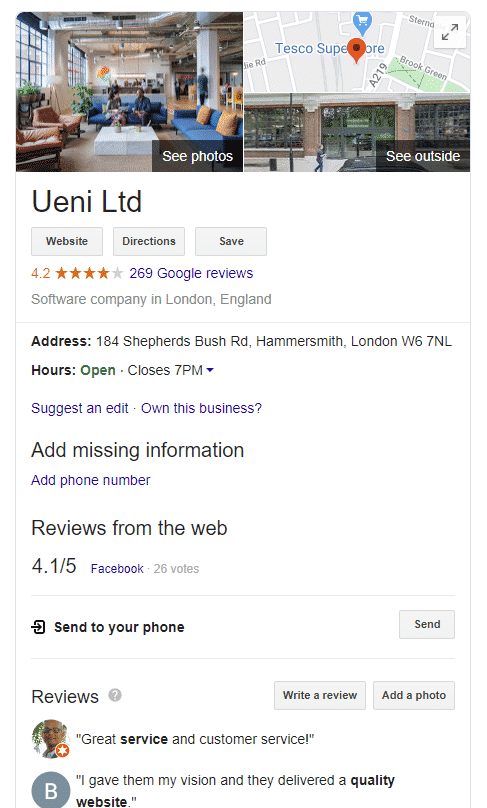 It will also appear when people around you search for businesses like yours: electricians, plumbers, marketing services, gardeners, web designers, and so forth. That's the Local part of Local SEO – making sure that the people around you can find your business on the search engines that are most commonly used by your existing and potential customers.
But how do you make your listing stand out? Why not ask Google? Yes, even though the actual ranking algorithm remains a mystery, Google has created some guidelines to help businesses make the most out of their GMB listings. We'll go over what Google suggests, then offer some tips and tricks of our own that can make your page really go above and beyond.
Please keep in mind that during the COVID-19 Epidemic Google is restricting GMB updates to prioritise health care businesses, so it may take a little longer than usual to see your page updates reflected on Google.
What Google Suggests
Google's guidelines for improving your Google My Business are as follows:
Enter complete and accurate information
Describe your business
Verify your location
Add photos
Manage and respond to reviews
Keep your hours accurate
Let's go through these one by one.

Enter Complete and Accurate information
Because your GMB listing can offer so much information, it's important to make sure that every field is entirely filled out with the correct details. Why? Because every element of your Google My Business listing is potentially something that can cause your business to rank higher or lower, depending on the search that your customer is looking for.
In other words, because Google's goal is to provide their user with the best possible match as early as possible, they rank local searches according to three factors:
Local results are based primarily on relevance, distance and prominence. These factors are combined to help find the best match for customers' search. For example, Google algorithms might decide that a business that's farther away from their location is more likely to have what they're looking for than a business that's closer, and so rank it higher in local results.
To use a real-world example, if you're a shoe repair shop, you want to make absolutely sure that your business category, address, phone number, and opening hours are accurate. If your business is marked as closed on a Saturday when it really isn't, you'll be suffering in Local SEO for all those people near you looking to get their shoes fixed on a Saturday, since your business will be shown as closed.

Describe Your Business
This one covers two essential elements of Local SEO.
The first is keywords: you'll want to put together a description that targets the words and phrases people use to search for your business. Just like with all the details on your website, Google will use this information for local search queries to help determine whether or not to list your business in the results page.
Not sure of the best keywords for your business? One of the best ways is to use some deductive reasoning. If you run a shoe shop, for example, you might want to sit down and come up with a list of your best sellers (dress shoes, different types of boots, casual footwear, sandals, and so on) and think about how to incorporate those into your copy in a natural way:
At Our Shoe shop, we offer a wide variety of shoes for all sorts of occasions, from beach sandals to dress shoes and everything in between. Whether you need shoes for the office or are looking for a new pair of boots for going out on the town, we've got everything you need!
Not feeling particularly creative today? If you're drawing a blank with keywords, try coming up with a list of important things that your business does. This can usually yield some really helpful results. And, if all else fails, hop on Google Trends and start comparing different ways to name the items you sell: Are people searching for brogue shoes or dress shoes? You can find out on Google Trends: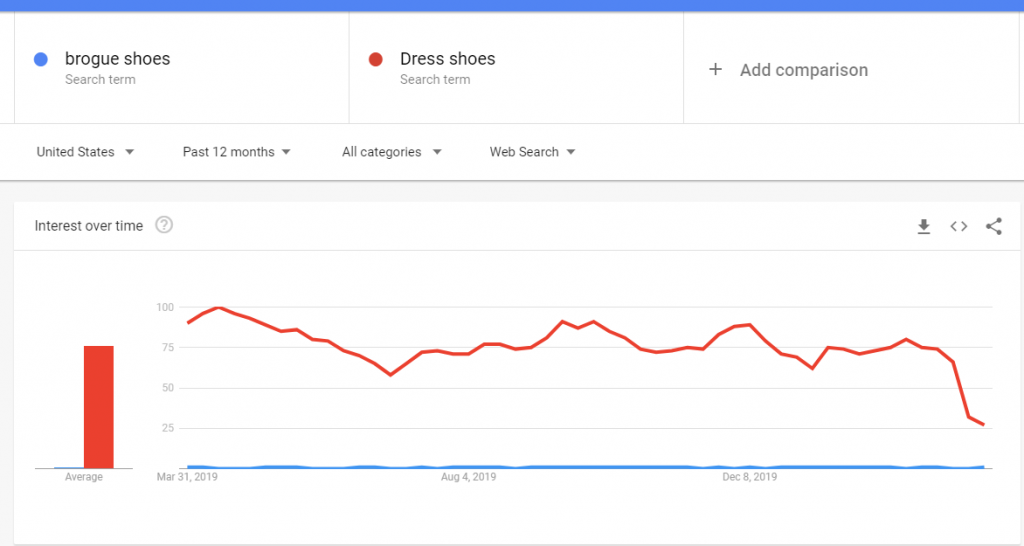 The second essential element in your business description for local SEO is a measure of your business's trustworthiness – if you take the time to create a well-crafted description of your business, that shows your customers that you're actively taking a part in helping people with your company by authentically providing a business description, you'll have a step up over everyone who is simply keyword stuffing. Remember, for your business description, you have 750 characters to use, so you have plenty of space to get all those great keywords in while still describing your business in real terms that people can understand.

How to Update Your GMB Description
In order to update your business description on Google Business, you'll need to log in to Your GMB account and go to the tab marked Info: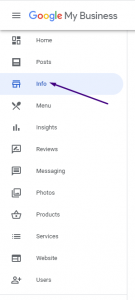 Then scroll down and click on the "Add Business Description Button" on the main page: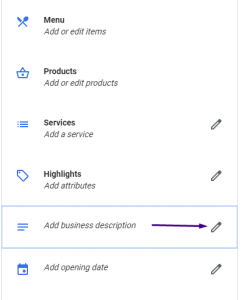 Click on the Pen to the right and it will bring up a form for you to fill in: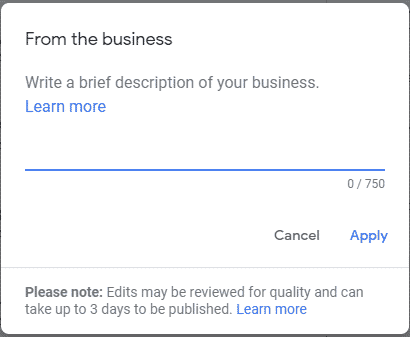 As the screenshot above shows, edits can take a few days to be reviewed before going live, but they will typically show by the end of the working week.
Verify Your Information
Simply put, verification is the process that allows your business to appear on Google products. Once you create your GMB listing, you'll have to verify it through Google with a code that is sent to your business address by post.
Before your GMB is verified, it will not appear on Google searches.
How to Verify
For UENI customers, you'll be happy to know that our partnership with Google allows us to automatically verify many types of businesses. If your GMB listing hasn't been verified, however, there are three ways you can verify your business when you log in to your UENI Hub.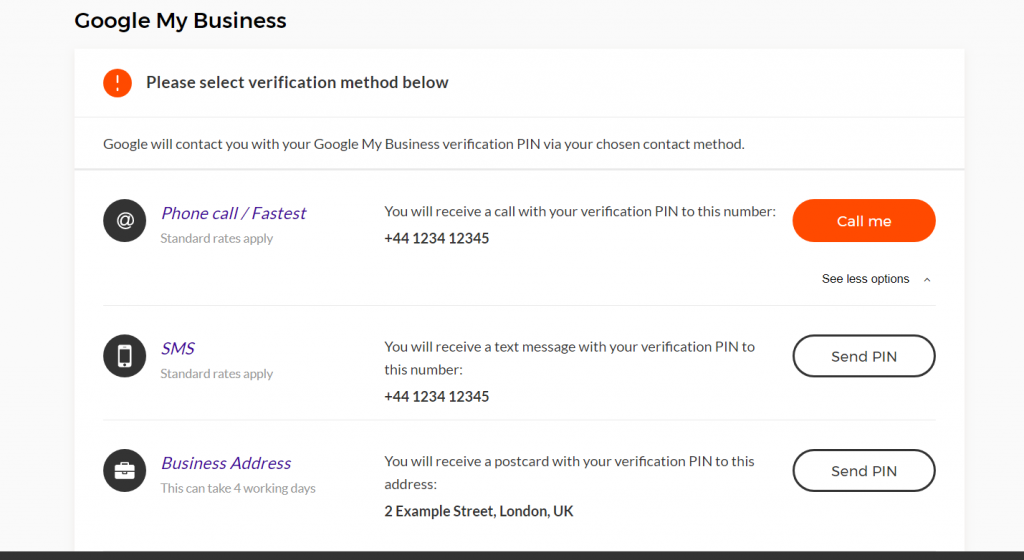 These three options are:
Phone Call
Text or SMS Message
Postal Verification
No matter the method you choose, Google will send you your Verification PIN number. Once you have that, enter it into your UENI hub and your business will be verified within one day (or 24 hours).If your UENI hub does not show the verification image, you can send us a message at help@ueni.com, and we will try to manually verify your page through Google using this process.

How to Request Ownership of a GMB Listing
You can request ownership of a Google My Business account. First, if you search for the business on Google Business, you can find it and attempt to claim it. This will bring up a request access box like the below:

Follow the steps to request access:
When you find the business on Google Maps, there may be an option to "Claim this business". If you click continue here, you'll get another pop up saying the business has already been verified, just like the above screenshot – but on Google Maps.
If you have the ability to manage the profile, you can request ownership, which will send an email to the account manager, who will evaluate your request. Because Maps can be hit or miss (the option to claim a business is usually only available if the business has been added to Maps by Google's geolocation team) We recommend going through business.Google to save time.
For more information on this process, take a look at Google's help documentation.


Add Photos and Images
No matter what sort of business you have, adding images to your GMB listing can make the difference between a customer skipping over your business or deciding to pay you a visit. Photos of your products (if you're a shop) or of your interior (if you're a business like a restaurant or a cafe) can paint your business in a positive light, and give customers an even more detailed idea about your business. Remember the old saying about a picture being worth a thousand words? That's much more than you get for your business description.
How To Add Images To Your GMB Through Your UENI Hub
If UENI has built your Google My Business page or you have connected your Google My Business page with your UENI account, the gallery images from your UENI website will automatically be added to your Google My Business page, although it may take a few hours to synch if you are updating your page.
How do you add images to your gallery? Here's an easy to understand guide.
Log in To your UENI Hub
Click the Edit Website Button, which will bring you to your website editor
From here, you'll want to click on Sections edit sections button
Then Gallery edit Gallery Button
And then drag and drop the images you want to add:
Congratulations, you've done it!
Manage And Respond To Reviews
Google My Business is a very visible repository for reviews, and for Google reviews in particular – logged in users can give you a star rating and a comment detailing how they felt about your business.
Google's review system also allows the business owner or GMB listing manager to reply directly to reviews. This is a great opportunity to connect with the reviewer personally, but this will also show other potential customers how you deal with people. Because of this, it's important that your replies convey the tone you would expect from your business.
In short: keep your communications professional and friendly, even if it's a fraudulent or malicious review. No matter how tempting it might be to vent on a customer, it's not worth it when you consider how visible your replies will be.
How To Reply To Reviews Through Google My Business
If you are the business owner, make sure you're logged in on Google, then visit your Google My Business page and find the reviews section: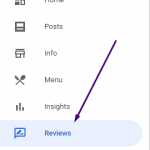 You can also find your reviews here: Manage Reviews Button

Here you will be able to see all of the Google reviews your business has received, and normally you will be able to reply to them. However, this functionality is currently unavailable during the COVID-19 pandemic.
Keep Your Hours Accurate
We discussed this point a little bit above in the enter complete and information section, but it's worth noting that you can also adjust your hours for seasonal changes or other adjustments (if you'll be closed on a federal holiday, for example).
Remember, you can update your hours through your UENI hub, and they will synch with your GMB listing in a little while.
To Update Your Hours In Your UENI Hub
First, log in to your UENI Hub.
Then, click on the Edit Website Button.
Head over to Sections (just like you add images) and click the opening hours button like so:

From there, you'll be able to see and edit your opening hours like so: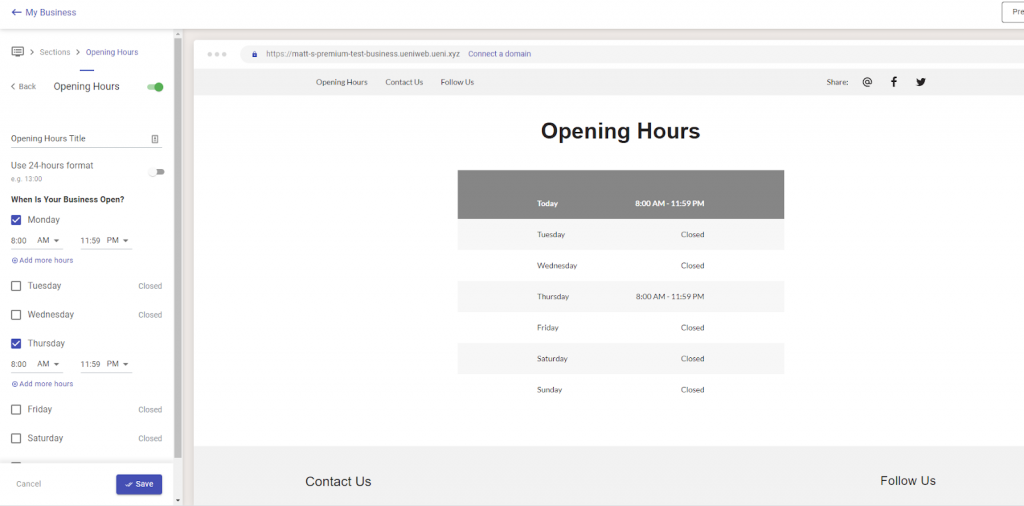 So, there you have it. Those are the official recommendations from Google about how to improve your page. But there's more you can do, and this is what can really take your GMB over the top compared to your competition.
How To Level Up Your Google My Business Even More
Add Products
In addition to adding photos to your business listing, shops that sell products can actually list them directly on their Google My Business listings like so: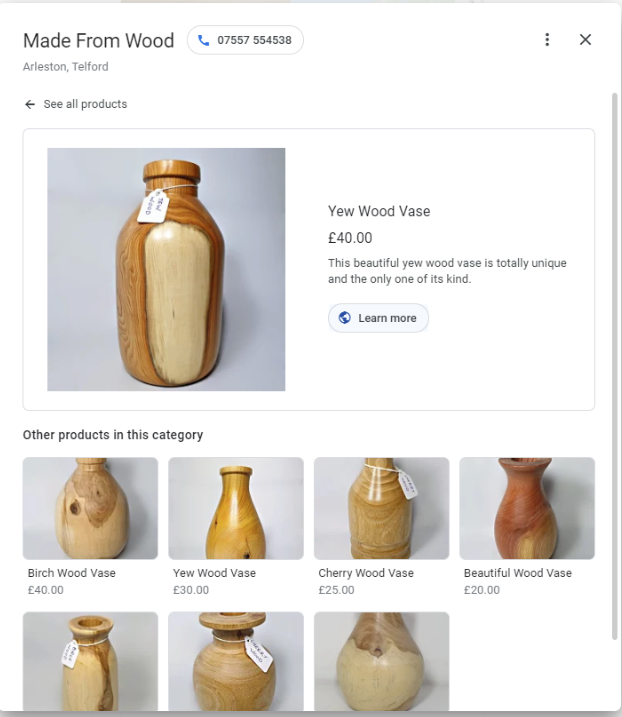 What does this mean? This means that people are able to browse your items for sale without leaving the Google results page. For customers, this is huge, because it makes your listed products visible before they navigate to your page, and if they see something they like they can visit the product page immediately.
Making the buying process easy for the user is an essential part of any sale, and being able to show people your products before they visit your website is very nice for customers.
To Add Products Through Google My Business
To add products to your GMB listing, you'll need to be logged in to Google and one of the owners of your GMB account.
Log in to the Google Account that has ownership over your GMB listing
Navigate to the Products page If you have existing products, you can add new ones using the add products button, as seen below. You will be prompted to provide a photo, a price, and a product description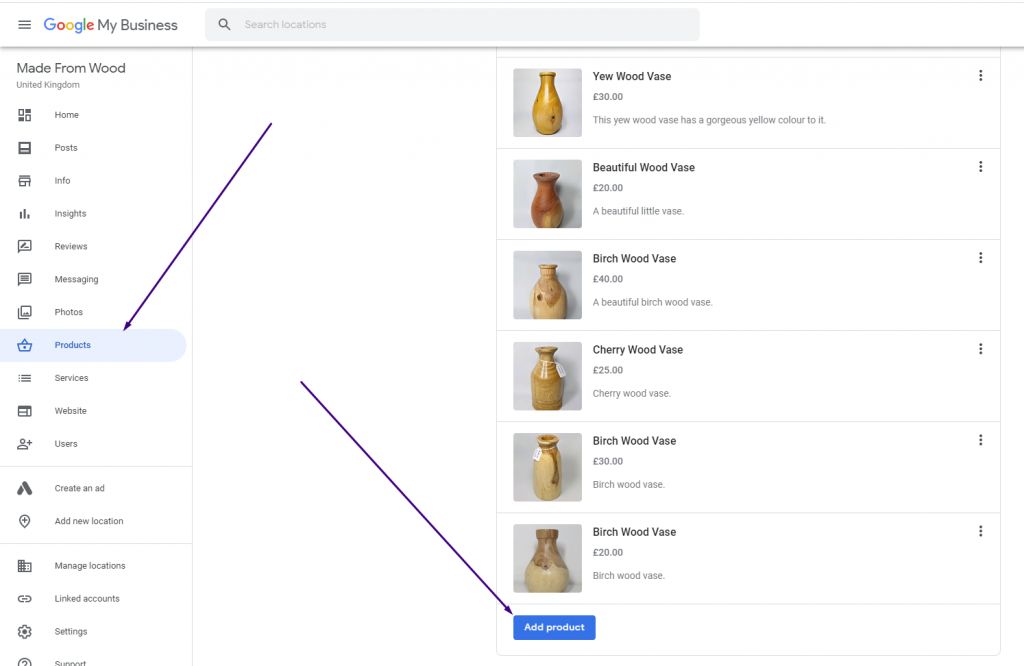 If you are adding your first product, the page will be have a Get Started Button, like so: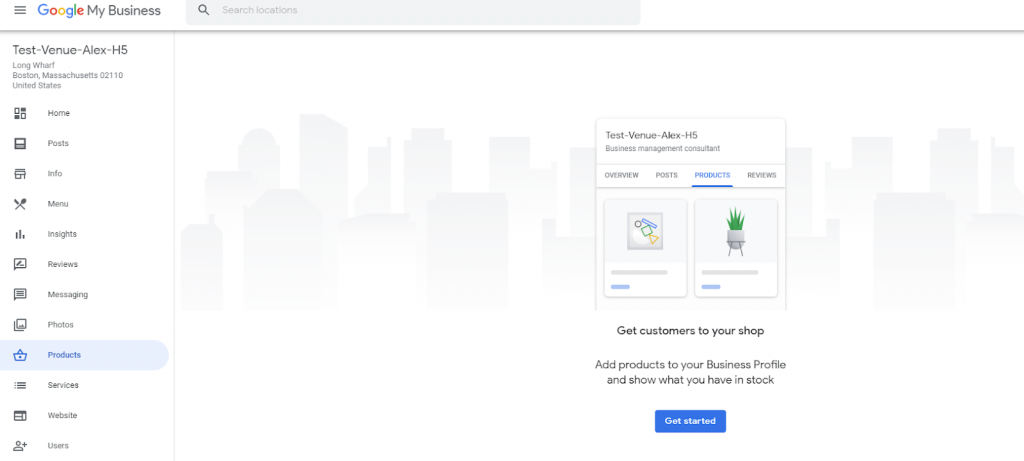 But pushing the get started button will bring you to a similar screen: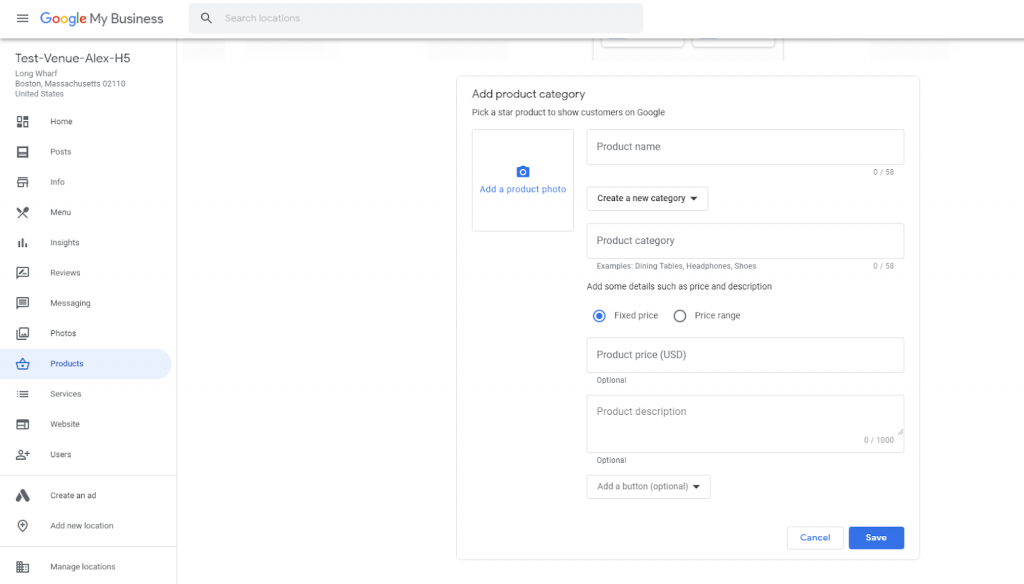 Simply add images, descriptions, and prices for each of your products and you'll be done. You can also view the products on Maps after you save and update by using the "See it on Google" button.
Which will bring you to this page: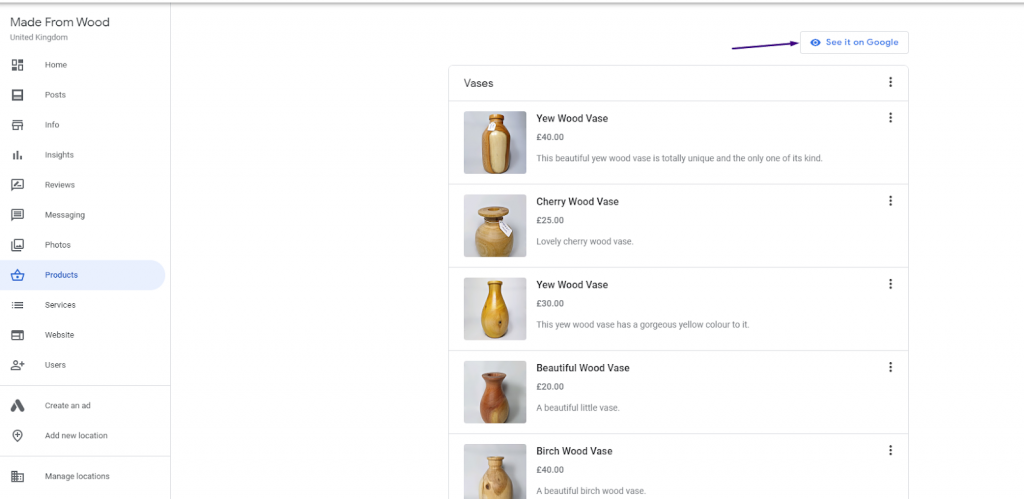 So you can see how it will look to users.
Add An Appointment URL
What if you're not a business that sells things, but instead provides services? You're in luck: your Google My Business can also show an appointment or booking URL directly on the page, so that when your business appears in Google Maps and Knowledge Panel results your customers and potential customers can arrange an appointment with you straight through Google.
Even if people aren't booking through your website's booking link, any appointments that you receive through your GMB will still result in potential clients and customers for your business.
To Add An Appointment URL Through Google My Business
To add an appointment URL to your Google My Business listing, you'll follow almost the same steps as adding products. So, first things first:Once you're logged in, navigate to the Info Tab on the left hand side and scroll down until you see the appointment URL section, like so: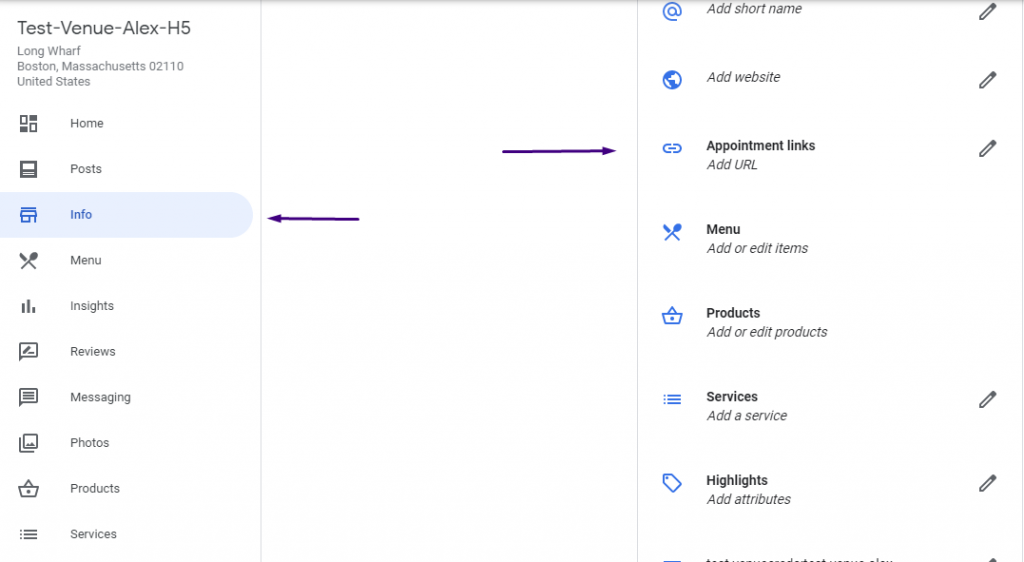 Then copy and paste your booking URL directly into this section. Once you've saved and the edit has been approved, the appointment URL will appear on your Google My Business listing.
Add Videos
While Google suggests adding images, which is definitely something that you should do as we discussed above, one thing that they don't mention in their recommendations is adding video. This is a thing you should strongly consider if you have the capabilities, because video content is a great way to show off your business to your customers in a way that even images can't match. One thing to keep in mind about any sort of visual content though, is that the overall production value is going to reflect on your business, so make sure it's up to the standards you want before you upload.
How To Add Video To Google My Business
While you can't add video to your Google My Business listing through your UENI Hub at present, you can add video through the same tab you use to add Images.
In order to access this page, you need to be logged into the Google account that you use to manage your Google My Business page, then you need to visit Google BusinessOnce you've selected your business and logged in, head to the tab labelled Images. Once you're there, you'll see a bright blue button labelled Video: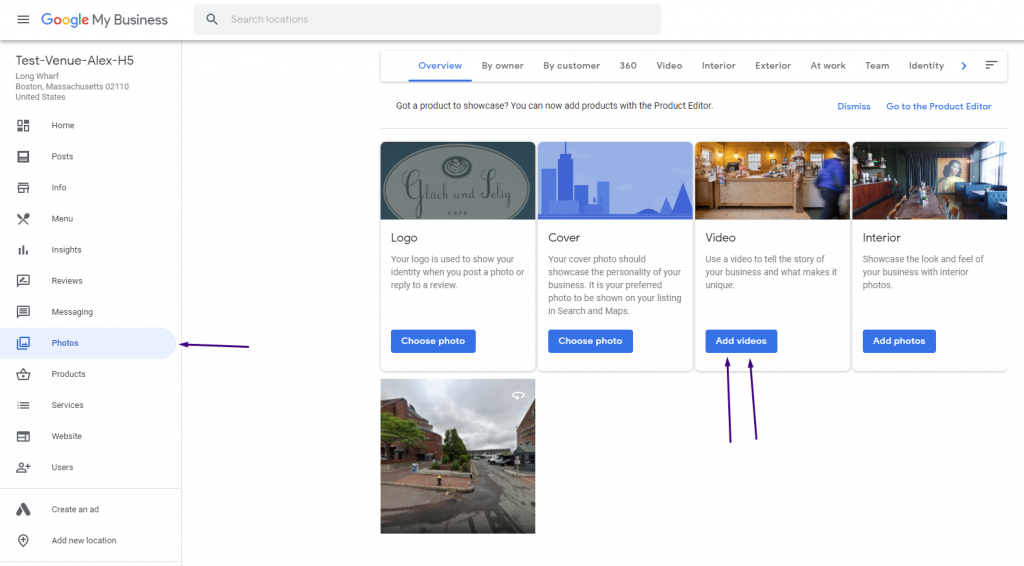 Once you click that button, you'll be able to drag and drop your videos directly to your GMB (you can also click Select Videos From Your Computer if you'd rather select them from a folder that you don't have open).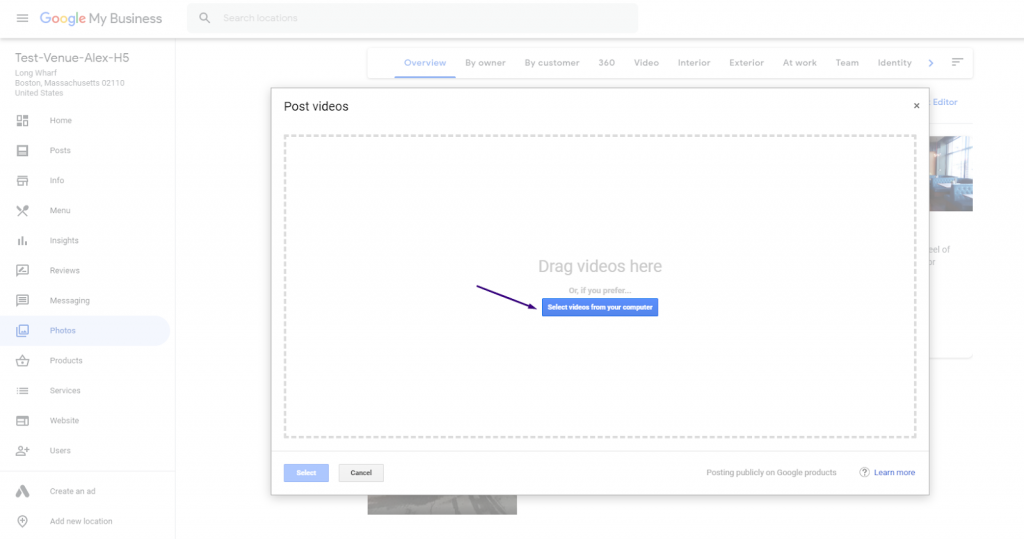 Use Google Posts!
What is a Google Post? You can think about it like a really tiny, targeted blog post that discusses something going on with your business today. Have a sale on? Want to highlight a promotion going on this week? Use a Google Post! Not only do Posts show up to date information about your business, but they also provide more information for Google to use when the algorithm is deciding what businesses to show.
For example, if you're a shoe store with a sale on white trainers (or sneakers, for our Americans), a Google Post about a White Trainer Sale would potentially show up in the search results with a link to your business.
One very important thing about Google Posts: they are only online for seven days, or one week. After that, they won't be visible for your customers or available in searches, so they're best served to highlight short term information about your business.
How To Create A Google Post
Still logged in to the correct Google account? Great. Once you're there you'll need to follow these steps:
Under the left hand navigation bar, there will be a posts tab, like so Google Posts.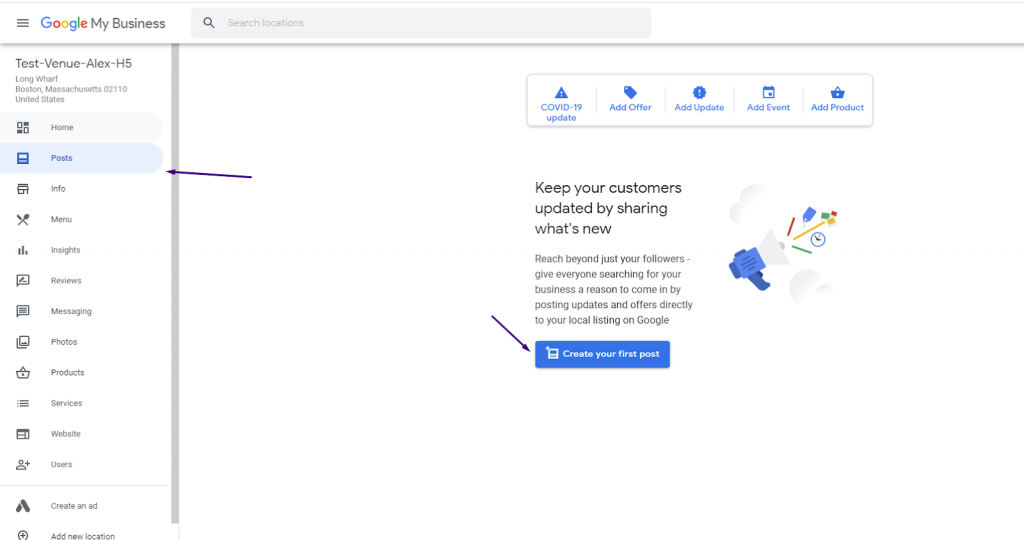 Click on Create Your First Post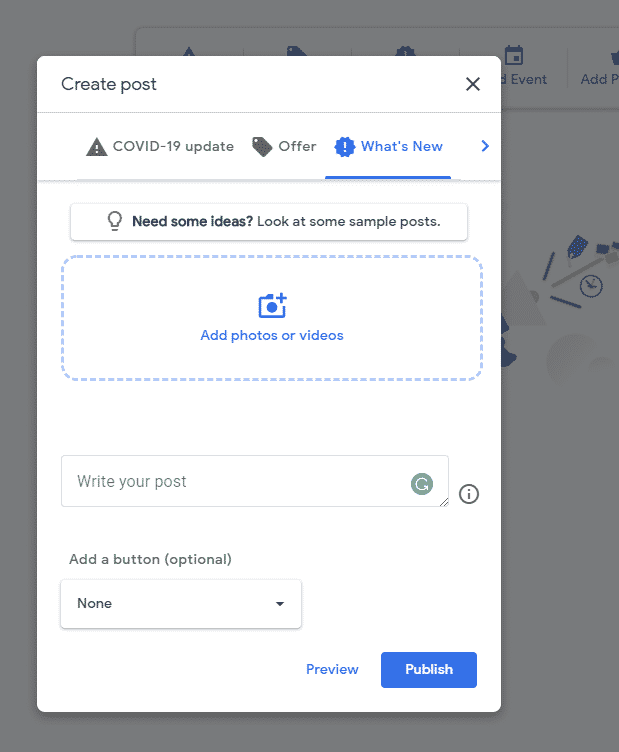 From here, you can do a few different things. You can pick the type of post, from highlighting What's New or an Event to posting an important COVID-19 Update about your business. If you're stuck for ideas, you can even look at some sample posts for inspiration. Finally, you can add a button for a specific action, including Book, Order Online, Buy, Learn More, and Sign up.
Remember, Google Posts will only show up on search for 7 days after they're published, and after another week (or 14 days total) they won't be visible to your searchers at all.
Pro Tip: While you have up to 300 words, it makes more sense to 100 or fewer so that your posts aren't cut off on your knowledge panel.
Want more? Google's got a great breakdown here.
Pre-Fill Your Question and Answer Section
Beyond reviews, another great way to provide useful information for your customers on your Google My Business page is to utilise the Question and Answer (or Q&A) section to the fullest. It goes without saying that you should always monitor any questions that real users are asking you through your GMB listing, but did you know that you can also ask questions yourself? And answer them?
That's right. Because of the way the formatting on Google My Business currently works, the list of existing questions are given without attribution – but the answers are. What does this mean? It means that while folks cannot see who asked the question at first, they can see that the owner of the business has answered it. If your business has an FAQ section on the website, there's nothing stopping you from transposing it to your Google My Business page. Not only that, but it's a win-win for Google, your customers, and you.
How To Fill Your Q&A Section
To answer your Q&A section, you'll have to do things a little bit differently than before. While you'll still have to be logged in to your Google Profile, you'll want to follow these steps:

This will bring up the Google Knowledge Panel for your business: At the bottom, there will be an Ask a Question section. If there are no Questions, you will see "Be the first to ask a question":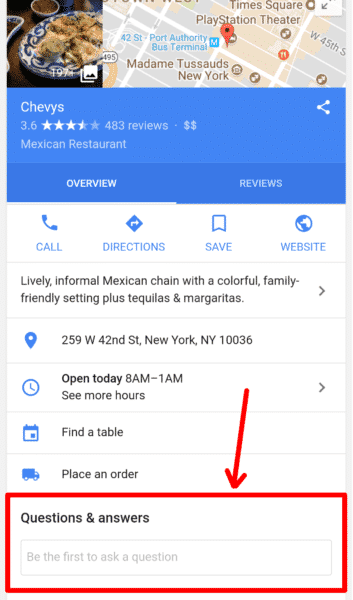 To ask a question to yourself, simply type one in. Then, a few moments later, you'll be able to reply to the answer.
Unfortunately, Q&A sections are currently disabled due to the COVID-19 situation, so our ability to document these steps with screenshots are limited. Check back for updates when Google is back to normal for an expanded section here.
Those are all of Google's recommended guidelines, but there are some things that you can do above and beyond Google's suggestions to really make your business stand out on Google Maps, other local searches, and branded searches. To really optimise your GMB listing, though, you need to understand a bit about how local rankings work? Let's return to Google's original answer about how they rank local searches to see what each element actually means.
Breaking Down Rankings: Relevance, Distance and Prominence
In Google's suggestions for GMB listings, they said that local search results are determined by relevance, distance, and prominence. But what are involved in each of these steps? We may not know Google algorithm, but we can certainly understand what influences each element they've touched on.
Relevance
Relevance, as you might expect, has to do with how well your business listing matches the search being made by the user. If someone is looking for a washing machine technician, your business description, category, services, photos, and other information will be examined. This is what keeps home appliance shops from appearing first in this search – even though many of them sell washing machines.
Distance
This element has to do with how far the person doing the search is from your business. Google (and Google Maps) want to highlight businesses that are closer to the searcher first, because they want to provide results that will be the most likely to be useful for that person. What does this mean for you? It means that having an accurate address and opening hours are a must if you want to get seen on local foot traffic. If someone is looking for a business like yours as they walk around your area, you want to be showing up in the first few results.
It's important to keep in mind that all three of these ranking elements are interrelated: a search result that is further away but is a better match will usually outrank a closer business that is not as close to what the searcher wants.
Prominence
This factor refers to how well known your business is. What does that mean, in Google Terms? Links to your website from across the internet, for one thing. The number of reviews on Google and other platforms like Yelp, Facebook, and other platforms, for another. As they say on their page:
Google review count and score are also factored into local search ranking – more reviews and positive ratings will improve a business's local ranking. Your position in search results is also a factor, so SEO best practices also apply to local search optimisation.
In other words, gathering reviews and ratings from as many customers as possible is an essential element of helping your Local SEO results (as well as your normal SEO results).
Remember: Google wants happy users. They want to give someone searching for a business or product a great recommendation with the first result they provide, so they are going to gravitate to businesses that have strong signals for providing a great experience for their customers, that are nearby to where they are, and are likely to be highly relevant to the search.
An optimised GMB is one of the strongest tools in your toolbox for getting information about your business out there to the general public, and a great GMB will help your website – not to mention your business – get bookings, traffic, and new customers.