Designers, creatives, and all kinds of professionals that work with clients need a professional online presence more than ever. An online portfolio with spot-on website design is a resume, a project showcase, and your online ID all put together. It's where potential employers and clients look to hire you.
A portfolio website allows you to showcase your talents and express your own voice. You can transcend technological limitations and artistic compromises to create a strong online presence – all you need is the right tool for the job.
In today's article, we will be going over how to create a portfolio website easily, even if you're not a web designer and you have no prior experience with development.
#1: Get inspired
Visual research is often the first step when creating a portfolio. No matter whether you're an architect, a designer, or a writer, looking around at other online portfolios will provide you with plenty of inspiration and help you get some ideas on how your portfolio website should look like. It's also a good idea to look at other websites in your industry or creative niche.
Start thinking about the vibe you want your website to project when you look at these resources. You can also make mood boards or take notes to structure your thinking a little bit. Think about details like website structure, colour palette, etc., and make notes of the things you'd like your website to have.
#2: Choose the right projects to promote
Your work is the heart of your online portfolio, so making sure you showcase it in the best possible way should be your top priority. It should be prominent and easily accessible via the website's homepage or menu. This work can be highlighted by creating a "projects" page on your website – this will be the lifeblood of your portfolio website.
Share only the best work you have done to show clients your creativity. You'll be able to draw their attention to your strengths and keep a consistent quality standard throughout your portfolio website.
Also, make sure you update your website once in a while so that you are always sharing your latest creations. Visitors will see that you are active, working, and have experience. Consider how to build an easy-to-upgrade portfolio online that allows you to add new projects as needed.
A narrative is a great way to give some context to your work – provide brief explanations for each project, mention your collaborators and tell the clients what was expected vs. what you delivered.
#3: Choose a domain name and get hosting
The next logical step is to provide a "place" for your portfolio website to occupy.
In other words, you need a domain name and hosting. Getting a domain name should be fairly easy – it's unlikely that there's another person with your name, last name, and profession out there. And, even if there is, you can always work around that by choosing a ".net" or other domains.
You can take a look at one of our articles where we go deeper into exploring how much a domain name costs, where you can get it, and which domains are the best.
As for hosting, you can usually get it along with your domain name. Most domain name registrars sell hosting services, so you can get both of those things done in the same place. Even better, some website builders also offer domain names and hosting. This can make things even more convenient, as you can do everything under one roof.
This brings us to our next point!
#4: Choose your website builder and template
Unless you want to build a website from scratch (for which you'd definitely need coding and design knowledge), you'll likely be looking at a website builder. Most portfolio websites you'll find online are built with the help of a website building tool like Wix, Squarespace, UENI, or any other solution out there.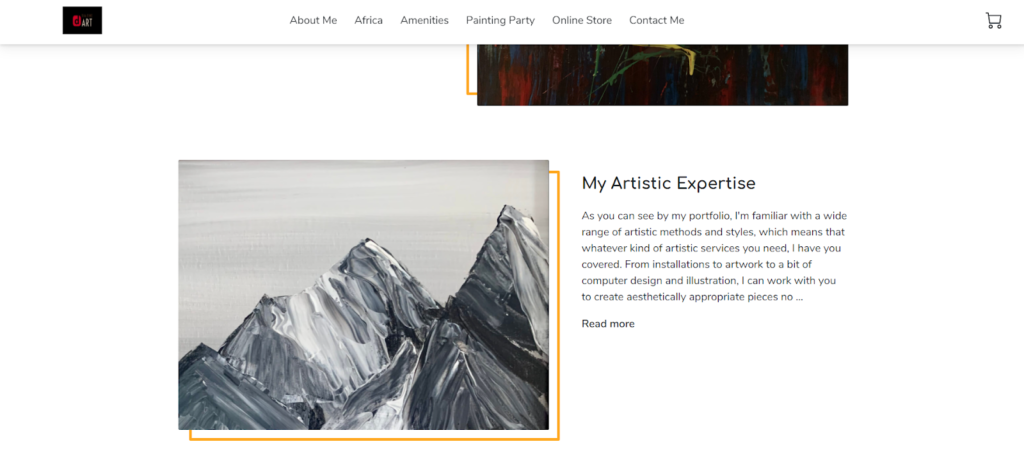 Why do people do this?
For one, it requires no web development or web design knowledge. Pretty much anyone who's at least a little tech-savvy can figure out how to build a portfolio site with a site builder. Most of them have a simple drag-and-drop interface and an intuitive dashboard that presents everything in a simple manner. And, if you run into issues, you can always contact their support.
Website builders are also incredibly affordable, while contacting a developer to build your portfolio website can be a costly enterprise. Since portfolio websites are simple and streamlined, spending hundreds of dollars or numerous hours building them would be overkill. Your potential clients want to see your work, contact info and get an overall impression of what you're like to work with.
Once you choose your preferred website builder, you can go ahead and choose a template for your portfolio websites. Most builders will offer several options, typically tailored to different industries and professions.
#5: Take care of your About and Contact pages
On a regular commercial website, these pages usually aren't that important. On a portfolio website, however, this is where you turn potential clients into customers.
Your About page contains your personal information, a bio, links to other work (like a Behance page), and a summary of your values. It should include any unique elements such as your accomplishments and skills. You can also include your resume and briefly explain your current employment status, as that can often be a source of some confusion when working with freelancers or independent contractors.
To increase your chances of conversion, make sure your clients can contact you. You won't get commissions by magic, so make sure you include the following elements: email, phone number, and social media links. A good portfolio website should also have a contact form for your clients to get in touch quickly.
Your contact details should be repeated in the footer of your website, giving visitors another option to get in touch.
One of the best things about portfolio websites you get with UENI is the number of features that can help you convert visitors into clients – but we'll get to that a little later. For now, it's enough to remember that your About and Contact pages are among the most important resources on your portfolio site and should be treated with priority.
#6: Add client testimonials
Word-of-mouth is incredibly important in the business world, especially when working with freelancers.
There is a reason why Upwork, Freelancer.com, and other platforms highlight client feedback on freelancer profiles – prospective clients will always look for indicators that you're a professional and a pleasure to work with.
Whichever website builder you're using to create your online portfolio, there's probably an option to add client reviews and testimonials. It's usually as easy as dragging an element or installing a plugin – it should only take a few minutes, but the effect can be amazing. Social proof matters and you should use it to improve your chances of getting a new project.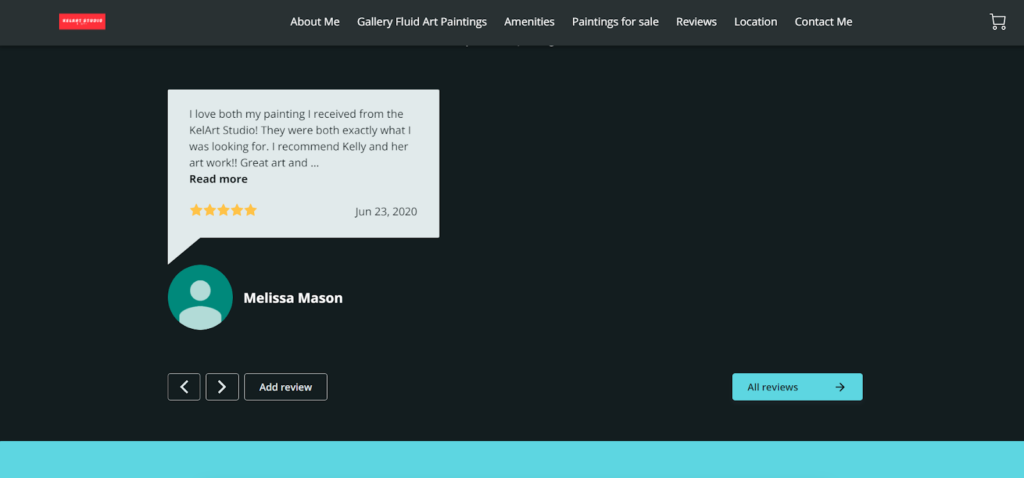 Once you've finished a job, you can always ask the client to give you an honest review. If they were happy with your work, they'll usually be happy to write a few positive words!
#7: Make sure the site is mobile-friendly
We've all heard this a thousand times but let's reiterate it: mobile website visits are on the rise. In fact, there are more website visits from mobile than from desktop!
All this means that your portfolio website absolutely must be optimized for mobile phones. When you think about your target audience, this makes even more sense: business owners are often on the move, doing the work over the phone and email, not carrying their open laptops around.
One of the most common challenges with an online portfolio is that mobile websites are more than just a smaller version of your main site. There are some rules that need to be followed when creating a mobile-friendly website.
You'll need to make sure your mobile site is clean and simple. Pay attention to the fonts and colours used and ensure they are all legible. Images, text, scrolling experience – everything is at least slightly different on mobile.
Fortunately, most website builders will automatically create a mobile-friendly version of your portfolio, including an optimized gallery to display your images. Take a look at some of our favourite mobile website builders if you want to continue your research down this road.
#8: Consider these portfolio website tips
Finally, here are some of our best tips for making the most out of your portfolio website.
Don't forget about SEO: What's the point of a good-looking portfolio website if it gets no visits? Optimize your website so that clients can find you easily and book your services. This means exploring keywords and including them in your content, adding alt descriptions to images, etc. For example, if you're a graphic designer, you might want to ensure that the words "graphic design services" and their variations are featured on your website's homepage.
Make it personal: Your portfolio website shouldn't only promote your services but also you as a person. What are your values, what do you like to do, and how are you to work with? You might feel like these things don't matter, but they'll all be taken into consideration by your potential clients. People like to work with interesting and friendly people, so make sure your personality shines through!
Keep things short: Commercial websites and blogs can be filled with content because that's often in their very nature. A portfolio website should be brief and go straight to the point. You want to demonstrate your work, provide some information about you, and give the visitors a few options to get in touch. Anything more than this can get confusing.
Consider the projects you want to work on: If you've done a lot of work on packaging design, but you're looking to move to UX – then don't include as much packaging work in your portfolio. You don't want only to showcase your previous work but actively attract future work; more specifically, the kind of work you find appealing.
#9: Let UENI do it all for you
So, we went through all the steps you need to take and the things you need to consider, but we're going to finish with the how.
How do you build a perfect portfolio website in record time without actually doing that much work yourself? We believe that UENI is the perfect answer to this question.
What sets UENI apart from similar website builders on your market is the fact that we can help you get your online portfolio up and running in no more than three days. All you need to do is give us as much information and resources as you can so that we can make sure that your website represents you and your personality shines through.
Our team of developers, designers, and copywriters will get to work and provide you with a portfolio website just like the ones you've stumbled upon during your research.
But, the best part about the portfolio website you get with UENI is the fact that it's completely transactional from day one. This means that no matter your business and industry, you'll be able to use some essential actions on your website like bookings, consultations, galleries, etc. In other words, not only will you showcase your work, but you'll give your clients some easy ways to become clients!
Our favorite online portfolio examples
Finally, here are some examples of portfolio sites that took some of the things we mentioned and applied them to create a great web presence.
Zer Group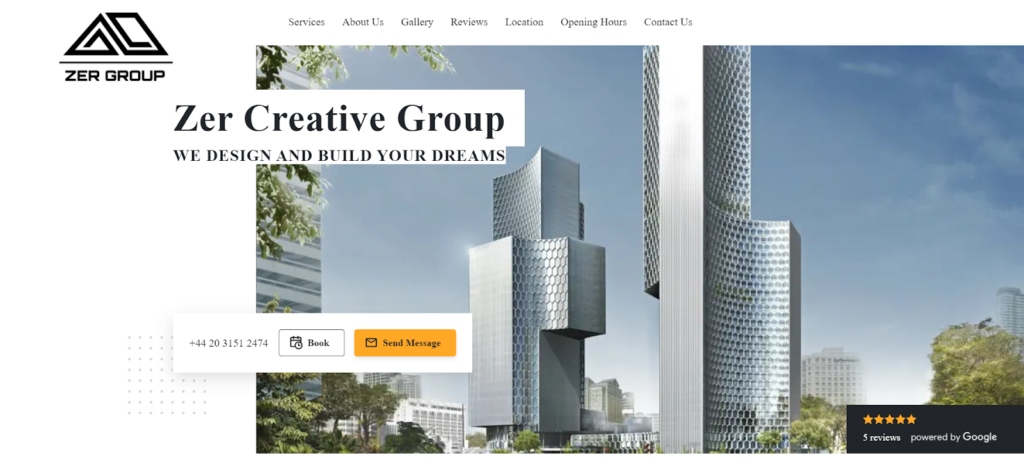 In architecture and construction, your previous work speaks for you more than any marketing materials or smart web design.
The guys at Zer Group are well aware of this, which is why the Gallery plays a big role on their website. Once you scroll down, you can see some of their most interesting previous work, not just the finished projects – you'll also see blueprints and plans. That way, a potential client can see their design skills but the entire process as well.
At the very top of the homepage, there are the "Book" and "Send Message" buttons, allowing the visitors to easily take action.
DJA Fine Art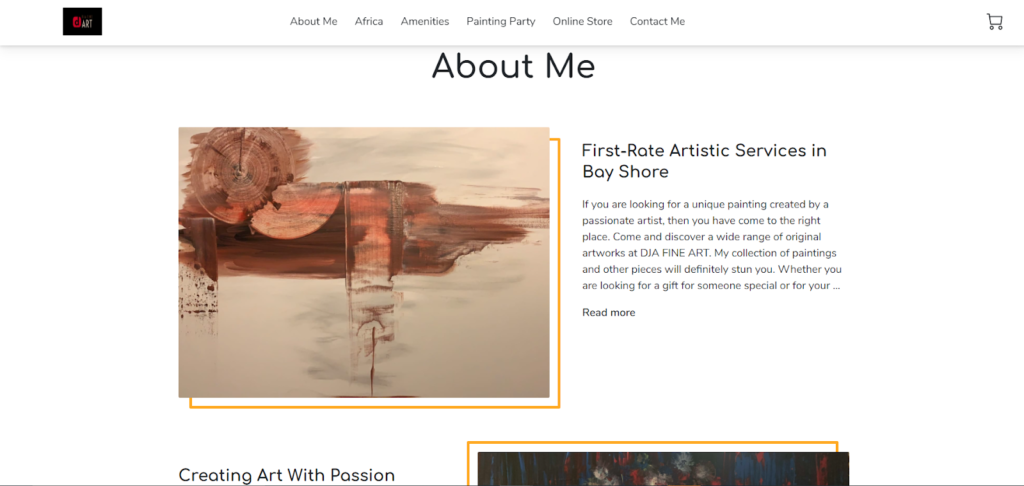 Artists are another profession where portfolios play a big role.
The DJA Fine Art website is much more than an online portfolio: apart from viewing the artist's work, you can also buy products. You can also get in touch by clicking the "Send Message" button at the top that instantly opens a contact form.
As this example shows, a portfolio site doesn't have to be limited in its functionalities – you can also use it to sell your services or get conversions that bring more than just contacts.
MH Drone Services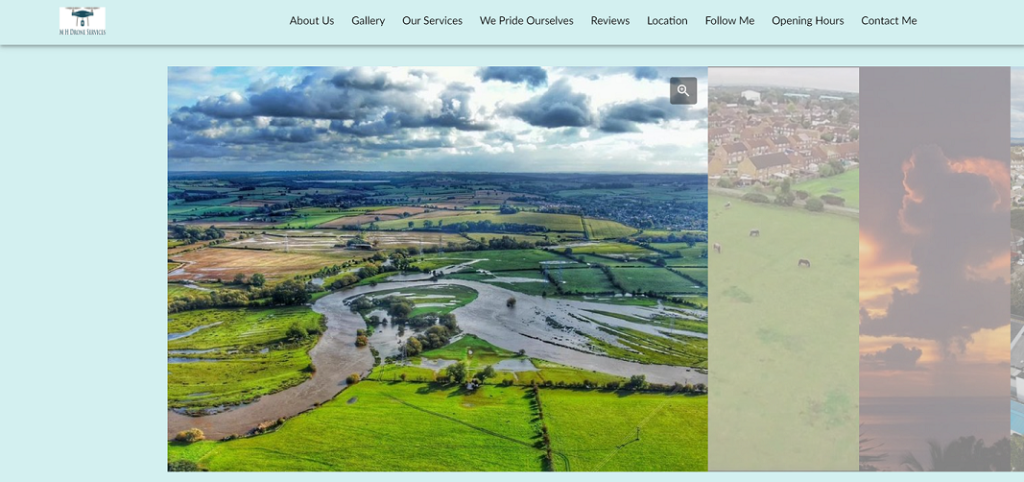 Drone photography has become both more popular and more available in recent years. It's quite a unique service and it can give you some amazing footage of an occasion you want to remember.
MH Drone Services is a company that provides aerial photography services and, as you might have expected, their website is conceived more as a portfolio of images. The images cover everything from technical photography (real estate, building damage estimation) to special occasions such as weddings.
You can also explore all these services, get in touch, and follow the brand on social media.
Final word: building the perfect portfolio website on your own
Having a portfolio website will make you look more professional and set you apart from the competition, whatever industry you're working in.
Fortunately, in 2021, it's also much easier to build a portfolio website than it once was. All you need to do is conduct some research, see what looks good in your industry, and you're already halfway there.
For the other half, you can always get in touch with us. At UENI, we pride ourselves on helping small businesses and individuals worldwide improve their online presence and win over clients with awesome web solutions. Check out our pricing and see how we can bring your portfolio website to life!