Ready to start an email marketing campaign but not sure of the best way to move forward with creating one from scratch?
We've got some examples, tips, and tricks for you to help you out with creating your own amazing marketing emails. Today, we'll cover three types of emails: Welcome Emails, Promotional Emails, and Product-focused Sales emails.
Welcome Emails
Welcome emails are typically geared towards providing new customers (or new additions to your mailing list) with a bit of background about the brand.
They usually include links to your list of products or services, but generally, you're not going to highlight a specific item, and you'll often include a bit of business biography as well.
Here's an example that we've created. Let's break it down.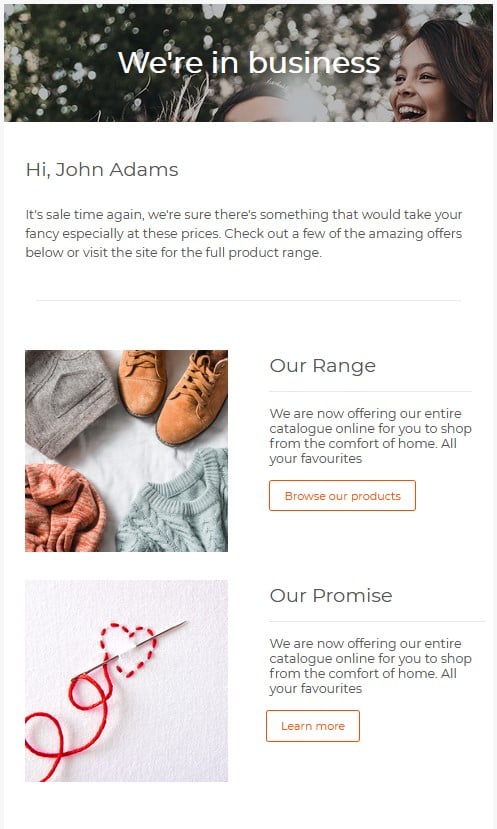 The Header Image: We're in business
This header image and copy is the kind of thing you want when you're introducing someone to your brand for the first time: you want to use images that build positive associations with your company and welcome them into the next section.
A quick introduction
This section is where you get to flex your brevity chops. For a welcome email, you want to go with something that provides the "why".
As in "why should I read this email?"
In this case, we've put together some quick text that says, effectively, "hey, we've got a sale on, feel free to take a look at some of our products." This can be short and sweet because, really, you want to keep them moving to the next section.
The Key Sections
On a welcome email, you want to establish two things: why people should care about your brand, and what you do. Because these are initial emails, it's good to avoid getting too specific about a particular product or service.
You'll see that the two sections, "Our Range" and "Our Promise", invite readers to look at the products on offer and learn more about the company, respectively.
They both feature good images, strong CTAs, and copy explaining what the reader should be excited about when they read this section.
If you want, you can include another bit of text below those key sections with a brighter CTA as well. This can serve as a more general entreaty to customers who may be scrolling or scanning through your email.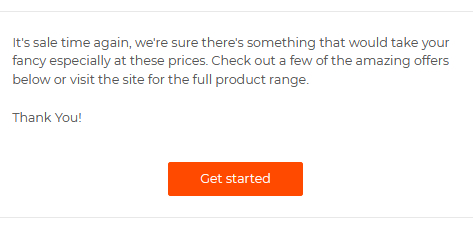 Promotional Emails
Unlike Welcome Emails, Promotion emails are squarely focused on making sure that the recipient understands the promotion that you're running. You want to give them the offer in a way that stands out and encourages them to use it.
In the example below, we've replaced the header image with a bold, bright promotion. It tells you what you're getting (free delivery), as well as how to activate the promotion (using the code at checkout).
Promotions, in other words, aren't trying to leave an impression about your brand directly — you're trying to get people to go onto your website and buy something or book something.
If you look at the example, you're seeing a few different things at work. Not only do you see the promotion in the header, you're also seeing a highlighted discount that can be combined with the promotion.
The 50% off isn't listed directly in the promotion (yet), but it's indirectly tied together with what they've seen so far.
You've already shown your potential customer a way to save money with the free shipping discount.
Now you're showing a popular product at half price.
These kinds of incentives can be used to increase the likelihood of impulse buying, because they play into the concept of Fear of Missing Out, or FOMO.
Our post on FOMO is well worth reading in full, but in brief, here's the benefit:
"Your customers are going to be more likely to buy something if they think there's a good chance that they won't be able to buy it for that price later. That's why seasonal sales and discounts are so popular – they key into our innate sense of urgency and desire to find the best deal."
Product Emails
Product emails are a specific type of Promotional email where a selection of your products are highlighted together to show a range of deals.
Here, we've returned to the header image with thematic promotion (Summer Sale). Seasonal sales, flash sales, and other time-limited promotions are effective because they create a limited time to act. In other words, customers are more likely to make an appointment or buy a product because their FOMO has been triggered.
These kinds of emails are great because they show off a quick selection of different products. It plays to people's natural curiosity and allows a nice sneak peek at the items on offer.
You can also follow up the list with a secondary CTA and another promotion, like so:
Now your customer is probably feeling encouraged to explore the items on sale. Plus, they're not going to forget about your initial promotion of free shipping. They're getting a great deal, and they're more likely to use the promotion to buy things because it will be more expensive later.
These are just some examples of ways you can structure your marketing emails to achieve high quality results. If you ever want to go any further and use email automation tools, you could even create drip campaigns and send messages automatically.