Creating a website for your photography business is one of the best ways to market your business to potential clients. Think of it as a virtual storefront to give your work exposure beyond your usual client base. It's also a great way to show prospective clients all the information they need before hiring you.
We'll help you cut through the clutter and give you all the information you need to start creating your own photography website. Here's how you can plan and create a photography website in just 10 steps!
How to create a photography website
While it's easier than ever to set up a website for your business, there are countless ways to create a website to showcase your photography business. But how do you know which option is best for you?
You've already started the process by deciding to create a website portfolio for your photography. Next, you should clearly define the goals for your website: Do you want to showcase your work, attract new clients, or share important information about your business? Maybe it's all three of those – and more.
Knowing what you're trying to achieve will help make the most of your newly established online presence.
Step 2: Lay out a detailed sitemap
A sitemap is a blueprint for your website. It contains all the pages you plan to include on your website and how they all connect to each other. The best practice is to ensure visitors don't need to click more than twice to get to a different page of your website. A persistent menu with links to other pages helps improve the user experience.
Planning your sitemap in advance ensures visitors to your photography website will have a smooth experience.
Step 3: Choose a hosting provider and domain name
Many business owners don't realize that they need a hosting plan to keep their website live. It's like renting space online. It's important to find a hosting provider that can provide consistent uptime, regular maintenance, reliable support, and good performance.
With a UENI website, we take care of all the hosting for you. You get free, unlimited hosting on Amazon Web Services servers, which are fast and secure.
Once you have your hosting sorted, you'll want to proceed to the next step – choosing your domain name.
A domain name is your business's unique online address and is simply your business name plus an extension, like .com, .co.uk, etc.
Domain names help improve online credibility and show potential clients that you are a professional and trusted photographer or photography business.
Choose a snappy and easy-to-remember domain name that suits your business.
Step 4: Create effective and engaging web copy
Before you decide what your website will look like, it's best to prepare all the copy and text you intend to use on your website for everything from your about page to tag lines for your header and all-important CTAs (calls-to-action).
Remember: Go for quality over quantity. Create content that will be valuable to anyone who visits your photography website and will help you reach your goals.
What if copywriting is not your strong suit? When you sign up for UENI, you'll be treated to a complete, custom-tailored website. This includes AI-generated copy that has been checked by our content team and tailored to fit your business.
Step 5: Let your creative juices flow
Now it's time to decide what you want your website to look like. Here, you'll research layout packs or website themes and choose colour palettes and font families that best represent your brand.
Things like typography and color schemes play a significant role in how visitors will experience your brand and could influence whether they want to work with you or not.
Classic
Natural
Modern
Serene
Classic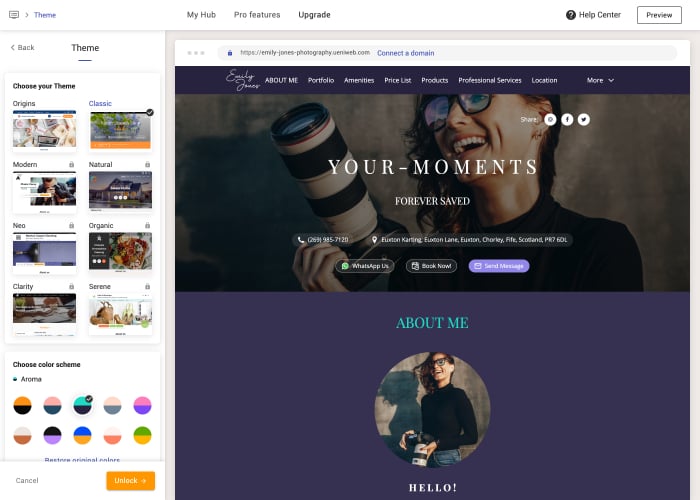 Natural
Modern
Serene
Example of the UENI's editor
Step 6: Think mobile-first
Step 7: Prioritize and categorize your photos
It's time to decide which of your photos you want to showcase on your homepage and what you want to keep for galleries under a Gallery or Portfolio section of your website.
Choose your most striking and important photos for your landing pages and ensure that they're placed above the fold (i.e., the content appears without a user needing to scroll). Make the most of short attention spans by making your written content easily digestible.
SEO or search engine optimization is the process of optimizing all content on your website to rank as high as possible on Google search pages.
At UENI, we help your local SEO by creating a Google Business profile for your website when you sign up.
Use social media to spread the word about your newly designed website. Let your existing followers know where they can view your work.
Implementing a social-sharing toolbar on your website, particularly on content pages, will make it easier for users to share your photos and spread the word about your work.
Step 10: Get UENI to do it for you
At UENI, we pride ourselves on helping small businesses expand their digital presence by offering affordable web design services. Unlike many self-service platforms out there, we do it all for you – from the initial design process to content population to regular website maintenance. No coding or design experience is necessary. We set up your site to take event bookings and create an online storefront to sell your prints and other photo products.
Take a look at our product to get started today!