A recent survey conducted by Clutch found that, despite the recent advancements in accessibility and affordability, only 64% of small businesses have a website.
While more than half of the survey respondents without a website said they planned to build one. Clearly, many small business owners either don't understand the benefits a website can offer or find the barriers to building a website too great. Whatever the case may be, the purpose of this article is to convince small business owners otherwise.
First, we'll explain what a small business website is, before covering some of the benefits of having one, as well as important features that should be included, and the usual costs of website building and maintenance.
Next, we look at two solutions for having a website built and discuss the importance of good design, before finally reviewing 10 superior examples that tick all the boxes at a reasonable price.
Table of Contents ▾
What is a small business website?
A small business website is a virtual information space which acts as the centre or hub of the business' online presence.
A website provides potential clients with information about a business, including its products or services, as well as a way of interacting with the company.
A small business website may include any or all of the following:
Basic information about the business including its name, address, contact details and hours of operation.
Photos or visual media of the business and its products.
Information about the business' products or services – including where applicable a full catalogue of these.
Information regarding news or events.
Information about promotions or sales.
Information about the business' policies or procedures.
Testimonials.
Review/Feedback functionality.
A media page, detailing recent media stories or press the business has received.
A blog.
Purchase functionality – allowing visitors to purchase products online.
This is by no means an exhaustive list of features that a small business website may contain, as there are many factors that may determine what features are appropriate for a particular business.
Why a small business requires a good website in 2021
There are plenty of excuses small business owners make when trying to justify not having a website – it's either too hard, too expensive, or the benefits simply aren't there. While small business owners may think they can't afford to have a website, the truth is they can't afford not to.
Here are five reasons why a good website is essential for any small business:
1. Get discovered
It is common knowledge amongst marketers that when people search for a product or service, the vast majority do so online. There is research to back this up, with various surveys reaching these conclusions. This study, for example, found that 70% of customers visit a store based on information found online.
2. Establish credibility
These days, people expect businesses to have a website. Simply having a website helps establish business credibility with potential customers, who are more likely to trust the business and believe it is genuine. One study found that 30% of consumers will not even consider a business without a website.
3. Search Engine Optimization
According to the 2020 Local Search Ranking Factors survey, conducted by WhiteSpark.ca, the top factors for whether your business will appear higher in Google or other search engine results related to your website or domain.
While some business owners may feel that a Facebook or Instagram page is sufficient (and these are great tools for businesses), the truth is that these platforms alone will typically struggle to get your business into search results, and ultimately found by potential customers.
4. Showcase your products
Having a website for a small business is an excellent way of being able to showcase your products 24 hours a day, 7 days a week. A small business website can act as an online catalogue with high-quality visual content designed to attract a purchase. Having a website is like having an advertising campaign that never ends, for a fraction of the cost of conventional advertising.
5. Online sales
The marketplace for products is becoming increasingly globalised; consumers want to be able to purchase products from around the globe (especially items not available in their home country) and the Internet facilitates this. A good website with purchase functionality allows a business to tap into the global market and means the business can be open and making sales at all times of the day.
If you'd like to explore more reasons why small businesses should have a website, see our article here.
Which key features does a small business website need?
Making sure that a small business website has the right features can be tricky; there may be more or less appropriate depending on the business type. There are some features, however, which all small business websites should include.
Before we look at some universally important features, though, keep in mind that a website should always seek to be engaging, user-friendly, and incorporate good design elements. Applying these general principles can help to guide business owners in the right direction and improve the overall user experience.
This keeps visitors interested and on the website for longer, which has a positive effect on a business's SEO and increases the chances of conversion (that a customer will make a purchase).
1. Navigation bar
Having a navigation bar at the top of your website that clearly sets out the various pages that make up your website is key. This allows web users to find what they are looking for with ease, and improves the overall usability of the website.
2. Reviews/Testimonials
Including functionality for users to leave reviews or testimonials (or even just including a page of testimonials) helps to establish trust with potential customers. Not only do testimonials add weight to claims that a business makes about its products or services, they also show new customers that a business is confident enough in what it is selling to allow it to be open to public scrutiny.
3. Good design
It is difficult to overstate the importance of beautiful design when it comes to small business websites. This ensures that your website is pleasing to the eye, easy to use and functions well. We will discuss the importance of good design in more detail later.
4. Hosting
Quality hosting plays a key role in the function and usability of the website, particularly concerning page load speed. A website might be the most beautiful thing anyone has ever laid eyes upon, but if it is cumbersome or clunky it risks alienating the user from the get-go before they've had the chance to see what the business is offering.
5. Calls to action
Calls to action (CTAs) are buttons or functions that invite visitors to interact with the website in some way. CTAs may be buttons that allow for sharing content on social media platforms, invitations to sign up to a newsletter or promotional emails, or — perhaps most importantly — a purchase function. CTAs can be strategically placed on multiple pages across a website.
Discover many more features that a small business website can incorporate on our blog!
The costs involved with building a small business website
The cost of building a website for a small business can vary widely, depending on which options you go for. As with most things in life and business, you tend to get what you pay for – the more you put in, the more you're likely to get out. Here we discuss in brief what the options are and the factors that affect the cost.
1. Do-it-yourself (DIY):
Building a website yourself is undoubtedly the cheapest way of getting online, but it's also the most time consuming and labour-intensive. Several platforms, such as Wix.com or WordPress, allow you to build your own website fairly easily. Of course, you will need to write the website's written content and source imagery. You can design and build the website for free, but there is a cost if you want a custom domain name and hosting. We will discuss DIY options in more detail in the next section.
2. Basic websites:
A basic website is one with usually just a single landing page, where key information is displayed. A basic website will usually have only minimal functionality and options for interaction. These tend to be less expensive than higher-end websites.
3. Small business website:
Small business websites have much more functionality than basic websites and are more feature-rich. As we have discussed above, they can feature numerous web pages under one domain, contain photo and video content, and provide numerous forms of customer interaction. Whether this level of functionality and features is required will depend on the business type.
4. E-commerce websites:
E-commerce websites possess all of the above features and functions but include additional login functionality and various sales functions for the website owner, such as sales tracking.
5. Bespoke websites:
Bespoke websites are purpose-designed and built from the ground up. They are websites that are one of a kind; they are not based on any template. These include all of the above features and functions but will also normally allow for advanced login features. While they are more commonly used by large companies, bespoke websites can also be made for small businesses who want the advanced features and 'one off' style that only a bespoke website can offer.
The table below indicates the cost range that applies to each of the above options and is a useful way of comparing them. It also includes information about the costs of other factors to consider, such as hosting, domain name etc.
For more detailed information on website costs, see our guide here.
Two solutions: DIY vs. UENI
Now that we've examined the options available let's compare two solutions that a small business owner can take advantage of by looking at the advantages and disadvantages of each.
DIY:
Advantages:
The website can be built and designed for free.
Options such as Wix.com allow users to build a simple websites.
Various design themes available.
Disadvantages:
If a brand-specific domain name and hosting is required, there is a cost.
Time-consuming.
Labour-intensive.
Stressful.
Business owners must decide for themselves what content/features/functionality is required.
Business owners must draft all written content themselves.
If required, business owners must source and include business-specific imagery themselves.
Some technical knowledge is required, especially if using WordPress.
Does not include any SEO strategies – there is no guarantee that your website will be found on search engines.
UENI:
Advantages:
Removes the stress of having to build a website for yourself.
UENI can offer advice as to what content/features/functionality are required for the type of business and what kind website will suit best.
Can be built according to business owner's preferences.
Incorporates beautiful, functional design.
UENI can advise on domain, hosting and other technical matters.
UENI will take care of SEO strategy, ensuring your website is properly discoverable.
There are simple options available, for a reasonable price.
Low cost options do not compromise performance.
UENI will take care of preparing the website content.
Websites can be rebuilt very quickly if you don't like our first design.
Disadvantages:
It may take up to three days for UENI to build your website.
UENI may build your website slightly slower than something a business owner could put together themselves with Wix or WordPress. With UENI, however, business owners get much, much more for their money and can avoid the stress and hassle of trying to navigate these programs themselves.
UENI offers a series of simple, effective, well-designed website packages without compromising performance.
Whether you're on a free plan or one of our Premium packages, UENI will take care of technical matters such as hosting and SEO so that the website does what it's supposed to without business owners having to worry.
Why is the design of your small business website relevant?
We've mentioned design several times, and you might be wondering why this seems to be so important. The design of a website is the first thing that visitors will notice, and the appearance of a website is often the first impression a business makes. People make choices with their eyes, so it's crucial to have an aesthetically pleasing website.
The design of your website is like the online packaging of your business – if people don't like the look, they may be turned off immediately.
A business website should be treated the same way its branding would be: it should look professional and capture consumers' attention.
A poorly designed website reflects negatively on the business and can lead to visitors making detrimental assumptions that damage the relationship from the outset. Assumptions like:
The business is run poorly, or the owner doesn't know what they are doing;
The business is not legitimate;
The website is cheap and therefore lacks security;
If the website is poor quality, maybe the products are too.
One study conducted by Stanford University found that the design, layout and typography used on a business' website were the most important factors for determining a business' credibility for 46% of consumers.
In short, a poorly designed website can be adverse to building trust with customers and to a business's reputation.
Apart from the appearance, good design also incorporates functionality and user-friendliness. It's important to make sure that things such as information or products are easy to find on the website (hence why a navigation bar is a useful feature), details are accurate and clear, and clear CTAs.
If a potential customer becomes frustrated with the website, they are likely to head to a competitor's website instead. It is important, therefore, to make the user experience as seamless as possible – being on the website should be easy and enjoyable.
By positively contributing to the user experience, good website design improves a business' reputation and translates to more purchases. Not only that, but the more time users spend on a website, the better that website will feature in search results, so there are SEO benefits to having a well-designed website as well.
For more information, check out our article on the benefits of good design here.
10 best examples of Small Business websites
So, we've discussed what a small business website is, why it's important, what features are key, and why good design matters – now let's take a look at 10 great small business websites that exemplify everything we've considered:
1. Accounting Firm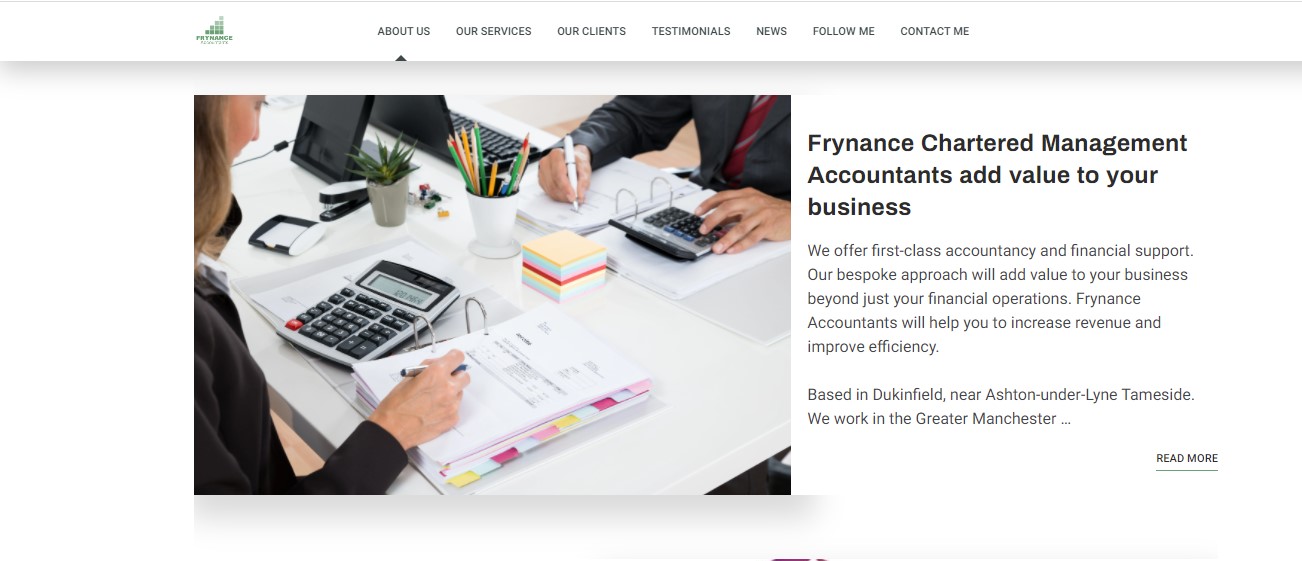 The home page of this accounting firm website incorporates a navigation bar for easy use and clearly sets out the business' details.
2. Barbershop

The 'About Us' page of this barbershop website combines a minimalist design with written content and key images depicting their services.

3. Beauty Salon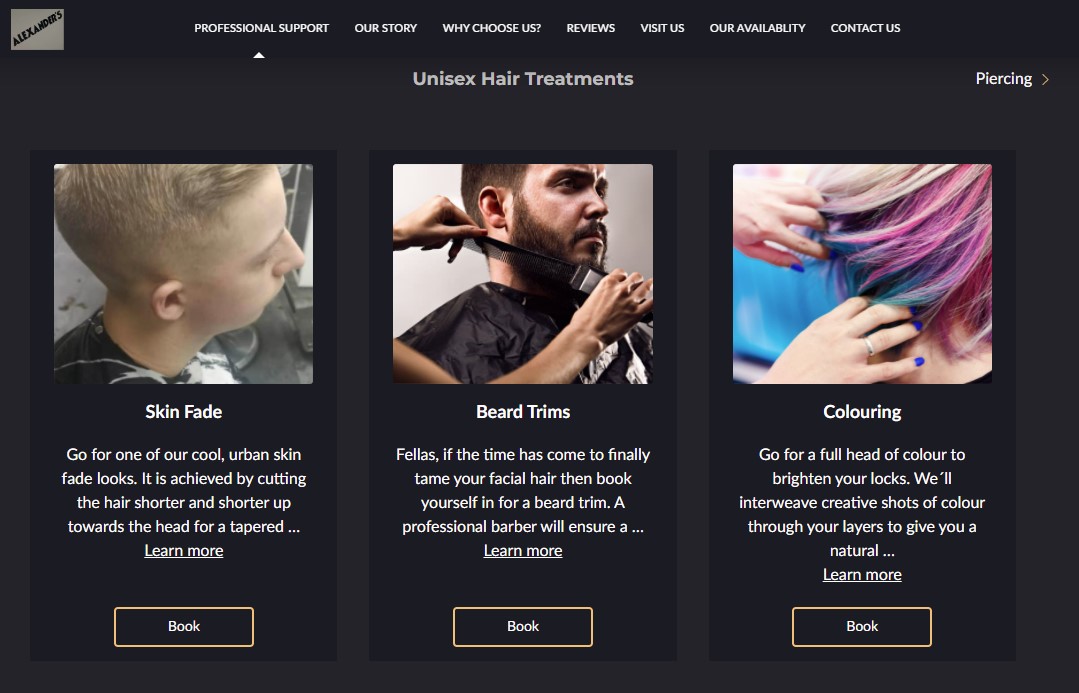 On the 'Services' page of this beauty salon website, details are set alongside high-quality photos, which add to the user experience.
4. Dentist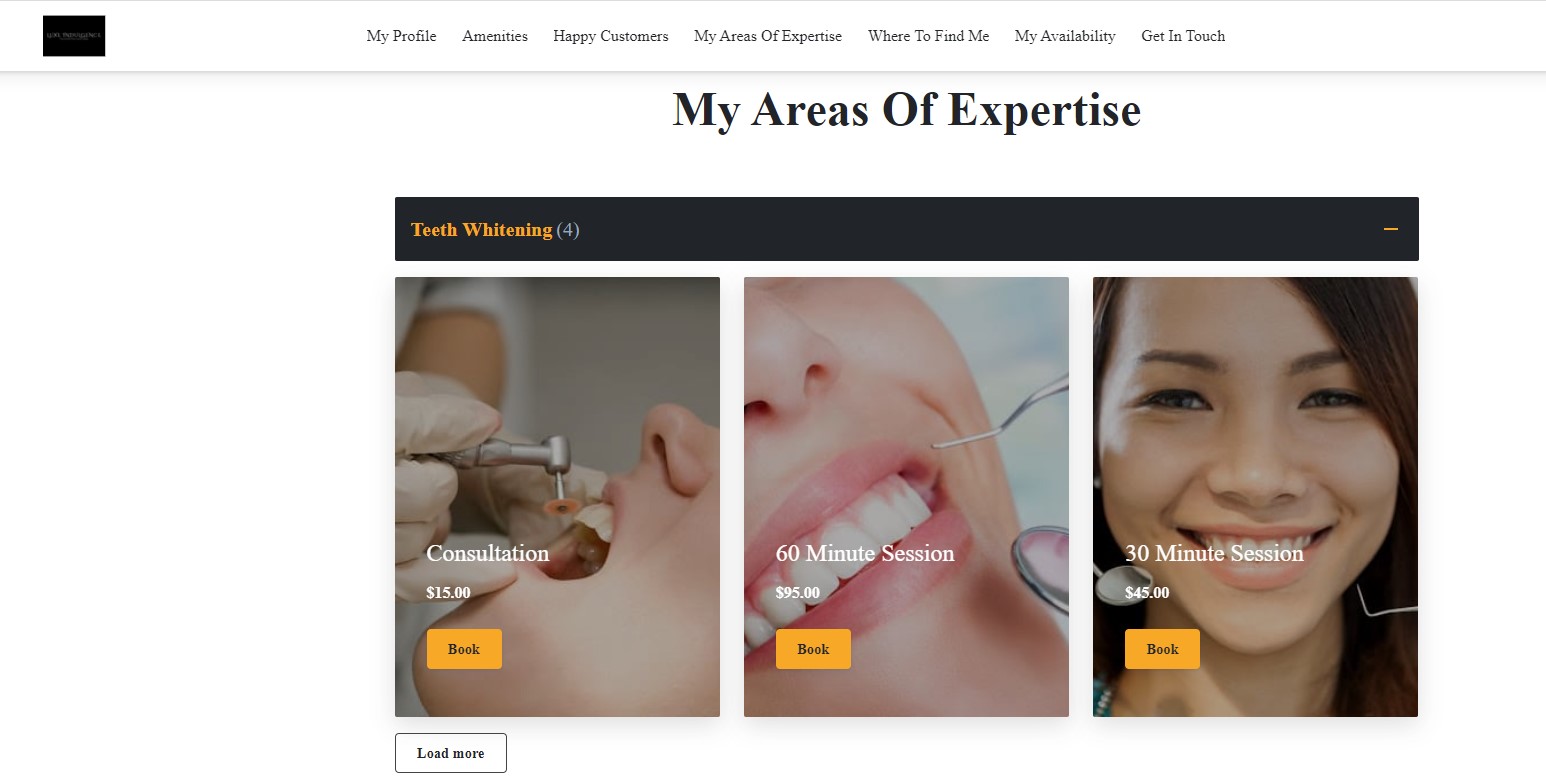 This Dentist website shows various options potential patients have for tooth straightening. The minimalist design and high quality images make it easy for visitors to understand what is on offer.
5. Domestic Cleaner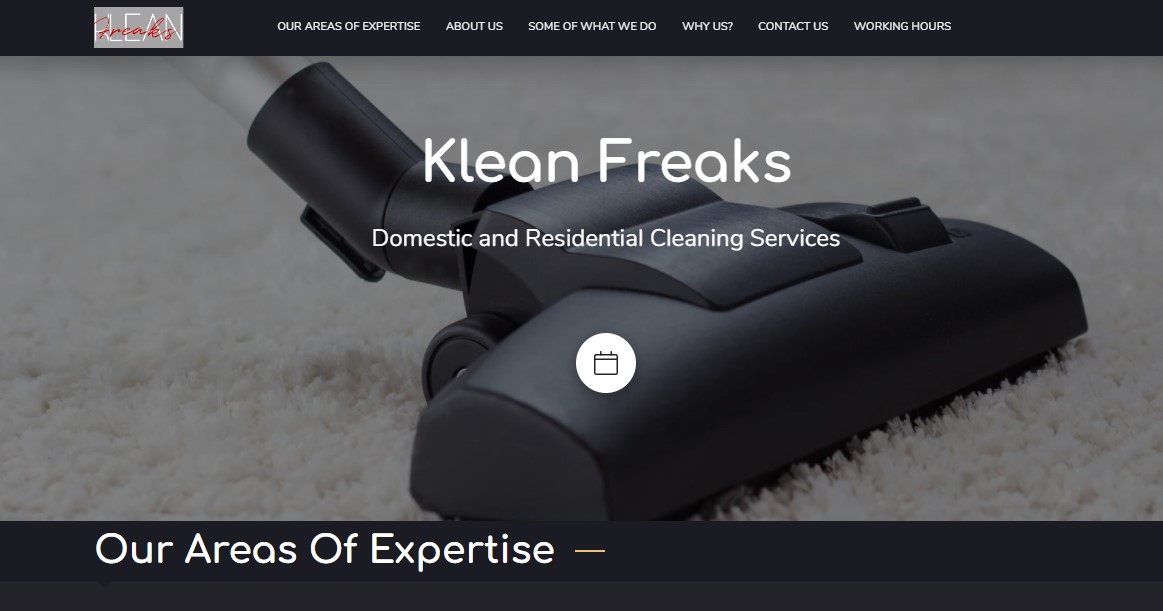 This domestic cleaning services website incorporates a scrolling page design, where users simply scroll to the next section. A gallery page captures key results in bold photos.
6. Electrician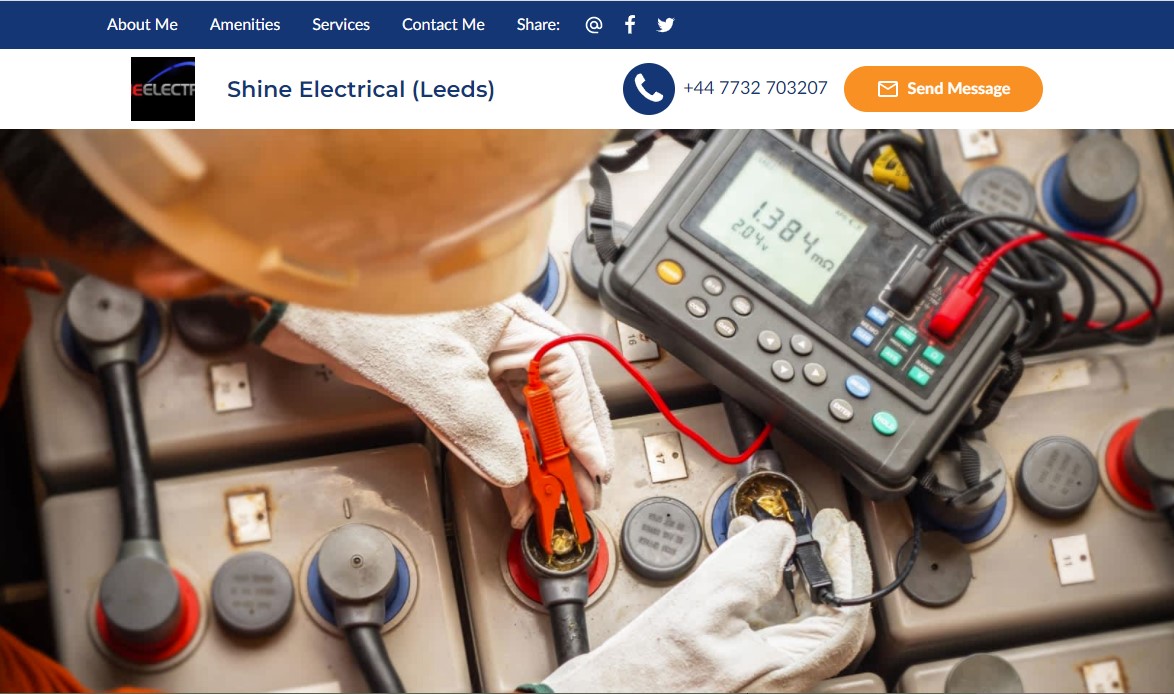 The landing page on this website for an electrician business incorporates multiple CTA buttons where visitors can request a quote for services, or share the website on social media platforms.
7. Real Estate Agent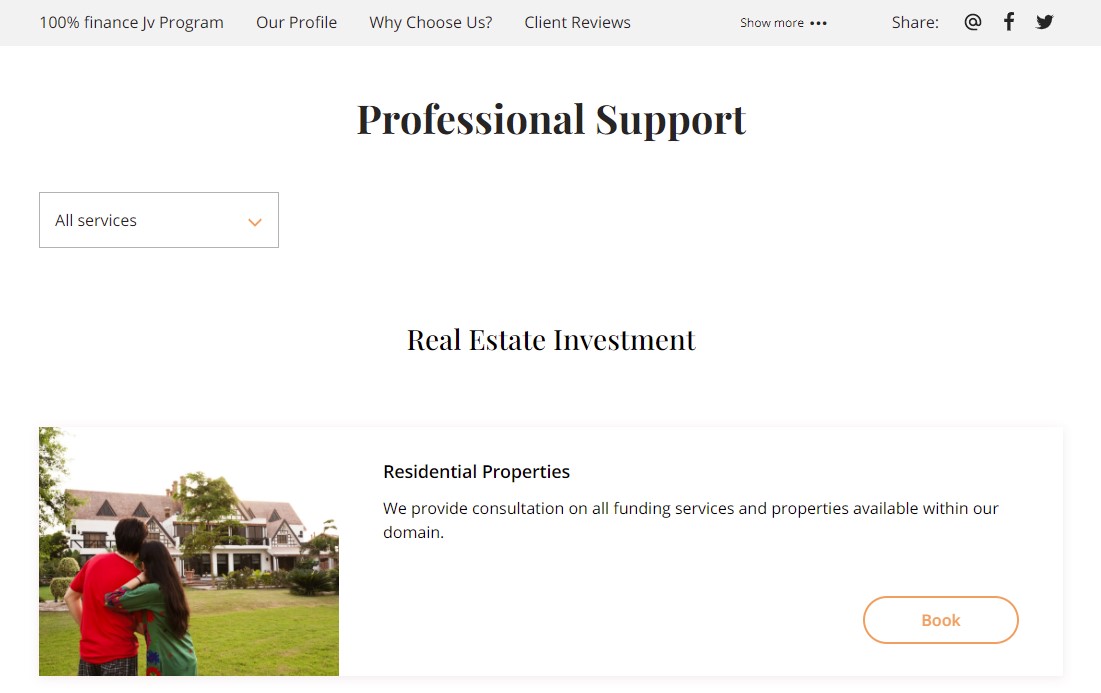 This real estate agent website includes CTA buttons that encourage visitors to find out more about their services. This is a great way of keeping web pages looking clean and free of clutter, instead of setting out dense blocks of text on one page.
8. Gardener

Beautiful, crisp images adorn this gardeners website, making it appealing and engaging while contextualising the services on offer.
9. Marketing Consultant
The 'About Us' page on this marketing consultant website seeks to build trust with potential clients by appealing to the common goals that the business and client share. The business' identity is reinforced with a creative image that underlies the notion of "distinctive branding".
10. Nail Technician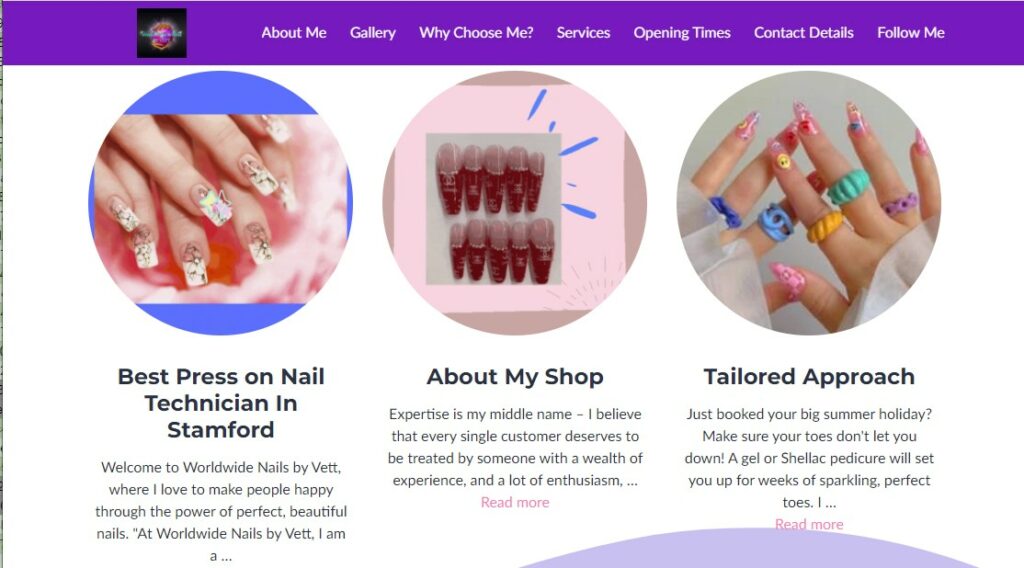 High-quality images that feature bold colours, combined with a simple design, instantly grab the visitors attention on the landing page of this Nail Salon website.
For some more great tips on what you need for an excellent small business website, see this article here.
Next steps
A good website is arguably the most powerful tool for marketing a small business and connecting with its potential customers. Building a website isn't that difficult anymore, with many agencies such as UENI that can help and several DIY options.
The costs involved in creating and maintaining a website are nowhere near the barrier they may have once been and are far outweighed by the potential benefits. In short, the list of excuses for not having a website for your small business is growing really thin.
If you've been thinking about how to get started with your own website, give us a call and we'd be happy to chat to you about how we can help.