You've just launched your business. Alongside all the work that comes with a new venture, you may be wondering:
Should I get a website for my business?
Perhaps you already have a website for your business, but you're worried that it's a bit outdated. Maybe you're considering new options to get better results when it comes to attracting customers and looking for ways to build customer loyalty. Do keep in mind that sometimes updating your website means creating a new one from scratch. While this may seem like a daunting task, it can actually be a great opportunity to start fresh and incorporate the latest website design and functionality trends to improve businesses online web presence.
Either way, if you're looking to price out building a website for your small business, we'll lay out everything you need to know about the cost of building a website for a small business in this guide.
Part of what makes compiling a list like this difficult is that there are quite a few options available to you. That's why we've compiled a comprehensive breakdown of the different approaches and the cost of each.
No matter your price range, if want to know the average cost of a website in 2023, you've come to the right place.
GET YOUR WEBSITE IN A FEW CLICKS
We'll create your small business website to help you grow online
How much does it cost to build a website on average?
It might be better to think of this question like this: "How much should a website cost ?"
The average cost of a website for a small business, according to web developers, is between $2,000 to $8,000. Assuming you don't plan on building the platform yourself.
Keep in mind this is just an estimate for a simple website with limited functionality. Moreover, this is roughly the cost of just building the website – it doesn't account for the cost of maintenance or any other subscription fees you'll be paying for, like the domain name or hosting.
One reason it's difficult to specify the cost of a website is that there are so many different types to choose from: you've got basic one-page sites, E-Commerce focused businesses, database-driven websites, and so on.
Breakdown of Average Website Costs and Development
| | | |
| --- | --- | --- |
| Website Type | Approximate Development Time | Price Range |
| Website Builders | 1-2 weeks | Free – $500 |
| Basic Websites | 2-4 weeks | $500 – $1,500 |
| Small Business | 4-8 weeks | $1,000 – $2,000 |
| E-commerce Websites | 8-16 weeks | $2,000 – $5,000 |
| Data Driven Websites | 8-16 weeks | $2,000 – $10,000 |
| Custom Websites | 16-24+ weeks | $3,000 – $10,000 |
We hope this approximate data helps you with understanding the costs of building a website. Remember that these prices represent rough estimates and can differ significantly depending on the website complexity, required customization, and the web developer's expertise.
When requesting a quote for a website, it's essential to supply ample information, enabling the provider to generate an accurate estimate closely reflecting the true cost before making a commitment.
Common Website Development Pro's & Con's:
Website Type

Pros

Cons

Website Builders

Quick and easy to set up

Low cost or free

No coding or design skills required

Limited customization options

Limited functionality

May not be suitable for larger or more complex sites

Basic Websites

Affordable

Customizable

Suitable for small businesses

Limited functionality

May not be suitable for larger or more complex sites

Small Business

Customizable

Offers more functionality than basic sites

Higher cost than basic site

May not be suitable for larger or more complex sites

E-commerce Websites

Allows you to sell products online

Offers advanced functionality

Higher cost than basic or small business sites

May require ongoing maintenance and updates

Data Driven Websites

Customizable

Offers advanced functionality

Higher cost than basic or small business sites

May require ongoing maintenance and updates

Custom Websites

Fully customizable

Offers advanced functionality

Highest cost of all website types

May require ongoing maintenance and updates
Probably goes without saying – finding the perfect equilibrium between expenses and quality is key.
Website Price Averages by Industry
To provide a more transparent perspective on website expenses, we present a compilation of average website prices spanning various industries.
| | |
| --- | --- |
| Industry | Price Range |
| Retail and E-commerce | $2,000 – $5,000 |
| Professional Services | $1,500 – $4,000 |
| Restaurants and Food Services | $1,000 – $3,000 |
| Health and Fitness | $1,500 – $4,000 |
| Real Estate | $2,000 – $5,000 |
| Nonprofit Organizations | $1,000 – $3,500 |
| Technology and IT Services | $1,000 – $10,000 |
| Arts and Entertainment | $1,500 – $4,000 |
| Travel and Tourism | $2,000 – $5,000 |
| Education | $2,000 – $5,000 |
Bear in mind that while the presented figures offer a valuable starting point for understanding website expenses across various industries, these numbers are not set in stone. Factors such as the complexity of the website, the degree of customization, and the experience of the developer can all influence the final cost.
As a bonus, here are some common suggestions for each industry to consider when creating or updating websites:
Highlight expertise through testimonials and case studies

Clearly present service offerings and pricing structures

Incorporate a strong call-to-action (CTA) for lead generation
Restaurants and Food Services:
Display an easy-to-read menu with appealing food images

Incorporate online ordering and reservation options

Showcase the ambiance and atmosphere of the dining space
Offer valuable health and fitness tips or blog content

Clearly outline membership options, classes, and pricing

Include before-and-after client transformations or success stories
Implement an easy-to-use property search feature

Showcase high-quality images, virtual tours, and detailed property descriptions

Highlight local area knowledge and expertise
Clearly communicate the mission and impact

Offer various donation options and volunteer opportunities

Share success stories, testimonials, and updates on ongoing projects
Technology and IT Services:
Explain technical services or products in layman's terms

Showcase case studies demonstrating successful projects or problem-solving capabilities

Include clear pricing structures and service level agreements (SLAs)
Display a portfolio of work or past performances

Offer an event calendar or booking information

Share artist biographies or background stories
Present visually appealing images and videos of destinations

Offer helpful travel tips and local insights

Incorporate customer reviews and testimonials
Clearly outline course offerings, schedules, and pricing

Share student success stories, testimonials, or alumni achievements

Provide easily accessible resources and learning materials
Equally important to take these pointers for a spin with a real-world example: Village-Gardener.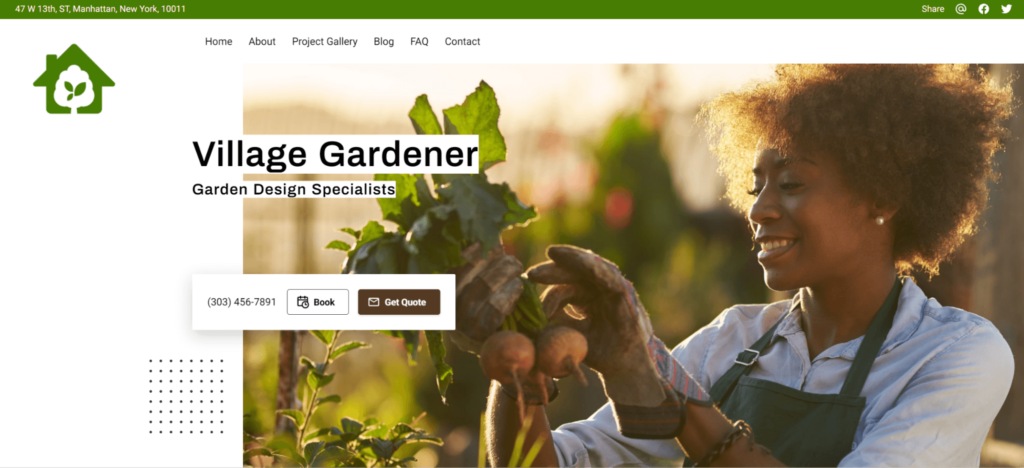 They're in the professional home services industry, and they've nailed the art of building trust online. They've established their expertise by linking to well-respected sources like the BBB. Their website design does an awesome job drawing your attention to their call-to-action, a bold "Get a quote" button right on the homepage. And we love how clearly they present their service offerings, making it easy for visitors to understand what they provide.
This is a fantastic example of how to create a professional and user-friendly website.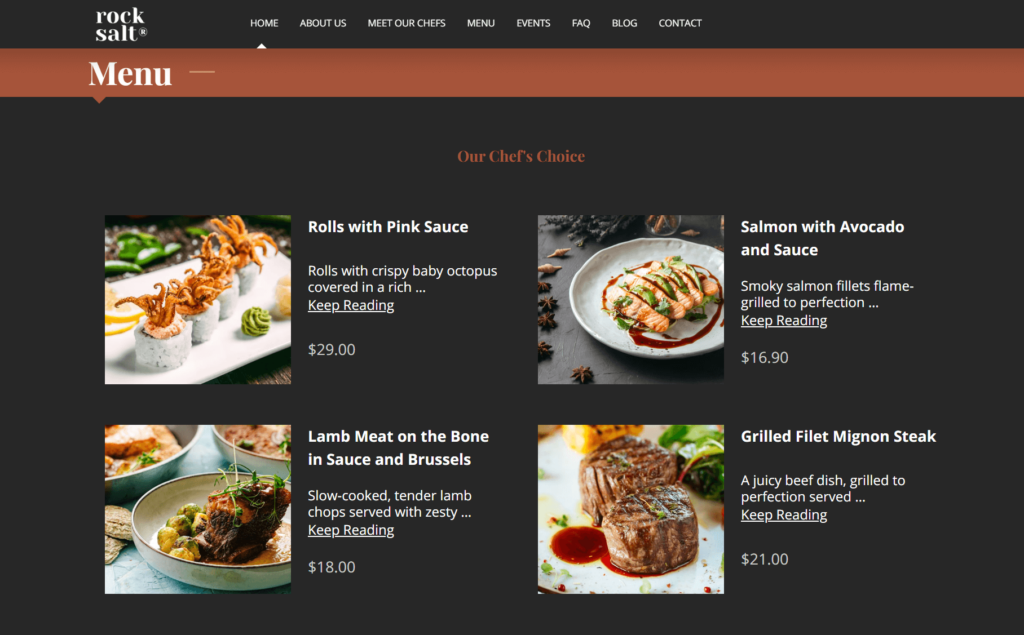 This example checks all the boxes we mentioned for restaurants.
The menu is super easy to read and those delicious food pictures? They're impossible to resist!
Additionally, the website got this handy online reservation system so you can book your table in a jiffy. The dark tones of the website really set the mood, giving you a feel of the restaurant's cozy ambiance right from your screen. It's a great example of how paying attention to the small details can make a website a real winner!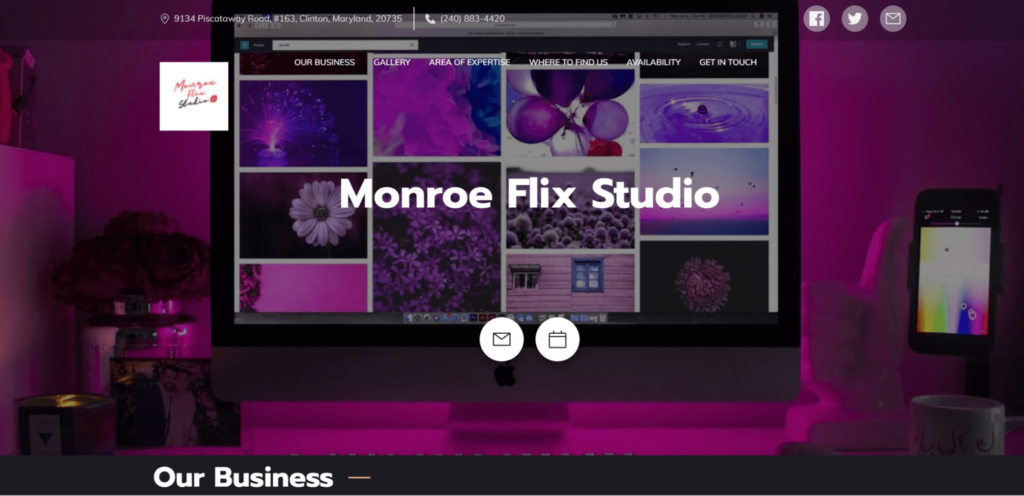 This arts and entertainment site totally nails it! They have this neat booking module that lets you reserve their services without any fuss.
And, have you seen their design? The bold black, punchy purple and subtle gold color scheme is simply stunning. Plus, they do a fantastic job showcasing their expertise and work.
This site is a great example of how to flaunt your craft and make your audience feel welcome.
Considering these industry-specific suggestions beforehand will help make your website to better meet the needs of your target audience, ultimately leading to a more engaging and effective online presence.
As you consider building or updating your website, keep these factors in mind and ensure to provide comprehensive information when requesting a quote
Quick Tips to Minimize Average Cost of Building a Website
For small business proprietors aiming to adhere to their financial plan, diminishing website creation expenses is vital. Strategies for lowering website construction costs encompass utilizing a website builder, employing pre-designed templates or themes to reduce design expenses, confining features and functions to the essentials, and being candid about your budget when obtaining a quote from a developer or agency.
Opt for a website builder to craft a basic site affordably or even free of charge

Leverage pre-designed templates or themes to decrease design expenditures

Restrict your website's functionality and features to the necessities

Be transparent about your annual budget when soliciting a quote from a developer or agency

Receive a Ready-Made Website in a Mere Seven Days
For those seeking a swift and uncomplicated approach to procuring a business website, explore our Ready-Made Website service. Our adept team of web designers and developers can fashion a tailor-made website for you in just one week.
Now, let's take a detailed look at all the website features that matter for small local businesses, so you can approximate what you'd spend to have a bespoke website built for you.
Building your own website (DIY)
Building your own website is a good way to cut down on costs.
With all the different web-building platforms available today, you don't need to be particularly tech-savvy to build a website all on your own. You don't have to code, or manage hosting, or even know what a responsive web design is.
Just follow these steps:
Step 1: Choose your website builder – Wix and Weebly are popular and it's free to get started.
Step 2: Choose your domain (though to get a custom domain, you'll need to pay for a subscription)
Step 3: Pick a template that you like from the available options
Step 4: Select images, customise the layout, and add the content (writing the descriptions of your services, your contact information, etc.)
This process is technically free. But, although you'll get your website, you won't necessarily get the maintenance your website will need to perform in the long-term.
Also, be aware: just because you have a website, doesn't mean your customers can see you!
To get your business in front of customers, you need to plant more than just one seed. Your website is where it starts, but you should also create profiles for your business on social media (such as Facebook), search engines (such as Google and Google Maps), and on other local directories. Writing good Facebook posts, of course, still remains essential. Each of these gives your business more credibility and visibility, meaning it's easy for customers to find you and to believe you're a legitimate business.
GET YOUR WEBSITE IN A FEW CLICKS
We'll create your small business website to help you grow online
Wix is one of the most popular drag-and-drop website builders out there, and for good reason: their editor is easy to use and very powerful. The problem with Wix however, is that just building an attractive website isn't enough to start attracting customers. You need to incorporate strategies such as SEO (Search Engine Optimisation) to ensure the right keywords, the correct sizing of images, and other technical aspects of your website are all in place to ensure it ranks on the first page of Google and other search engines. And how Google evaluates websites to select which ones appear on the first page of results is always changing, so regular updates are a must.
For a fully-functional business website, Wix's prices range from $6 per month and upward, just for the creation of the page.
Although the basic WordPress package is also free, it will demand more technical know-how than Wix when it comes to making the most out of your site. WordPress offers business owners a short-term solution, but it's not a good option for businesses without a large budget to spend on developing and managing their website.
Unlike WordPress, you need to enroll in a paid subscription to use and access Squarespace, but you do get a free trial for 14 days. That said, their templates are stunning, and their editor allows you quite a bit of freedom.
The Costs of operating your website on Squarespace range from $10 to 40 a month, depending on the features you choose (if you need an online store or a professional email account, for example).
Many Squarespace users tout the nice-looking templates available on Squarespace. Indeed, the options available on SquareSpace are aesthetically focused and they do look very slick and appealing. But once you begin to customise the template of your choice, you may run into problems. You really need a professional to ensure the layout is optimised for all devices (mobile phones as well as computers) and that it's easy to navigate.
Shopify is one of the most popular e-commerce website builders out there thanks to the ease with which small business owners can set up an "online shop" for somewhere between $30 to $300 a month. If you're looking to sell and ship products online, this is definitely a good option with reasonable costs.
Like Squarespace, Sitebuilder has loads of quality templates to access and interesting e-commerce features, but again, you have to pay for anything between $30 to $300 a month. Again, the same issues apply: a lack of the "whole-package" should be a turnoff for small business owners.
Custom-made website solutions
Now that you know more about the different options available to build your own website, let's take a look at the various custom-made website solutions that exist for professionals.
Like with every purchase, you need to be clear about your needs before making a final decision. Make sure you keep an eye on these three things before moving ahead with a website for your business:
The type of content you're planning to publish
Are you looking to only list your services and prices, to regularly publish blog articles, tutorials or contests, or to share media content such as pictures, videos or slide desk?
The overall layout of your website
How much content will be hosted on your website, and how will you structure it to be as clear as possible?
The role you're willing to play
Are you planning to get involved during the conception phase or would you rather have someone else help you with it?
Once you've answered these questions, it'll be easier to decide which website solution is best suited to your professional activity. Here are 18 small business website examples you can learn from to help you make a decision.
GET YOUR WEBSITE IN A FEW CLICKS
We'll create your small business website to help you grow your business online
Basic websites are one-page landing sites that serve a couple of primary functions for the benefit of the user. They're useful for small businesses who just want to display the essential info about their business, such as 'About Us' descriptions, contact info, opening hours and Google Maps locations.
Again, you can build your own, pay a freelancer to design and create one for you, or even hire an agency to do the heavy lifting, but even a basic website won't come cheap. Even though you're going for the basic features, you can expect to pay anything between $200-700. These basic websites give a stripped-back presence but they do exactly what they say on the tin. And a good, solid website – even if it's basic – is far more beneficial than no website at all. Besides, if you've no need to update your content regularly, they're ideal.
Small Business Websites Costs on Average
Specially designated websites for small businesses are more advanced than your basic pages. They are informational websites with employee bios, downloadable content and store locators. They generally consist of a few pages and are feature-rich, integrating factors like Social Media, Google Maps, Google Analytics, so these websites should be more mobile responsive than basic sites.
These can be done by freelance web developers or actual website builders. Although perching on the more expensive spectrum, hiring a freelance developer to build your website for you does offer many benefits, like you being able to have a say on the creation and visual image of your brand.
If you include all the relevant costs, you can be looking at anything between $1,000-$2,000, but more if you hire a developer to do the job for you.
Typical Cost for E-commerce Websites
Besides incorporating all the features of a small business website, E-commerce websites are all about the shopping features for customers. This means integrating an order management system, shopping basket features, login functionality, delivery tracking systems and possibly live chat features for customer support to assist buyers.
Obviously, this is a much higher scale of website functionality, so will probably be looking at $3,000-$5,000 and that's being quite generous. Plus, providing an SSL certificate will add security to your site and reassure customers that their credit card information remains safe when they make purchases. This can cost anywhere between $15-$250 a year.
Advanced or Bespoke Websites
A bespoke website is one that is completely built from scratch to tailor to a company's individual needs – they are not created using or inspired by standard templates. Bespoke websites require complex functionality and although they are better designed for larger companies, anyone that requires this advanced functionality can get a bespoke website designed to match their specialised needs.
Generally, bespoke websites cater to mobile design in a way others simply can't: their desktop and mobile versions may vary completely when it comes to style and design to favour user-friendly interaction. Because such large companies are in need of bespoke websites, including banking websites and health websites, prices can range anywhere from $3,000-$10,000.
Database-driven Websites Costs
Although technically part of the bespoke website category, database-driven websites are dynamic and update content on an automatic basis as customers interact with it – complicated stuff. All this stores information securely in one place so this fancy programming clearly will use far more setup and maintenance expertise than other websites, meaning the price will be higher, just like bespoke websites which have similar functions. And like bespoke websites, prices range from $3,000-$10,000, depending on the level of advance required.
Choosing your website solution is an important decision. That's often the first glimpse users will get from your business, so you want to make sure to choose well for your investment to pay off.
A breakdown of other website costs
Within each established cost that we have provided, there are specific costs you should know about before agreeing to pay the total, just so you can be aware of what it is exactly you're paying for.
Template customization is one of the most important parts of your website, as this is the first thing customers will see when landing on your page. It's a company's opportunity to display their brand and as such, you should have a large say over your preferred web design. You're looking at $200 to $5,000 depending on who you're hiring and what type of site you're going for.
This price includes that of the package without including long-term costs like hosting and updating copy. This can range from $200 to $500.
Web hosting is essentially rented space for your website to exist on the internet. Every website needs to be hosted on a server that is connected to the internet in order for it to be visible through a browser. Although there are different types of hosting, most prices range from $3 to $200.
4. Written content created by professional copywriters
Second to visual design, the copy is another extremely significant factor in website creation. You can, of course, create the written content yourself, but professional copywriters are highly trained in what they do and address the audience in an appealing way. Whether you go with a freelancer or an agency, hiring a professional writer is a sure way to ensure your website's content is high quality. Integrating effective email marketing into your overall strategy, in addition to carefully crafted copywriting, can significantly boost your website's reach and customer engagement.
Updating regular content helps your website appear more often on Google searches and you may need to update content for other reasons, like new services, products or special offers you're providing as a business. Costs vary, but you can expect to pay between $10 to $60 a month.

SEO is the practice of ensuring websites are optimized to rank as highly as possible on search engines, so that when a business's potential customers search for their relevant service, the business website appears in the first few results, especially for local searchers. A recent survey, however, reveals that independent businesses often struggle to gain visibility online, underscoring the importance of effective SEO strategies. Some web design companies might offer this service as part of their package, but otherwise, you might have to pay for a freelancer. SEO costs can vary from $100 to $1500 per month.
You can buy images from a professional photographer, supply them yourself or buy them from stock websites. Prices range from $15 to $100.
Additional note, when it comes to the cost of images and visuals, it's that the quantity of pictures hides the real price.
The benefits of a domain name is extend beyond a signposting factor towards the nature of your business and can determine exactly what your services involve before a customer lands on your page. Domain names are also extremely important and can cost anywhere between $5 a month to $100 per year.
As you can see, there are a few additional expenses to take into accounts when purchasing a professional. Depending on which website builders you choose, these can be included in the initial price or come as extra. Here's a breakdown of the costs to help you visualize it better.
Common Costly Website Design & Development Mistakes to Avoid
As experts in website design and development, we have seen countless mistakes that can significantly impact site's performance and success.
Ignoring Mobile Responsiveness
Ignoring mobile responsiveness is one of the most prevalent blunders in the realm of today's web design. When a site is not optimized for handheld devices, it can yield a subpar user experience, reduced engagement, and ultimately, inferior rankings on search engines.
Complex Website Navigation
Complicated website navigation architecture has the potential to perplex visitors and stop them from finding desired information, which will result in frustration and decreased engagement. Limit the number of links in your main navigation, avoid using too many dropdown menus. Keep the navigation simple and intuitive.
Slow Web Page Loading Speeds
Website page load speed is a critical factor in page performance and user experience. Slow loading web pages can frustrate visitors and lead to a higher bounce rate. Additionally, search engines take web page speed into account when determining search engine rankings. It's essential to optimize your website's load time by compressing images, leveraging browser caching, and reducing server response time.
Website security is a vital aspect of development and maintenance that is often overlooked. Neglecting security can result in data breaches, compromised user information, and damage to your brand's reputation, not to mention the expenses that come along.
Poor Search Engine Optimization (SEO)
Finally, another critical mistake to avoid is poor website's search engine optimization (SEO). Even if your site is beautifully designed and has high-quality content, it will not be successful if it does not rank well on search engine results pages (SERPs).
A well-designed and optimized web page will lead to higher user engagement, conversions and ultimately, increased revenue.
Find that perfect balance of website development costs and revenue it can potentially generate per year.
Website design and hosting for small businesses from UENI
At UENI, we redefine the concept of website building by combining top-tier agency-style support with unbeatable pricing. We understand the unique challenges of small businesses, and that's why we bring affordable and business-centric online solutions for entrepreneurs who may lack the time or resources to create their own websites.
UENI-built websites are secure, search-engine-optimized, can feature a custom domain name and fully responsive design.
Have a look at the plenty of successful projects we have delivered – our work speaks volumes about our proficiency and commitment.
Here's the deal: if you're a small business owner, you need a website.
At UENI we believe that creating a digital presence for your business shouldn't be complex or expensive. We make the journey from offline to online smooth and hassle-free. Get your own UENI-built website today and become a part of our impressive portfolio.
Witness firsthand how we simplify the process and amplify your business online.
Power up your game – start your journey with UENI today!