When you start a small business, you take on a certain amount of risk. Anything major that takes place – from socioeconomic changes to natural disasters and global pandemics – can have a significant impact on your business and leave you liable for potential losses.
Whether you're a small business or a multinational enterprise, insuring your business is the best thing you can do to protect it from these kinds of losses.
All businesses should have general liability coverage. But your specific business insurance needs will depend on many factors – your industry, the number of employees, and location.
We created this guide to help you understand the logic behind small business insurance and which types of coverage you should be looking for.
GET YOUR WEBSITE IN A FEW CLICKS
We'll create your small business website to help you grow your business online
Types of business insurance
Here are the most common types of business insurance policies a small business might need. Some are very popular and almost inevitable if you're running a business, while others are more tailored to every company's individual needs and business model.
General liability insurance
General liability is the most popular type of business insurance, and it's where many companies start their insurance journey. It covers the basic needs shared by all kinds of businesses: Liability insurance covers damages for which the company is liable, attorney's fees and other legal defense expenses. It will also cover bodily injury on your business's premises or any physical damage caused by employees. Finally, general liability insurance also protects you from negative third-party (i.e. customer) interactions. For example, if you're a business that relies on direct customer contact and providing physical products, customers may claim that they were hurt by your business's products, services, or neglect. A claimant could also allege that the business created an unsafe environment.
Professional liability insurance
Other businesses don't offer actual products but services like accounting/legal advice, design, recommendations, consultancy, etc. Customers and clients can sometimes sue the company offering these services if they feel that the business has failed to do its job. However, the abovementioned general liability insurance policies don't provide coverage against claims that result from business or professional practices like malpractice or negligence.
These situations are covered by professional liability insurance, also known as E&O (errors and omissions). The policy will cover any judgment that the insured may be held legally responsible up to the policy limit. Thus, even if the company did nothing wrong, the policy will cover legal defense costs.
Professional liability insurance covers professionals like lawyers, accountants, and doctors against negligence and any other claims brought by their clients.
Workers' compensation insurance
Workers' Compensation Insurance protects your employees in the event of an injury on the job. If an employee is injured while working, workers' compensation insurance can also protect your company from lawsuits.
Employers must have workers' compensation insurance in all states except Texas If there are more than three to five employees (the exact number depends on the state). This coverage, also known as workers comp insurance, covers medical expenses and replaces lost wages for employees injured while on the job even if the employees themselves were responsible for the injury.
The insurance will also pay compensation to the family of a worker who dies from injuries sustained while on the job. However, workers' comp isn't usually necessary for a very small business (one or two employees who work from home).
Commercial auto insurance
Commercial auto insurance is quite similar to your regular, personal car insurance. Your state requires that you have at least the minimum coverage needed to drive your vehicle on public roads if your company has one.
Commercial auto insurance covers liability and damage for vehicles such as cars, vans, and trucks that your business uses. Since commercial vehicles are more at risk than personal vehicles, they require separate policies.
However, commercial auto insurance doesn't only apply to industrial vehicles such as semis and dump trucks. Businesses that transport clients, run errands or carry tools using a regular car can use this insurance.
Commercial property insurance
Every company should have business property insurance, regardless of whether they own a building or lease it.
If the business's property is damaged or lost due to fire, theft or other common perils, it can be covered by commercial property insurance. However, this policy doesn't only cover a building or structure. It also covers personal property: office furniture, machinery, inventory and other essential items that serve the business's operations.
Finally, property insurance can cover equipment breakdown, debris removal after a fire, and other things depending on the policy.
A lot of things can impact the price of your commercial property insurance, including:
Geographical location. Is your company location susceptible to disasters?
Construction. Are you using fireproof materials in your building? Is it built according to the latest standards?
Your industry. Not all types of businesses carry the same intrinsic risk.
Fire and theft prevention. Do you have a sprinkler and/or fire alarm system in your business, and where is the nearest hydrant?
GET YOUR WEBSITE IN A FEW CLICKS
We'll create your small business website to help you grow online
Business owner's policy
A business owner's policy (BOP) consists of insurance policies targeted at small businesses. We already covered some of these – general liability and commercial property insurance policies are almost always included in a BOP. Others have business interruption insurance, crime insurance, etc. Because they are sold together, these policies make administration easier and may even be available at a reduced rate as a part of a BOP.
These policies are usually targeted at small to medium-sized businesses, so their cost and coverages will reflect this. However, to be eligible for most policies, businesses must meet specific criteria.
Directors and officers (D&O) liability insurance
Directors & Officers (D&O) liability insurance protects individuals against personal losses in the event of being sued for their role as directors or officers of a company or organization. This insurance can also pay for legal fees and other expenses that the company may face.
D&O insurance is available to any person who is a director, officer or representative of a business or non-profit organization.
This coverage may also cover criminal and regulatory investigations and trial defense costs, as directors and officers are often both subject to criminal and civil actions at the same time.
Best small business insurance companies
Now, here are some small business insurance companies and their packages that are worth considering.
The Hartford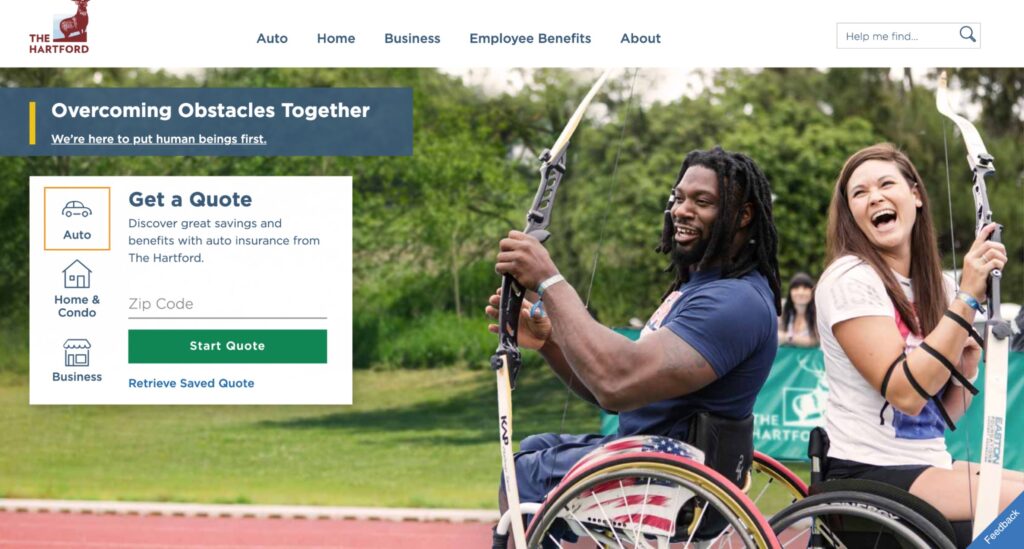 The Hartford insurance company is among the top carriers because of its outstanding customer service and a wide range of insurance policies and discounts. Its general business insurance policy that protects business owners against lawsuits and property damage fees is particularly interesting since it also covers the online aspect of running a business.
This is important because the legal risk connected with digital marketing is increasing along with the industry itself. Home-based businesses as well as data-intensive careers, such as data scientists, are increasingly common. Hartford recognizes the growth of home-based businesses and data-intensive jobs so it offers liability coverage for businesses run from home and protection against data breaches.
Standard & Poor's and AM Best both gave The Hartford an A+ rating and the company is widely known for its exceptional service.
What policies should you consider from The Hartford?
Harford is known for its comprehensive Business Owner's Policy (BOP), which is a policy that covers general business liability, business property, and business income. The BOP includes protection against income loss due to devastation winds or burglaries, fires, and protection for bodily injury and property.
Hiscox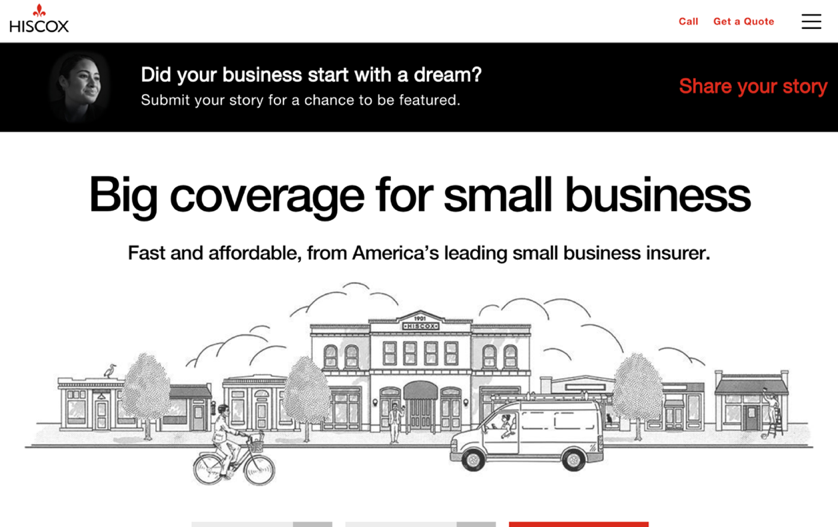 Unlike our previous entry, Hiscox doesn't offer employee benefits or auto insurance. It has basic policies such as workers' compensation and liability. However, it outmatches many carriers in certain areas by having custom solutions for industries like accounting, architecture, and freelancing/consulting. Since these industries are becoming more and more relevant, Hiscox is becoming one of
Hiscox offers coverage for younger businesses such as I.T. firms, cybersecurity companies, and home offices.
Each user can also manage their policy online. This allows clients to take ownership of their policy, add people to their policy, change their business address, and receive ACORD certifications.
What policies should you consider from Hiscox?
Hiscox takes pride in its cyber insurance so the coverage you'll find in this area is quite unique and valuable, especially for companies that have managed to build a web presence. Hacking attacks, malware, and other cyber attacks are real threats, so a failsafe system to protect you against them can be crucial.
Cyber insurance, also known as cyber liability insurance, is a type of coverage that can protect your business against these types of cyber threats.
While you, as a business owner, are responsible for your cyber security, having the right insurance will ensure that you are not left alone in the event of a cyberattack. Cyber liability coverage will give you the support you need to keep your business working.
Chubb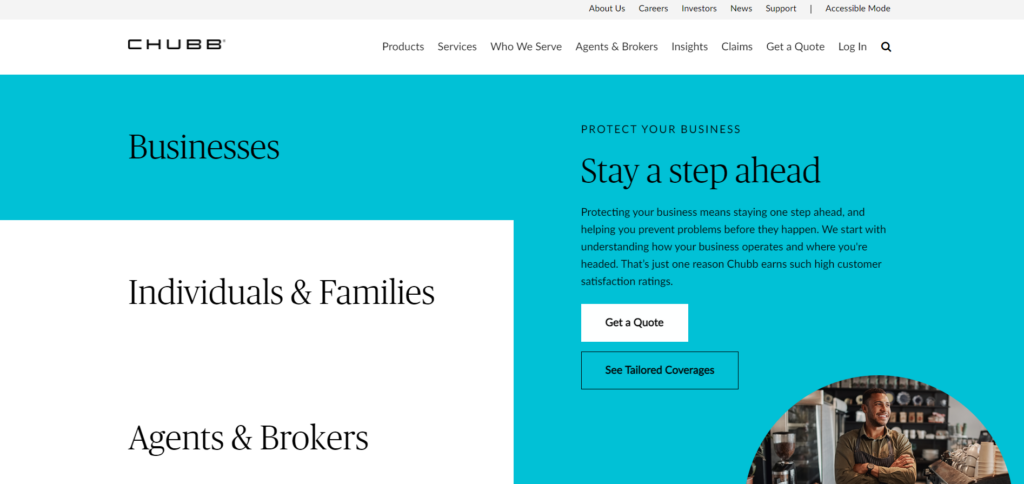 Chubb is listed and has been in operation for more than 200 years. It has a solid background and provides business owners with many insurance options, including worker's comp, product recall, accident & health, and others. Chubb also allows business owners to manage their employee benefits plans, including health insurance.
The company offers excellent liability insurance due to its tailor-made professional liability and E&O solutions. These policies cover many professions such as financial, media, and technology businesses. They also support small businesses like lawyers, architects, engineers, lawyers, public entities, and other professionals. The company also offers broad definitions for wrongful acts, damages, as well as insureds.
What policies should you consider from Chubb?
In addition to the abovementioned liability insurance coverages, Chubb's BOP plan is one of the best insurance options for small businesses. It can be used by companies with a revenue of up to $30,000,000.
This plan protects against data breaches, employee dishonesty, and even property damage. Small business owners can add additional policies such as workers comp or commercial auto insurance to save money. It's also a good option for international businesses since it includes a foreign package protecting these interests.
Progressive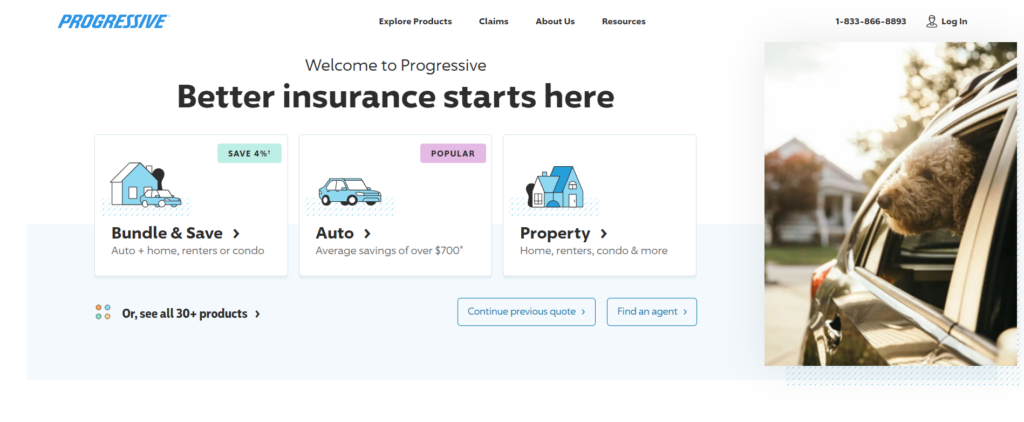 Progressive is a top-rated commercial auto insurance company in the country and has extensive experience in the industry, especially in auto (and commercial auto) insurance. The company holds an AM Best rating of A+ and a Standard and Poor's AA rating. Progressive provides customizable coverage for different vehicles, including cars, trucks, and trailers. It also offers many benefits such as online quotes and claims and discounts.
Progressive might be a leader in commercial auto, but the company also offers general liability insurance, workers' comp, BOPs and professional liability insurance. It also provides insurance solutions specifically tailored to various professions and industries, including yoga instructors, auto mechanics, and beauty salons.
What policies should you consider from Progressive?
Progressive should be your top choice if you're looking for auto insurance. The company has a specialized program and years of experience in the field.
However, small business owners might also want to consider BOPs and other insurance coverage types that Progressive offers. Some of their specialized coverage for small businesses is quite impressive and certain business types will likely find these options helpful.
Nationwide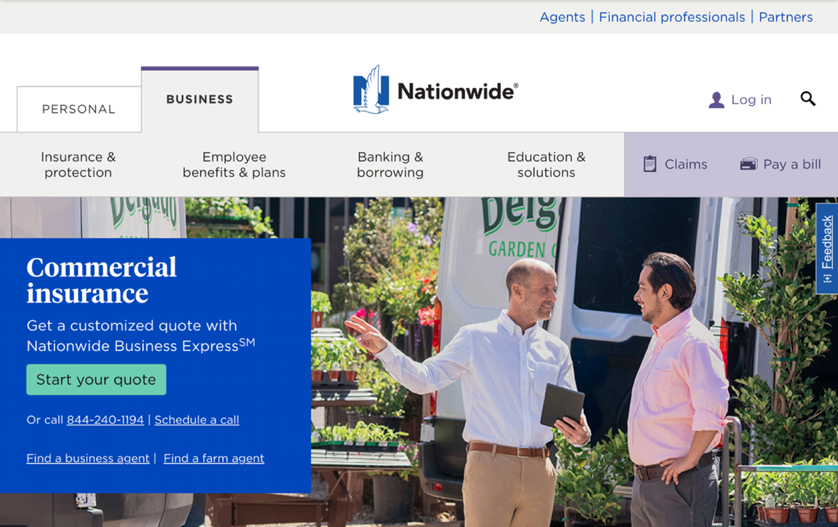 Nationwide is a top provider of small business insurance and one with excellent brand recognition.
The company provides various products for small businesses, including business liability, worker's comp, commercial auto, and commercial property insurance policies. Nationwide is mainly known for its flexibility in general liability coverage that can be added to other business insurance products.
It also offers policies to protect against theft, equipment breakdown, and other unforeseeable circumstances. You can even use it to establish employee benefits and retirement plans.
Business owners can add additional coverage to general liability insurance, such as fire legal liability or employment-related practice liability.
What policies should you consider from Nationwide?
Nationwide's general liability insurance stands out due to its simplicity and transparency. This makes it an excellent choice for companies with high-risk general liability requirements. You also get highly customizable policies – you can use add-ons like commercial crime, inland marine, builder's risk, etc. Other than that, you can also consider Nationwide's cyber liability if you have a small business website and other online assets that need protecting.
Frequently asked questions about small business insurance
Finally, here are some questions that small business owners seem to be having about small business insurance and the companies that offer these products.
Why Do Small Businesses Need Insurance?
A small business may not recover if it is affected by a major catastrophe or if it gets sued. Even though small businesses might believe their risk is lower than large corporations, they still face many of the same risks and are more likely to be affected by incidents.
Insurers can cover the business risks and provide funds to help you get through these troubles. It is essential to have business insurance to protect your company's assets. This will allow you to continue building and operating your business, even in the event of a significant accident that can impact your entire company.
When Should I Get Business Insurance?
The sooner, the better. Ideally, you want to get a business insurance policy as soon as you open your business, especially if you plan to start dealing with customers right away.
Being insured from the first moment guarantees that you're protected from lawsuits, property damages, and any other liability – right from the start.
What is Professional Liability Insurance?
Also called Errors and Omissions, professional liability insurance is a type of liability insurance company against the full cost of any claim a customer or client makes against a professional, such as a financial adviser, lawyer, insurance agent, or doctor. It protects said professionals against claims of negligence or inadequate work.
Insurance that covers errors and omissions often covers court costs as well. This liability insurance policy is required by professionals who provide services. A company without E&O insurance can be held responsible for massive damages.
What Doesn't Small Business Insurance Cover?
Small business insurance will cover you against legitimate losses, but it won't cover damages due to fraud or negligence. For example, you may not be covered if your business is misrepresented or your employees are misclassified to lower premiums.
Unless you specifically add them to your coverage, most policies won't cover business owners against losses due to natural disasters such as earthquakes, floods, or hurricanes.
Final word
Every business will need a different type of insurance depending on its needs, the needs of its employees, and its unique business model.
However, that isn't to say that we can't identify certain best small business insurance companies that have worked hard on their product offering and have become specialized in a particular niche. Professional liability, general liability, workers' compensation, and commercial property insurance should likely be the first things to look at if you don't know where to start.