Funding your small business efforts can be a difficult task, especially if you're looking to do it independently without relying on investors.
That's where small business grants can come in handy. Many companies and government agencies like to profess their support for small businesses by offering grant programs and giving business owners some much-needed funding.
A lot of these small business grants are aimed at particular types of small businesses or their owners, which is why you need to do extensive research and learn which grants make the most sense for your business.
In today's article, we will cover some of the most effective small business grants available right now.
What are small business grants?
A small business grant is essentially free money that an organization (private or public) gives to a company for a specific purpose. Small business owners can apply for grants either during the startup phase or company expansion.
Grants are not required to be repaid like small business loans and credit cards – which is one of the main reasons business owners tend to look for them over other types of funding.
However, grants come with limitations. For example, not all grants are available for all types of businesses, and the grant provider will often specify how the company must spend the money. There could also be penalties if you don't follow these specifications.
Recently, many organizations have decided to start supporting small businesses after being heavily impacted by the COVID-19 pandemic. Other than these specialized grants, you'll find other small business grant programs that target either a specific group (women, minorities, veterans) or the broad population.
Without further ado, here are the best small business grants you can find right now, split into different categories.
Coronavirus small business grants
First up, we have the COVID-19 pandemic small business grants set up in the past year or so. Many of these grants target physical businesses that have been the most affected by the pandemic.
Restaurant Revitalization Fund
This small business grant is a typical example of a COVID-19 grant that targets a specific market that has been deeply affected by the global situation – the restaurant business.
The Restaurant Revitalization Fund provides funding for restaurants equal to the pandemic-related revenue loss of up to $10 million for the entire business and up to $5 million for each location. The funding does not have to be repaid if the funds are used in eligible ways by March 11, 2023.
This small business grant isn't limited to restaurants – eligible businesses include food stands, food trucks, bars, lounges, and even breweries.
COVID-19 EIDL (Economic Injury Disaster Loan Advance)
The COVID-19 EIDL is a direct loan from SBA, and it has to be repaid. It's a long-term, low-interest loan with fixed rates and long repayment terms to alleviate the effects of the pandemic. This loan will provide working capital to cover operating expenses.
The interest on this loan is 3.75% for businesses and 2.75% for nonprofit organizations, fixed for 30 years.
The applicants must reside in the United States or designated territory. They must also have suffered capital losses as a result of the Coronavirus pandemic. In addition, other specific criteria need to be met – for example, your business needs to have less than 500 employees.
LISC Small Business Relief Grants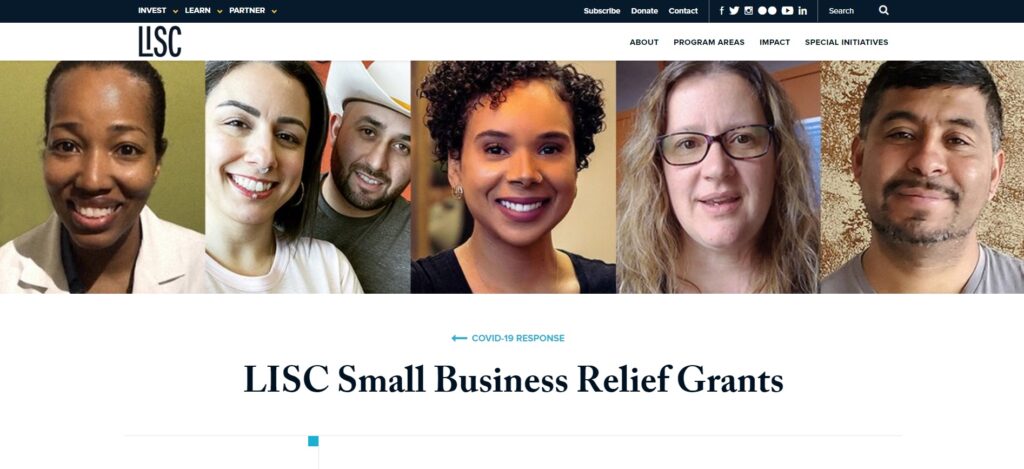 Many well-known corporations like Yelp and Facebook offered relief and small business grants at the start of the pandemic. Although some companies can still provide funding, the application windows for these grants can often be very short.
LISC is one of the organizations that can help you keep track of corporate COVID-19 relief grants. Thanks to their corporate partners, they've already provided help to more than 12,000 businesses with over $200 million in grants.
Federal small business grants
The largest distributors of business grants are government agencies. They support a wide range of businesses, from environmental conservation to child-care services, although tech, science, and health seem to be the most represented fields.
Small Business Innovation Research Program
The SBIR program was created for small businesses and startups in the tech space that have commercial potential. It's designed to encourage technological innovation and advance the science field while supporting tech entrepreneurship. So, whether you're starting a business online or developing a mobile app, you'll likely be eligible for this government grant.
Eleven government agencies offer the program. Each agency creates its eligibility guidelines and research and development topics and reviews applications. The grants usually range from $25,000 to $250,000. However, depending on how your business is doing, you may be eligible for small business grants up to $1 million.
Similar to the SBIR program, the STTR program has an additional stipulation – it requires small business applicants to collaborate with a research institute. This program currently has many federal agencies participating, with some of their budget set aside to support small businesses.
These agencies include:
NASA
National Institutes of Health
Department of Energy
National Institute of Food and Agriculture
Department of Transportation
Others
Rural Energy for America Program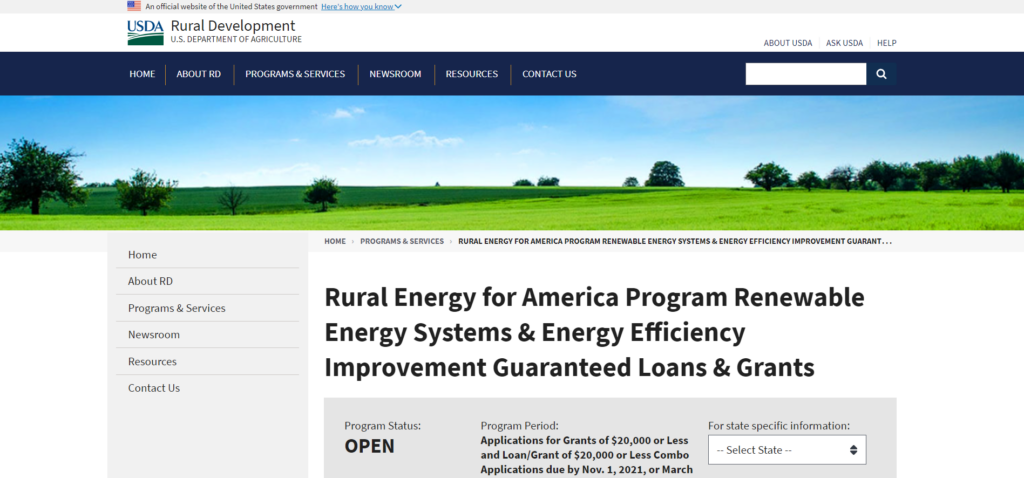 The Department of Agriculture runs this small business grant program that focuses on companies in rural areas looking to buy, construct or install renewable energy systems. A federal grant can be partnered with a USDA loan guarantee to support up to 75% of eligible project costs.
Producers of agricultural products may also be eligible for loans to finance new equipment or new systems.
This small business grant is available to producers who have at least 50% of their gross income from agriculture, along with small businesses from rural areas (that don't necessarily deal with agricultural production).
Corporate small business grants
Although grants from the government for small businesses can be beneficial, the requirements can be pretty specific, and funding amounts are not always that high.
On the other hand, corporations tend to keep the playing field a little more open – all you need to do is win them over by pitching your idea or business.
Pitching? Yes, many corporate-sponsored small business grants include some sort of pitch competition or similar. Although not all grant applications require a pitch competition, it is a common practice.
FedEx Small Business Grant Contest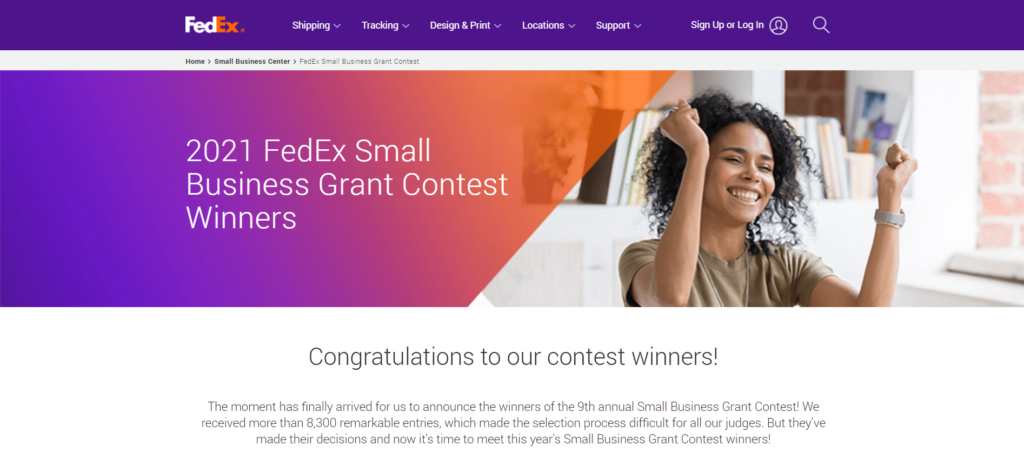 Being a company that caters to the small business market, FedEx made a smart move by introducing its small business grant contest and integrating with the community.
The company awards more than $200,000 every year to 12 chosen businesses that win its grant competition. You can use the money for various purposes, from scaling up your business to financing your small business advertising efforts.
On the FedEx website, you can see all the past winners, read about their businesses, and get a good idea of their experiences with FedEx.
Visa Everywhere
A lot of times, the topic of the competition for corporate small business grants will be closely related to the granting company's area of expertise.
That's the case with the Visa Everywhere initiative that motivates small businesses to solve payment and commerce problems. If you're looking to build your web presence with an eCommerce website, you'll see just how challenging payment and commerce can get.
Each year, four finalists are chosen to present at Visa Payments Forum. The program has raised more than $2 billion in funding.
Patagonia Corporate Grant Program
Patagonia is a global outdoor clothing brand that made a name by motivating people to be free, push the limits, and stay in touch with nature.
Their Corporate Grants Program supports grassroots activists with projects whose goals are to preserve and protect the environment. They also support local groups who work to protect habitats and communities in the frontline by taking action.
Patagonia's small business grant program is global: it covers projects in countries like Argentina, the Netherlands, Italy, Norway, the U.K., and, of course, the U.S.
National Association of the Self-Employed (NASE)
Through the NASE Growth Grants program, you could get up to $4,000 supporting your small business. With most business grants from corporations or the federal government, it doesn't offer as much free money as you'll get, but it's still a significant funding source.
NASE has given nearly $1,000,000 to its members through the Growth Grants program since 2006, including small business grants.
You can use these grants to fund marketing, recruitment, expanding facilities, small business website development, and other business needs. You will need to be a member of NASE to request these resources.
Regional and local small business grants
States offer grants to small businesses, much like the federal government does. Because the applicant pool for these grants is smaller, so the competition may be less intense. As mentioned above, federal agencies sometimes make grants out to state governments, distributing the funds.
If you can serve your community in a tangible, verifiable manner, you will be in a much better position to get local grants for small businesses.
Here, we've selected a handful of resources and types of small business grant programs that will likely be relevant to your specific state or region. Of course, to find the particular options available in your area, you'll have to do some research within these resources.
Departments of Economic Development
In each state (and some cities), the Local Departments of Economic Development offer grants and resources to communities to support economic growth and encourage innovation and entrepreneurship.
Every state has an agency that assists businesses in finding financing to fund their business in various ways, from finding employees to securing locations. For example, The City of Cleveland offers multiple business grants and loans to help expand your company or even relocate to Cleveland. One example is the Job Creation Incentive Program (JCIP) used to attract or retain businesses in Cleveland and help grow the community through economic development.
You can check out the economic directory to find regional offices and other local resources relevant to your area.
State Business Incentives Database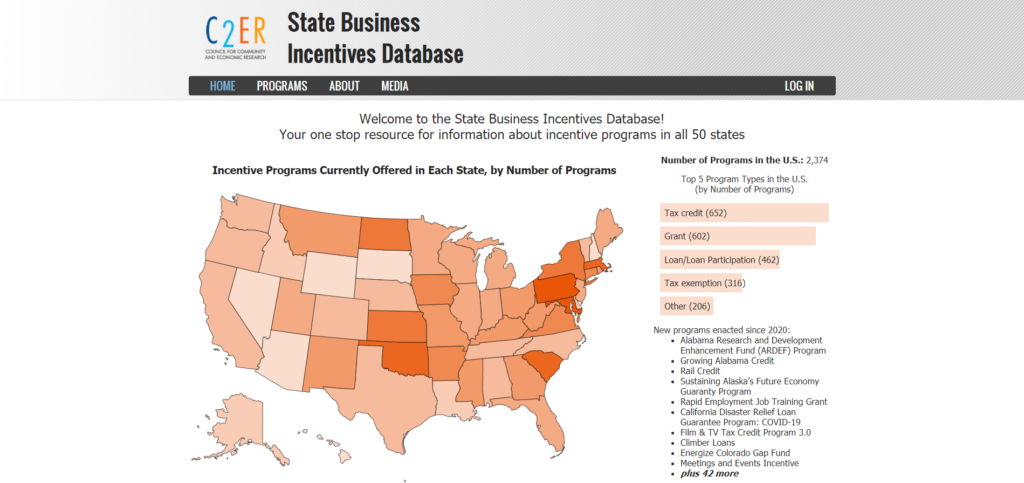 One of the best resources for state-specific small business grants, the State Business Incentives Database provides information about all small business grants across 50 states. You can filter by state, type of funding, and various other factors. It also includes more than just business grants – you'll find tax exemptions, loans, tax credits, and various other forms of financial aid for small business owners.
However, to access these grant programs, you'll need to be a member of the Council for Community and Economic Research, which requires a one-time payment of at least $345.
Small Business Development Centers (SBDCs)
Your local SBDC supports small businesses and aspiring entrepreneurs across the U.S. by helping existing businesses stay competitive in a growing market. Your SBDC is often associated with the state's economic development agency. It can connect you to both financing and networking opportunities.
Small business grants for minorities & disadvantaged owners
Certain small business grants target specific, underserved populations and exclusive funding to encourage economic growth and create new opportunities.
Minority Business Development Agency (MBDA)
The MBDA hands out business grants to organizations that run their Minority Business Centers across the United States. These centers can provide services like financial assistance, procurement matching and business consulting for minority-owned companies.
The MBDA also has an ongoing grant competition open for minority-owned small businesses.
SBA 8(a) Business Development Program
The federal government aims to give at least 5% of federal contracting funding each year to small, disadvantaged businesses.
This program assists socially and economically disadvantaged small-business owners to compete for government contracts. Although the SBA8(a) program does not technically provide small business grants, it does offer excellent opportunities for minority-owned companies.
In addition to getting a business contract, business owners who participate offer excellent opportunities in the program have access to a Business Opportunity Specialist and a mentorship program.
They also receive counseling, business training, executive development, and many other perks that can help them improve their business, much like government grants.
NBMBAA Scale-Up Pitch Challenge
The National Black MBA Association started the Scale Up Pitch Challenge in 2017. The challenge fulfills the Association's mission to create and support wealth-building opportunities.
The NBMBAA Scale-up Pitch Challenge is a grant competition encouraging business owners to develop innovative, scalable startup concepts. It provides startups with the opportunity to pitch their ideas and connects with venture capitalists and early-stage investors. The three best projects win prizes, with the winner business owner or team receiving $50,000; the second place getting $10,000 and third place $7,500.
This grant competition is a perfect opportunity for Black-owned businesses looking for capital or to. To participate, you must be a member of the NBMBAA.
Small business grants for women
Some government grants are explicitly focused on women-owned businesses ideas to encourage female entrepreneurship and voices. Here are a few of those small business grants.
Amber Grant
Womensnet.com launched the Amber Grant in 1998 to honour Amber Wigdahl, a young woman who died at age 19 before realizing her entrepreneurial dreams.
The Amber Grant is a monthly grant funding program: one woman-owned business is eligible for a $10,000 grant each month. An additional $25,000 will be given to the monthly qualifying grant winner by the end of the year. There is also no expectation that the funding will be repaid.
You can apply for the Amber Grant throughout the year, but the application deadline is at the end of the month, every month. You will need to tell your story and pay $15 for the application fee.
Cartier Women's Initiative Grant
The Cartier Women's Initiative grant goes out once a year, awarding grant money and other benefits to 21 female entrepreneurs from around the globe.
This award aims to motivate women entrepreneurs in the beginning stages of developing their business (between 1 and 3 years). While the company must be generating revenue, it does not have to be profitable. The top seven finalists are awarded $100,000 and one-on-one mentoring by a business expert Cartier provides. The other 14 participants receive $30,000 each.
Each of the 21 small-business grant recipients will also receive a spot on the INSEAD (a nonprofit graduate business school) Social Entrepreneurship Six-Day Executive Program. They will also have the chance to participate in workshops, business coaching seminars, and other initiatives aimed at educating young entrepreneurs.
GrantsforWomen.org
Finally, if you're looking for the best opportunities for small business grants for women, this database is a perfect starting point.
Grantsforwomen has a comprehensive directory that allows you to find many funding opportunities offered by various organizations to women-owned businesses. The small business grants you'll find there range from research and development grants in the science field to business development grants that target startups and women entrepreneurs in the commercial business.
Final Word
Many government grants offer excellent opportunities for government grants are small business grants on offer from many organizations, both from the government and the private sector.
The key is to find the specific grant where you are the perfect candidate based on your business model, goals, mission, or identity. With so many options to choose from, you'll likely find several grants that fit the bill perfectly.
Once you do, it's up to you to follow the instructions and criteria. In most cases, you'll be required to demonstrate some sort of business plan, income report, or extensive grant request to qualify for the funding. If you're passionate about your business and its future – this is something worth pursuing.