If you're planning on building a brand new website for your business, you may find yourself considering a website building platform like Wix. Wix is one of the most popular, widely used website builders around. While it does have some excellent features, Wix can be restrictive for certain website owners. Plus, there are plenty of other Wix alternatives that can offer specific features that will make your website really stand out.
If you've ever attempted to build your own website, you might have found yourself lost in a whirlpool of design decisions, feature integrations, and endless customization options. Suddenly, what was meant to be a quick set-up transforms into a long-term project that seems to never reach completion.
GET YOUR WEBSITE IN A FEW CLICKS
We'll create your small business website to help you grow online
Why you might want to choose an alternative to Wix
At a first glance, Wix may look like the perfect choice for building your website. It has a customizable website builder that's easy to use and requires no coding skills. It has over 200 million users. So, why would you want to consider Wix alternatives?
One of the significant reasons you might start considering alternatives to Wix is the time and effort required for DIY website creation. While it's true that Wix offers a user-friendly interface, website creation is far from a simple, quick task. Crafting a professional-looking, fully functional website demands more than just a drag-and-drop tool – it needs time, patience, and some level of expertise.
The simple answer is that while Wix is fine, it's not always the best option.
That being said, it's crucial to remember that not all website builders are created equal. Alternatives like WordPress, UENI, and Shopify each bring their unique strengths and challenges. One of the common pitfalls with many of these platforms, including the praised Squarespace, lies in the deceptive simplicity of DIY website creation.
Beneath the appealing facade of user-friendly interfaces and customizable designs, there is a wealth of complexities and hidden obstacles that may hinder your website creation journey. The video below is a testament to this, painting an insightful picture of the potential challenges you might encounter in the world of DIY website builders.
Another reason is that your Wix website may struggle to stand out. After all, Wix is built on templates – while these templates are customizable to an extent, they still limit your creative freedom. This could result in your website blending in with countless others, rather than standing out.
But why settle for blending in when there are numerous alternatives to Wix that offer a more custom-tailored approach? Websites like Wix are cropping up left, right, and center, each offering a unique set of features designed to make your website shine. Whether it's improved SEO tools, advanced design options, or superior customer support, these Wix alternatives could be the secret weapon your business needs.
5 Best Wix Alternatives in 2023
While Wix is a popular website builder revered for its user-friendly features and intuitive website creation, there may be occasions when you're looking for alternatives to Wix. In 2023, there are several Wix competitors that are giving the platform a run for its money by offering the best of both worlds – functionality and affordability.
However, there are quite a few alternatives to Wix and compared to Wix, many alternative builders offer unique features and advantages of their own. Whether you're seeking more control over your website design, a more affordable pricing plan, or a platform that's easier to use than Wix, you can discover the best options tailored to your needs.
Although Wix offers a comprehensive solution for your website building needs, each of the Wix competitors we will cover excels in specific areas. Depending on what you are looking for, these alternatives might even prove to be more value for money.
Here is a comparison table of the top 5 Wix alternatives in 2023 that give you the best of both worlds, from user-friendly design capabilities to affordable pricing.
| | | |
| --- | --- | --- |
| Website Builder | Pros | Cons |
| UENI | Full-service website builder, Great for small businesses, Lifetime hosting deal, No listing or transaction fees for eCommerce | Less control over website design, Less suited for large businesses |
| Squarespace | Beautifully designed templates, Comprehensive features, Solid blogging and eCommerce capabilities | Less flexible than other platforms, Higher cost |
| WordPress | Highly customizable, Strong blogging capabilities, Large library of plugins | Steeper learning curve, Hosting and domain costs |
| Shopify | Designed specifically for eCommerce, Excellent inventory management, Scalable for growth | Not as versatile for non-eCommerce uses, Monthly costs can add up for small businesses |
| Weebly | User-friendly, Affordable pricing with a free plan available, Decent eCommerce features | Limited template selection, Less flexible design options |
The comparison table gives you a brief overview of what each Wix alternative has to offer. However, to truly understand the unique strengths of each platform and how they can cater to your specific needs, a deeper dive is necessary.
From small business-centric platforms like UENI to the robust eCommerce capabilities of Shopify, there's a wide range of features and functionalities to explore. Read on as we take an in-depth look at each of these Wix alternatives and examine the scenarios where they excel. Let's explore how these alternatives can provide the perfect platform for your website creation needs, whether for a blog, an online store, or a small business website.
For small businesses: UENI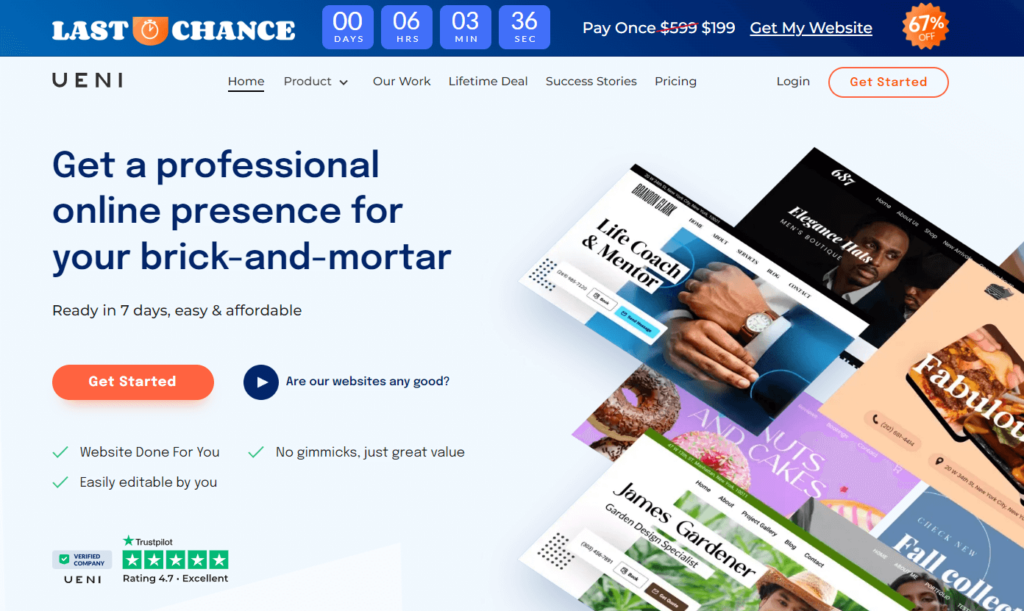 We believe the one of best alternatives to Wix in 2023 is UENI. UENI is a powerful website building tool that's best suited for small businesses that are hoping to build up an online presence.
Unlike Wix, you won't have to do as much of the heavy lifting when it comes to website building. Simply answer a few questions about your business, provide some images and product descriptions, and your website or online store will be delivered to you, complete with professional copywriting and coding.
From there, you'll be able to edit your website yourself using a simple user-friendly tool.
What makes UENI so great for small businesses is that you can buy and sell products from day one with no listing or transactional fees, something you can't find on Wix.
Small businesses don't always have a huge budget for their website, so the Lifetime Deal that UENI offers best value, where you pay once and get free hosting forever, is the perfect solution and much cheaper than Wix in the long run.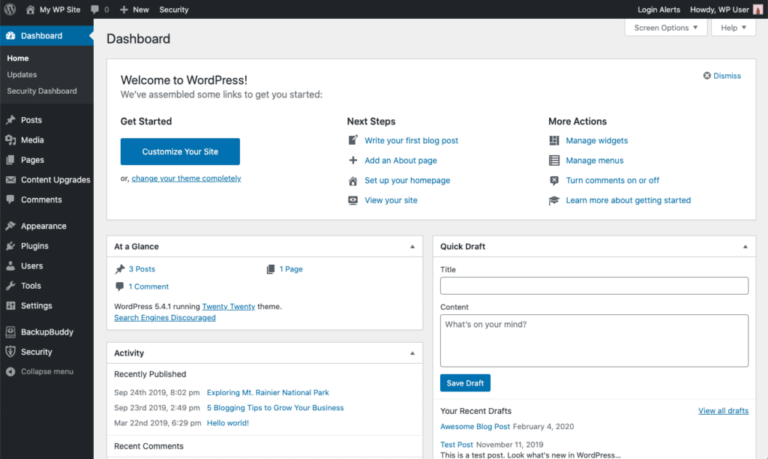 WordPress is a hugely popular website building platform known for its easy-to-use dashboard and its simple, blog-friendly themes. WordPress makes it easy to build an attractive website and make frequent posts.
The platform has plenty of excellent add-ons and extensions so that you can further customize your website. For instance, you can use an add-on to create an online shop or you can select an add-on to improve each page's SEO. Although most of the drag and drop addons require a purchase or subscription. So just keep additional costs in mind when thinking about going for seemingly free option of the world's most popular website builder.
While WordPress itself is a content management system and is free to use, you'll need to pay for hosting and a domain name as well.
If you're planning on starting an online business with lots of editorial content and you don't mind spending a little extra time finding your way around the dashboard, WordPress site might be the best pick for your blog.
For a simple, crisp website: Squarespace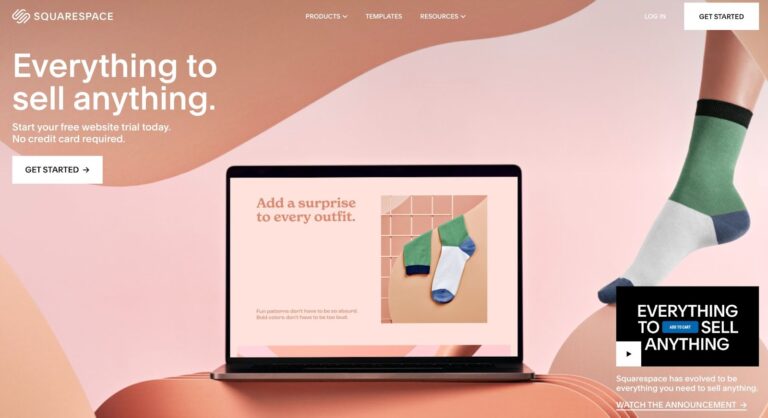 When it comes to sleek, stylish themes and templates, Squarespace is often thought to be another popular Wix alternative drag and drop website builder. Squarespace makes it easy to add pre-designed "blocks" to a page to create a unique page flow. Add an image, a quote, a block of text, a form, and so on. Squarespace is fairly restrictive and pretty formulaic, but it's fast, easy, and hard to mess up.
Additionally, Squarespace offers you the option to create a blog and an eCommerce store, so while it's not the most affordable option, it's fairly versatile in terms of what kinds of businesses it can support.
Essentially, Wix is a good option if you want a clean, crisp website built from a simple template – but there are other drag and drop Wix alternatives that can offer much more.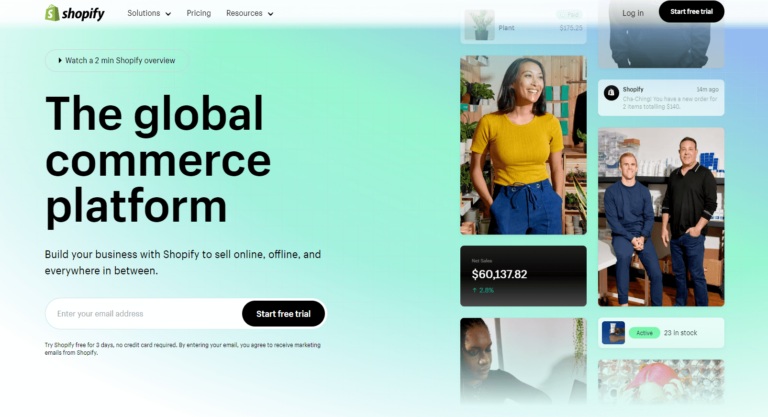 Hands down the best alternative to Wix when it comes down to medium to large scale ecommerce projects is Shopify. Shopify is renowned for being a robust platform when it comes to setting up an online eCommerce store, particularly if you're planning to list numerous products or anticipate a need for future scaling. What sets Shopify apart is its robust inventory management capabilities, something that many businesses require.
Unlike Wix, Shopify streamlines the process of setting up an eCommerce store by providing a range of customizable templates that can be tailored to suit your brand. It also offers a host of built-in plugins that can extend the functionality of your online shop, Shopify payments for online orders and a variety of other addons such as marketing tools & shipping integrations.
Furthermore, Shopify excels when it comes to scaling your business. With Shopify's various pricing plans, you can start small and upgrade as your business grows. This means you only pay for what you need, when you need it.
What makes Shopify a standout choice for eCommerce businesses is the platform's robust analytics tools. These tools help you track your sales, understand your customers, and make data-driven decisions to grow your business. Additionally, Shopify's integrated payment gateway makes it easy to manage transactions, something you won't find as seamlessly integrated on Wix.
Though Shopify does come with monthly costs and transaction fees, the wealth of features and conveniences it offers can make it a worthwhile investment for businesses serious about eCommerce.
For Affordability: Weebly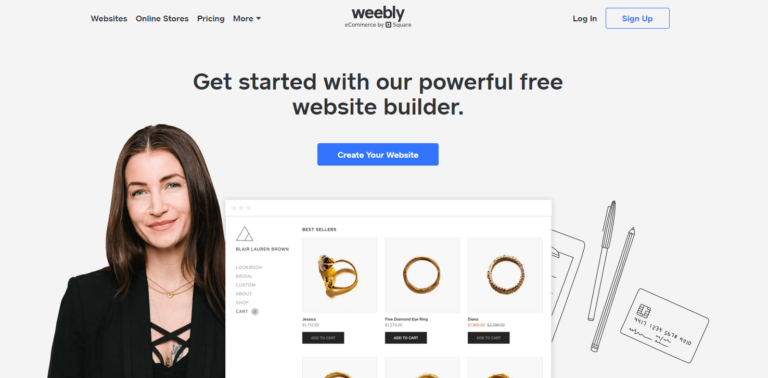 Weebly is another worthwhile alternative to Wix, particularly if you're on a tight budget but still want to create a visually appealing and functional website that's going to be cheaper than Wix. Renowned for its affordability, Weebly presents an easy-to-use yet powerful website builder as well as they offer a free trial.
This platform is another great Wix alternative that allows you to design and launch aesthetically pleasing, responsive websites, blogs, and online stores without breaking the bank. With Weebly's user-friendly drag-and-drop editor, you can create a customized website even if you lack coding skills or technical know-how.
One of the significant advantages of Weebly is that it comes with a free trial option. This makes it an attractive choice for startups or small businesses that want to establish an online presence without investing a lot upfront.
Although it offers a selection of themes to choose from, the range isn't as extensive as some competitors, limiting the customization possibilities. Additionally, its photo repository could be improved, and users might find themselves needing to source images elsewhere.
Overall, while Wix offers a solid foundation for a simple and clean website, there are Wix alternatives like UENI, WordPress, Squarespace, and Shopify that can offer greater functionality, flexibility, and scalability based on your specific needs.
GET YOUR WEBSITE IN A FEW CLICKS
We'll create your small business website to help you grow online
Why pay to build your own website?
With many DIY website builders like Wix, your website is where their service ends.
Sure, you can quickly build an attractive and affordable DIY website.
But what happens when you want to link your website to your social media profiles or when you need to get your business ranking higher on Google Search and Google Maps?
A great website floating around in cyberspace is of no use on its own.
Succeeding online requires a more holistic approach, and many small business owners find that they just don't have the time to learn the intricacies of all the other channels available to them online. This leaves their business' online presence incomplete and their website dormant unless they invest in further digital marketing services elsewhere.
At UENI, we don't just build you a sleek and professional website.
We provide you with all the tools to create a meaningful online presence – from search engines to social media integration to your online reputation – and all of it is customized for your business.
Once you sign up, we'll build you a professional website that makes it easy for customers to buy your products, book your services, or get in touch. This happens in 7 days or less.
We also set up your Google Business profile along with your website, allowing you to collect Google Reviews from your customers and get far greater visibility in Google search and Google Maps results.
When your website is live, we'll send you an email. You can jump into our website editor to make any tweaks you like or to add more information.
That's it. It's that simple. You'll have a sales-ready website that can accept payments, schedule bookings, and show off everything that makes your business great.
You don't need hours, days, and weeks to create a professional website for your business. There's no need to mess about with time-consuming drag-and-drop website builders or struggle with what text to write or what sections to create.
Once your business is rolling and you can afford to reinvest some money in your website, our Premium Plans will help you grow your business even further with features like:
Done-for-you website edits
Done-for-you third party integrations (such as Typeform, Google Analytics, Mailchimp, and many more)
Advanced Google Business Optimization.
Listing your business in 50+ directories
Optimize your website on an ongoing basis to rank higher in the search engines results.
Why you need more than just a website
Getting online is easy. But succeeding online is a completely different kettle of fish – a fact I'm sure many small businesses are more than aware of.
There are many DIY website builders – way more than WordPress, Squarespace or Wix – which offer small businesses an affordable way of getting a website.
With such a crowded field, it can be baffling for business owners trying to decide which option is right for them. The truth is, most people go with Wix because they're a huge company, which means they can spend a ton on advertising.
But just because they have the deepest pockets doesn't mean they're the best option.
In fact, I'm going to let you in on a little secret about succeeding online.
At UENI, we love building fabulous websites, but succeeding online is not just about your website, it's about curating a full, 360° online presence. We have a 3 ingredient recipe to make this happen.
Why you need an online presence
Your target market is looking for products and services like yours on all sorts of sector-specific platforms and social media; if you don't have a presence there, then you're already losing business.
In today's digital smartphone-driven culture customers now expect businesses to be in more places than one. Having a good online presence and sharing content with your customers via multiple platforms online has many benefits including:
Adding value to the service you provide
Building your brand and reputation
Showing your business's human side
Providing more channels for customer engagement and communication
Making your business accessible to a wider audience
If you're ready to start finding new clients online then there's no point doing it half-heartedly.
Make The Best Choice For Your Business
Once you choose a website builder, it can be hard to switch to an alternative, so it's pretty important that you find a solution that ticks all of your boxes. While Wix is a fantastic option for some people, it isn't always the best.
Getting online and maintaining your online presence is about more than simply owning a website. You need to be in multiple places and constantly updating your presence according to new trends and tools that become available.
This is where UENI prides itself on standing out. Rather than just creating your website and then leaving you to your own devices, we'll help you build and maintain a holistic online presence that will be a real credit to your business.
Whether you're a beginner, a small business, or a new blogger, we hope you've found the Wix alternative that gives you everything you need.
Find out more about how UENI works, and get started today.