Navigating the landscape of small business website design can be a thrilling journey. It's the digital storefront to your operation and often the first point of contact for potential customers. With the right design, a small business website can turn casual browsers into loyal customers, and it's all about making that vital first impression count.
Establishing a strong online presence is no longer an option – it's a necessity. In 2023, eCommerce sales are anticipated to grow by 10.4%, reflecting an ongoing shift in consumer behavior that's worth capitalizing on.
Perhaps you're mulling over the idea of launching your own online store or looking to enhance your existing small business website. In either case, you may be scratching your head, wondering where to kick-start this digital journey. The key step in these formative stages is pinpointing what's most significant in your small business website design.
So, what should you be focusing on in your small business website design?
If you're planning on opening your own online store as business, you may be wondering where to begin. A key step in the early stages is figuring out what's most important in your business website design. Below, we'll be discussing exactly what to look for.
We also have a brief video for you going over same "7 Features Every Business Website Needs" discussed in this blogpost!
GET YOUR WEBSITE IN A FEW CLICKS
We'll create your small business website to help you grow online
Small Business Website Design Features Every Business Needs
As we step further, it's important to remember that a great website is a synergy of multiple features, all functioning in unison to provide an exceptional user experience, drive conversions, and foster customer loyalty. Let's embark on this journey to understand the key features your small business website needs, why they're integral to your online success, and how they can help carve a niche for your business in the bustling online marketplace.
When it comes to small business website design best practices – user experience is paramount. It's the first and arguably the most impactful aspect that visitors will notice when they land on your website. While attractive aesthetics, such as classy, minimalistic designs, might add a charm, their beauty is only skin deep. The crux of a great user experience lies in its functionality and accessibility.
Simplicity rules the day in the realm of user experience. Think of a clear, intuitive navigation bar that guides visitors throughout your site, legible text that communicates effectively, a coherent color scheme that's pleasing to the eye, and a comprehensive site map that presents an overview of your website's structure. A well-designed user experience allows users to find what they're looking for effortlessly, enhancing their interaction with your website and increasing the likelihood of them returning.
The reliance on mobile devices for online browsing and shopping has placed an enormous emphasis on responsive mobile-friendly website design for small businesses. With an array of transactions, including classified ads, social media ads, email marketing, video viewing, and search queries, increasingly taking place on mobile devices such as smartphones and tablets, it's clear that the shift towards mobile is not just a temporary trend but a transformative shift in consumer behavior.
This shift is further highlighted by the projected growth in mobile ad spending. Despite a slight slowdown compared to the previous years, the growth rate for mobile ad expenditure continues to be substantial. In 2023, there is expected to be a significant 13.3% year-over-year increase in mobile ad spending.
The upward trajectory doesn't stop there. Over the next few years, mobile advertising spend in the US is expected to keep ascending, albeit at a slower pace. Projections for 2024 anticipate a growth of 10.8%, taking the mobile ad market size to an impressive $393.4 billion. And by 2026, mobile ad spending is forecast to reach a staggering $463.6 billion.
In light of this data, it's evident that investing in a professional web design built for mobile is critical for any small business website. Design a website that's responsive to ensure you're providing a seamless user experience across all devices and tapping into the massive mobile market that is expanding with each passing year.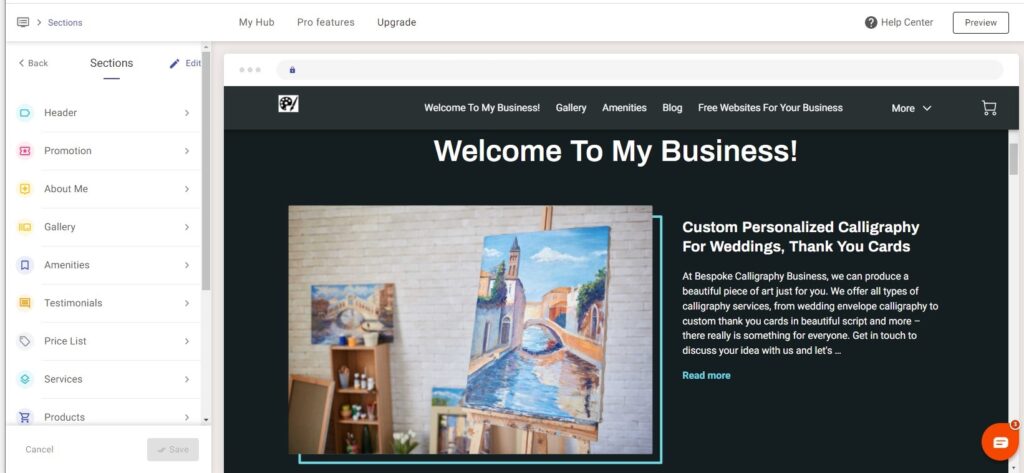 When selecting your small business website builder, the process can be riddled with challenges. For instance, you may encounter web hosting services that lack user-friendly design options, forcing you to dive headfirst into the complex world of website design and development. Opt for a design that can be customized to fit your specific needs, but remember, you'll also need to access your website's admin dashboard. This especially applies to niches such as photographer websites as those often need to be updated with new portfolio data.
From adding new products, tweaking descriptions, or adjusting your website's overall design, a straightforward user interface is crucial. It facilitates easy management of your site, allowing you to implement changes swiftly and seamlessly, regardless of your technical expertise.
At UENI, we understand this need and have designed an easy-to-use website editor. It's a great tool that enables people of any skill level to make changes on the go from any device. By streamlining the process of managing your online presence, we ensure your small business website design is not just visually appealing but also exceptionally convenient to operate.
Easily adjustable, professional website design
When choosing your small business website design company, you'll probably come across hosts that don't offer user-friendly design options. You'll have to undertake the design and construction of your website yourself.
Even using the best website builder to make a successful small business website is no small feat either. It typically demands a deep understanding of coding and a considerable investment of time—two resources business owners often find in short supply. Thus, when you're grappling with numerous responsibilities and tasks, embarking on a journey to learn coding and design from scratch is far from the ideal route.
In such scenarios, the smarter move is to use a website builder or a developer that can present more accessible alternatives. The goal should be to find a professional web development partner who simplifies the process of web development.
With a host like UENI, you'll be able to choose from a series of professional templates and use a simple, code-free tool to edit the unique, high-quality website we'll build for you.
This is the perfect option for small businesses that want a great-looking website but don't have the budget to spend on an expensive designer who will build a website from scratch.
A web hosting plan with ongoing maintenance
Many first-time website owners, particularly those looking to optimize their small business website design, overlook the crucial need of a hosting plan. You can think of it as the digital equivalent of renting space for your brick-and-mortar shop. It is the place on the internet where you establish and run your online business.
Securing a hosting plan isn't just a mere checkmark on your list of tasks before designing an effective website. Rather, it's a pivotal step that lays the groundwork for the site's performance. The right hosting plan, apart from providing space, equips you with a robust infrastructure for supporting your online presence.
Here's what a good hosting plan should offer:
Steady performance

Consistent uptime

Reliable customer support

Storage for your image files

A domain name

Ongoing maintenance
For small businesses, it's often the case that there is no dedicated in-house web designer to tackle website issues. That's where the importance of a reliable website host comes in, acting as your built-in support system to navigate the digital world.
Do keep in mind that not all hosts deliver the same level of service. Choosing a poor host can lead to user experience problems, such as downtime, payment issues, and security concerns.
Remember, even if your small business website design is top-notch, it still requires a sturdy foundation to shine. Therefore, don't compromise on a hosting plan that ensures stability, efficiency, and ongoing support for your online venture.
Professional web designers are great for making beautiful small business websites. But is that enough? How to make sure your website gets visitors and doesn't get lost in the white space of all the google search results?
Selecting a website designer who incorporates SEO (search engine optimization) and buyer journey flows into your website design can significantly enhance your online visibility. These digital marketing elements work behind the scenes to boost your website's rankings in search engine results, helping to increase the likelihood that website visitors will discover your business online.
SEO is a powerful tool that helps search engines understand and rank your website higher than the others. It is a blend of technical and creative elements needed to improve rankings, drive traffic, and increase awareness in search engines. In essence, good SEO implies you are guiding your website visitors towards your online presence, taking them on a journey from discovery to purchase, thereby optimizing the buyer journey flow.
Already have a website and wish to Visualize Your Online Presence?
UENI has a Website Checkup Tool for that.
At UENI, we understand the importance of local and global visibility for your business. Hence, we offer a Google Business official listing with each website we design. This critical feature allows your business to appear in local search results, making it easier for local shoppers to find and select your offerings. It can serve as the stepping stone for your digital marketing efforts, helping you establish your online footprint.
Expanding your online reach involves more than just your website and Google listing, however. Social media platforms are virtual hubs where people spend a significant amount of time. Recognizing this, we provide integrations with popular social channels and even WhatsApp. This allows you to connect and engage with your audience on the platforms they frequent, further increasing your visibility.
Additionally, our Premium plans go a step further, offering Google Business creation and optimization services. These services are designed to make it easy to continually improve and maintain your online presence, aligning with the dynamic nature of digital marketing trends. Our focus is to provide a great small business website design as well as to ensure that it's seen by those who are looking for what you offer.
Chances are that your small business website needs to be designed to sell online products or services, so having e-commerce functionality from the get-go is not just an option but a necessity for any small business at this point.
Whether you're selling products or offering services, having the ability to handle transactions online directly from your site is a key feature that provides convenience for your customers and fosters increased sales for your business.
Shopping cart & Online Payments:
At the heart of e-commerce enablement is the readiness to accept online payments. A streamlined, secure, and user-friendly payment system is crucial to offer your customers a smooth shopping experience. An efficient payment system reduces the chances of abandoned carts and boosts customer confidence in your brand, improving overall sales and customer retention.
Online Booking or Reservation for Services
Additionally, if your small business operates on an appointment or reservation model, like for example insurance website designs, integrating an online booking system is equally vital. This feature offers your customers the flexibility to make reservations at their convenience, eliminating the need for time-consuming phone calls or emails. An effective booking system should be easy to use, provide instant confirmation, and seamlessly sync with your existing schedule, ensuring a smooth operational flow for your business.
Product Synchronisation with Social Media
For the modern small business, connecting your e-commerce functionality with social media platforms is an invaluable strategy for reaching more customers and driving sales. With billions of active users, platforms like Facebook and Instagram have become vital digital marketplaces, bridging the gap between businesses and consumers.
Implementing e-commerce synchronization enables your products or services to be directly linked and displayed on your social media pages. For instance, with a quick setup, your online catalogue can be synced to Facebook Shop or Instagram Shopping. This feature allows your followers to discover, explore, and even purchase your offerings without leaving their favorite social media apps, thereby simplifying the buyer's journey and increasing the likelihood of conversions.
Beyond improving customer experience, syncing your website with social media also brings operational efficiency. Any updates made on your website, such as new products or price changes, can be automatically reflected on your social media platforms. This eliminates the need for manual updates across multiple platforms, saving you precious time and resources.
In the evolving landscape of small business website design, integrating your online store with social media tools not only enhances your digital presence but also streamlines your business operations, making it an essential feature to consider.
Third party tools integration
As your small business website evolves and grows, there may come a time when you identify a need for additional functionality beyond your site's existing features. This is where the ability to seamlessly integrate third-party tools becomes a critical factor in your small business website design.
Whether you're looking to enhance your customer service through live chat capabilities or even add a booking system, third-party tools can significantly improve the performance and versatility of your website. For instance, restaurant websites require integration of third party CRMs in most cases, or even something simple, like adding a Facebook Messenger button directly to your site allows your customers to reach out to you in real time, enhancing customer service and engagement. This is essential to check early on as every website builder is different.
At UENI, we understand the ever-changing needs of website for a small busines. That's why our websites are not only developed to be versatile and scalable, but also designed to allow straightforward integration of third-party tools and solutions. With our robust design approach, you can rest assured that your website is ready to adapt and grow alongside your business.
Let UENI Create a Website For You
In 2023, there's no excuse not to take your business online. Since the COVID pandemic, more and more people have begun shopping online – and this trend doesn't look like it'll slow down anytime soon.
Luckily, building a small business website doesn't need to be difficult. With the right designer, you'll be able to launch a stunning website in no time.
With UENI, you get more than just a small business website design service – you get a complete digital solution tailored specifically to the needs of small businesses. For just $199, we provide a comprehensive package that includes the development of a fully-functional, professional-looking website, equipped with all the essential features. What sets us apart from competition like Wix is our commitment to efficiency – we promise to deliver your website within a span of just 7 days.
At UENI, we offer affordable web design services for small businesses that need a professional transactional website. Unlike some hosts, we do everything for you, from design to website maintenance – that means no coding or design experience is necessary on your part!
Check out our small business website offer to get started.