What is Reputation Management?
Do you know how your business is perceived online? Do you know how to make it better? These might sound like simple questions, but you might be surprised by how many business owners struggle to answer them.
The fact is, while most people can intuit what a high quality online reputation is, very few people can quickly and effectively translate that into steps towards improving their own.
In other words: it's easy to see what someone else is doing wrong. It's more difficult to fix your own issues.
That's why we developed the Reputation Plan. We wanted to make it easy for businesses to do everything necessary to create and maintain a great online image in one place.
No more jumping from website to website every time you make a change to your business, no more figuring out the best way to get your customers to leave you positive reviews. Just a simple, easy, effective solution for keeping on top of your online appearance.
Getting Set Up
To activate your listings and Reputation management tools, simply head to the Reputation tab in Your Hub. If you haven't activated Listings, you'll see a prompt similar to this one: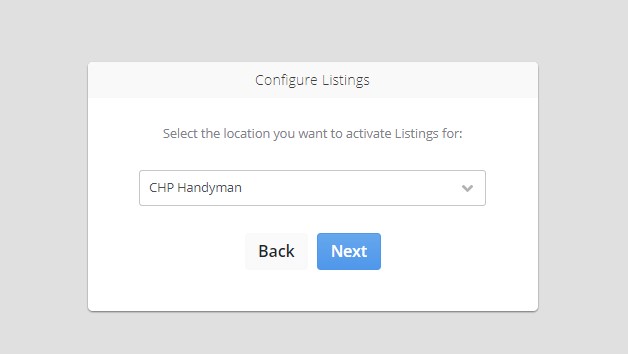 To activate your listings, you'll have to fill out a quick form doubling-checking your website's information. It takes less than five minutes to fill out, and is well worth the time saved.
Don't believe us? We've created a quick end-to-end video showing the process here:
See? That wasn't so difficult. In fact, our team can help you set it up when you schedule your Onboarding meeting with us (you can find the link in Your Hub).
If you ever need to edit your details, that's quite easy as well. Just click on the "edit" button at the top right of whatever section you need to adjust, as shown:
How Does It Work?
Our Reputation Plan has two primary functions for increasing your visibility and cleaning up your image online – Listings Management and Review Management and Requests, which is a great way to help gather reviews from your existing customer base in an easy to use, simplified fashion.
These reviews help bolster your search presence. as search engines are more likely to recommend well-reviewed establishments with many reviews, plus increasing user trust – people are more likely to check out your shop or service if you have many high-ranking reviews.
Listings

The Listings page allows you to keep all of your information up to date across the most important business platforms today. How does this help you?
Imagine you've had to change your business hours because of COVID. Rather than logging into every single place where your business is listed to update the same information you can control it all from the Listings tab. Change it in one place, let it synch with your linked accounts, and spend all that saved time on something you enjoy.
For more details on Listings, check out our fully-featured guide to getting the most out of this feature here.
Review Management & Requests
Some business owners may assume that, once they've got their website live and are present on some of the more popular review platforms, that's it. In reality, it's not just enough to have your business online and reviewable – you also have to make sure that when people leave your business reviews, positive or negative, you're on top of responding to them in a polite, courteous, and professional manner.
Because no one wants to spend a working day bouncing from review page to review page, Our Review Management section allows you to keep track of what everyone is saying about you, and reply back.
You can also see the most common keywords that people are using when they're talking about your business – an important thing to consider when you want to market your page in the future.
For more details on Review Management & Requesting Reviews and to get the most out of this feature, please click here.
Why Should You Care?
Look, we understand. Your workday is long enough as it is – surely you can just explain to your actual customers what the issue was in person, and that one bad experience is just that, a one-off. Right?
Not necessarily. We've seen numbers from some sources that say up to 94% of customers have avoided a business because of a bad review, but nearly 50% of customers are more likely to visit or engage with a business that responds positively to bad reviews.
In fact, if you believe the Harvard Business Review, responding to reviews not only increases the number of reviews that you get but also moves your rating upward.
According to the researchers, "[businesses received] 12% more reviews and their ratings increase, on average, by 0.12 stars". As the authors point out, that might not seem like much, but a 0.12 increase can move the needle from 4 to 4.5 stars overall, and that's something people and search engines will take notice of.
A practical example
Imagine you're a construction company that had a client who left a bad review and said that you didn't complete the job you were hired for and refused to refund them after the fact.
You have two options. The first: ignore it. You know the client is, quite literally, making a mountain out of a molehill. They asked for a small patio and then tried to get you to add in a whole new fence for free.
The people looking for construction services in your area are absolutely going to look at that review, and they're only going to get the customer's side of the story. That's not going to help you get new clients.
The second option is to engage with the reviewer, offering a bespoke solution to their particular complaint. If this client wanted new fencing as an add-on, explain that while this wasn't in the original agreement for the project, you'd be happy to offer them a discount on a fencing project to make up for the misunderstanding.
Now, the people looking at the reviews for your business are going to see that you're invested in your business, that you're proactive when it comes to looking for solutions when problems arise, and they're much more likely to think favourably on your business.
That's what it means to be on top of your online reputation. And with the Reputation Plan, that makes it easy.