Email marketing allows you to promote your business by building trust, improving your brand awareness and increasing customer loyalty. It's not too hard – you can even take inspiration from prepared templates to share your news and make your email more appealing. We'll get to that later.
As well as communicating information about your brand with customers, you can also use your emails to let them know about any promotions and offers you are currently running.
According to McKinsey & Company, email is nearly 40 times more effective in acquiring customers than social media since an estimated 91% of consumers use email daily and the rate at which emails prompt purchases is at least three times that of social media. In addition, the average order value resulting from email communication is 17% higher than that of social media.
We're not just taking their word for it. We've seen it too.
But, of course, you have to get people onto your email list in order for them to receive your emails.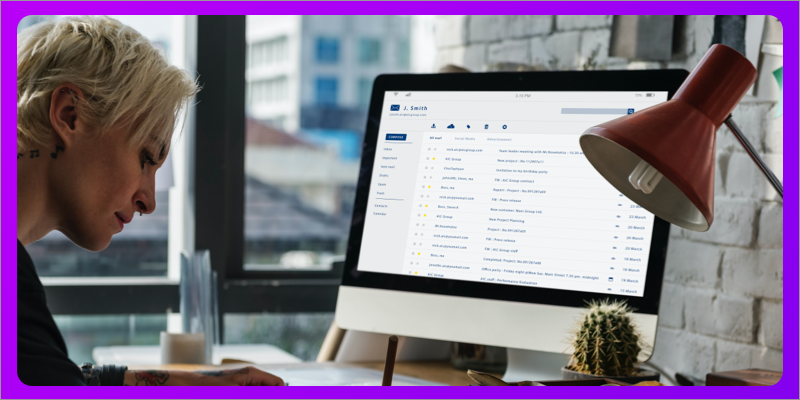 First things first! Before you start any emails, you'll need to build an email subscriber list. As a small business, this is vital to growing your audience and reaching new markets. There are different ways to capture email data:
Offer a discount or professional advice in exchange for their email
Create online surveys through your social media channels
By adding a signup form on your site
When it comes to building your subscriber list, don't forget about your existing customers. In nearly every case, this is the best place to start. Not only are you saving money on acquisition (because they're already a customer of yours), the likelihood of them buying from you again are around 60-70%, compared to 5-20% of someone who is visiting your business website for the first time.
They're also more likely to recommend you to other people than a new customer.
To increase the size of your mailing list, look to incentivise participation. This could be through a generous introductory offer or the promise of exclusive content or events.
Once you've got your email list ready, you can start to plan how to run your first email marketing campaign. If you already have a long list of emails that you have gathered through time, be careful as some of them might bounce and be treated as spam. In that case it would be helpful to use third party tools that can verify email addresses.
How to run an Email Marketing Campaign
Step 1: Know What You Want
Remember, as tempting as it can be to fire off emails into the void as soon as you have a list of addresses ready to go, it's important to take some time to think.
You want this email campaign to do something, but what is it? How does it align with your business goals? Are you trying to promote new products? Are you trying to let your customers know about a new update to your shop?
Planning your goal before you create your email campaign will help you understand how to put together something that will really help your business, rather than doing it just for the sake of doing it.
Step 2: Determine The Style
What is style? When it comes to email campaigns, we mean what sort of campaign you're going to run. Is it a newsletter? Is it a seasonal offer?
Whatever the case, it's important to make your marketing campaign as quick and as to-the-point as possible. Even though people are more likely to look at emails than other forms of marketing, attention spans are short, and you'll have to make sure you get your point across quickly and effectively.
Presentation, of course, is of the utmost importance.
A professional email address linked to your domain is a must-have for carrying out a successful email marketing campaign. That's one of the reasons we offer four professional emails as part of our Premium plans.
You can learn more about those here.
Step 3: Create Your First Campaign
At a certain point, the only way to learn how to do something is to do it. Once you have your mailing list ready and an idea for your first campaign, the next step is to create it and send it out the door.
Let's talk goals: every email you send out should have a structure that helps draw readers into the content of the email and allows them to be drawn towards your Call To Action, or CTA.
A call to action is anything that motivates people to act in some way. This can include email copy, the images you choose, and buttons.
By following these 3 easy rules you can optimise your emails for maximum effect:
Rule 1: Understand Your Customers
What does your average customer care about? When you know what your customer looks for, you'll know how to speak to them.
Should you use flowery language, or shoot from the hip? Do they need a lot of information, or will a great photo do?
Questions like those put you in your customers' shoes. As a result, you stop focusing on what you want to happen and start focusing on what they want to happen.
Rule 2: Make the email clear, specific and commanding
Mystery is overrated. People want to know precisely what they are getting and why it'll benefit them, so make it obvious. Short, crisp emails are the key. You want to use strong verbs that let your audience know exactly what they need to do. When you make it clear like this, they will be far more likely to respond.
Stuck? Consider checking out our guide to building great marketing emails for some ideas.
Rule 3: Use words that create emotion
Which one makes you hungrier? 'Our pizza is nice and big. A variety of toppings available.'
OR
'Our authentic Italian pizzas are handmade fresh and cooked in our hot woodfire pizza – for that extra smokey taste. The finest organic mozzarella sits on a bed of rich San Marzanos tomatoes…'
Exactly.
Words like 'nice' or 'lovely' are less impactful because we've become desensitized to them. So try to use words that everyone will know, but that not everyone will use.
Step 4: Look at Your Results, Then Do It Again.
The name of the game here is iteration: you want to be able to measure what worked, what didn't work, and what you could change to make your next email better than the last.
You may think you had a good idea of about what will work and what won't, but you can never be certain what will resonate best with your audience unless you test.
One simple way of doing this is by looking at how many clicks/calls you got at the end of one month, changing the CTA, and then checking how many calls you get the following month.
Of course, there will be other factors involved here, try to keep these in mind when assessing whether changes did well.
At this point, you might be wondering, why bother? It turns out that email marketing is still a better return on investment than other strategies like SEO, Keyword Ads, and mobile advertising.
How much better? A common number you'll find is $40. That is, many companies estimate a $40 return on every $1 spent on email marketing. It's far and away the highest ROI for any comparable digital marketing campaign.
Safe to say, then, that email marketing can be a very important aspect of levelling up your small business.
One Last Thing: Always Keep It Professional
No matter which marketing channel you use, aim to put out high-quality content which is tuned in to your customer base. Remember, it's all about user experience and how you can create trust in your brand.